Wire crafts and art are a great way to have fun and be creative. Whether you're looking for DIY home decor or just want to get your craft on, these wire craft ideas will keep you busy for hours!
If you're looking for some unique and creative wire craft ideas, you've come to the right place. Wire crafts are a versatile and easy way to create beautiful artwork, jewelry, and other decorative items. And the best part is that wire crafts can be easily customized to suit your personal style.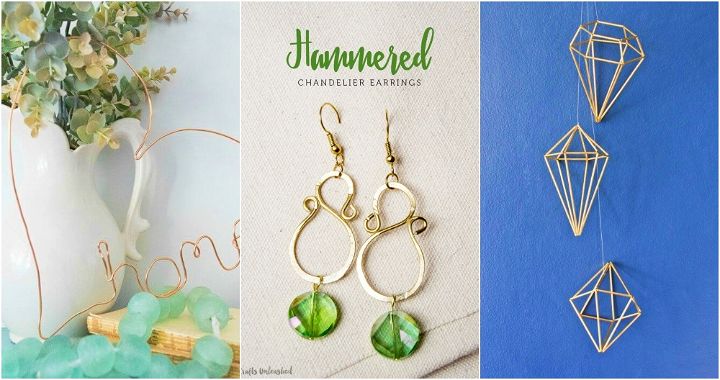 To get started, all you need is some wire, a pair of pliers, and a little bit of imagination. If you're feeling extra creative, you can even add some beads or other embellishments to your wire crafts. Not sure where to start? Check out these 35 wire crafts and art ideas for some inspiration. From wire-wrapped rings to copper wire sculptures, there's something here for everyone. So get started and follow these 35 DIY wire crafts and art ideas for inspiration.
1. DIY Wire Word Art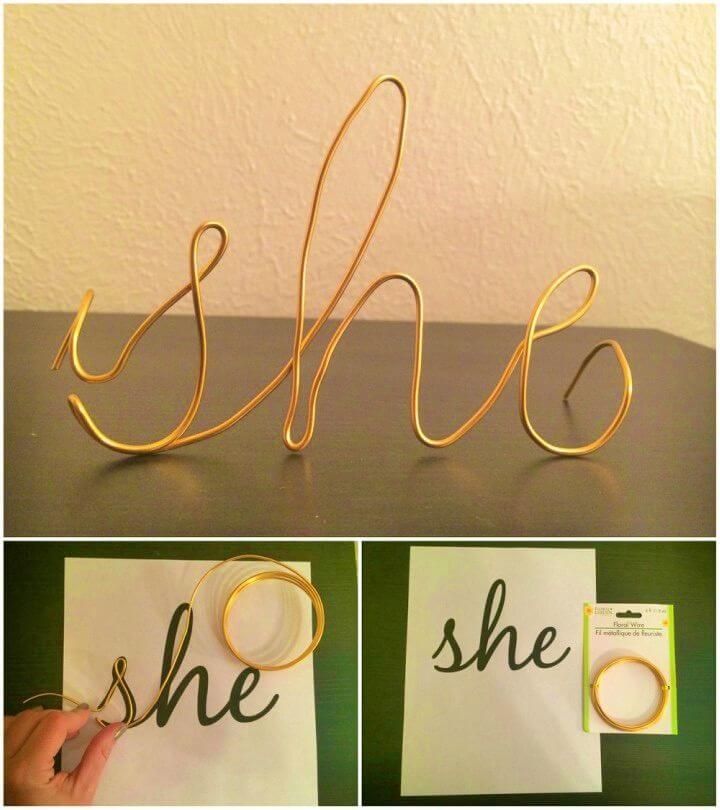 Make also the self-standing letters using the aluminum floral wire, will make an instant cute handmade gift to someone special and will also a nice way to express your love for someone special! Just grab a letter template, put it on a flat surface and then twist the wire following your letters and make a lovely wire letter art! sheabq
2. DIY Wire Wrapped Bracelets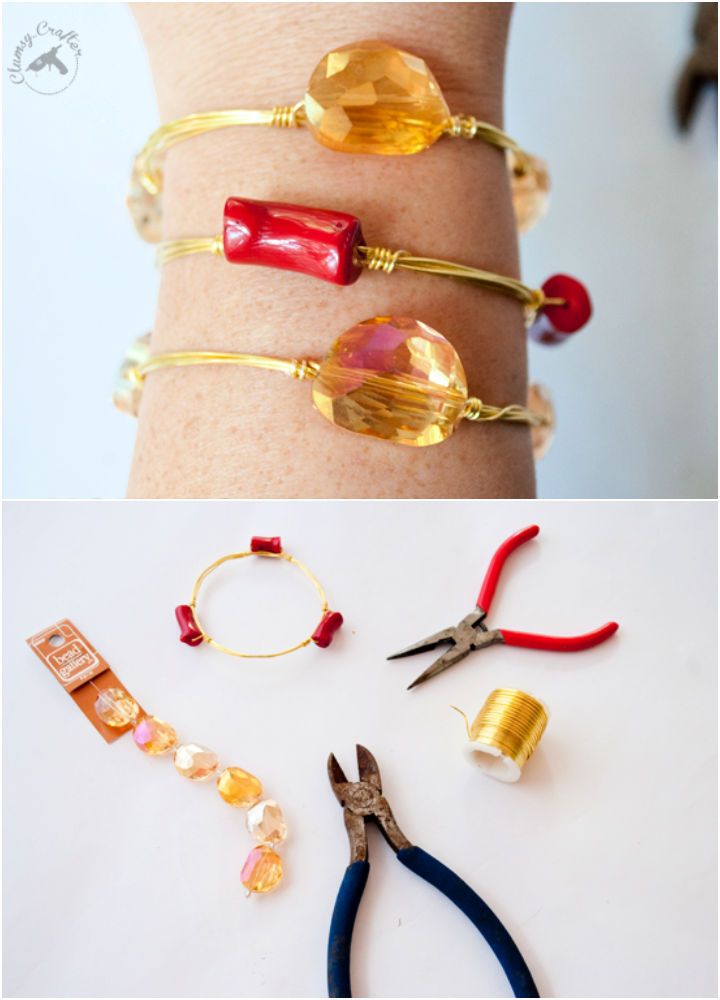 Spice up your fashion with these wire wrapped bracelets that come with enchanting jewelry, glass stones and crystals and will definitely create an inspired look of you! Twist the wire smartly to hold the beads and crystals over and then coil the wire to make a lovely bracelet! These bracelets would also make dashing gifts to big jewelry wearers at home! clumsycrafter
3. Easy DIY Geometric Himmeli Diamonds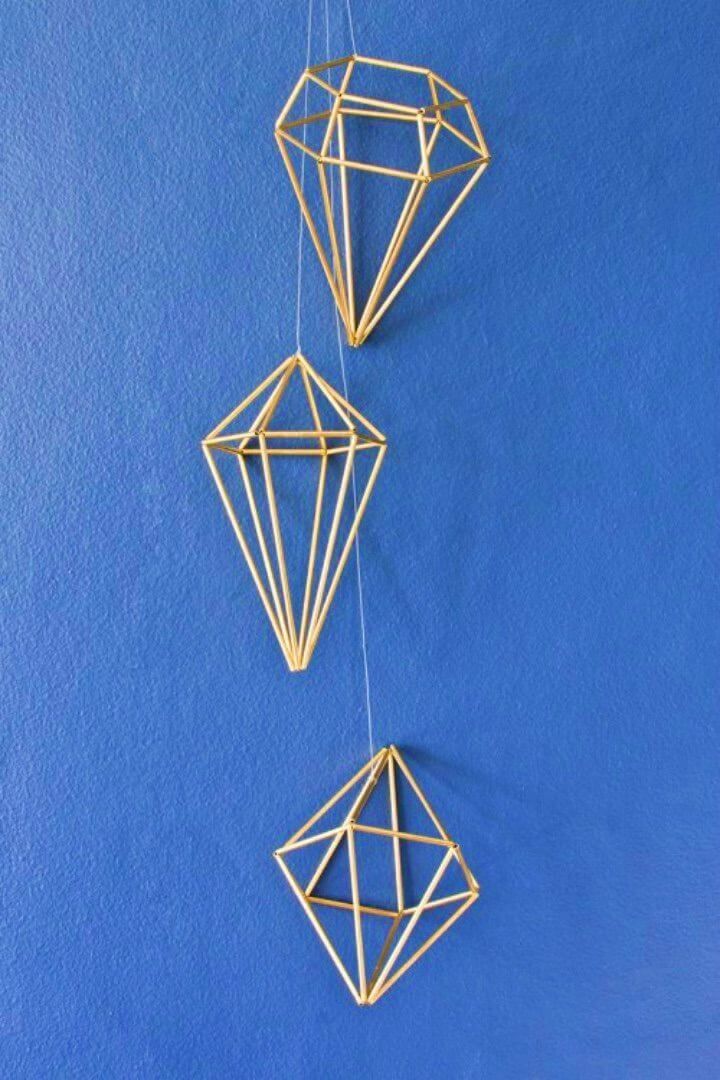 Get also smart with the wire and making flawless hanging festival and party decors and these geometric himmeli diamonds would rock as both, party and festival decors and are super easy to make using the metal wire and straws or brass tubing! Just cut the brass tube lengths according to your diamond pattern and the hold them together in diamond shape by threading them onto the wire! diyinpdx
4. DIY Wire Photo Hanging Picture Frame for Under $15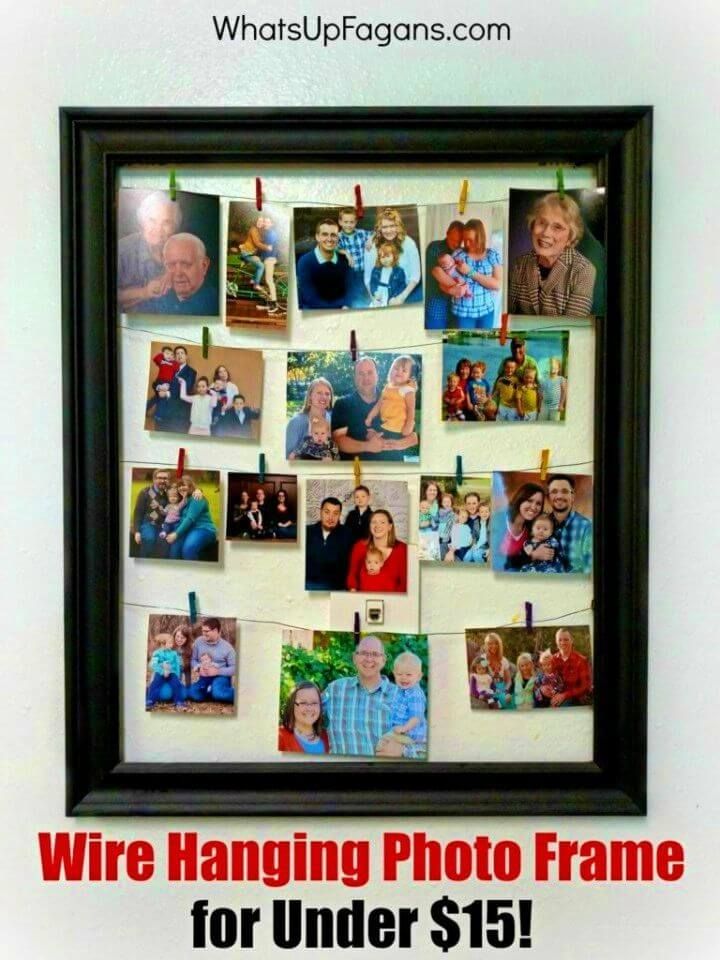 Displaying your favorite pictures and photos on your decided walls is also a smart idea to boost your interior wall decors, so you can also make enchanting photo hanging frames at home using the picture frame and metal wire! Take a look at this given sample that will cost you under $15 and will create an eye-catching display of your photos! Grab an old photo frame, add the brass thumbtack lines to both of its size that will hold the wire in place holding your favorite photos with the help of clothespins! whatsupfagans
5. Easy DIY Wire Word Art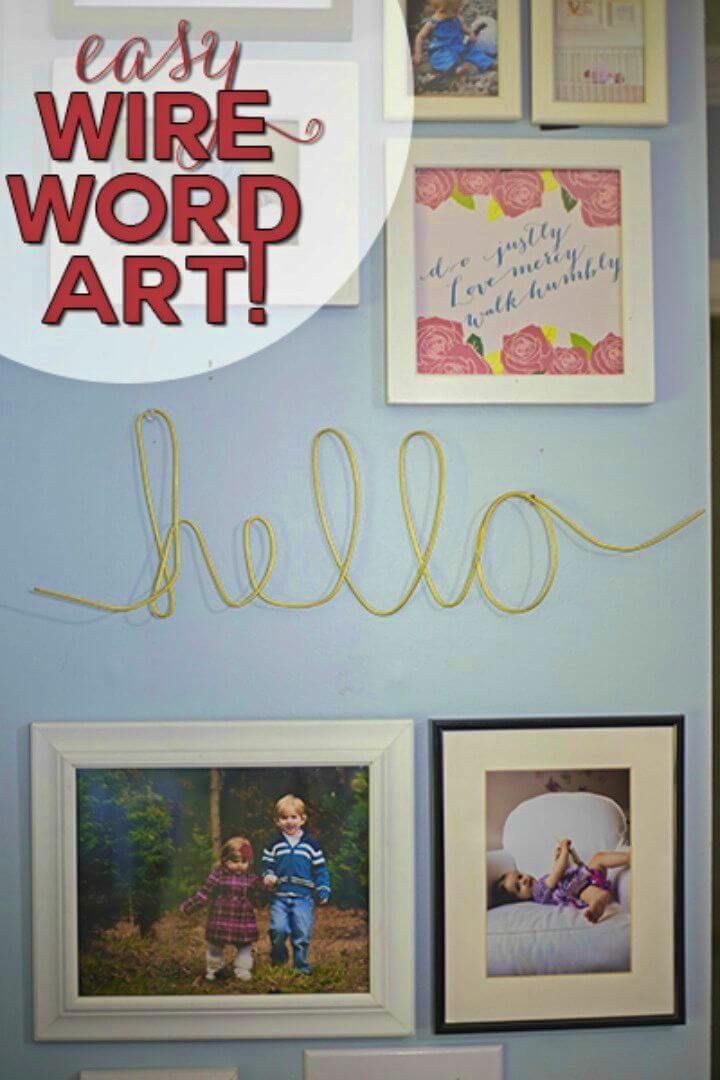 Say a big and sweet hello everyone by making this very cute wire "hello" art, will be super quick to make for sure! Just make use of a letter template and start twisting and bending your wire into letter form and that's it! Final step would be just to hang them on your favorite wall using custom wall hanging systems! viewalongtheway
6. Pretty DIY Wire Garden Art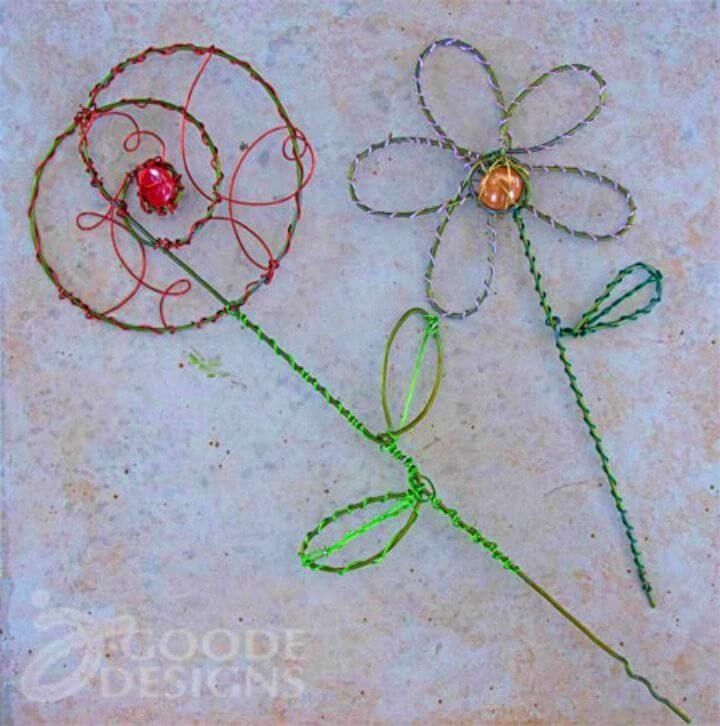 Let the people and all onlookers talking about the divine look of your garden that you can easily create using these amazing wire garden art! Grab the wire cloth hangers, jewelry wire and glass gems and make faux flower garden art, the garden butterflies and dragonflies decors and also various other that will create a fancy appeal of your garden! Checkout some lovely samples given below! jgoode
7. DIY Crystal Butterfly Garden Sun Catcher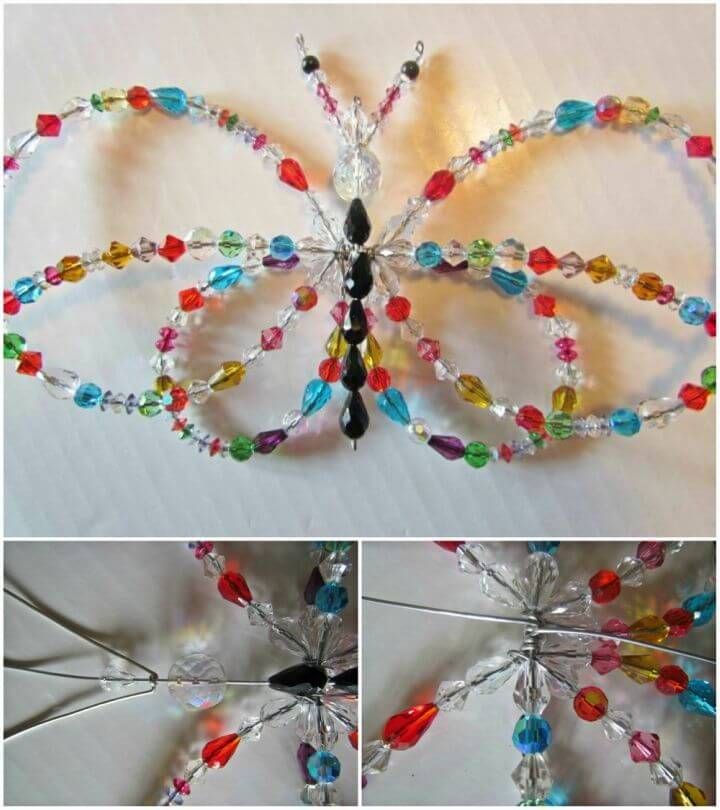 Make the crystal wire strands by threading colorful crystals onto the metal wire and then twist the wire to make a giant butterfly which you can use as a sweet garden art and sun-catcher! Another great wire craft idea to boost the visual appeal of your garden! Learn more by taking a look at the given sample butterfly, made to rock and inspire! hometalk
8. Cute DIY Wire Word Rings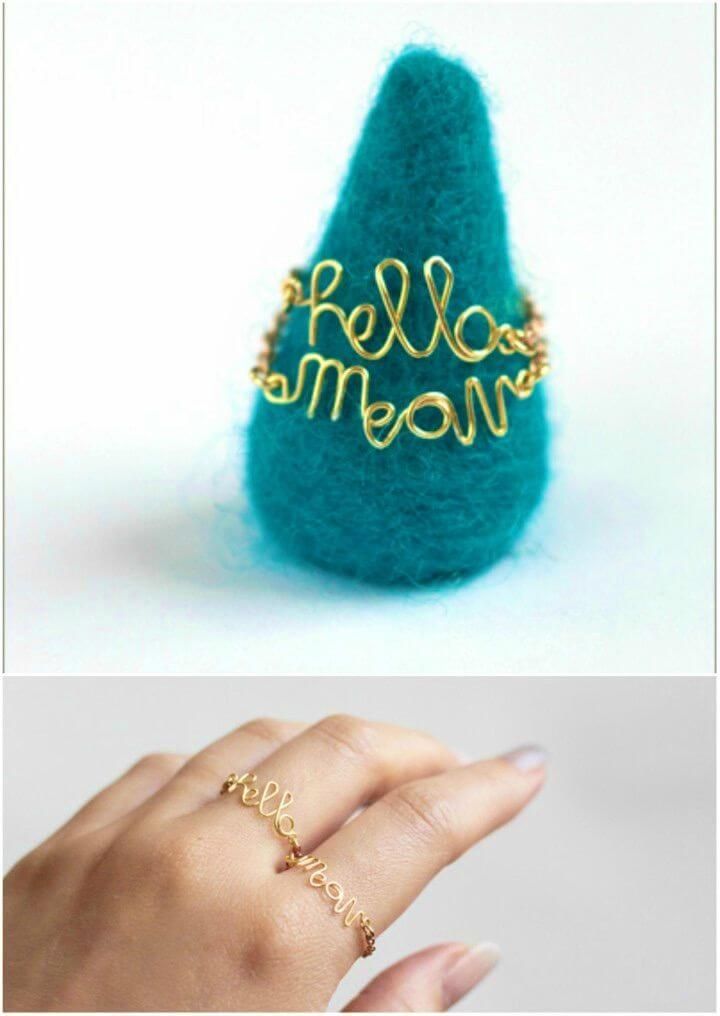 B end also the wire selected in gold, copper or brass to make your favorite letter art and then add your wire letters to a metal chain extension using jump rings and make great looking wire word rings, would be a great addition to your jewelry dish and will also make adorably cute handmade gifts! small good things
9. DIY Wire and Floral Mickey Mouse Ears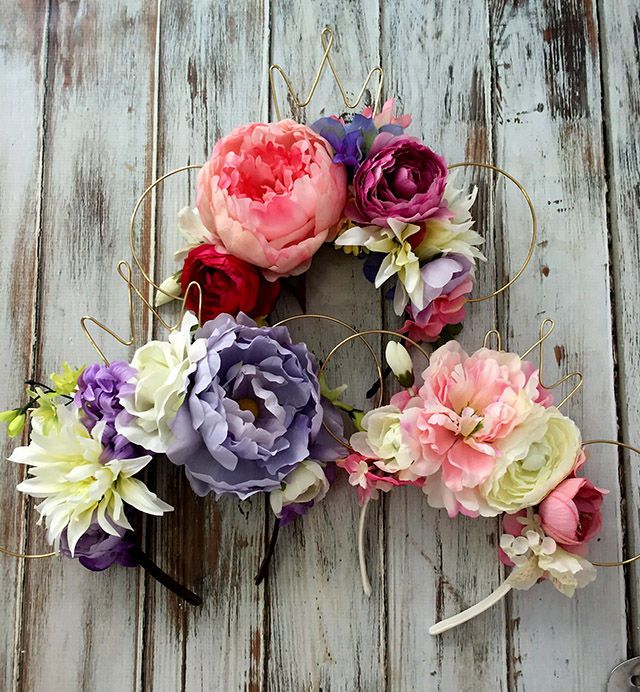 Also do amazing fun craft projects for yourself and for your kids using the metal jewelry or crafting wire! Take a great start by duplicating these very special wire and floral Mickey Mouse ears that will be super quick to whip up and will make an outstanding fun prop also for kids parties and photo shoots! Twist the wire into Mickey Mouse ears shape, embellish them with faux flowers and then glue on a haircatcher! pinkcakeplate
10. Wire-wrapped Tree Necklace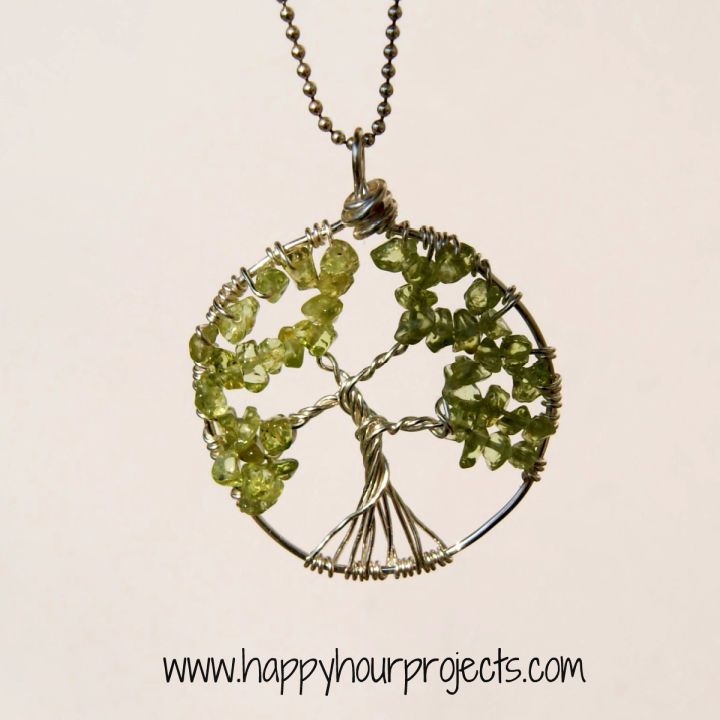 Here is what that will grab the attention of both genius crafting lovers and also of big jewelry wearers, this is here the very smartly crafted wire tree necklace that is super gift-worthy and is something that everyone will love to look at twice! Make a round of wire and then build a tree inside this round using another more flexible and thin wire also the green stone chip beads that you can easily thread onto the wire making the leaves of the tree! happyhourprojects
11. How to Make Iridescent Fairy Wings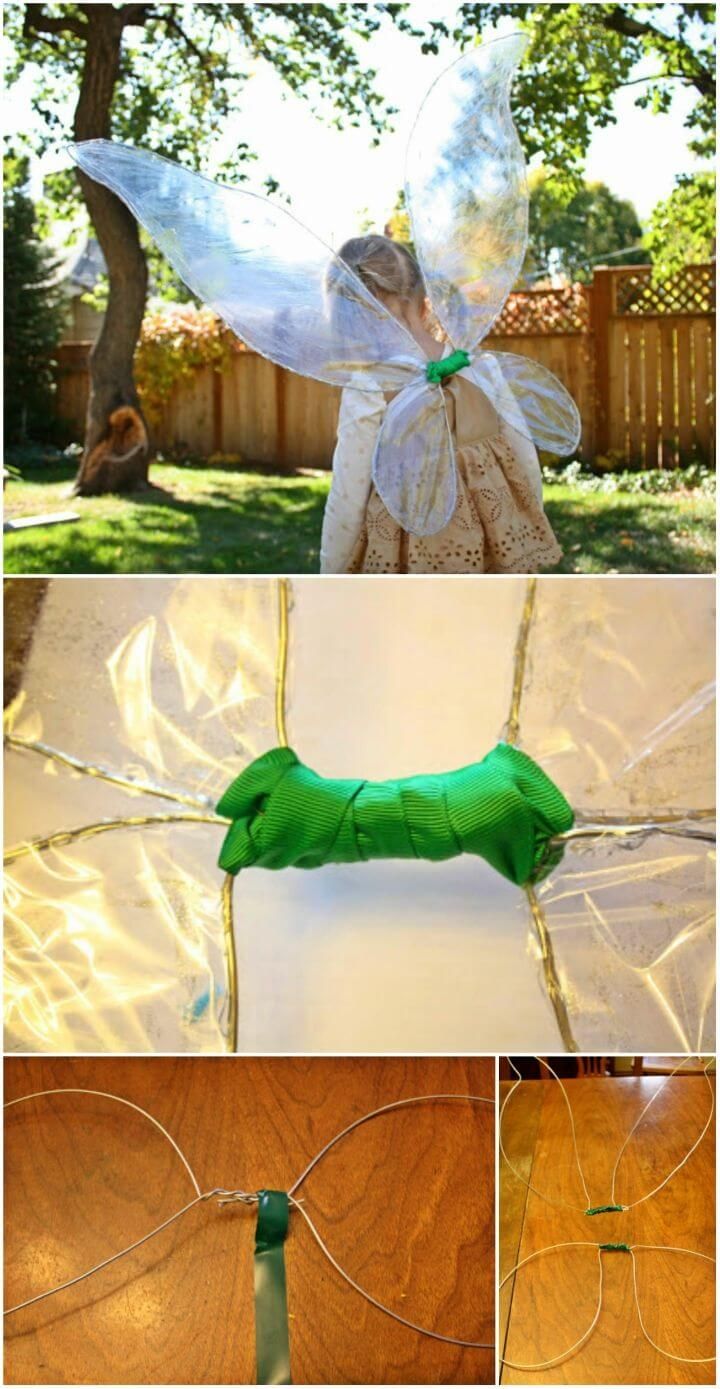 Give your little girl a best gift of her life that you can simply make with your own beautiful hands and hence it would be more valuable to her! Make the iridescent fairy wings for your little girl's angel dress and ear a lot of her love and respect more! Bend and twist the wire to make the wire frame for the fairy wings, cover the wings with transparent gift wrap using tape and glue and that's it! atsecondstreet
12. Gem Tree for Beginners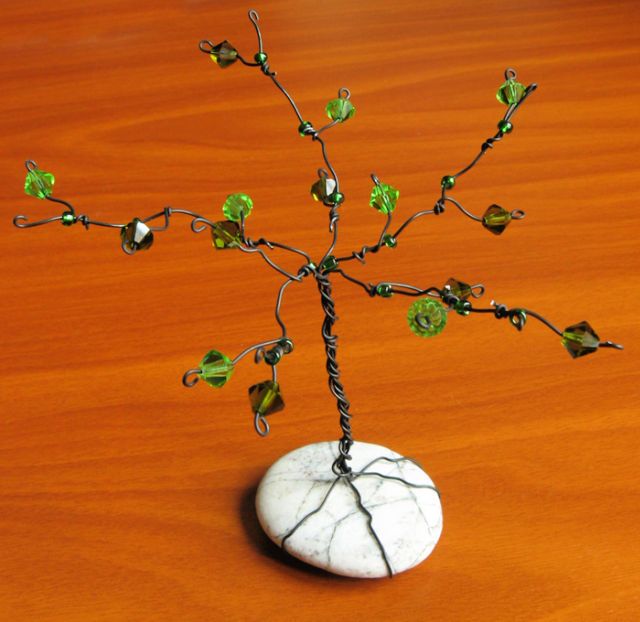 Checkout here another beautiful wire art that will be centerpiece worth for sure and is pretty easy to make also! This is here a very fantastic looking gem tree that will be just at a drop of hat! Thread custom and colorful gems and crystal beads onto your selected piece of wire and then twist the wire as you want making a lovely tree art! Don't forget to add a heavy flat stone bottom that will help the tree to stand alone on any flat surface! windysunset
13. 5 Easy DIY Braided and No Tools Rings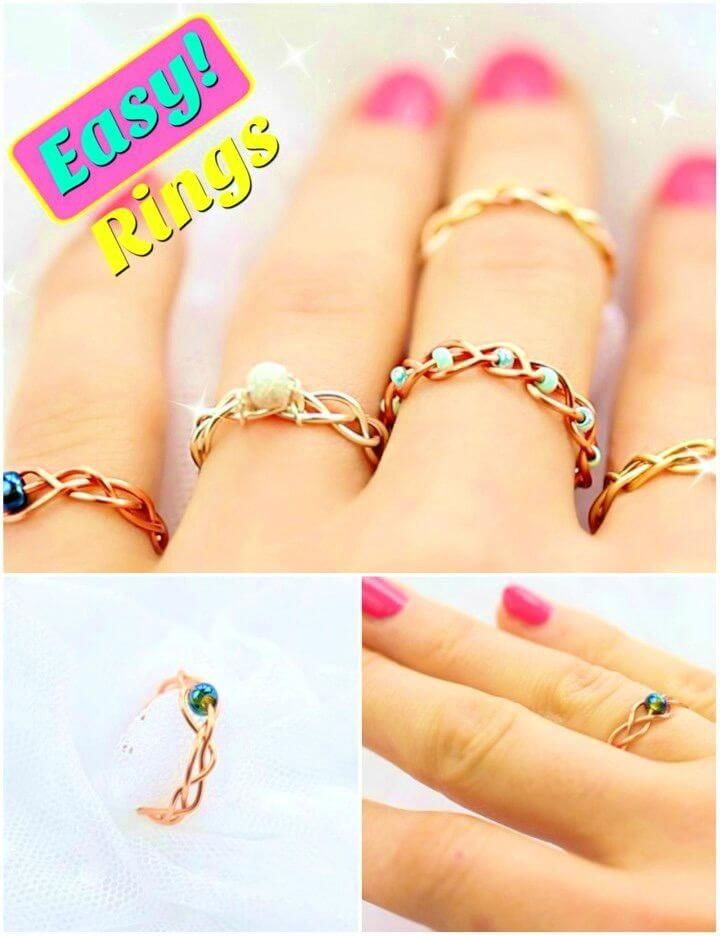 You will be highly amazed to see that you can also make celebrity inspired rings at home just by braiding the jewelry or crafting wire and by threading the beads or crystals onto them during the braiding! Here your hands will be the only tool to use! Checkout here the 5 smart ways to braid the wire to make outstanding jewelry rings! instructables
14. Upcycled Copper Wire Pendant Lights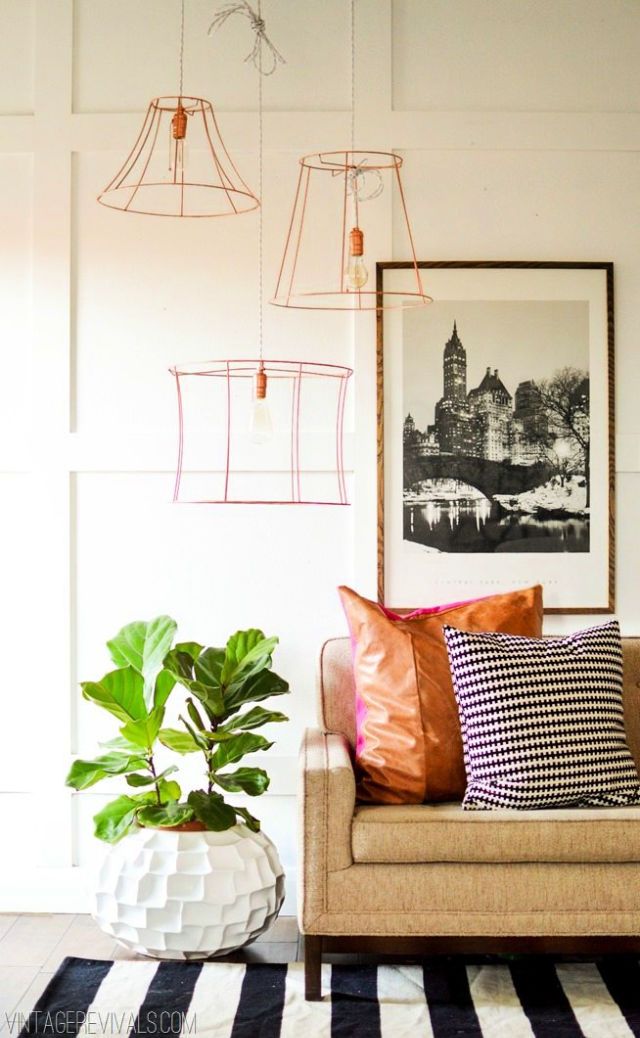 Learn things to make with wire through this list of easy wire crafts. Display also the metallic touch of wire to your cozy and modern home spaces also by making these very gorgeous copper wire pendant lights! Grab the old lampshades and remove the fabric from them so you will only leave with the wireframe, spray paint them in copper and add extra wire to hold the light bulb sock in the center and that's it! vintagerevivals
15. Easy DIY Wire Wrapped Rhinestone Leather Bracelet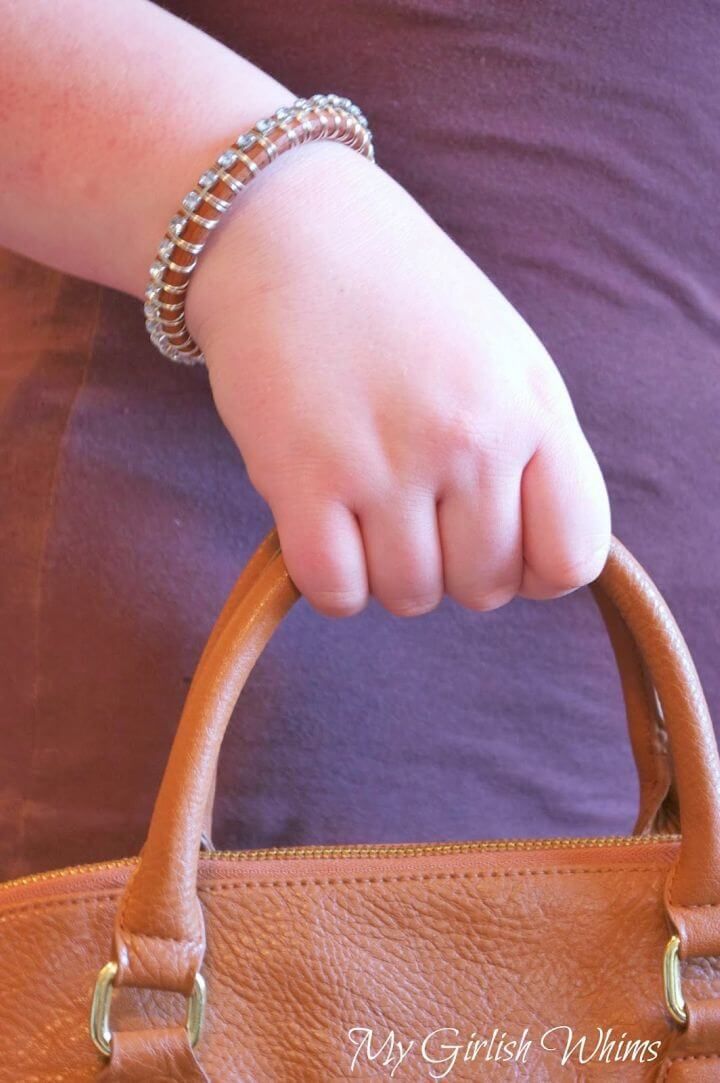 If you are a big jewelry wearer and take great pleasure in jewelry yourself up then this wire craft is only for you! Make the amazing looking wire bracelet at home by mixing it up with other things like rhinestones, beads and leather! Peek into details of this sample that is made of leather bracelet base, rhinestone chain, metal clasp endcaps and with wire! Here is how to make it! mygirlishwhims
16. How to DIY Decorative Wire Vase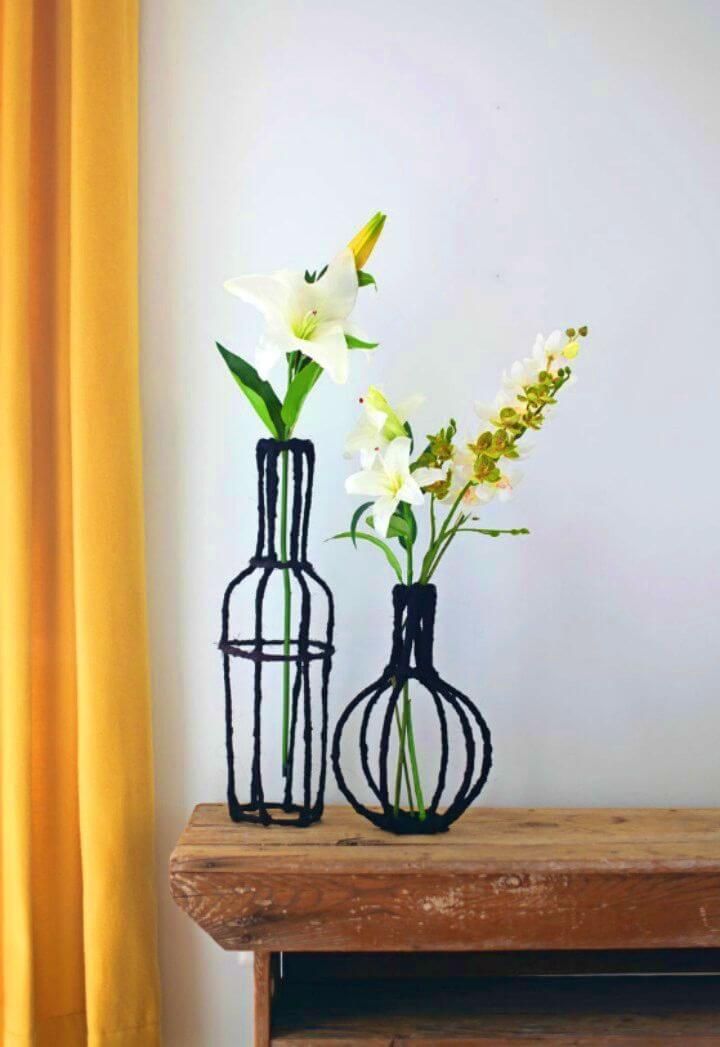 If you to make your interior look fascinating by adding some super unique and whimsical decor crafts then here is what that will make an ideal choice! These are here the decorative wire vase that look like the wire frames of the vases and come empty not filled! Bend and twist the wire to make the vase frame and then jazz it up by adding faux flower stems inside! Here the wire vase frame also come wrapped in fabric strips for extra gorgeous appeal! abeautifulmess
17. DIY Ombre Earrings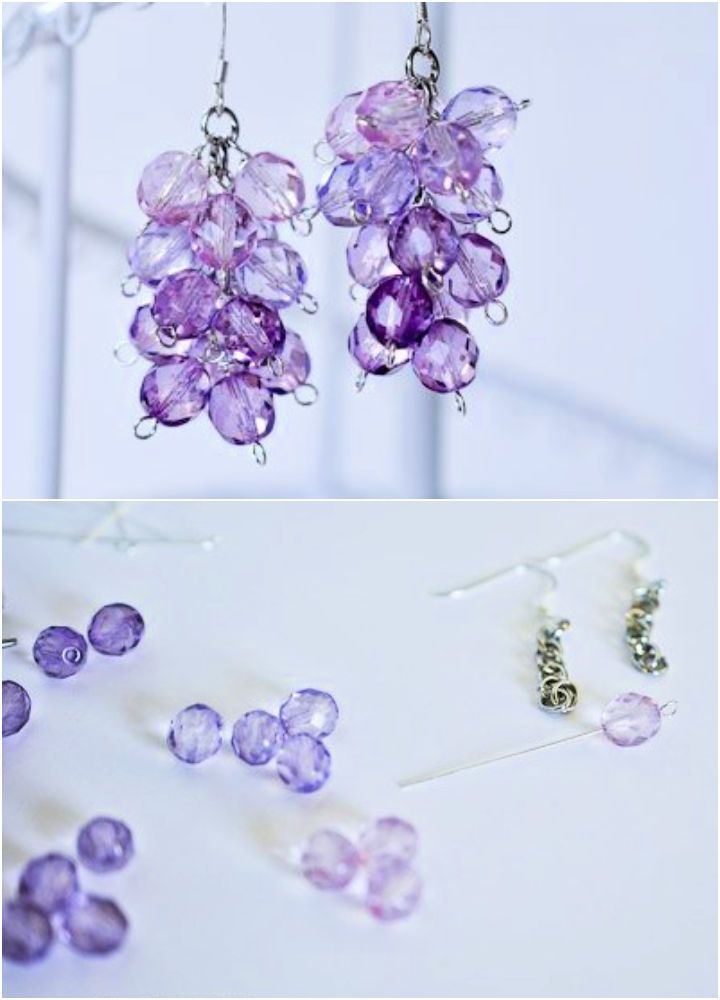 If you love the creativity then you are definitely going to appreciate this very awesome looking wire jewelry craft, here the ombre earrings have been made using the ombre bead jewelry lines, metal chain, earring prongs and eye-pins! Here these ombre earrings will also make great handmade gifts to someone special! bombshellbling
18. Easy DIY Nicole's Wire Cacti Garden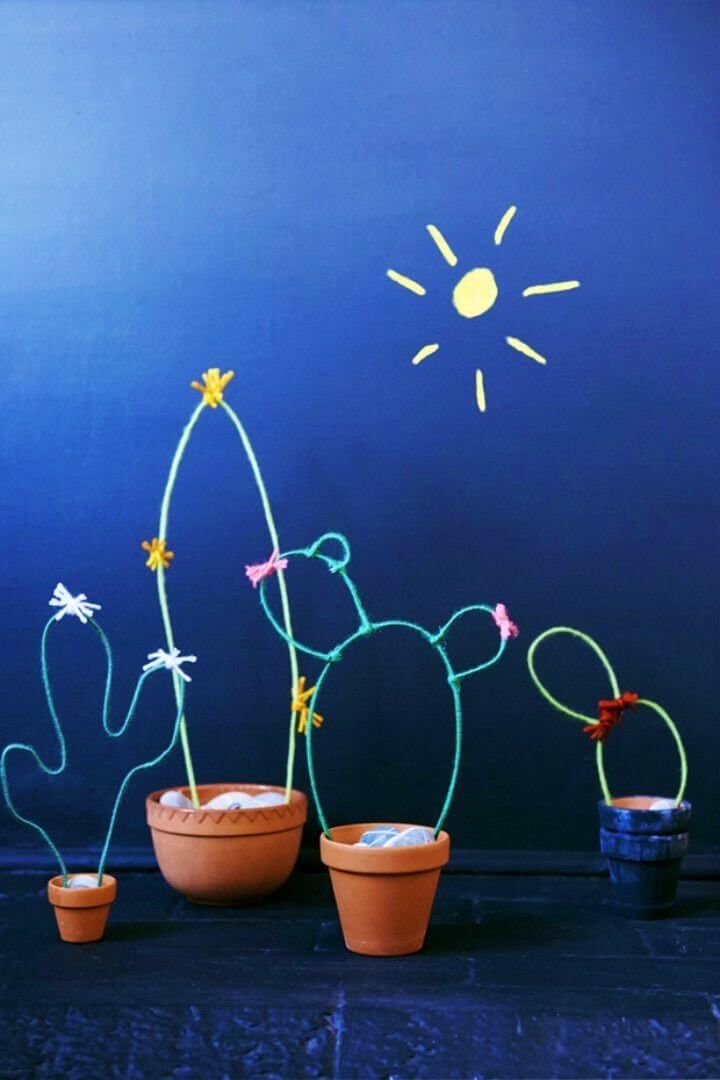 Using your smart imaginations and creativity, you can just do wonders with the wire in the crafting world! If you are looking for bizarre garden decors then do duplicate this Nicole's wire cacti garden that is another adorable wire creation and will like a child's play to make! Bend the wire into the cacti shape and then wrap the yarn around them tightly and decorate with faux flowers or with other embellishments! jungalow
19. DIY Rain Chain From Wire-wrapped Rock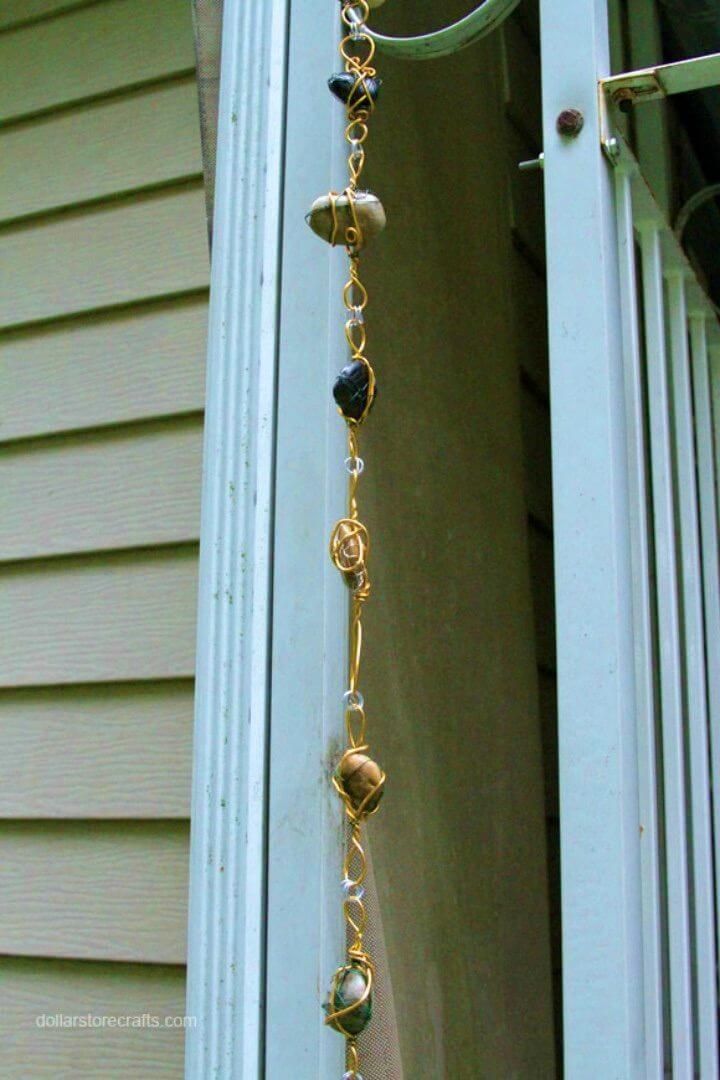 Spruce up your outdoors also in the rainy season by installing some lovely hanging rain chains! Hopefully, you can also make some fantastic ones at home using the wire and rocks! Here the floral wire and decorative river stones have been used to make this eye-captivating rain chain will hang like a charm to any of your outdoor! dollarstore
20. How to Make Copper Wire Art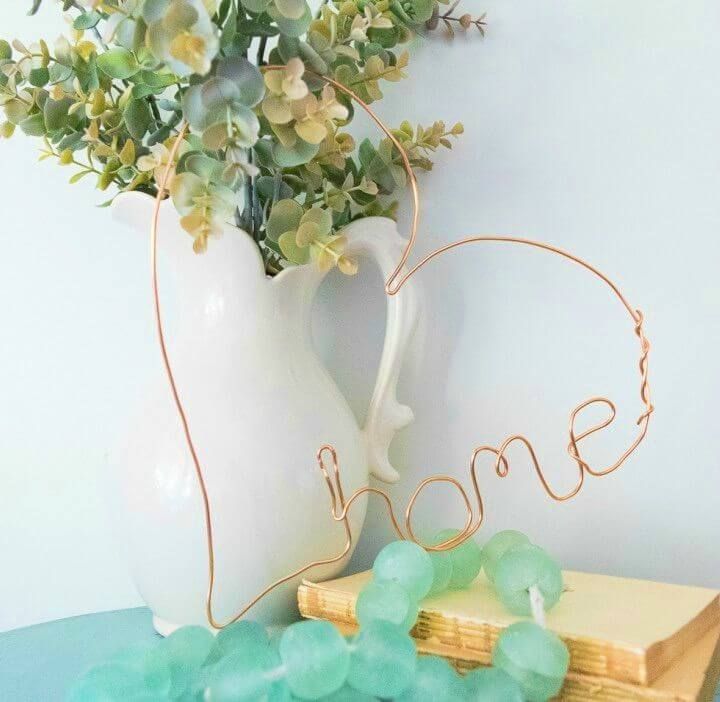 Once again a well thought and creative wire art design ideas are here to add extra wings to your creativity! Here a lovely copper wire heart has been made that comes with one side made of wire word art! This wire art here is a perfect home decor that is also a way to show your love for your home! Experiment with these wire crafts with some other quotes or wire letters! sinkology
21. DIY Super Cinchy Stick Necklace and Earrings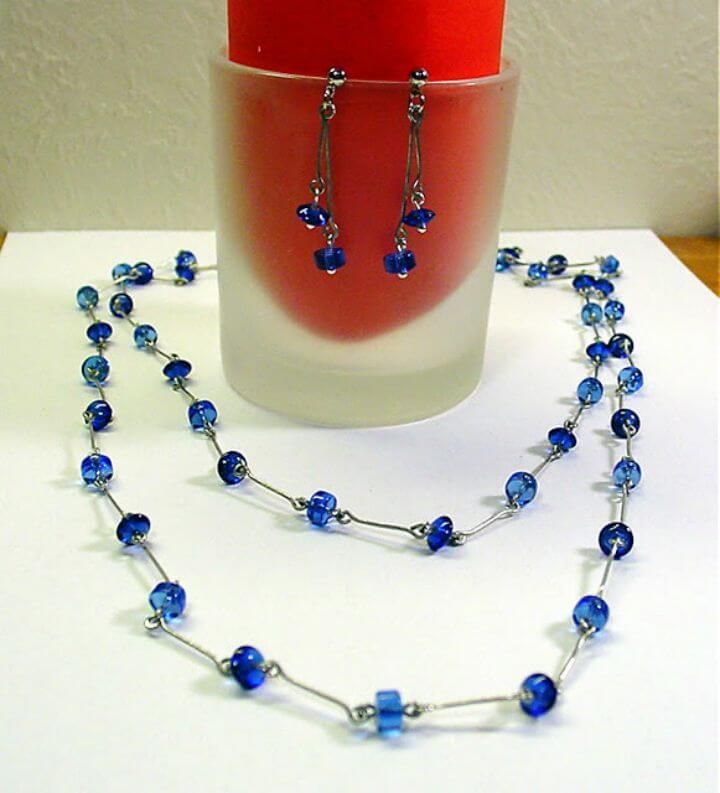 Make also the matching earrings, necklaces and bracelets and hence the whole jewelry sets at home using the wire, your favorite beads, rhinestones and other embellishments! If you need some inspirations in this case then do duplicate this cinchy stick necklace and earrings set at home, will make a sweet handmade gift to a fashion loving lady! heathersfedup
22. How to DIY Wire Pendants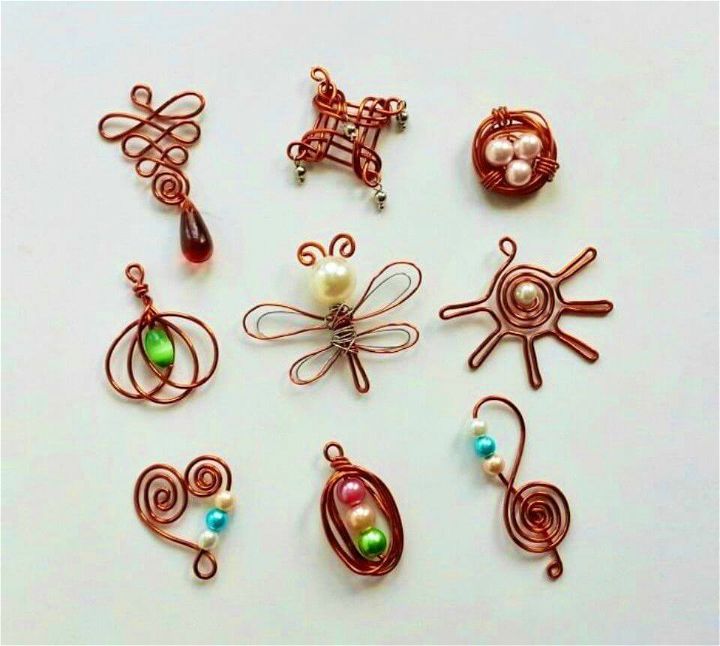 If you love to wear the necklaces that come with super unique and eye-catching pendants then do make the great looking necklace pendants at home using the crafting or jewelry wire! Checkout here some super inspirations, the eggs in the nest, the dragonfly, the lovely wire heart and various other artistic and geometrical wire pendants, will surely inspire your creativity and are pretty easy to make! instructables
23. DIY Wire Wrap Woven Pendant Tutorial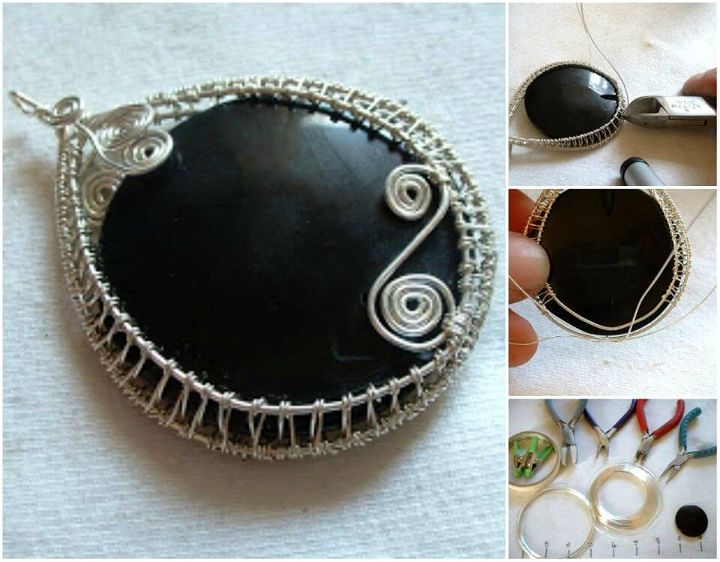 Once again another gorgeous pendant is here to make with the jewelry wire, would be a piece of cake to make and will be work up super quickly! Here all you need a flat circular focal, wire of different gauges, and masking tape to duplicate this very interesting woven wire wrap pendant! Another great wire jewelry craft idea! flightfancy
24. DIY Geometric Himmeli Wreath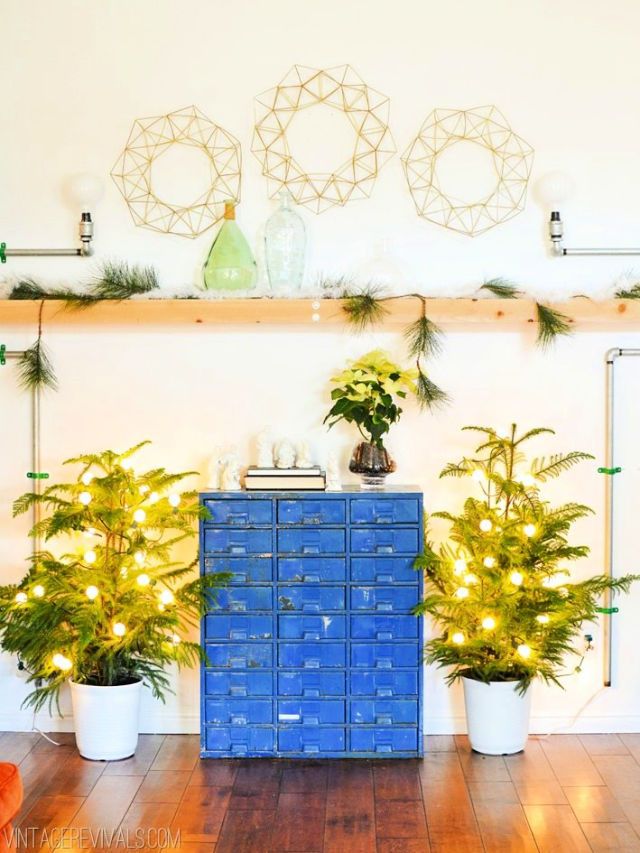 Make also very interesting looking hanging festival decoration at home using the jewelry wire! A great and interesting sample here is these geometric himmeli wreaths that will make outstanding festival hanging decorations and will also bring the lovely geometrical decor statements to your interior home spaces! vintagerevivals
25. DIY Wire Sculpture Art for Kids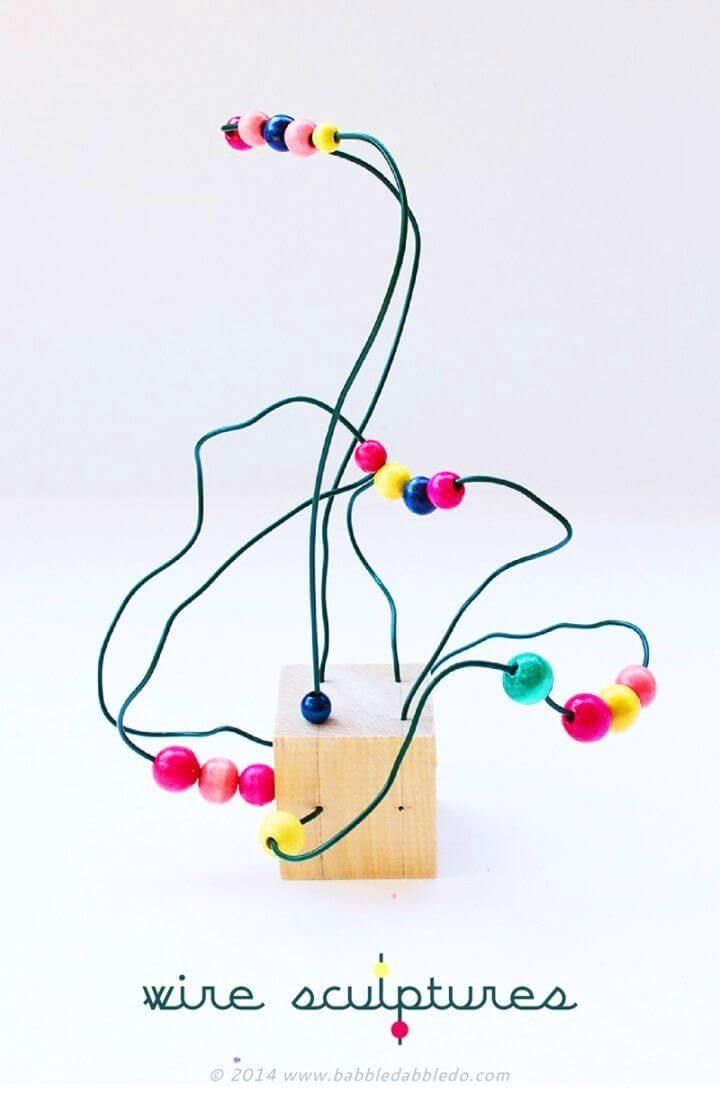 Raise also the kids activities by giving them some easy wire projects as next crafting assignments! Your kids can take a great start by making this wire sculpture art that involve all the creative bending and twisting of wire! Here all you need the wire, painted wooden beads and wooden blocks with holes for this project! babbledabbledo
26. Pretty DIY Wire Heart Ring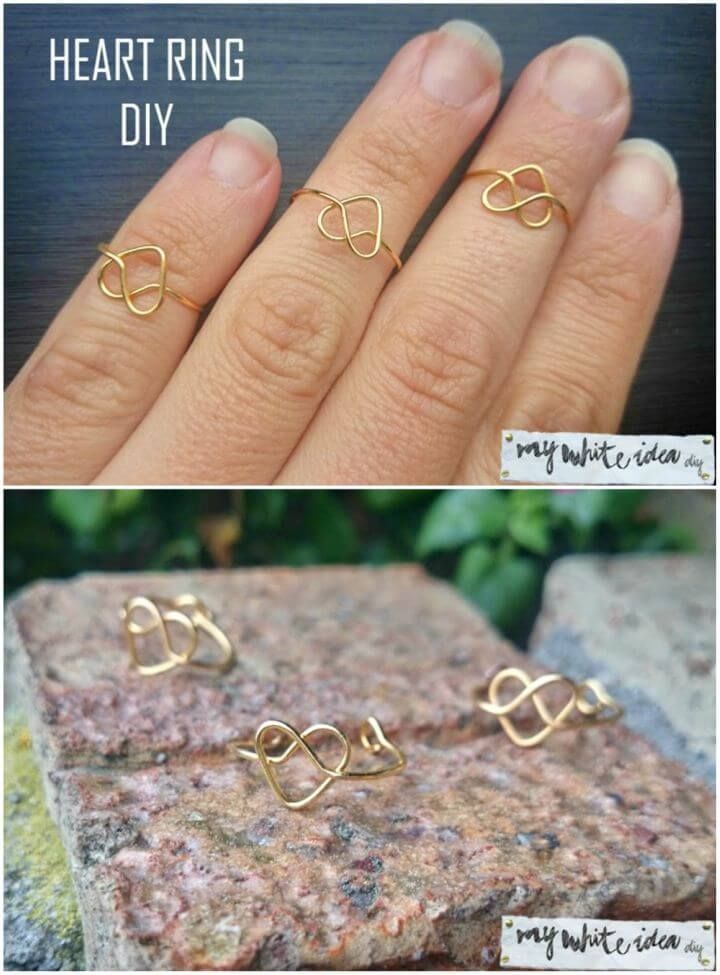 You can simple twist the wire into letters, mini art and into any interesting shape that can then be worn as lovely rings! Get inspired of this wire heart ring that is a big breeze to make and will be super quick to whip up for sure! Here all you need to add creative bends in the wire so it will appear with a heart shape in the center making a beautiful wire art ring! mywhiteideadiy
27. How to Make Mini Wire Crown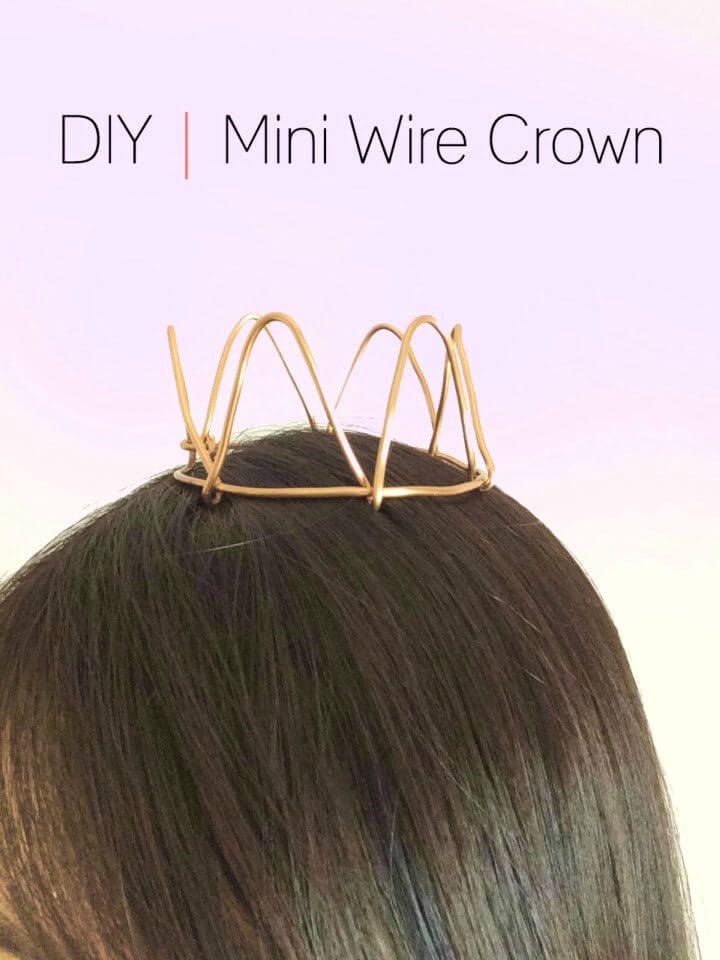 The wire can easily be folded into any shape and you can twist the wire around the same wire or around a different one for easy connection and this generates unlimited possibilities for the wire crafts! Using your smart brain and thick wire, you can also make enticing mini wire crowns that you can embellish with your own custom accents like flowers, pearls and beads for a magnified look, take a look at the given sample! cafecraftea
28. DIY Fabric and Wire Flowers Tutorial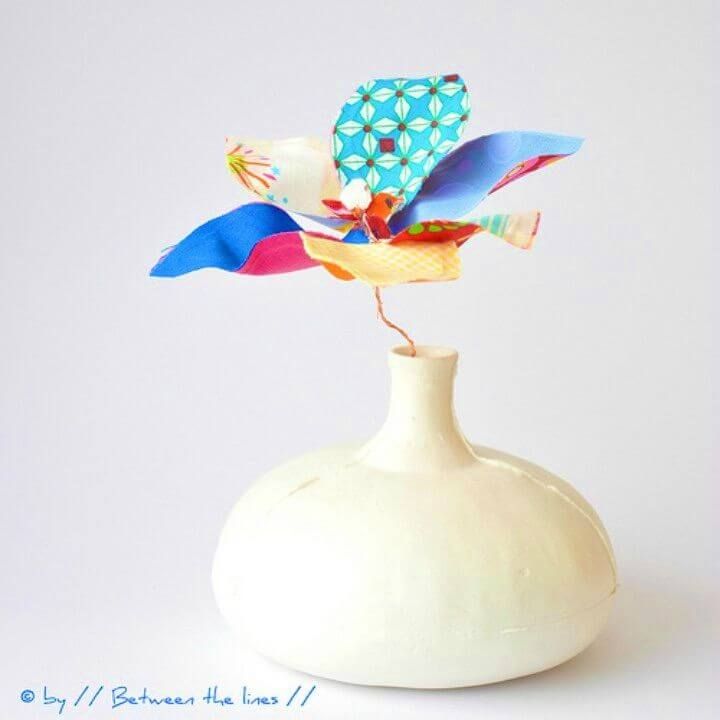 If you love the home decors that are based on different flower arrangements then do make the fabric and wire flowers that can be displayed in your home in so many different styles for superb good looks of your spaces! Cut out the flower petals out of the scrap fabric pieces and then glue them on the wire making interesting flowers that you can also put in a vase to gain a home decor centerpiece! betweenthelines
29. Quick DIY Wire Wrapped Tree Suncatcher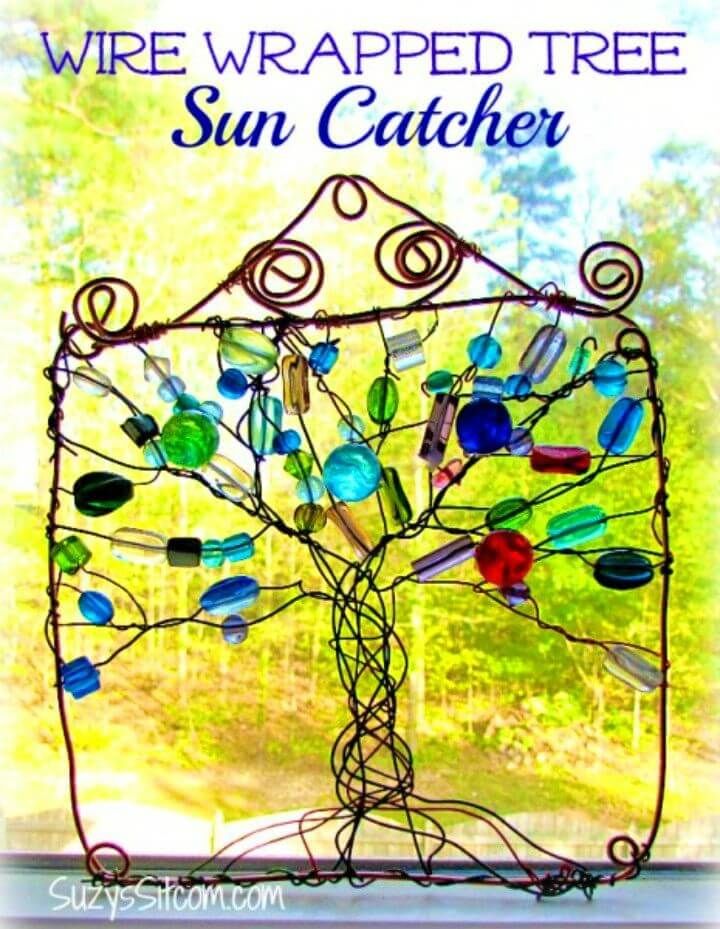 Also make interesting outdoor decors like the suncatchers, rain chains and also the outdoor chandeliers using the metal wire, crystal beads, rhinestones and other items of this kind! Fold your sleeves up and clone this very interesting looking wire wrapped tree suncatcher that is another creative wire craft here! suzyssitcom
30. Make Heart Clasp Wire Wrapped Bangle Bracelet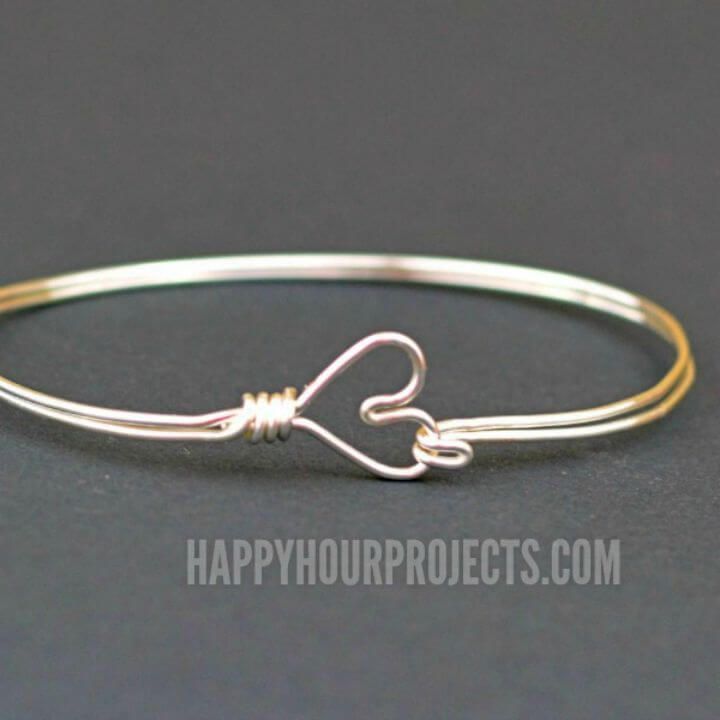 Also get crafty with your favorite wire and make outstanding bracelets that will also be super gift-worthy! Here the silver plated copper wire has been twisted and come with a heart clasp at one end! It has been coiled to gain a lovely heart clasp wire wrapped bangle bracelet that is sure to fancy up your forearm with metallic elegance! happy
31. How to Make Wire Word Art Teaser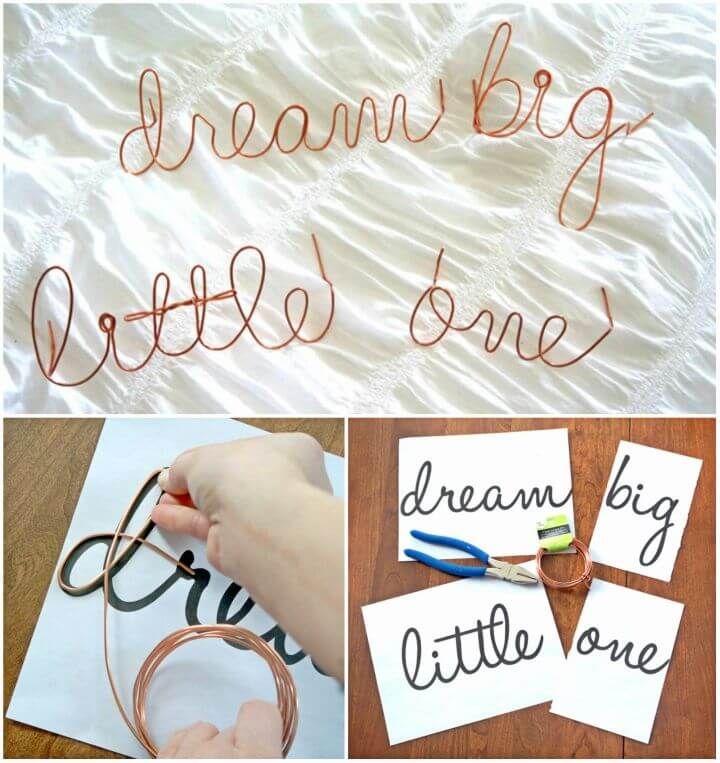 If you love the quote art then also opt for the metal wire quoted art that will be solid and will go super eye-catching! Twist and bend the wire to make interesting words and letter out of it! Use the custom letter template for easy twisting and bending of wire into your favorite word art! Take a look at the given below samples and get your creativity inspired! copperdotinteriors
32. DIY Wire Wrapping Heart Beaded Charms Bracelet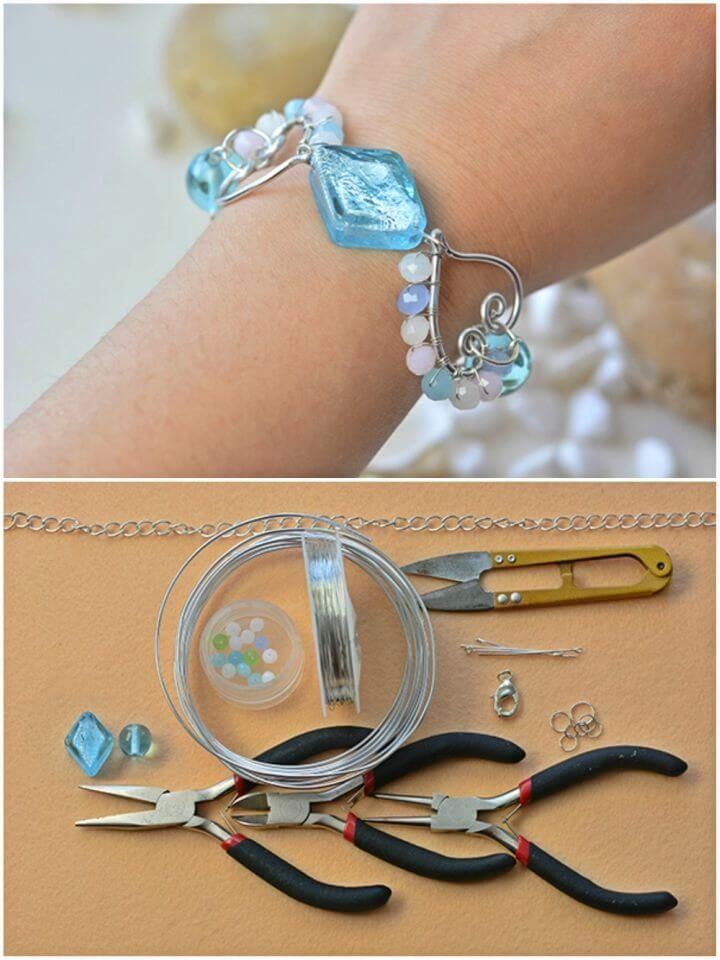 You can easily bend the jewelry wire into mini heart shape, so time to invent a beautiful necklace using those beautiful wire hearts! Add your wire hearts with metal chain extensions and adorn them with beads, rhinestones, crystals and with custom charm and make outstanding beaded wire heart and charm bracelets, would be a big pleasure to wear in your forearm! henryjewel
33. Make Wire Wrapped Lotus Pendant Necklace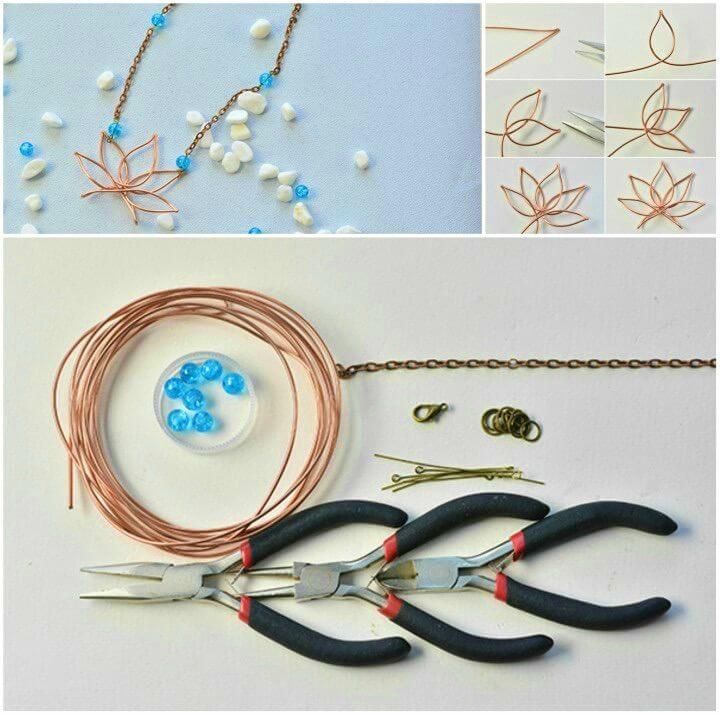 See this of the beautiful copper wire crafts. If you love the lotus flowers then this amazing chain necklace will definitely win your heart as it comes with a lotus pendant that is made by bending and wrapping the aluminum wire! Here this necklace also looks stunning due to the addition of glass beads and hence would make a great handmade gift to someone special! carolcraftshouse
34. How to DIY Wrapped Wire Rings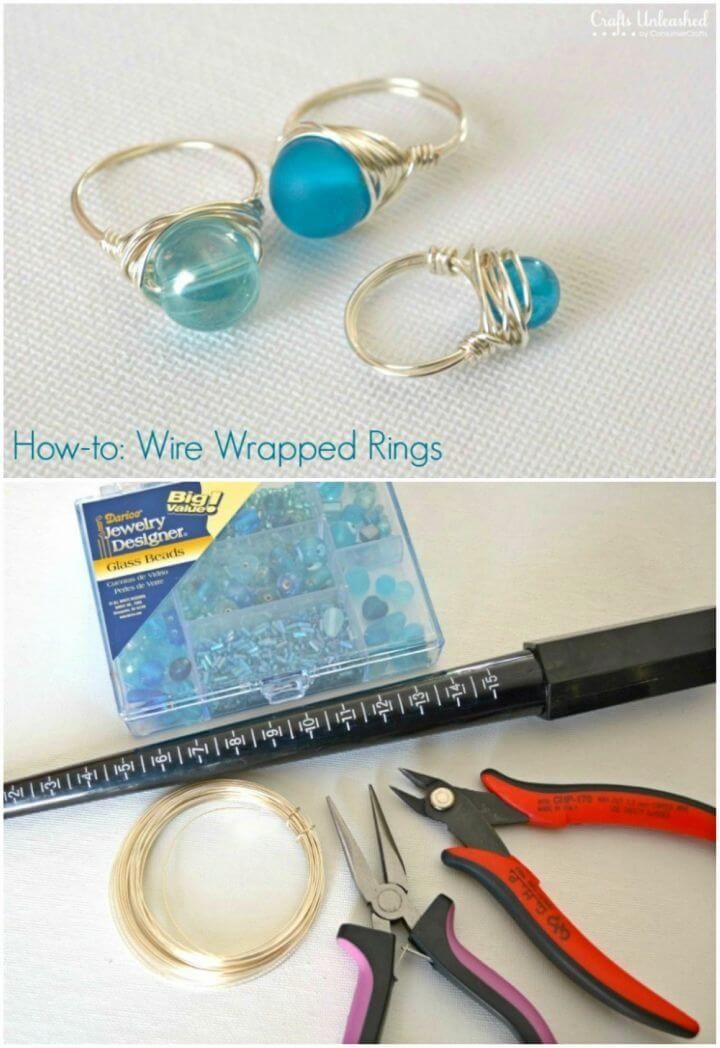 Add also very unique and adorable looking rings to your ring collection which you can easily make with your favorite wire! Just thread a bead, pearl or crystal of choice onto a piece of wire and then start wrapping the wire around and also add coil the wire to make ring base and make outstanding rings in couple of minutes! Stare at the given samples that are made of silver plated copper wire! consumercrafts
35. Dollar Store Floral Wire Pumpkins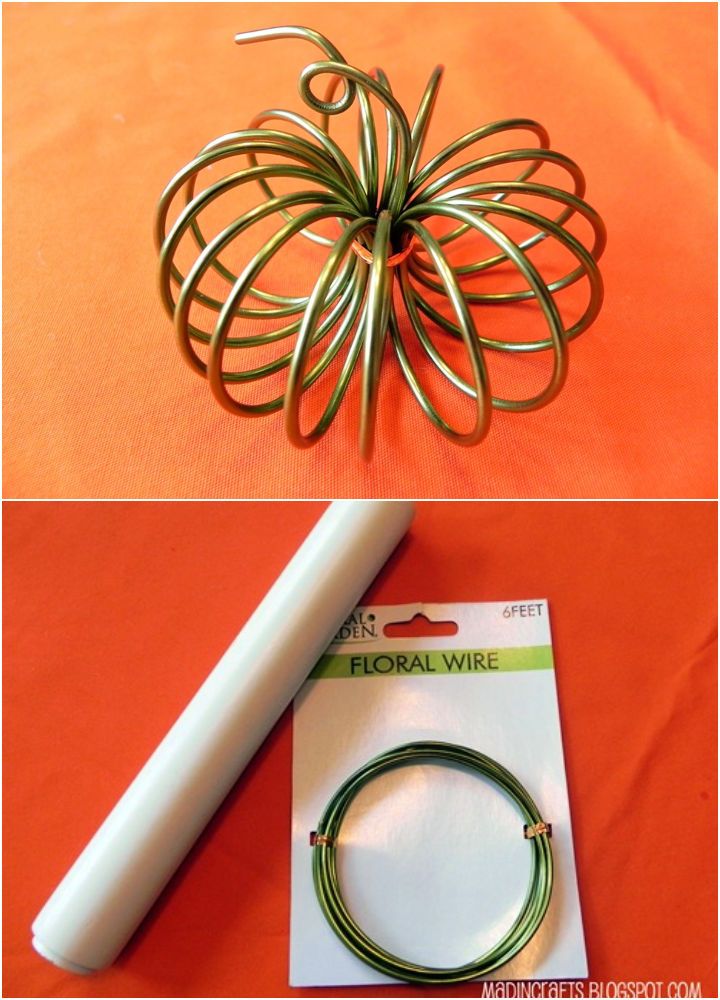 If you are intending to make some lovely fall or Halloween decors they will love to select one that is based on pumpkins! So, also make your own special metal wire pumpkin decors that you can also mix smartly to your fall and Halloween decors! Here the dollar store wire has been wrapped around a cylinder making a spring like shape which you can then get in a circular shape to make a lovely pumpkin! madincrafts
36. Easy DIY Hammered Chandelier Earrings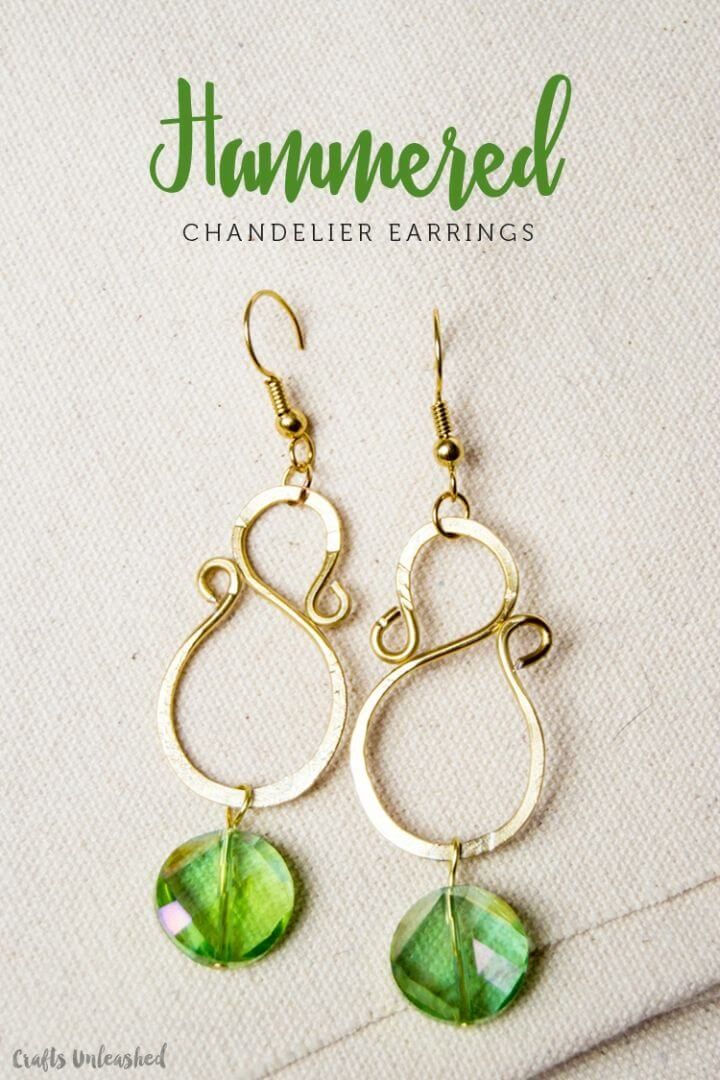 Grab the wire of choice, the ear wires, custom charms or beads and wire working kits to make outstanding earrings and other jewelry items in the home! Clone these hammered chandelier earrings that are special and would make a great handmade gift to a friend for sure! Do duplicate these earrings to add to your earring collection or jewelry display! consumercrafts
Conclusion: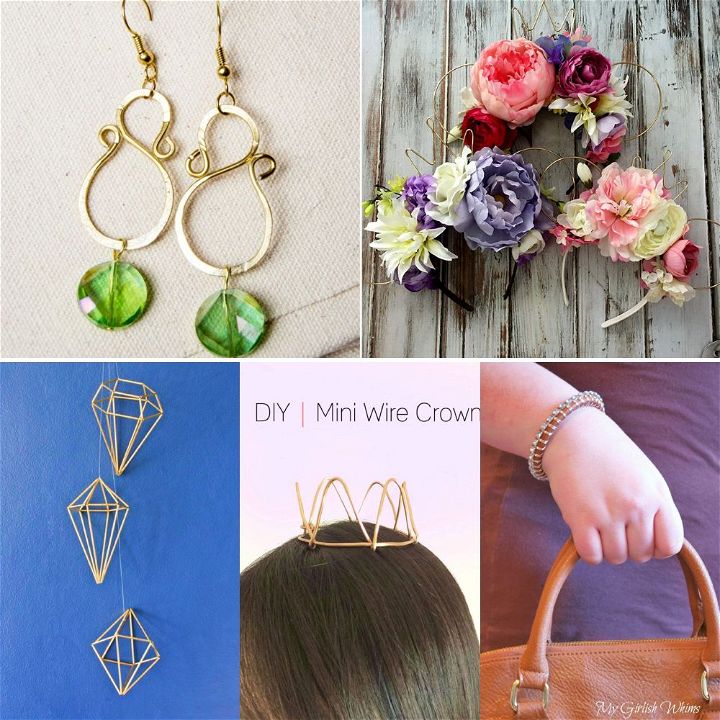 If you're looking for a fun and creative way to spend your time, wire crafts are definitely the way for you. These wire craft ideas should get you started, but don't be afraid to experiment with different techniques and materials. Have fun with these wire crafts!