We've curated 70 easy DIY felt crafts, felt patterns and DIY felt projects. All instructions are easy to follow with in-depth diagrams and instructions.
Felt is a fabric that is made from wool, fur, or other animal fibers that have been felted or matted together. Felting is a process that uses heat, moisture, and pressure to shrink the fibers and turn them into a solid fabric. Felt can be used to make a variety of different crafts, including felt flowers, felt dolls, and felt animals. It can also be used to create felt patterns for quilts, clothing, and other textile projects.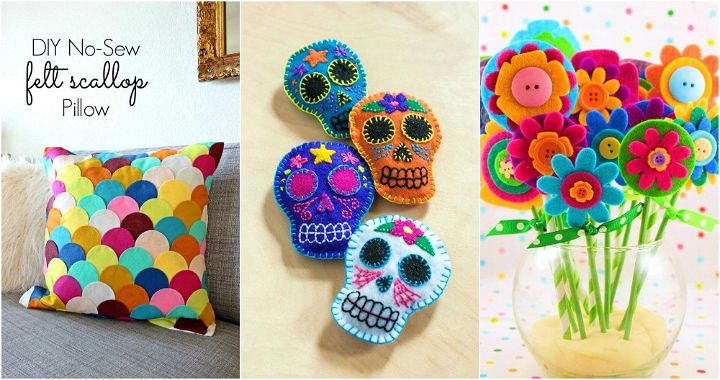 In addition, felt can be used to make DIY felt projects such as purses, bags, and hats. Whether you are a beginner crafter or an experienced seamstress, there are endless possibilities when it comes to creating felt crafts.
1. Giant Felt Diamond Ring for Your Ring Bearer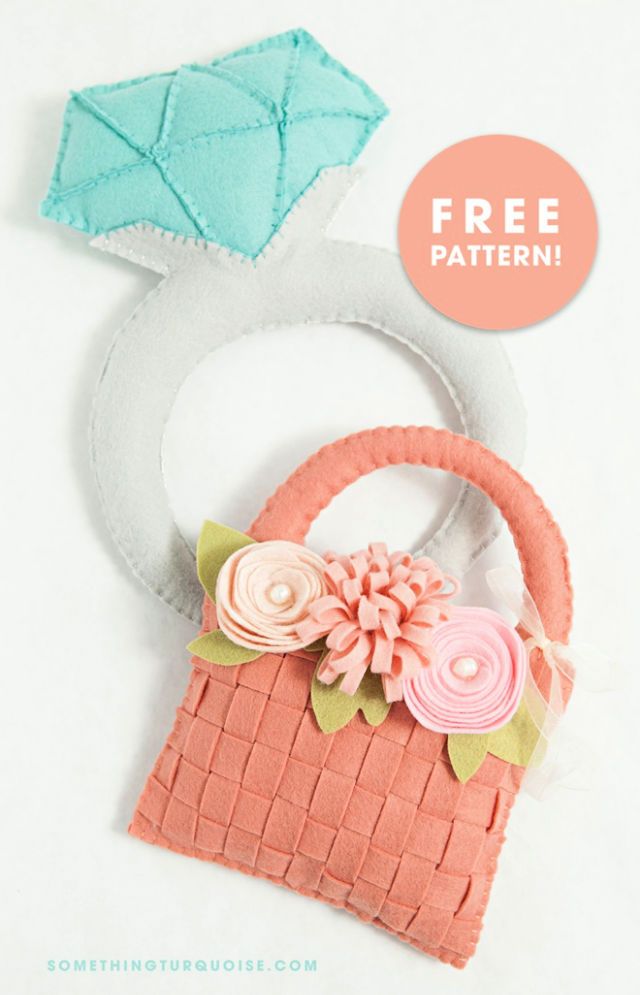 Do amazing projects with the felt for making your wedding ceremony special! Make a felt diamond ring for your ring bearer, will not take much time and would not be hustle to make! Check out here the sample ring that you can make for your wedding and also for your friend's wedding! Here is how to make this ring somethingtur
2. Adorable DIY Take on Nursery Letter Art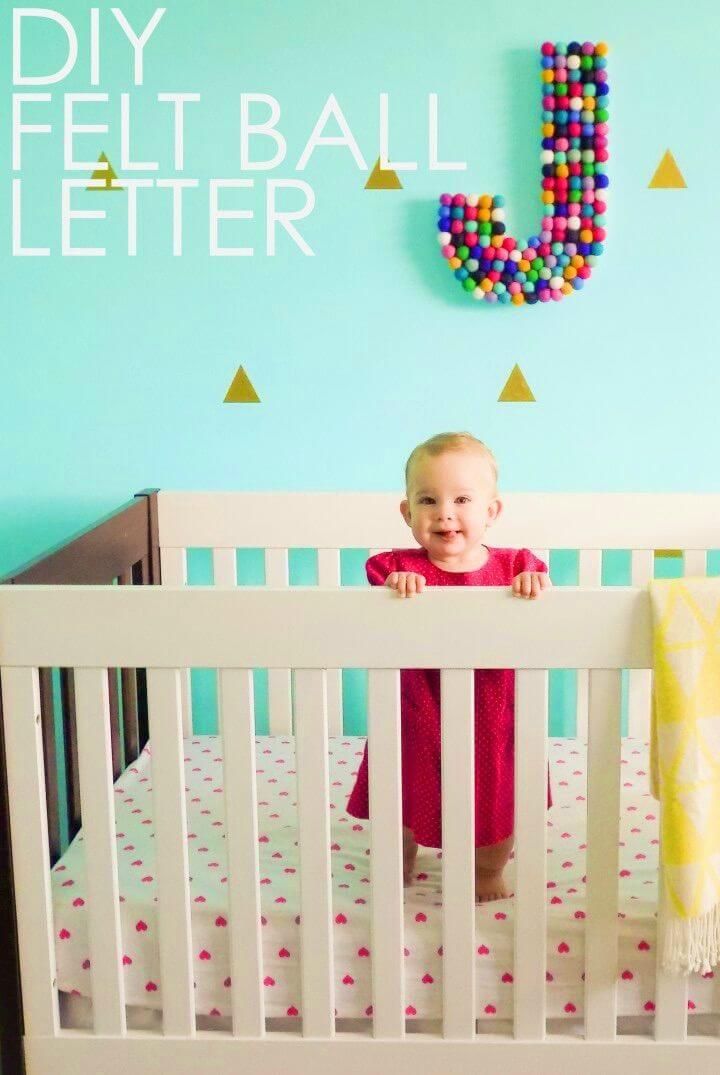 Bring enchanting colors to the kid's nursery and also create a personal décor statement thereby using these precious nursery letter art that you can quickly make at home using felt balls and a wooden letter! The idea is to simply glue the colorful felt balls on a wooden letter for creating a bizarre colorful monogram! projectnursery
3. Make Velvet Pom Pom Pillows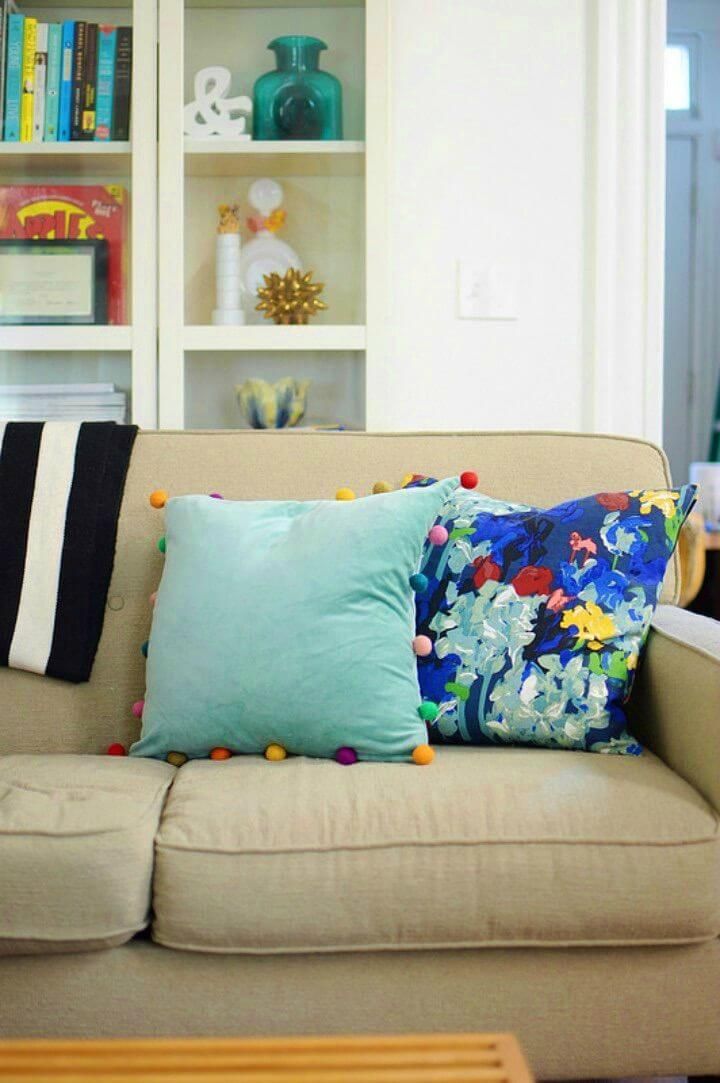 Put also a great visual interest to your boring looking pillows by using the felt balls, they can simply be added all around the pillows as mini colorful balls and this would be a great idea for accent trimming of your pillows! Here you can also experiment with this project with the pom-pom ribbon if you like to do so! Full instructions here gohausgo
4. DIY Neon and Felt Vase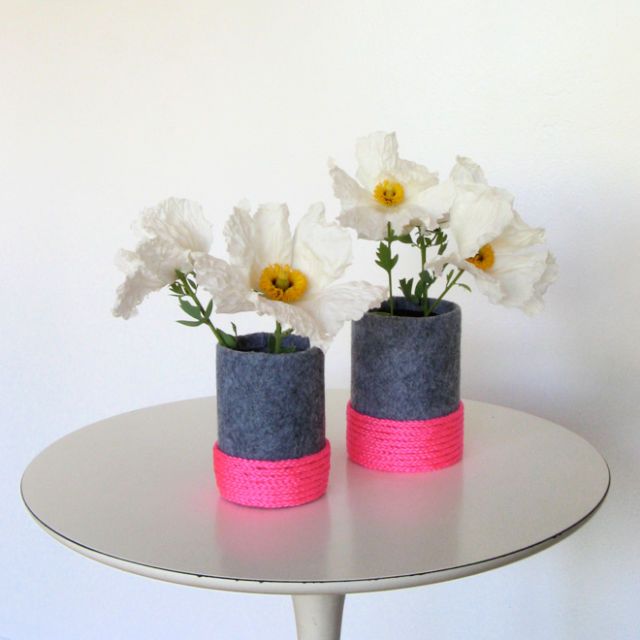 Show off with the brightly-hued vases that you can easily make at home and they will beautifully garnish your spaces! If you need some inspiration then these felt and neon vases will make an ideal choice! Grab the glass jar vases, wrap them in the felt sheet and then wrap the neon rope around the bottom of the vase! thefeltedfox
5. How to Make Felt Craspedia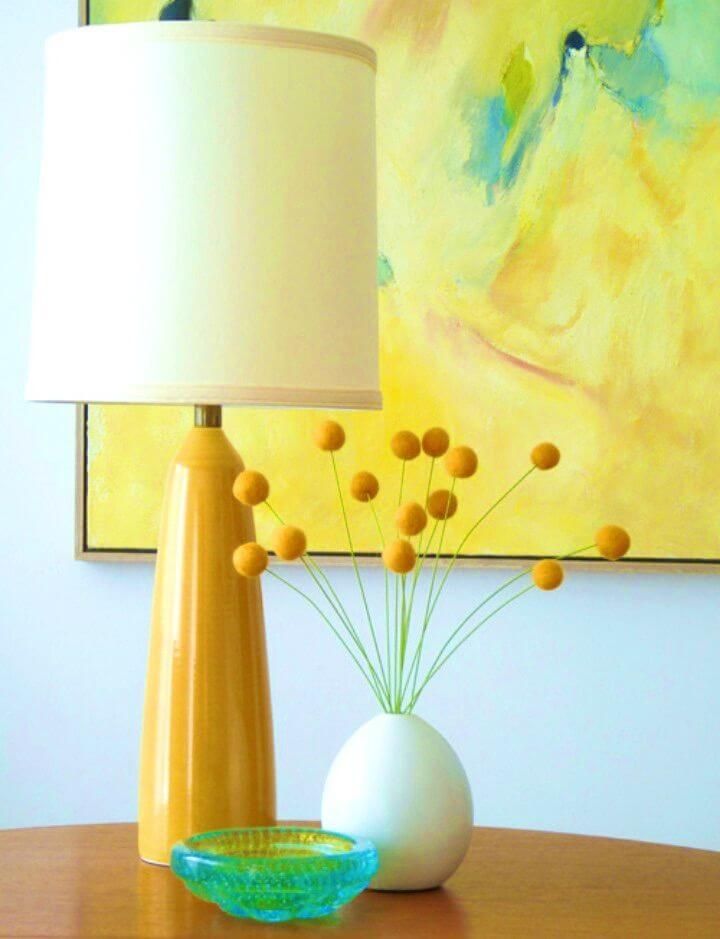 Make also faux Craspedia flowers using the felt and then make faux flower vases by putting them in the vases! This will also be a nice way to jazz up your spaces with the felt! Grab the yellow mustard felt balls or wool roving and put them on the top of green fabric covered floral wire and make faux Craspedia! designsponge
6. Easy to Make a Yarn Wreath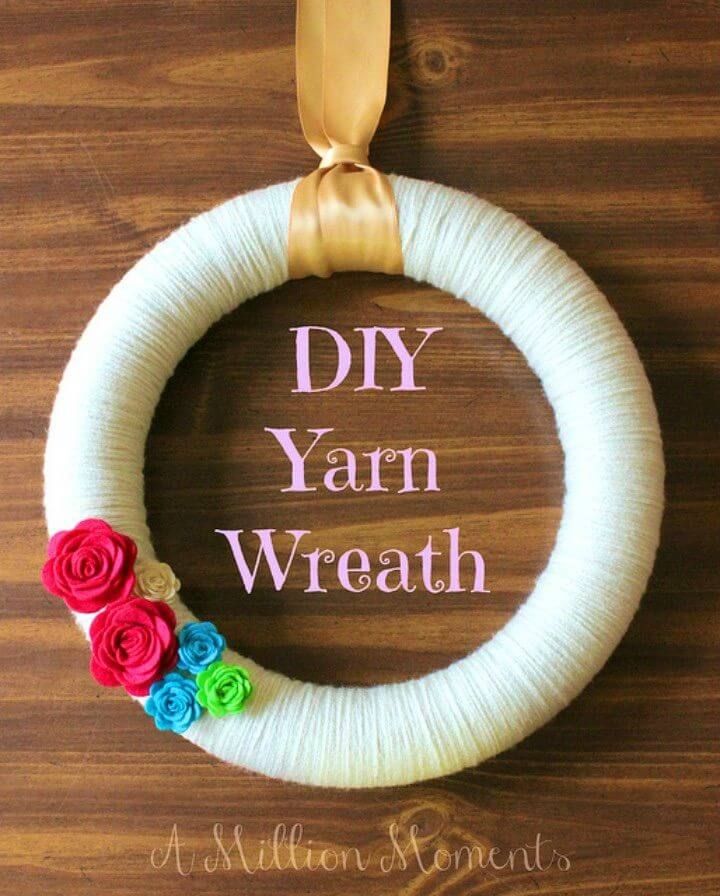 Make also enchanting looking floral wreaths at home using the faux felt flowers and custom wreath forms and then add them to your spring decoration plans, will rock as front door spring decorations! Check out here a sample wreath that come covered with white yarn and has been embellished with felt roses! millionmoments
7. Quick DIY Felt Letter Garland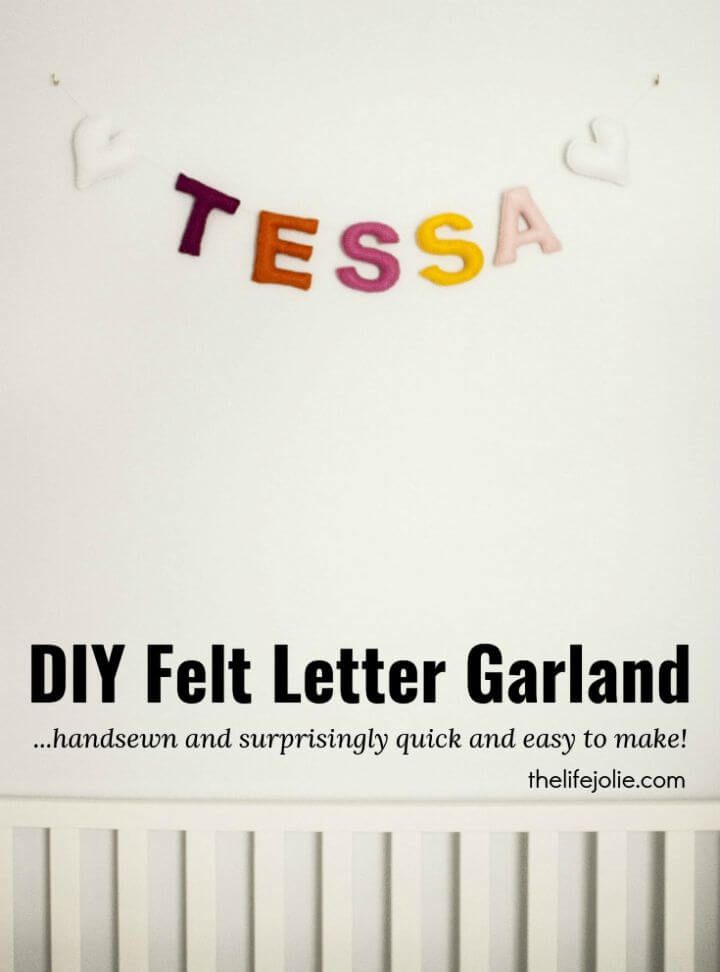 Double up felt by folding the felt sheet and then trace and cut out custom letters, stuff the letters with poly-fill and then sew their sides and make lovely stuffed felt letters that you can string up them to make a outstanding party garland for a bridal shower, birthday party or for a wedding celebration! thelifejolie
8. DIY Felt Palm Leaf Pillow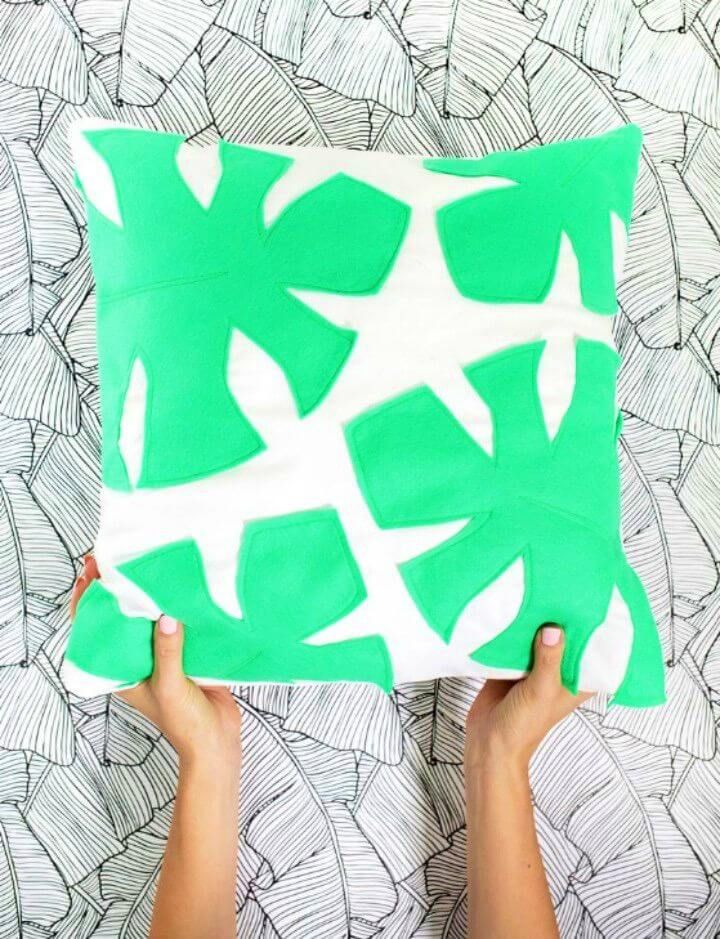 Also, cut out custom appliqués from the colorful felt sheets and then sew them on your different fabric items for an elevated look and appeal! Here a pillow has been graced up with the palm leaf appliqués that have been cut out from the green felt sheet and have beautifully been sewn around the pillow! abeautifulmess
9. Cute DIY Felt Lisianthus Flower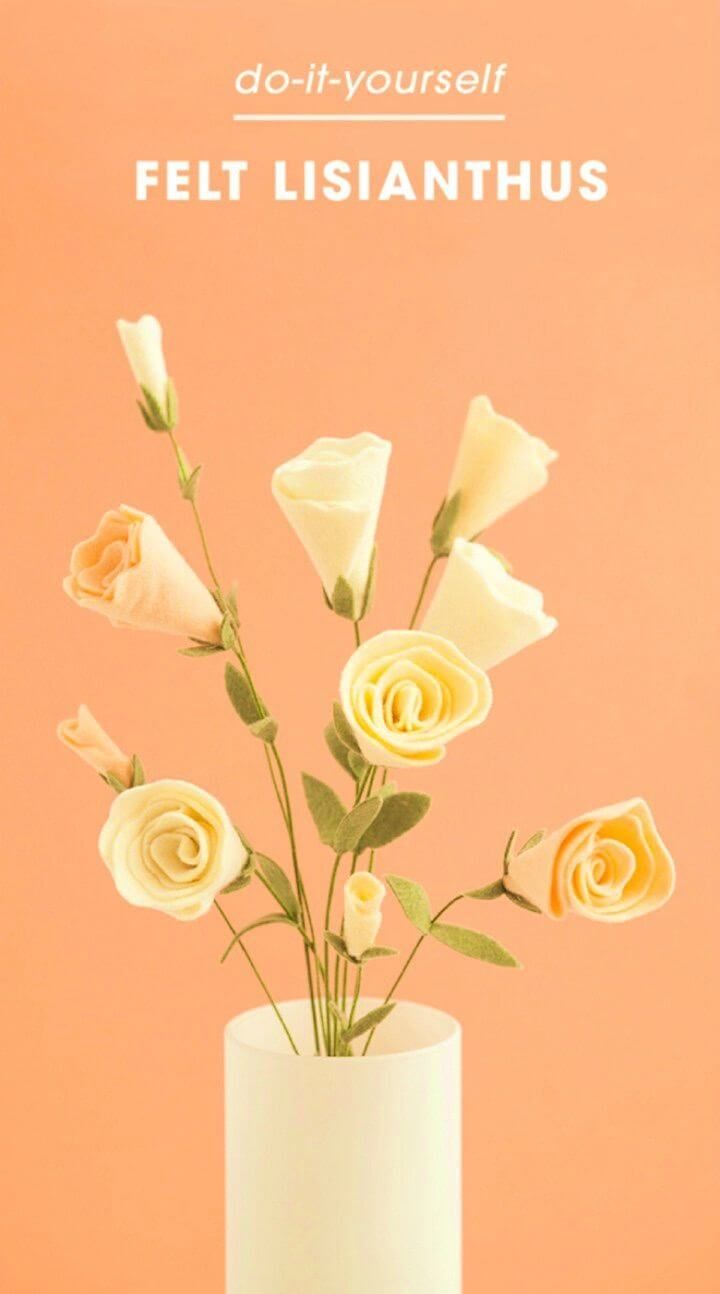 Just like with paper, you can also make awesome faux flowers with the felt sheets which can use for awesome home ornaments and also in making precious home décor centerpieces! Have a look at this lisianthus flower vase and here all the lisiantus flowers have been made using felt in respective colors and green floral wire! somethingtur
10. Stunning Scrap Felt Geode Coasters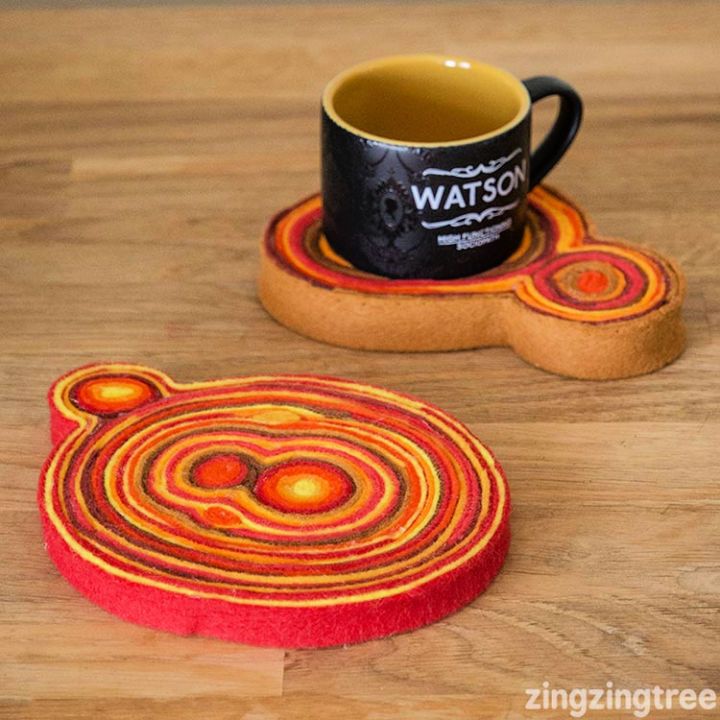 This is here a totally new, unique and creative thing to make with the felt, the very outstanding looking geode coasters that will be a timeless felt craft for sure! Take the felt scrap pieces in to long strips and then coil them to make lovely round coasters! Use glue to secure each round or loop in place! Full instructions here bluebearwood
11. Easy DIY Felt Fox Purse Kids Sewing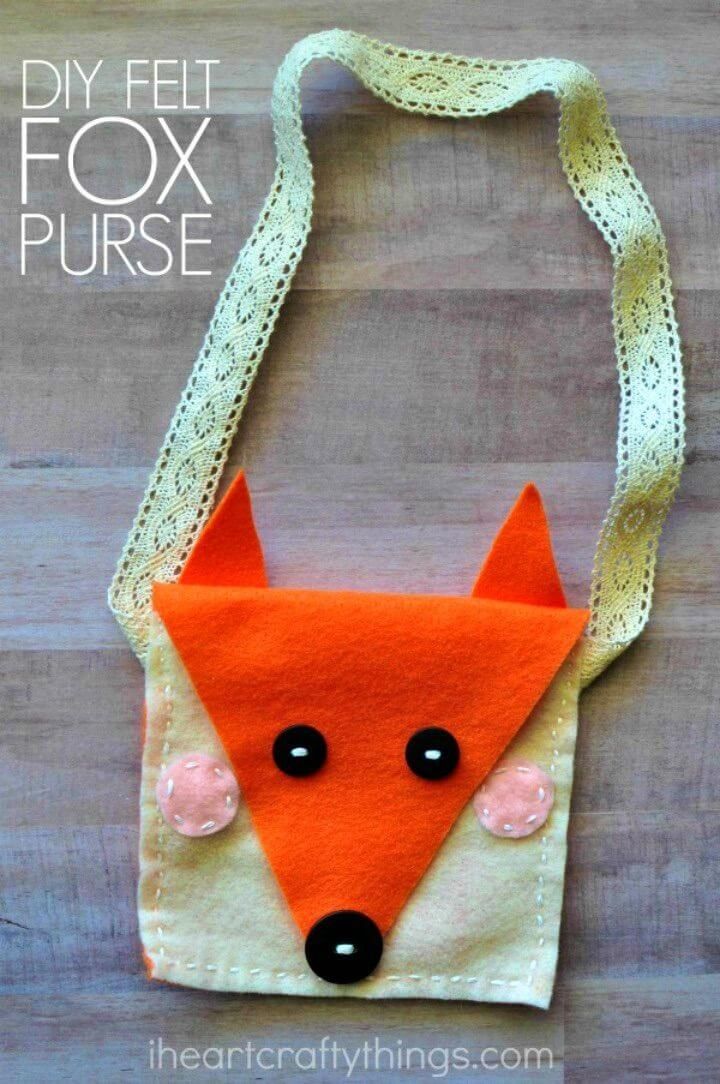 Do also amazing sewing projects with the felt to make some awesome gifts, accessories and kid's toys! Please your little girl with this felt fox purse that is super easy to sew and comes with lace straps! Grab a purse template to make this purse and stitch the black buttons in place as the eyes and nose of the fox face! Details here iheartcraftythings
12. Pretty DIY Felt Pouch Tissue Holder

Go also smartly handmade with the colorful felt sheets and make awesome looking pouches and tissue holders out of felt that will also make sweet little handmade gifts for kids, friends and for every beloved one! Check out the given sample felt pouch tissue holders that come decorated with the felt flowers! Details here consumercrafts
13. DIY Kid-made Felt Leaf Table Runner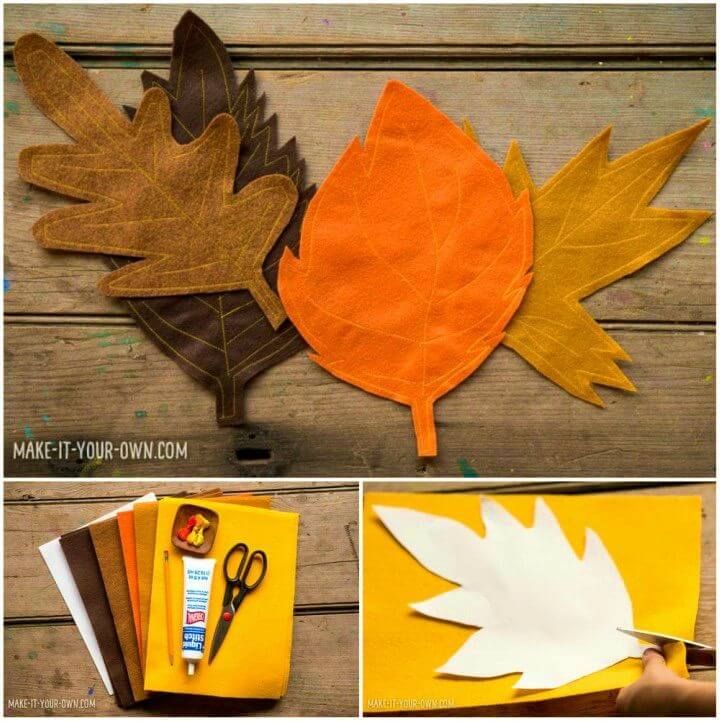 Use different leaf templates and then trace them on to different colored felt sheets and cut out the felt leaves! Next, stitch all the giant felt leaves together in side-to-side arrangements and make a beautiful felt leaf table runner that will rock for also for a fall Thanksgiving table! This is here a kids felt craft project! hellowonderful
14. DIY Fresh Felt Succulent Wreath Tutorial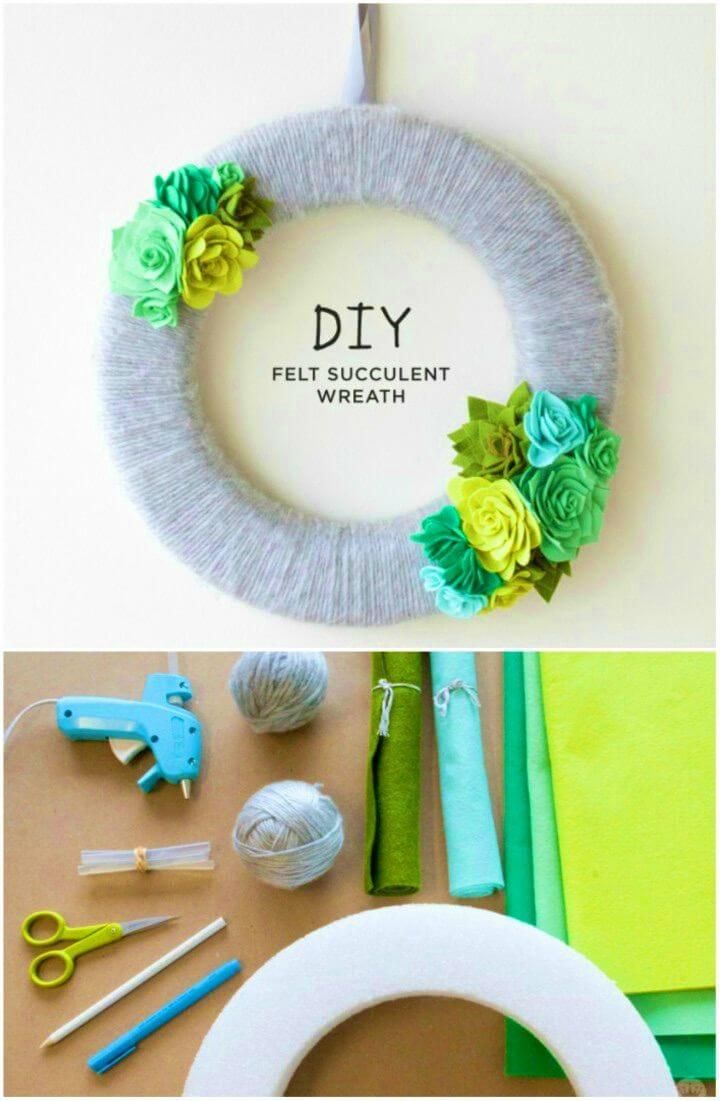 Make also precious wreaths for your party and seasonal decorative plans using the felt in colors of choice! Here again, a wreath form has been covered with the twine or yarn and next it has been decorated with the felt roses and succulents that come in green color creating a fresh look for the entire wreath! Full details here thinkmakeshare
15. How to Make Ipad Cover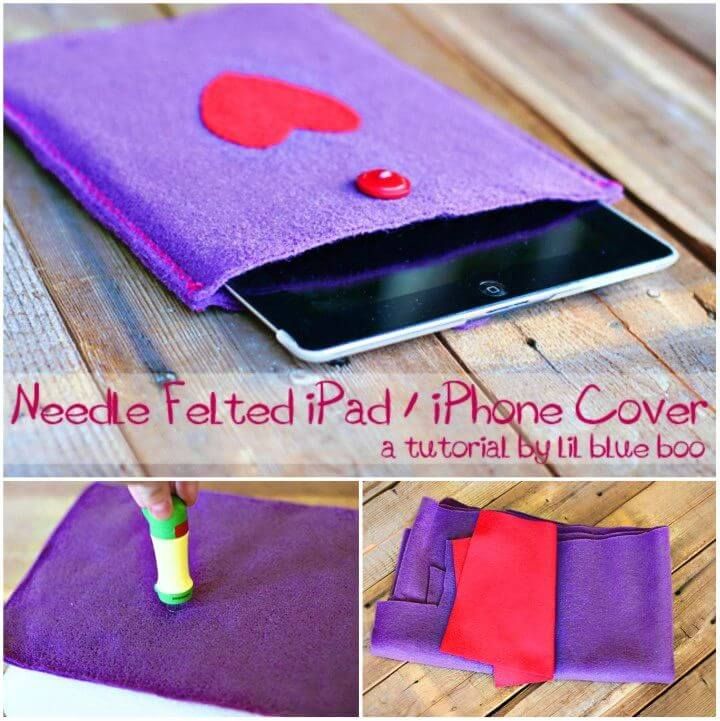 The felt is always soft to touch so you can also use it to make scratch free covers for your mobile phones and iPads! Here a beautiful pouch has been sewn using the blue felt sheet that will securely hold an iPad inside and it is a beginner sewing or felt project to do at home! Don't forget to adorn complete pouch with a cut out felt heart. lilblueboo
16. Gorgeous DIY Rose Bud Bouquet from Felt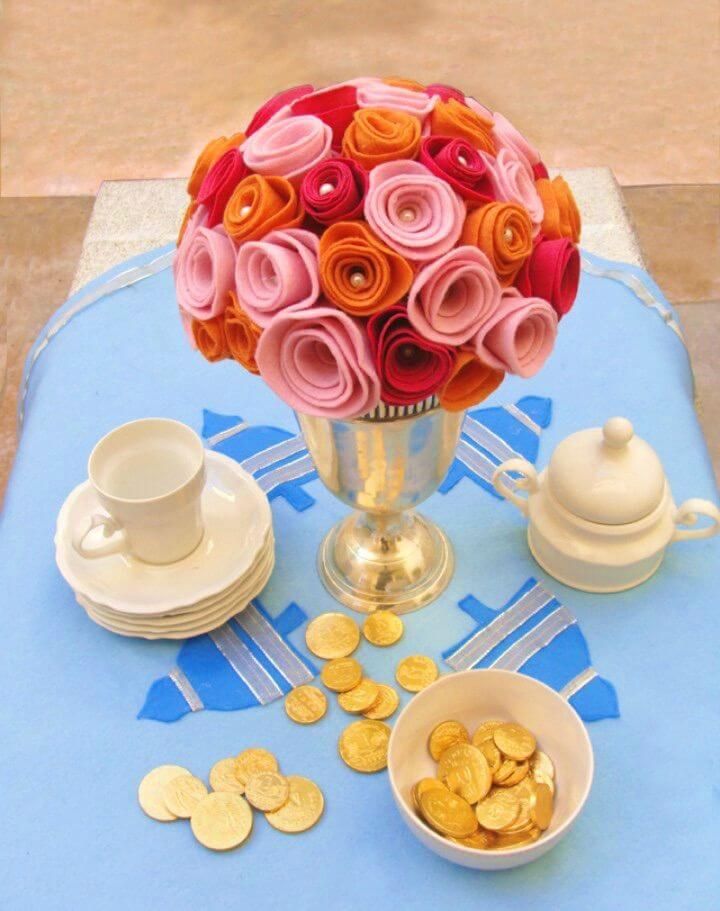 Select the felt in the rose colors and make the outstanding felt roses, add pearls in the center for more gorgeous appeal and then glue all your flower around a Styrofoam ball which can then be placed in a bowl creating a flawless rose bud bouquet that will make a great wedding and birthday gift for sure! Details here creativejewish
17. How to Make Felt Geodes At Home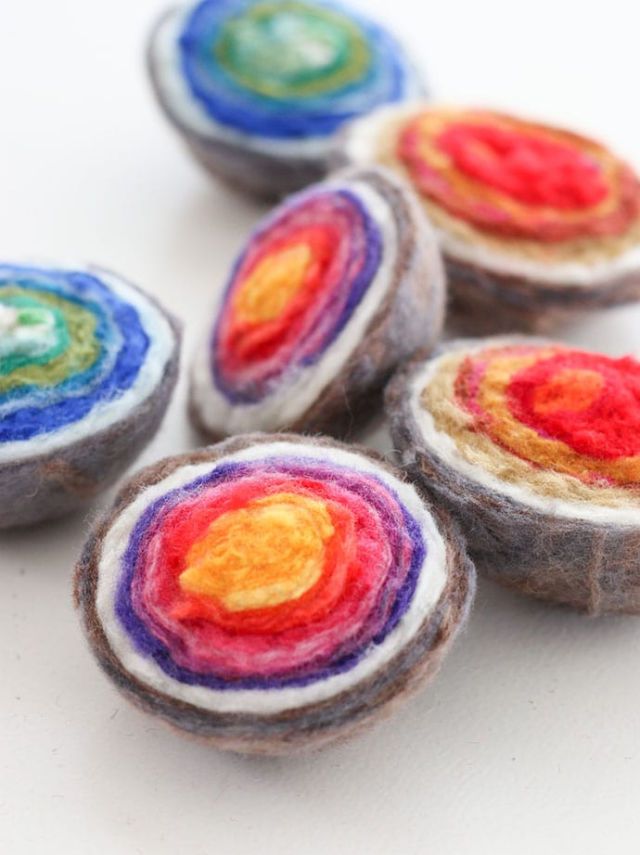 Here is what you can do amazing with the felt, just make use of felt and soapy water to make these awesome looking geodes that will make interesting home decors for sure! Here trick is to dip the felt in the soap water to make felt balls which can then be rolled and coiled together making lovely felt geodes! Details here mypoppet
18. Easy DIY Jeweled Felt Crown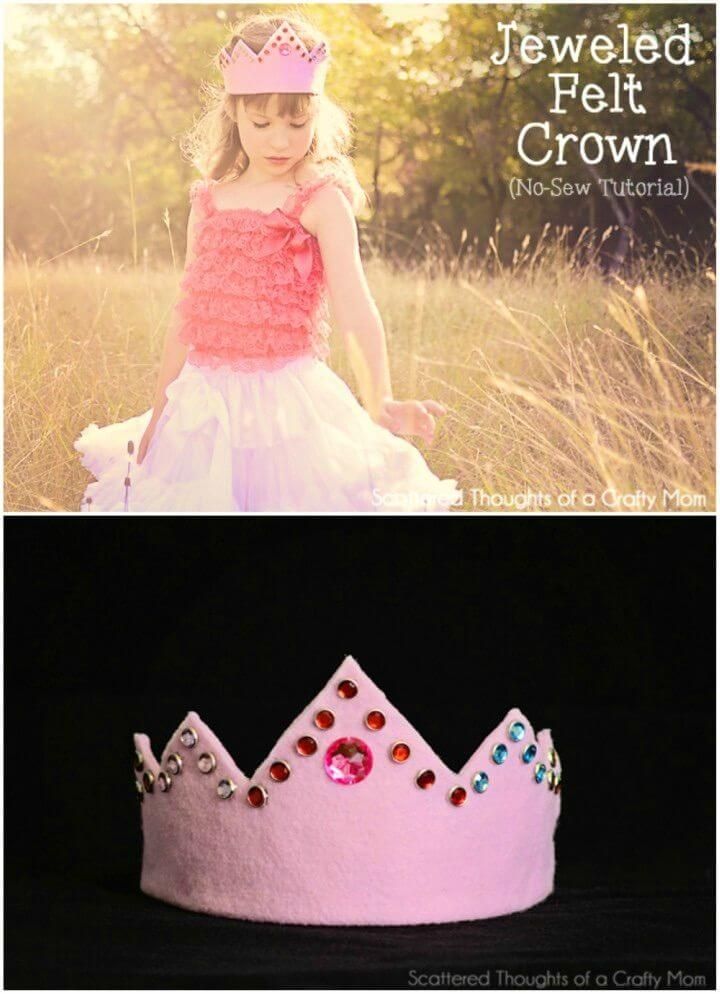 Transform your little girl into a sweet little princess by making her wear a princess crown that you can quickly make out of a felt, this idea would rock for the school functions of the kids in which your little girl is participating as a princess! So, do duplicate this felt crown for the princess's dress of your little girl' don't forget to jewel it. scatteredthoughts
19. DIY No-sew Felt Scalloped Pillow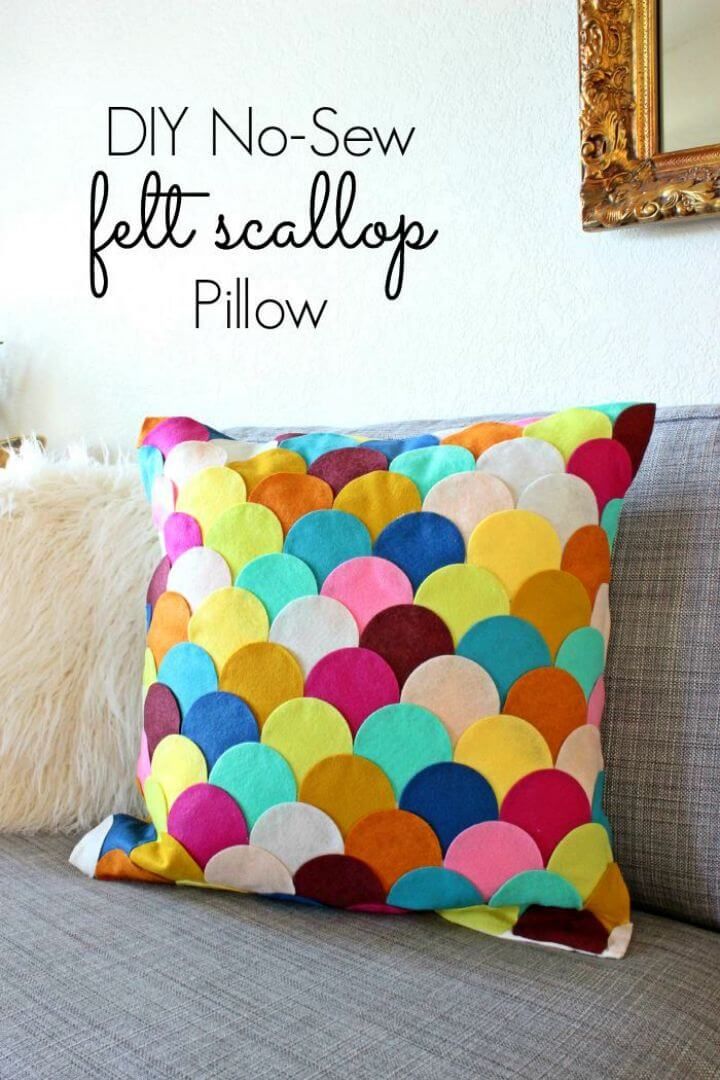 Make also lovely looking scalloped pillows with amazingly colorful shells using the felt circles in so many different colors! This project would not demand for a sewing machine for sure, simply glue the colorful circle all around the pillow in scalloped manner and enjoy! This scalloped pillow would also make a great gift! classyclutter
20. Quick and Easy DIY Mother's Day Felt Flowers Gift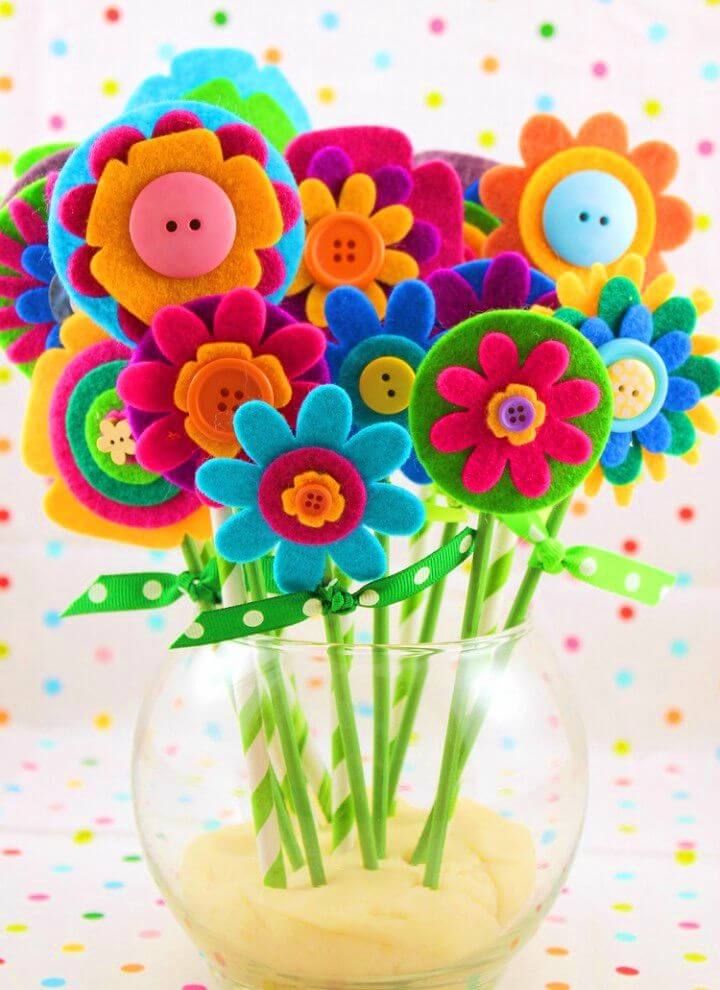 The felt comes almost in every color under the sun, so you can make all types of flowers with the felt that can be put in the jars to make very good looking artificial flower vases! Take a look at these sample felt flowers that have also been put in the jar to make a lovely Mother's Day flower gift! Use green painted wooden skewers as flower stems! happinessishome
21. Cut DIY Felt Floral Arrangement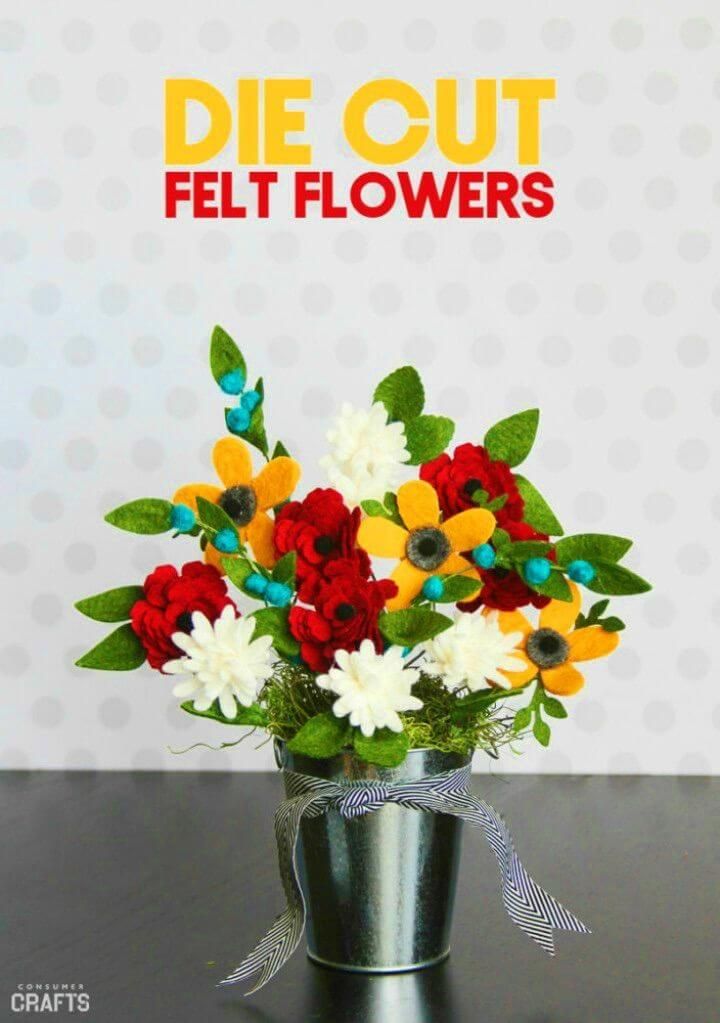 This is an amazing idea to spruce up your home decors by adding amazing flower arrangements to your spaces! Give and instant facelift to your home decors with these felt floral arrangement that is actually a flower bouquet made of faux felt flowers that are made of felt and have been put in the galvanized bucket! Details here consumercrafts
22. DIY Hand Sewn Felt Alphabet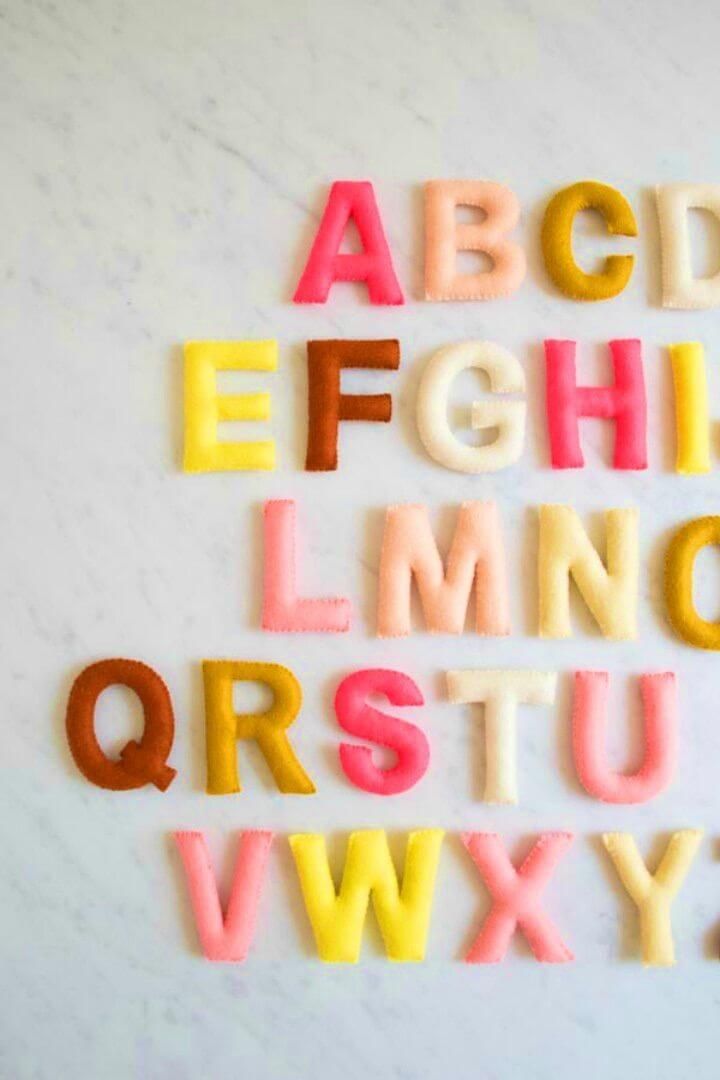 Make also beautiful and colorful stuffed letters out of felt that can be used in multiple different ways to personalize your spaces, custom items of interest and they will also make outstanding party and festival decors for sure! Cut out the letters out of felt, stuff batting or poly-fill in them and then sew their sides together! purlsoho
23. How to Make Fox Cup Cozy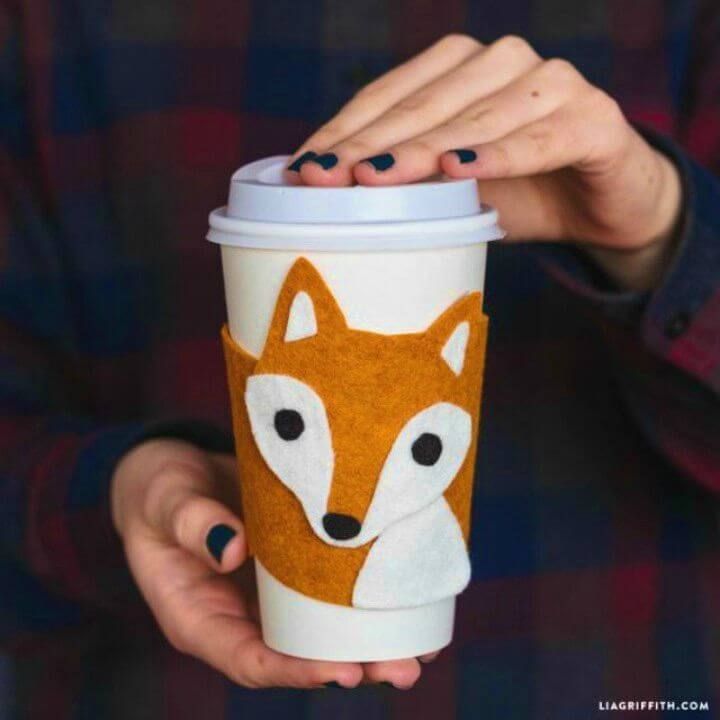 Create a stunning appeal of your coffee mugs and cups by sewing some fun-shape mug felt cozies! Create a super cute appeal of your coffee mug wit this felt fox cozy that is super easy to make using felt in orange, white and black color! Grab a template first and then cut the fox cozy party out of felt accordingly! goodhousekeep
24. Make Felt Ball Trees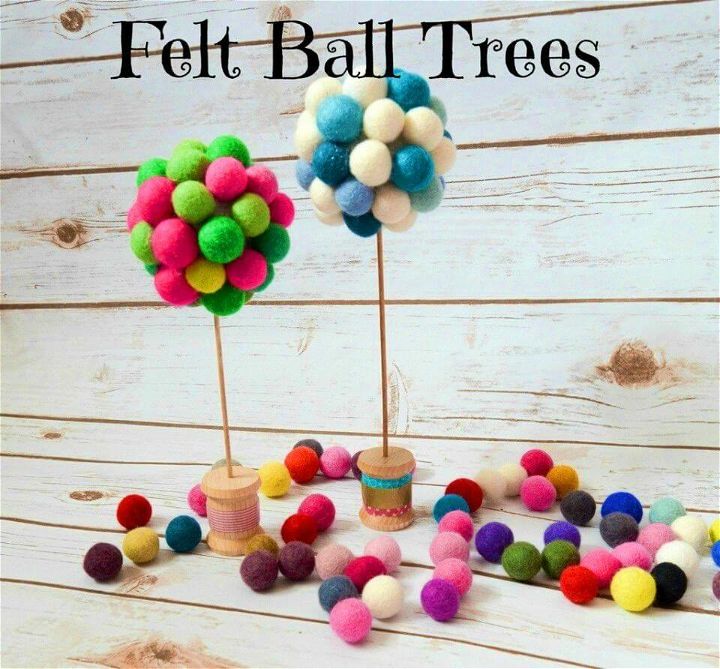 Lure the number of views of any accent shelf, tabletop, decorative mantle or of a modern countertop with these mesmerizing decorations that are made of felt balls! These are here the mini felt ball tree decorations that come with mini spool bottom and a wooden dowel stem! Cover a Styrofoam ball with felt balls to make tree albiongould
25. Simple DIY Felt Forest Friends Keychains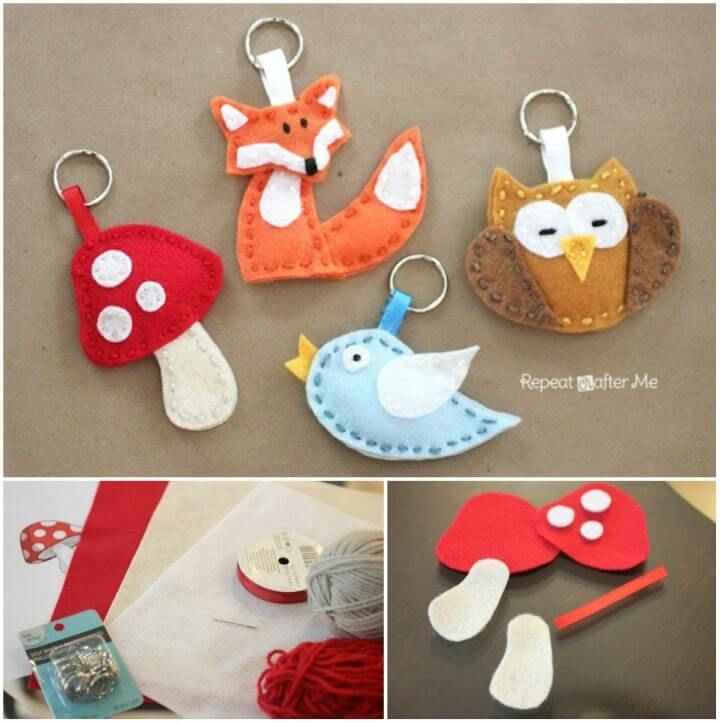 Using the felt, you can easily create some mini cute forest animal toys which you can use in tons of different ways to make amazing home decors and cute little gifts for friends and kids! Add up the felt forest friends to key rings and make beautiful and cute keychains that will be super gift-worthy! Clone the given samples repeatcrafter
26. Adorable DIY Felted Ball Mobile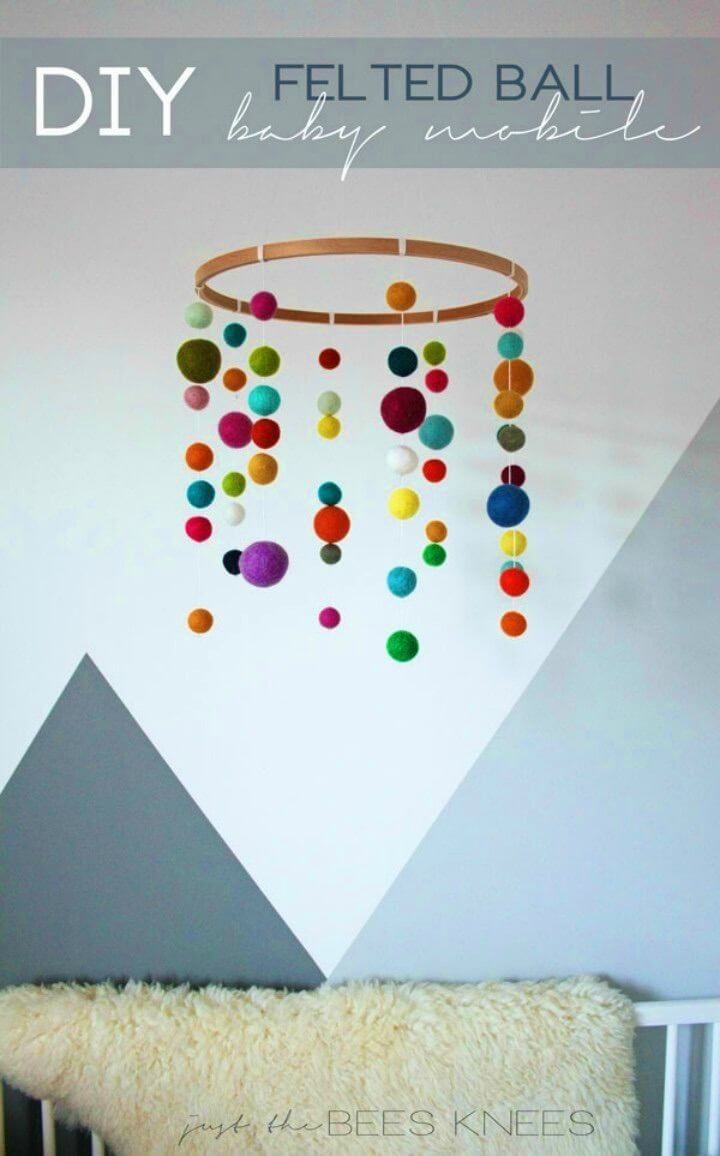 Make also amazing hanging decors for your home using the colorful felt mobiles, bring tons of charm to your interior by installing this precious felted ball mobile that will be super easy and quick to make! Thread the colorful felt balls on a piece of string and make felt ball strands, next hang tie them onto an embroidery hoop! interiorsbysara
27. Pretty DIY Felt and Suede Clutch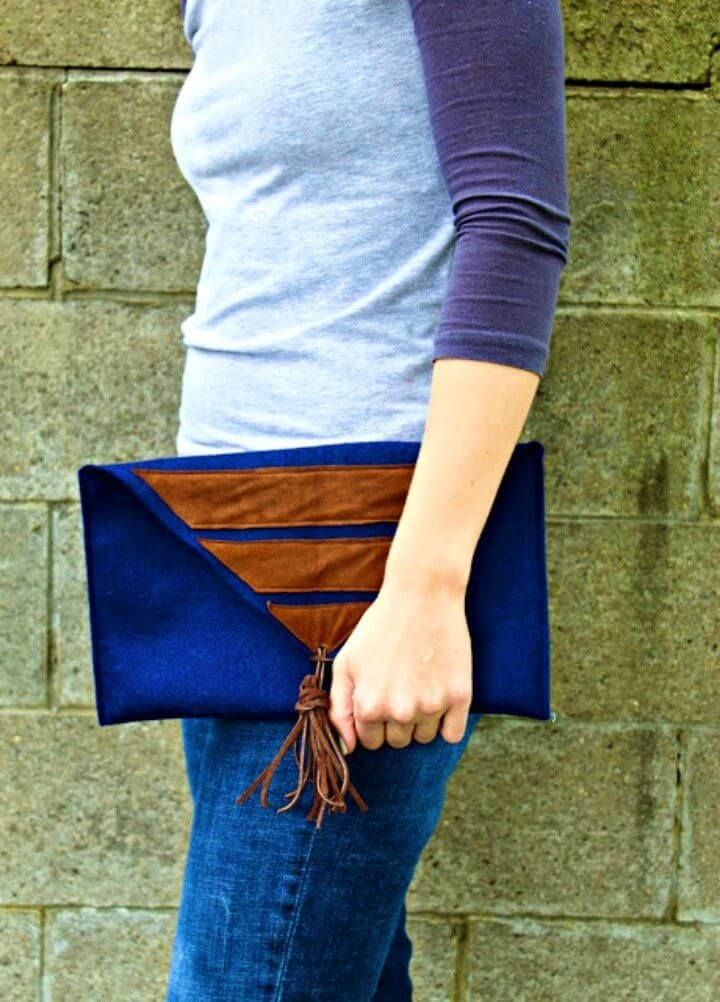 Looking for some super fashion-worthy purposes and clutches? Then do make this suede and felt clutch that is sure to be loved by all the fashion enthusiasts and is pretty quick to make! Sew the clutch using blue felt and then spruce it up using the faux leather and a leather tassel as you can see! Full how to tutorial here eatsleepmake
28. Make Embroidered Boxy Pouch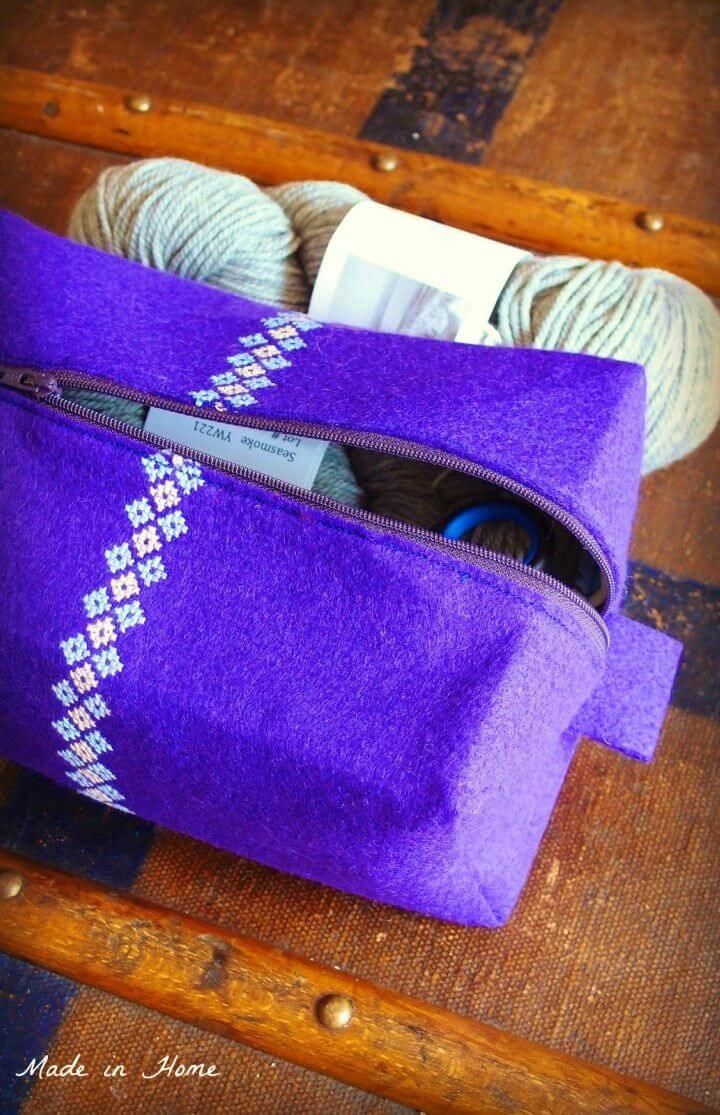 Make also custom items of need and various lovely accessories at home using the felt and make the life easier! Duplicate this boxy pouch that has been embroidered for a beautiful appeal and it will work great in your to store your things and items! Make this boxy pouch using felt of choice! Full how to tutorial here made inhome
29. DIY Spring Felt Ball Grass Centerpiece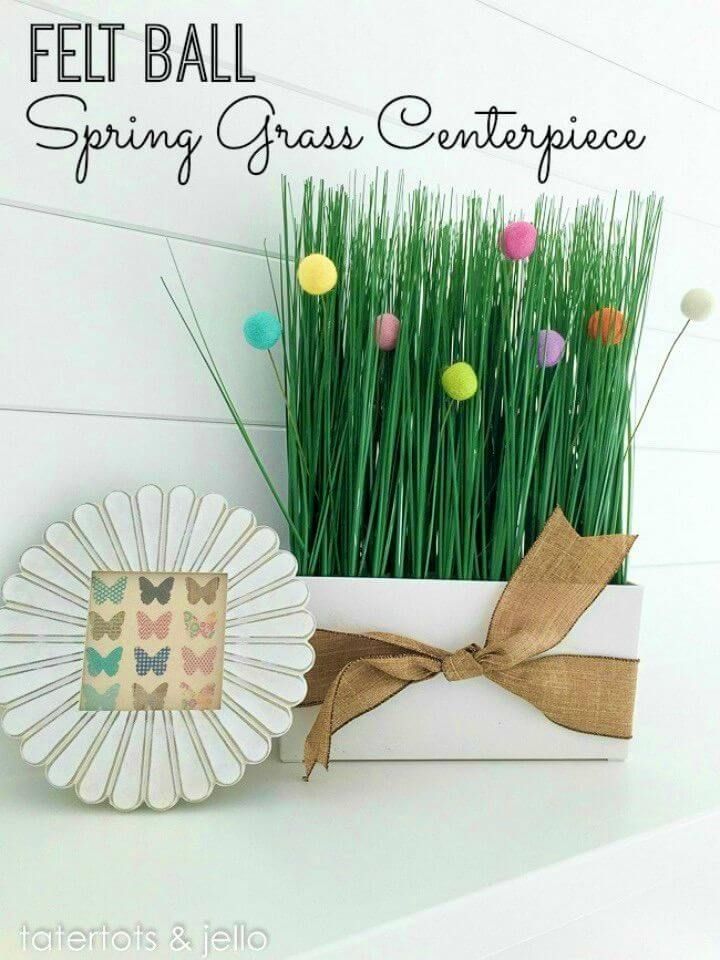 Brainstorming for awesome and bizarre spring decors that will dazzle the audience? Then do amaze the onlookers with this felt ball grass décor that will make a great spring décor centerpiece! Another amusing felt craft project and one can easily clone it using the IKEA grass container, floral foam and felt balls! Details here tatertotsandjello
30. How to DIY Geometric Coasters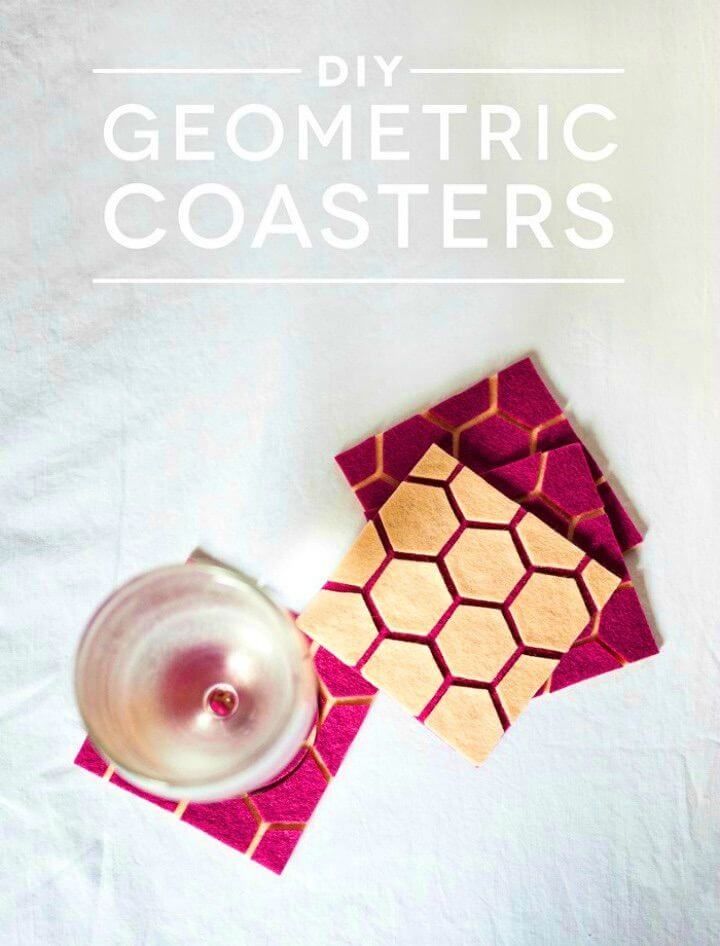 Make also super beautiful felt coasters out of felt that will go divine on your party tables and also on every indoor bar countertop! Grab the felt squares and then glue the different colored felt hexagons on them and gain amazing geometric felt coasters! The base felt squares will be visible through the hexagon spacing! cieradesign
31. DIY Felt Ball Necklace Tutorial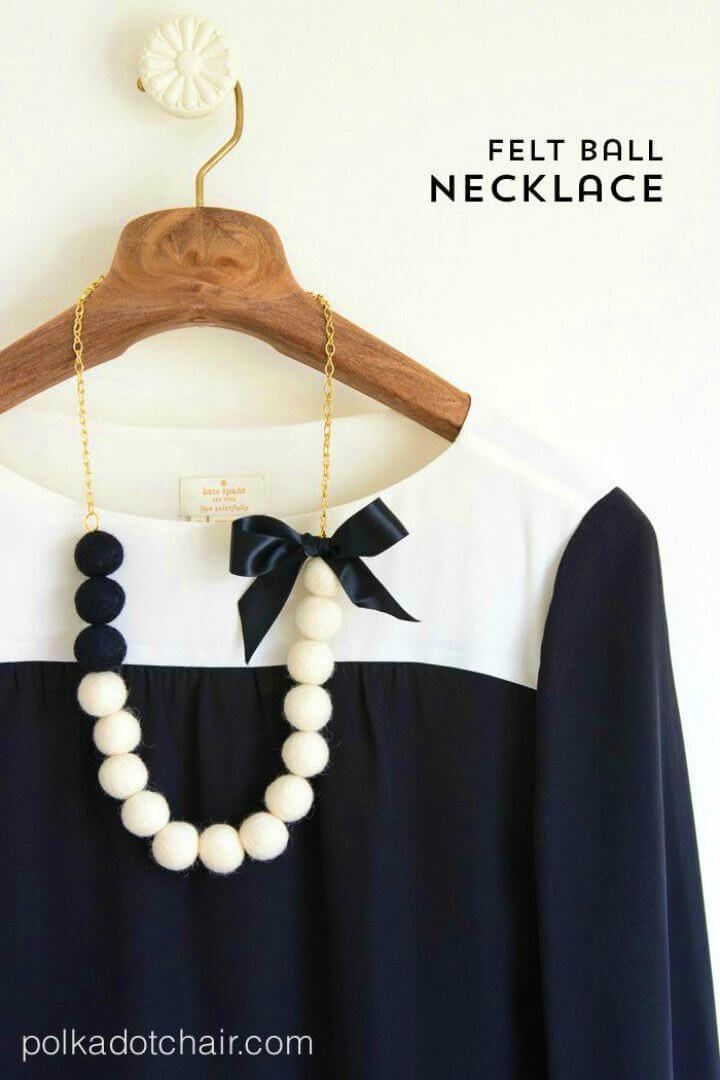 Boost also your fashion by using the felt smartly and the trick is to make interesting items of jewelry using the felt! String up the felt balls selected in different colors and then finish them by adding the necklace chain and gain a lovely felt ball necklace! Use white and black felt balls for making this necklace! polkadotchair
32. Simple DIY Felt Ipad Cover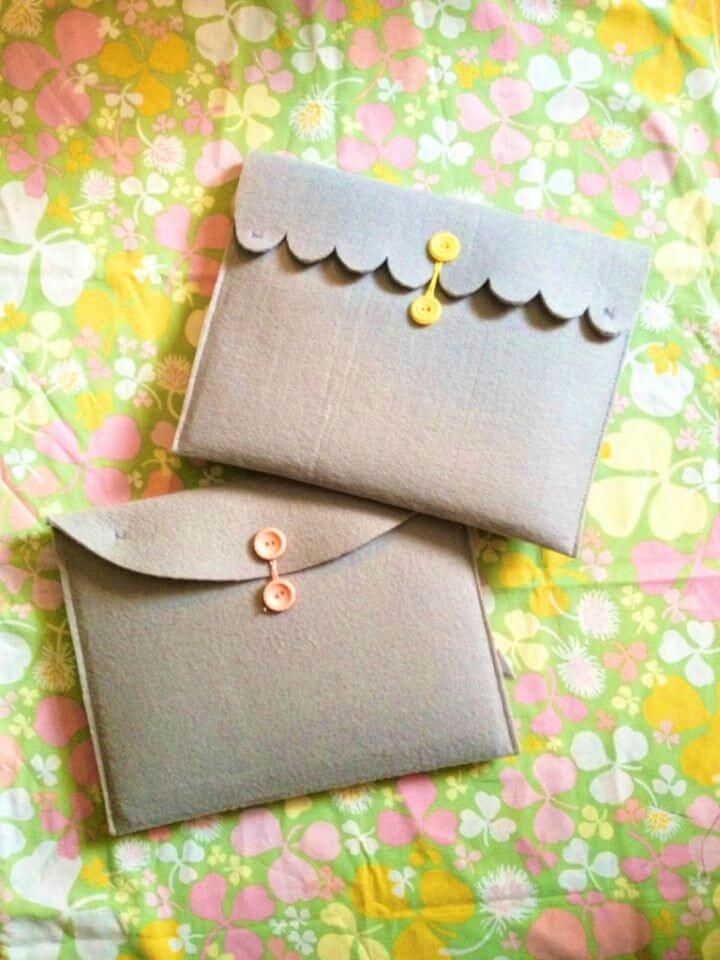 As felt is super soft to touch and feel, so it would be an amazing idea to make the felt cozies and covers for your expensive looking items that you want keep scratch free! Get inspired of this lovely felt iPad cover that has been made to rock and inspire and will also make a cool gift for friends! molliemakes
33. DIY Owl Biscuits Using Felt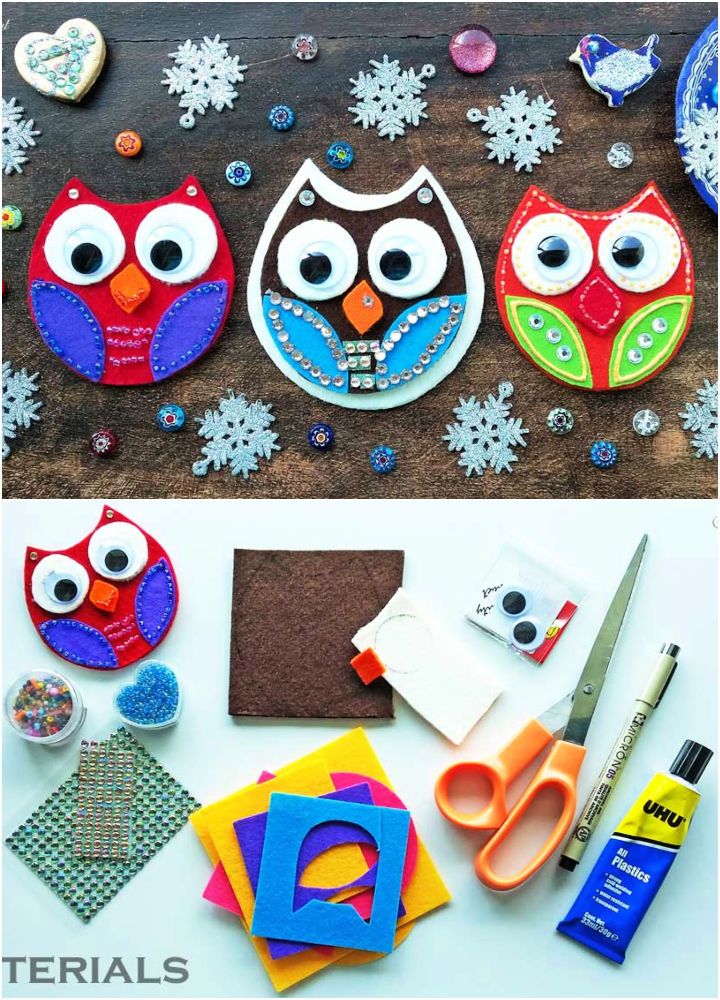 You can make numerous different things and crafts with the felt and here is another one to grab your attention! Make also the pretty awesome looking owl biscuits out of felt that will make great and cute toys for the kids and also amazing owl inspired embellishments! Here is how to make these owl biscuits hattifant
34. Cute DIY Felt Wrapped Headband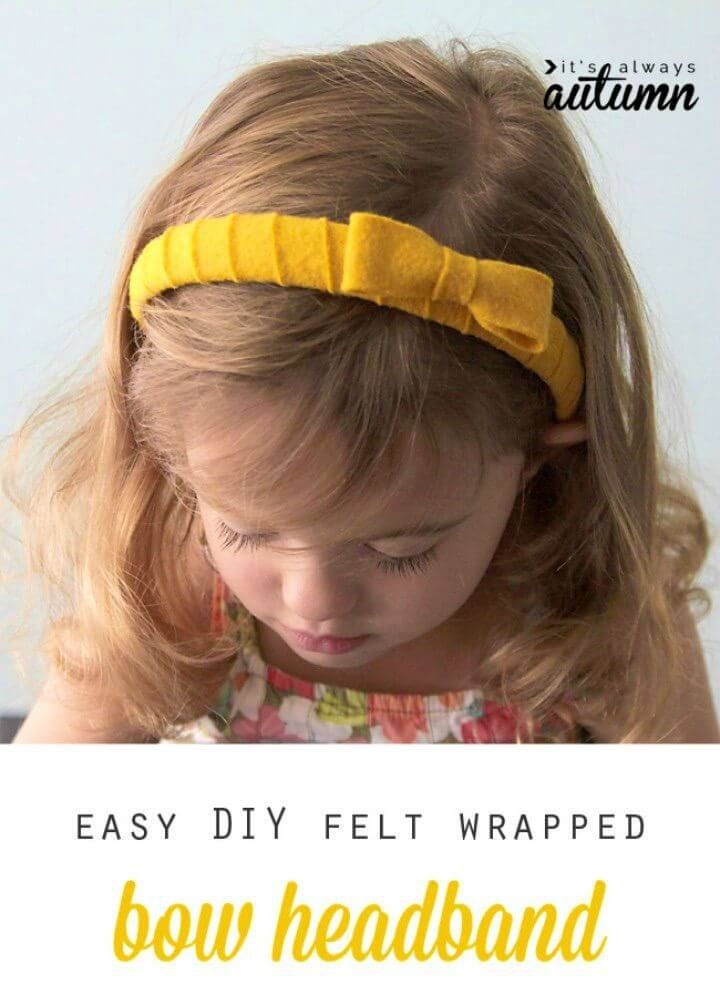 Also do amazing decorative makeovers of your worthy items of need and fashion suing the felt! Here a headband has been spruced up with the felt which has been wrapped around the headband and then has been finished with a felt bow as you can see! This is here another great and outstanding felt craft project itsalwaysautumn
35. Easy to Make Autumn Wreath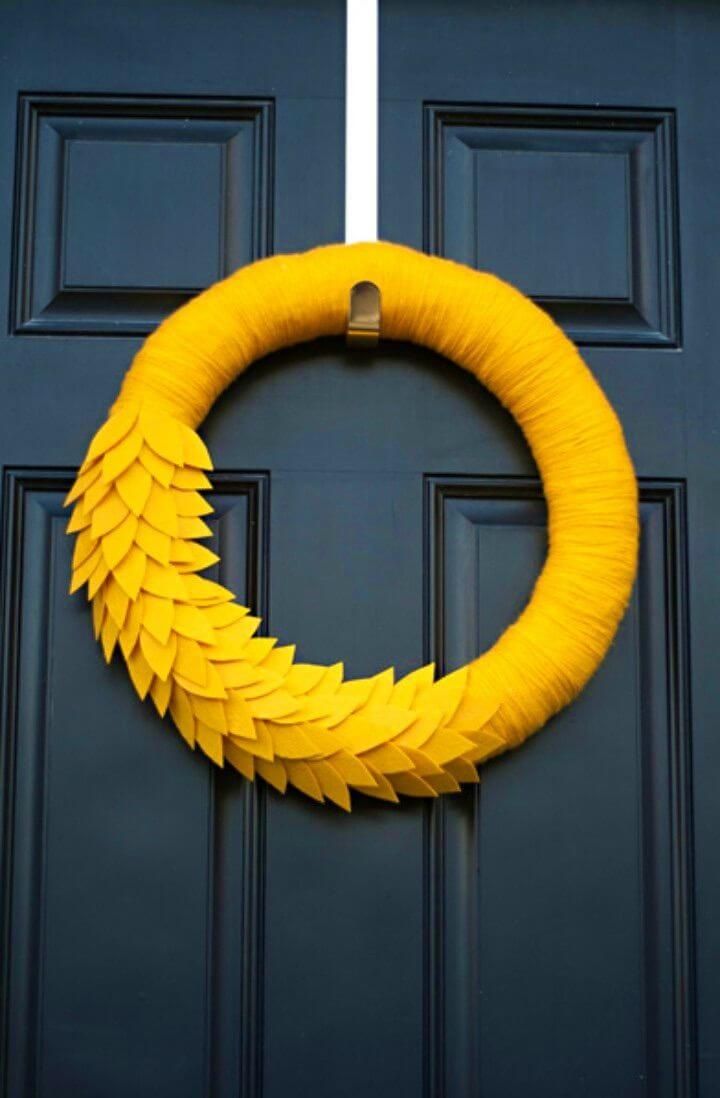 Give a warm welcome to autumn season by hanging this precious yellow wreath on your front door and is also a lovely felt creation! Wrap the yellow yarn all around a wreath form and next adorn your yellow wreath with the yellow felt leaves that can be glued in place in scalloped manner! Details here craftfoxes
36. Handmade Felt Coffee Cozies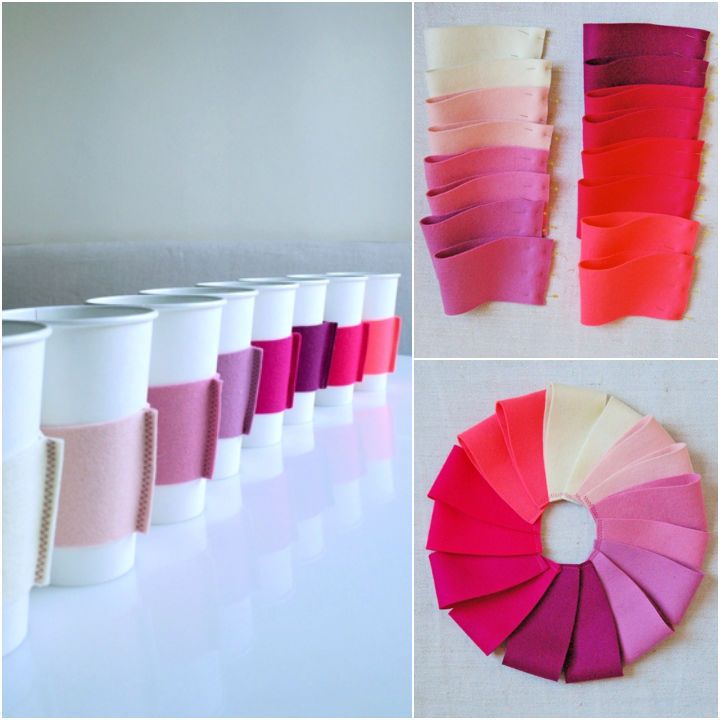 Also keep your coffees toasty warm by sewing the loving felt cozies that will not take much time to be at your hand! Just cut the pieces of felt that will wrap around your coffee mug and then sew the ends together! Adorn your finally finished felt coffee cozies in the way you like! Full instructions and tutorial here purlsoho
37. DIY Mini Felt Garland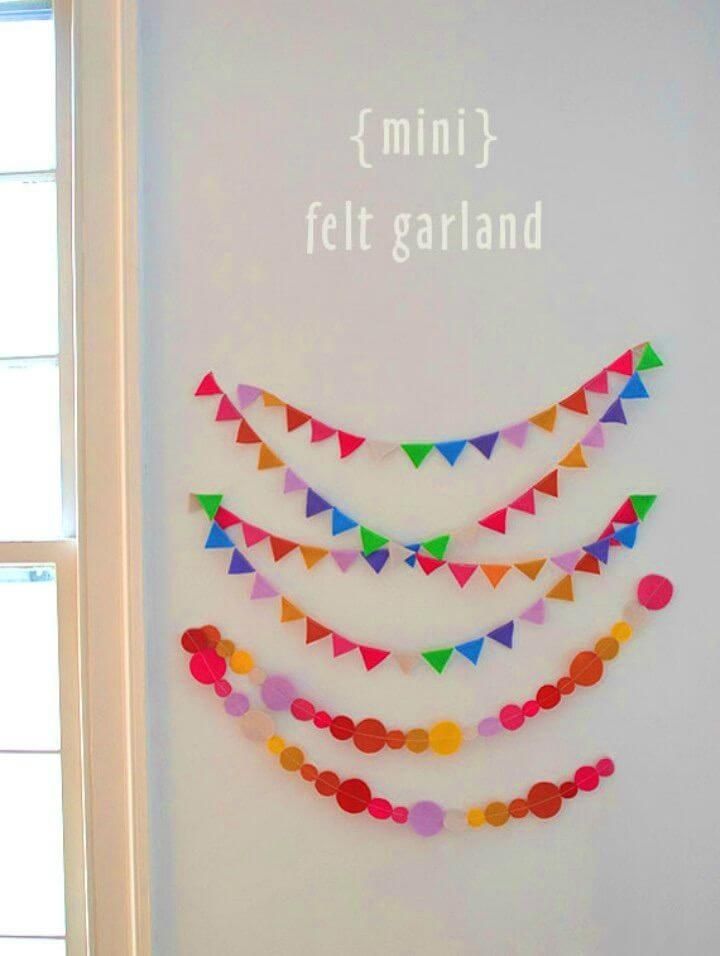 Cut out also the circles and mini triangles out of colorful felt sheets and then string them up all to make outstanding garlands that will make outstanding party and home decors for sure! Take a look at the given sample felt garlands that will make amazing inspirations for sure and they are super quick to make! Details here artbar
38. Easy to Make Felt Craft Kittens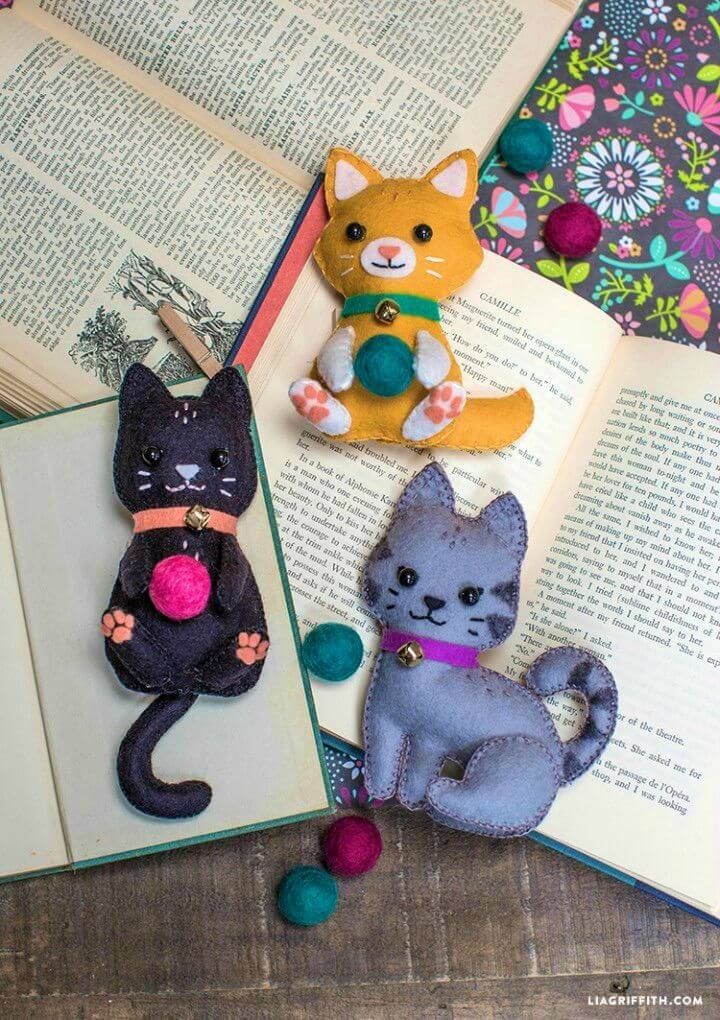 Another great addition to amusing and fun felt crafts, make also the stuffed felt kittens that will make outstanding toys for the kids and for other beloved ones! Use a template and cut out the pieces out of felt, stuff them and stitch the sides and then finish with googly eyes, accent neck ribbon and nose! Full tutorial here liagriffith
39. How to Make Felt Lollipops for Kids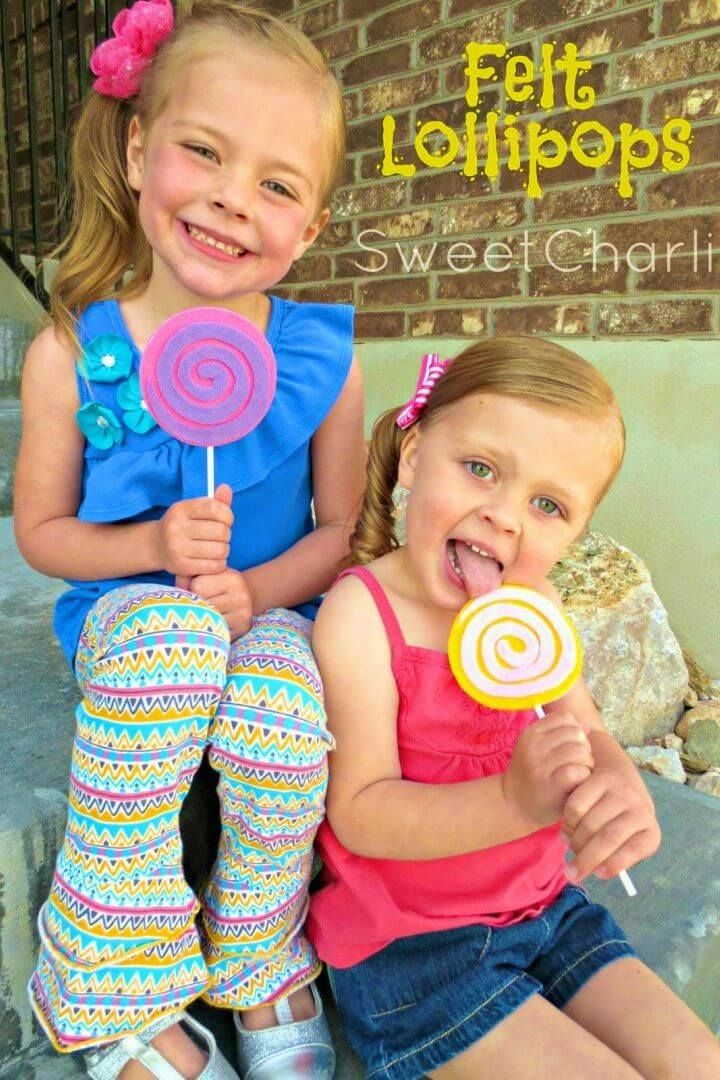 Another amazing and fun décor to make with the felt, it would make a cut handmade toy gift also for the kids! Make smart use of felt and make the faux lollipops that will be loved dearly by all the kids! Glue a felt circle on a lollipop stick and then adhere different colored felt spiral on it! brassyapple
40. DIY Felt Bow Tutorial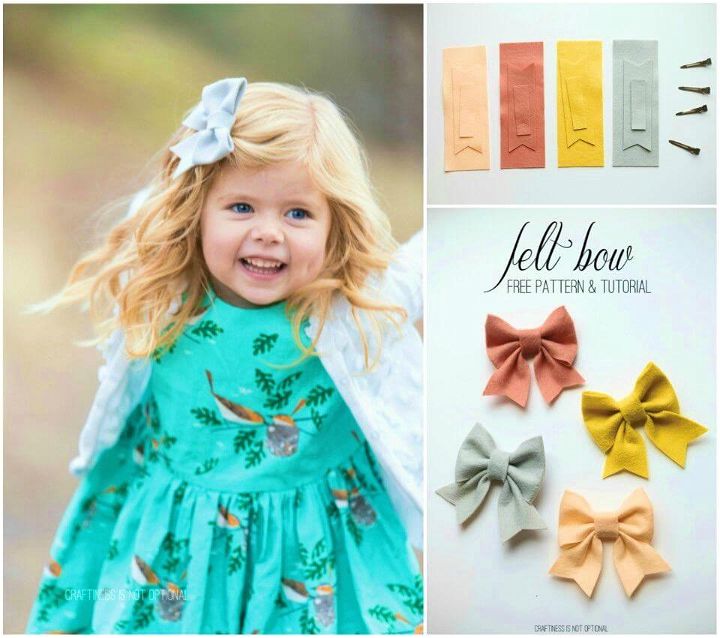 Make also fantastic bows out of felt that will be make great embellishments for several of your fashion accessories and can be made at a drop of a hat! Use a bow template, cut the felt pieces and then glue them together to make felt bows! Get your creativity inspired by taking a look at the given sample. craftinessis
41. How to Make Felt Sugar Skull Sachets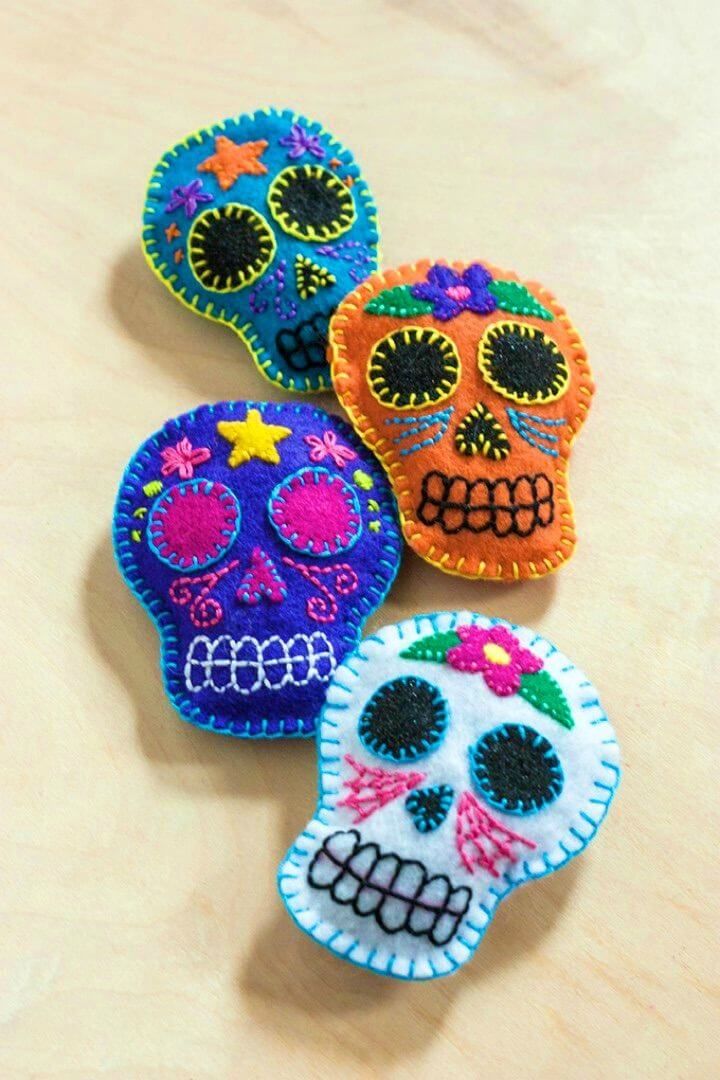 Creative felt crafts are continue to inspire you and checkout another cute and lovely one! Make also the sugar skull sachets using felt and embroidery floss! Use a template and make the stuffed skulls, use embroidery floss and embroider eyes, nose and teeth and then fill your items! These sachets would make cute little gifts adventures
42. DIY Felt Ball Mat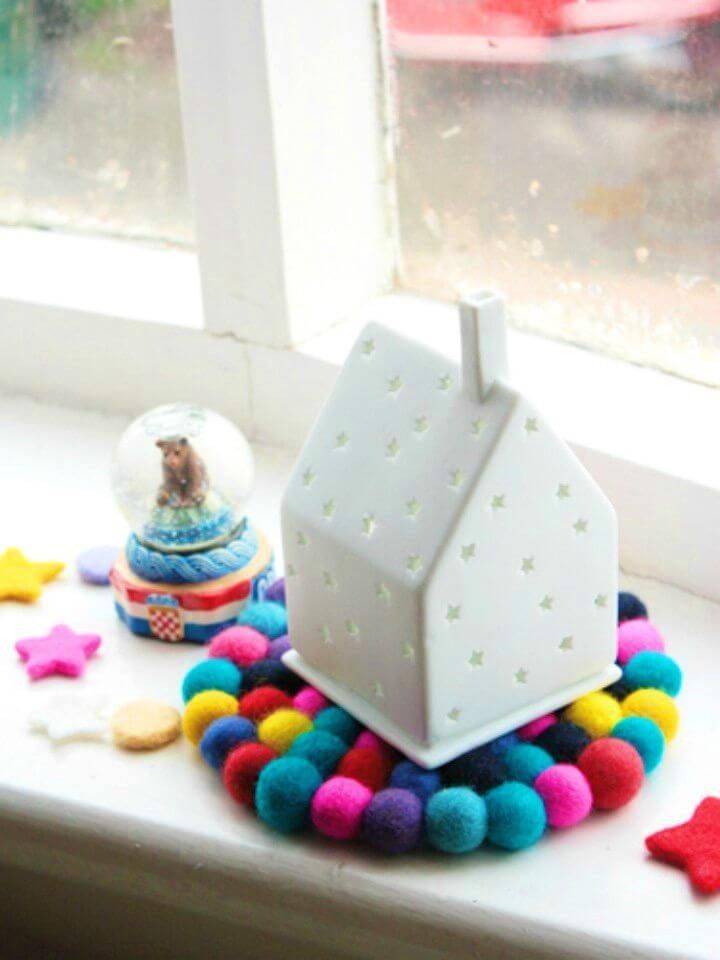 Make also the super cute and colorful mats, coasters and trivets out of felt balls that will also make pleasing handmade gifts for neighbors and friends! String up the colorful felt balls and then coil the felt strand making a beautiful round mat or coasters as you can see! Full project instructions here small good things
43. Pretty DIY Wool Felt Ball Coasters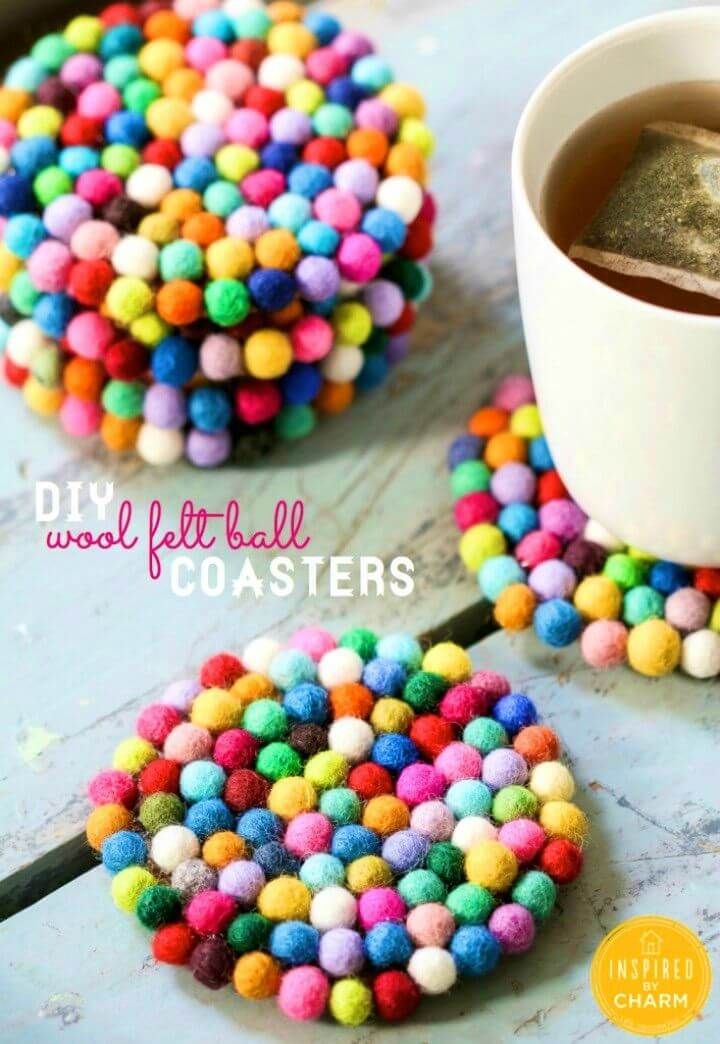 Lacking of some visually pleasing coasters on your table or countertops? Then do make these wood felt ball coasters that are sure to be loved dearly by all and are super quick and easy to make also! Grab the round cork coasters and glue the colorful wood felt balls on them and make lovely felt ball coasters! inspiredbycharm
44. How to Make Slate Coffee Sleeve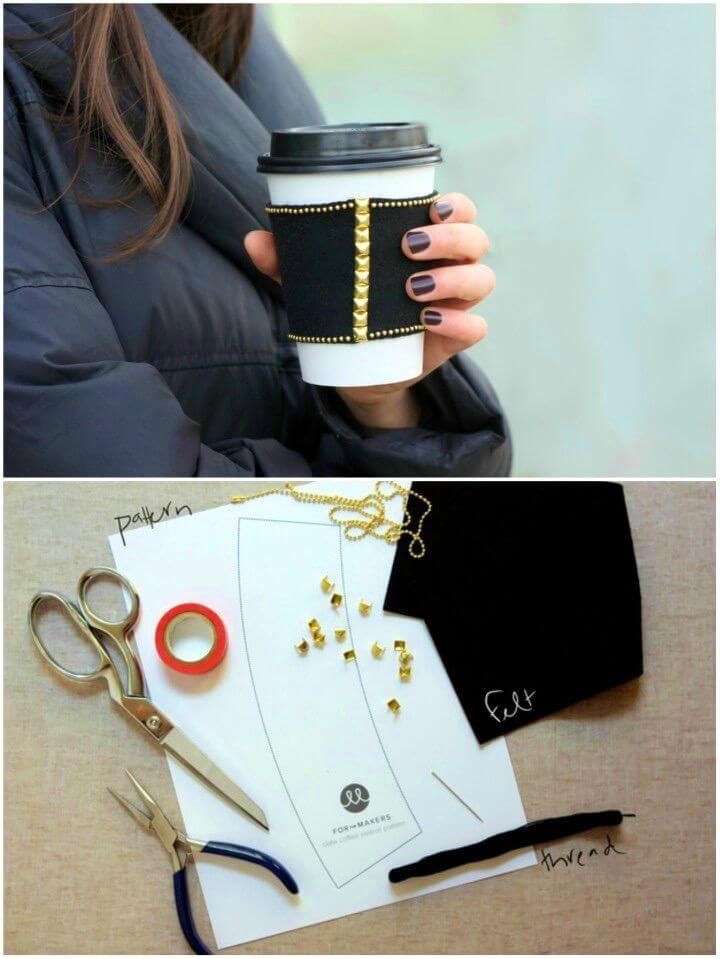 Make also very beautiful and amazing looking coffee mug sleeves using the felt and please all the coffee lovers by giving them as sweet handmade gifts! Here this enchanting coffee sleeve is made of black felt and it comes with accent brass ball chain side trimming! The line where both end meet, has been covered with gold studs! forthemakers
45. DIY Plantable Felt Garden Box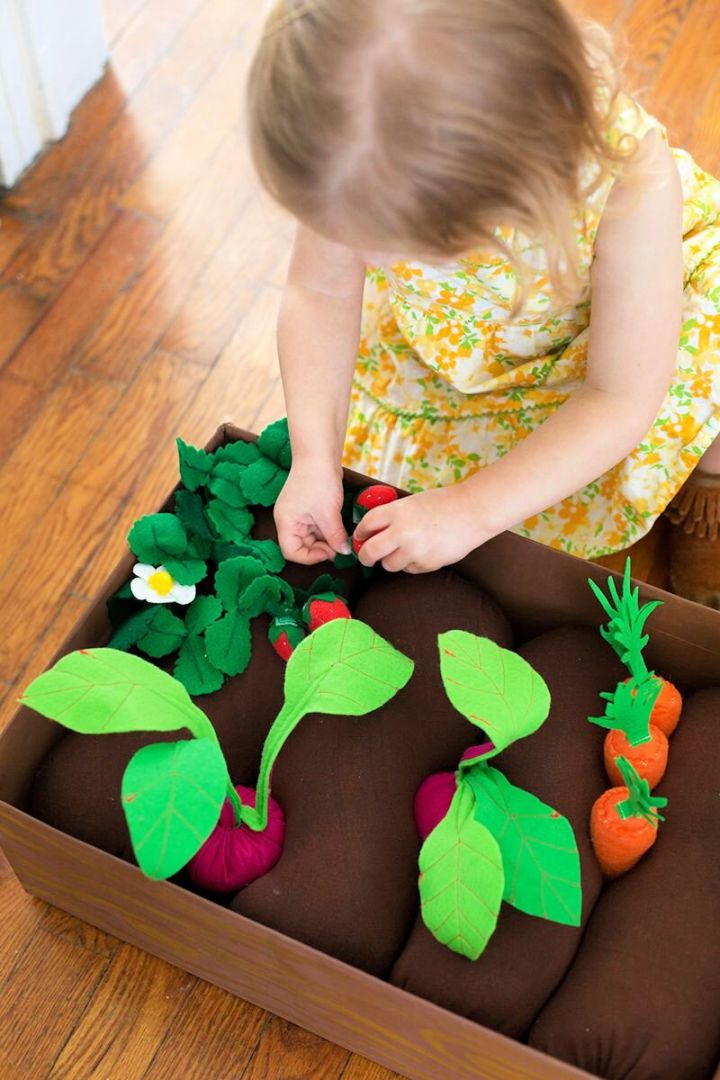 Make your kids also practice the gardening by making the plantable felt garden boxes for them, will be the most innovative toy for the kids! Make the mini pillows like items using brown jersey fabric and cotton and then place them inside a shoes box, brown paint the box to look like garden soil and then let your kids plant the felt vegetables and flowers in it which you can also make quickly at home using felt, Velcro and pipe cleaners! abeautifulmess
46. Make Felt Organizer Baskets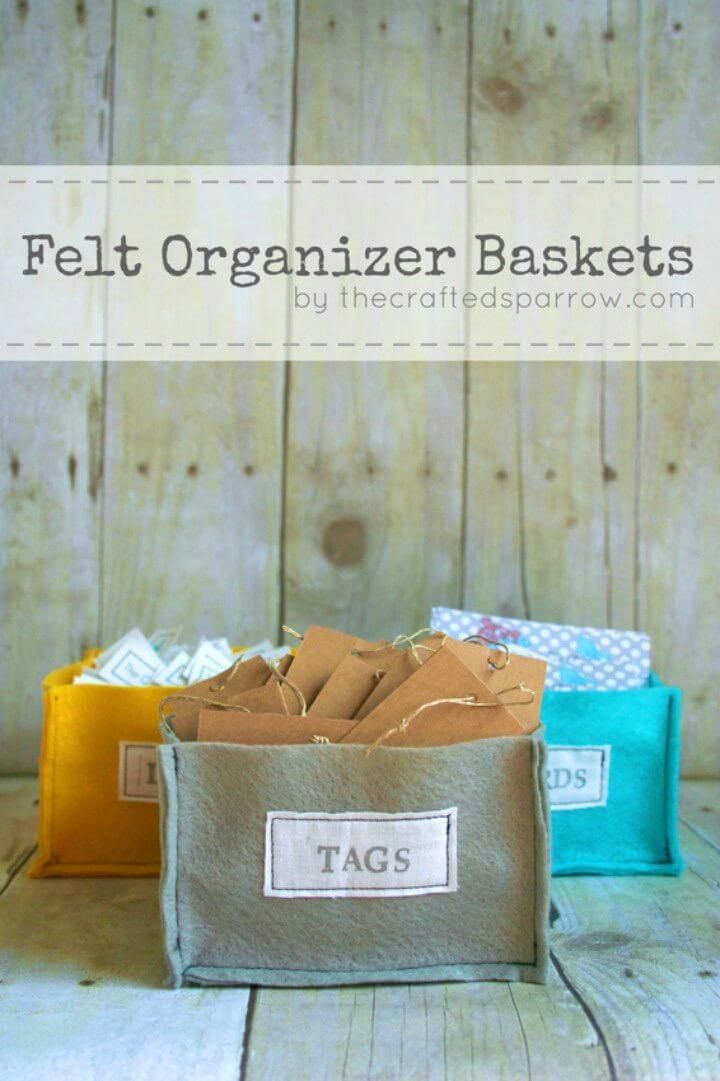 If you are lacking of some cool storage options to organize your spaces then do clone these self-made felt organizer baskets that are a child's play to make at home! Simple sew the felt pieces together to make some boxes, finish them with labels and start storing your items in them, will rock for storing craft room supplies! lilluna
47. How to Make Up Up and Away Mobile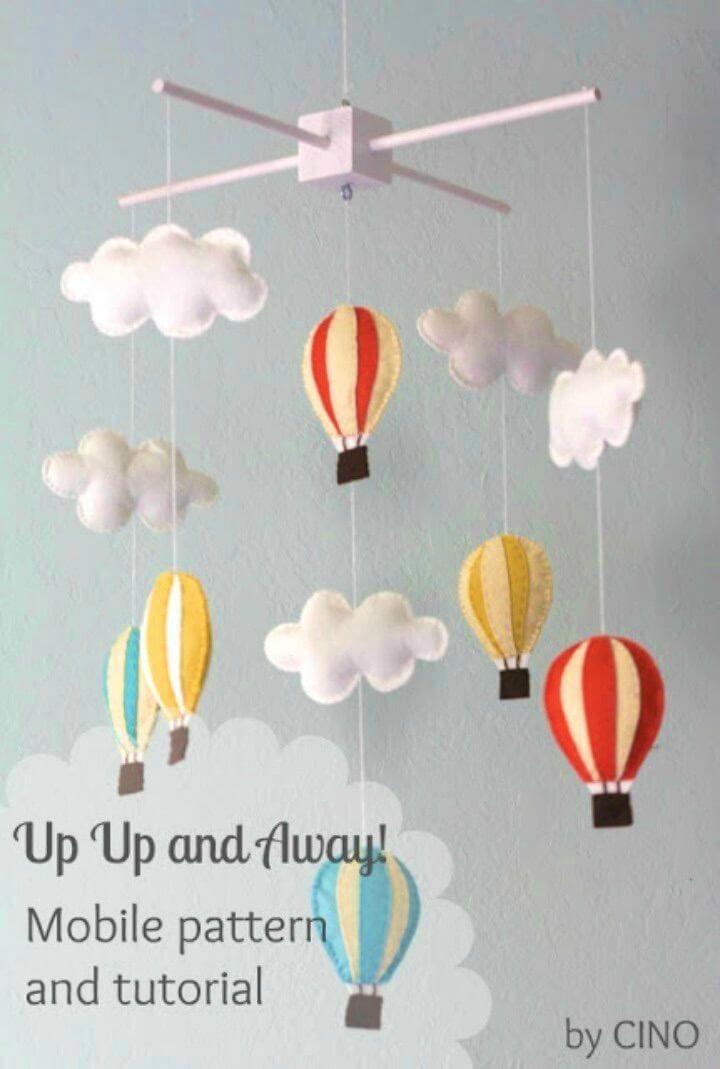 The most precious and enchanting décor to hang to your interior home spaces for bigger décor statements! This is here an up and away mobile that you can make quickly using the felt, string, a wood cube and wooden dowels! Make the stuffed clouds and air balloons out of felt and then string them up to hang aloft! craftinessis
48. Ice Cream and Popsicle Necklaces for Kids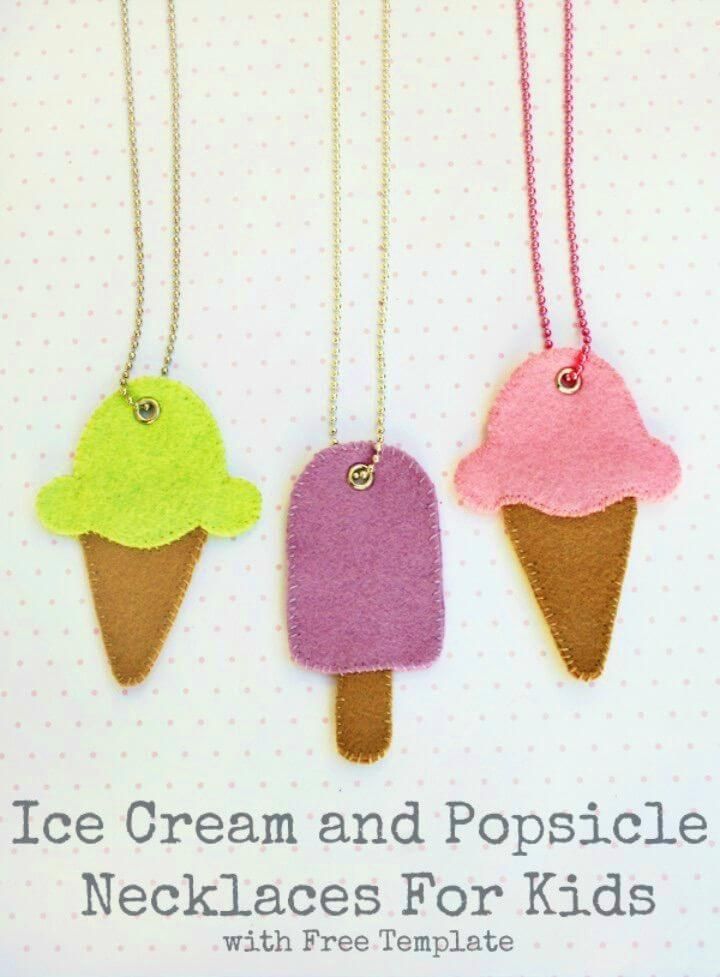 Go smart with the felt and also make kids special items of jewelry that should come with utterly cute appeal! Here the faux popsicles, made out of felt, have been added to necklace chain as cool necklace pendant to make a lovely ice cream and Popsicle necklace as you can see! Another amazing felt craft project artzycreations
49. How to DIY Molnmobil Av Filttyg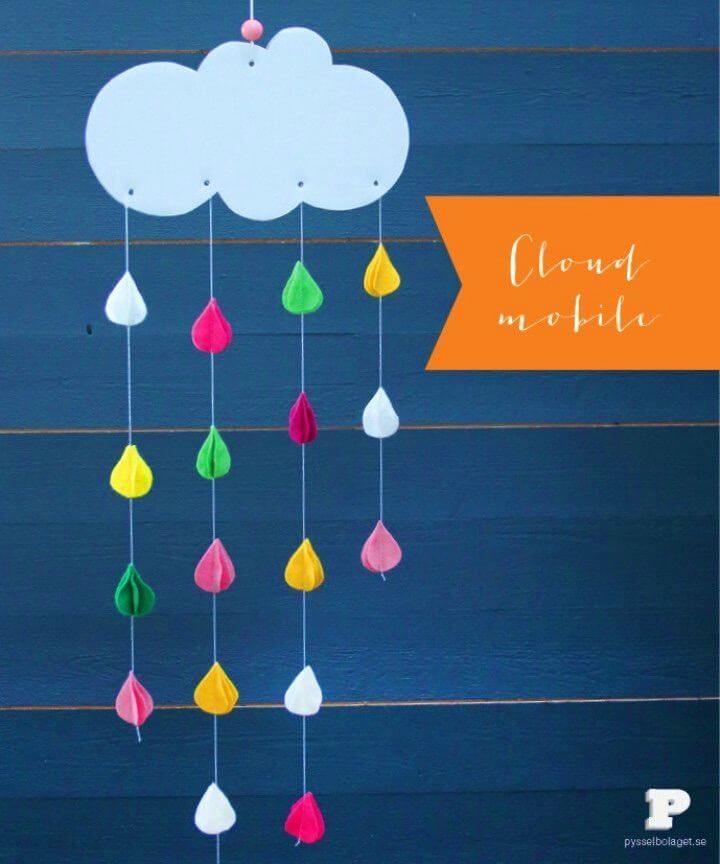 While talking about the best indoor hanging decors, the hanging mobiles come at the top of the list so also make this cloud mobile for your home spaces that will not take much time to be ready! Cut out the colorful felt drops, string them up and then tie the string to bottom holes of a hanging felt cloud! Details here pysselbolaget
50. How to Make Felt Anemone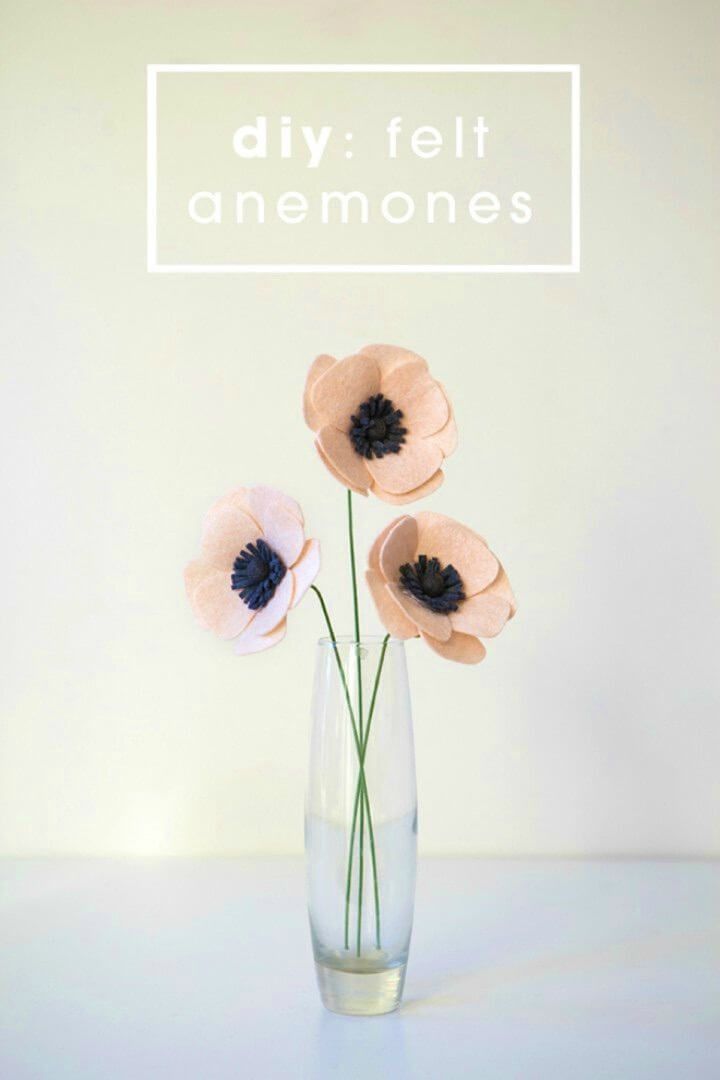 You can make all sorts of flowers with the felt which comes in almost every color, finish the flowers with green floral wire stems and then add in desired vases or jars to make instant beautiful flower vases! Duplicate these felt anemones and then put them in the glass jar vase and give as a great Memorial Day gift, will also rock as a home décor centerpiece! somethingturquoise
51. Easy to Make Felt Pine Cones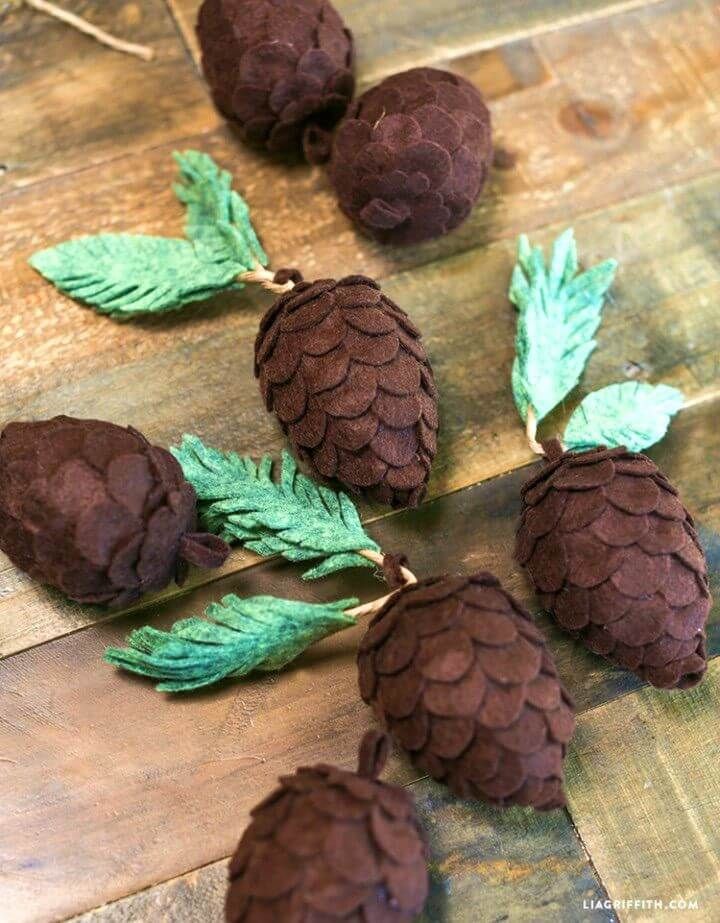 Due to being available in almost every color the felt allows you to make anything special that is in your imaginations! From making artificial flowers, you can faux anything special just like these felt pine cones, will never die and will make awesome fall decors! Glue the brown felt circles all around the Styrofoam egg in scalloped manner and finish with green felt leaves! liagriffith
52. DIY Hockey Stick Hobby Horse and Dragon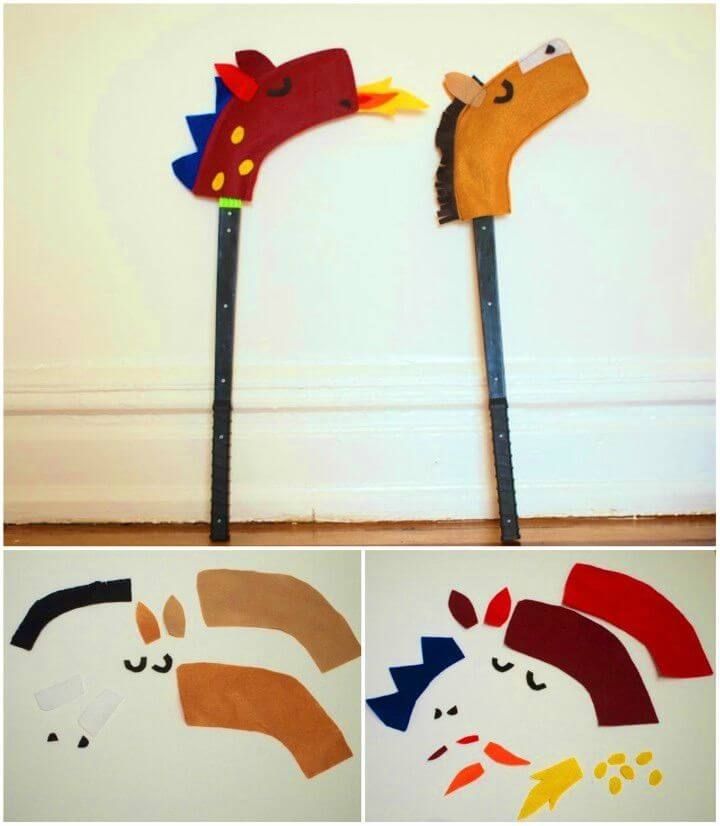 Make all sorts of fun things for the kids and keep them engaged for hours! Provide hours of fun to your kids by making these hobby horse and dragon toys that are made of felt and hockey sticks! Make the dragon and horse faces using the felt! Cut the parts, sew them together and then drop them onto the hock sticks! pinkstripeysocks
53. Quick and Easy DIY Stiffened Felt Boxes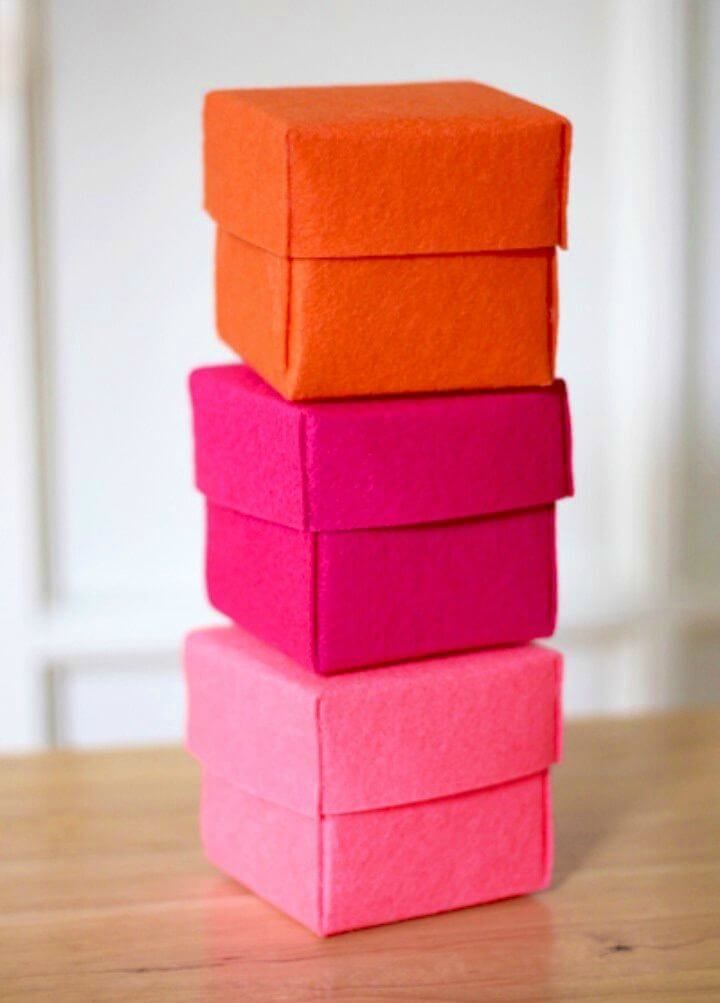 Make also the lovely and colorful boxes out of colorful felt sheets that can be added to your home as amazing and secured type of storage options and will also make amazing keepsake boxes! Look at these stiffened felt boxes that are self-made ones and you can easily duplicate them! How-to details here howaboutorange
54. Easy DIY Elbow Patch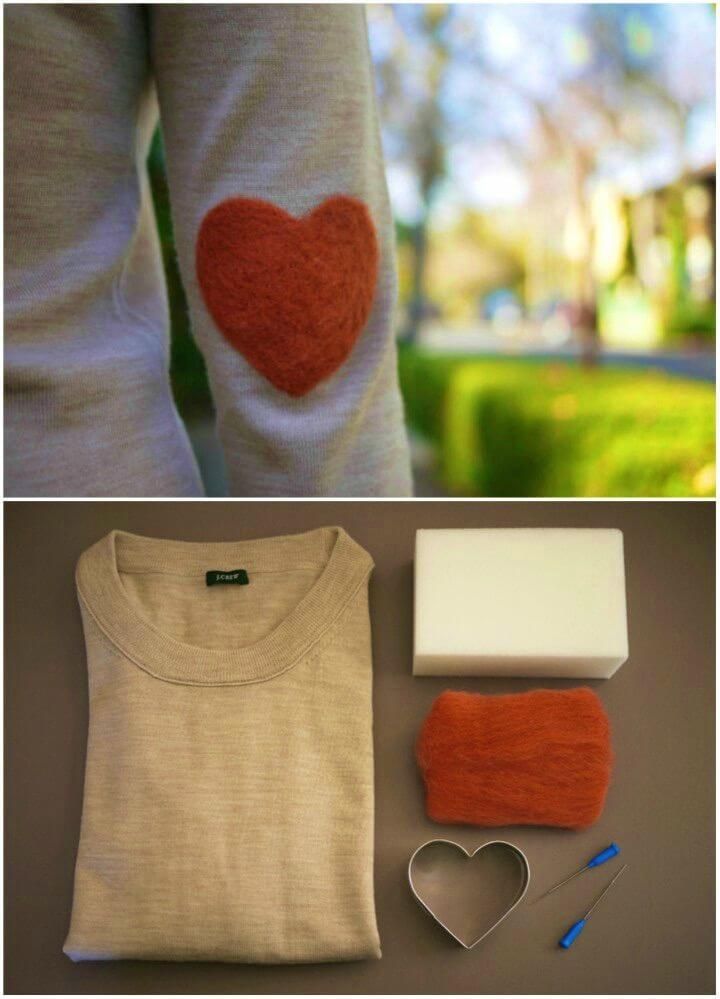 Make also amazing appliqués out of felt which can be sewn on your fashionable clothing items for an instant grace and charm! Transform your normal t-shirts into Valentine's Day special clothing items by adding them up with the heart shape elbow patches that you can cut out of the red felt! Details here honestlywtf
55. Make Stuffed Felt Alphabet Letters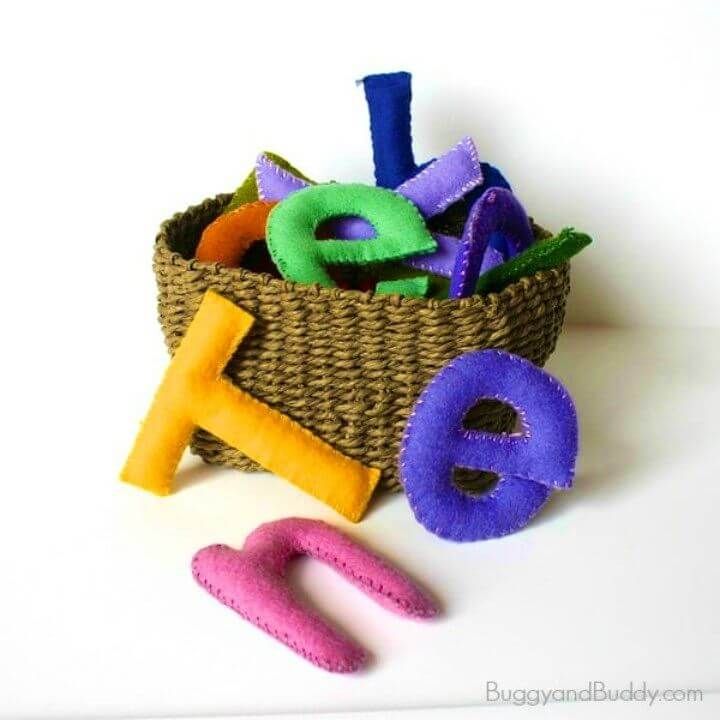 Just like the stuffed toys, make also the amazing stuffed felt toys out of felt that can be used in endless different ways to boost your home or party decors! Here you have to do a little tracing, cutting and filling and also some needle and thread work to make these very beautiful looking stuffed felt alphabets! buggyandbuddy
56. Dr. Seuss Decorative Felt Hoops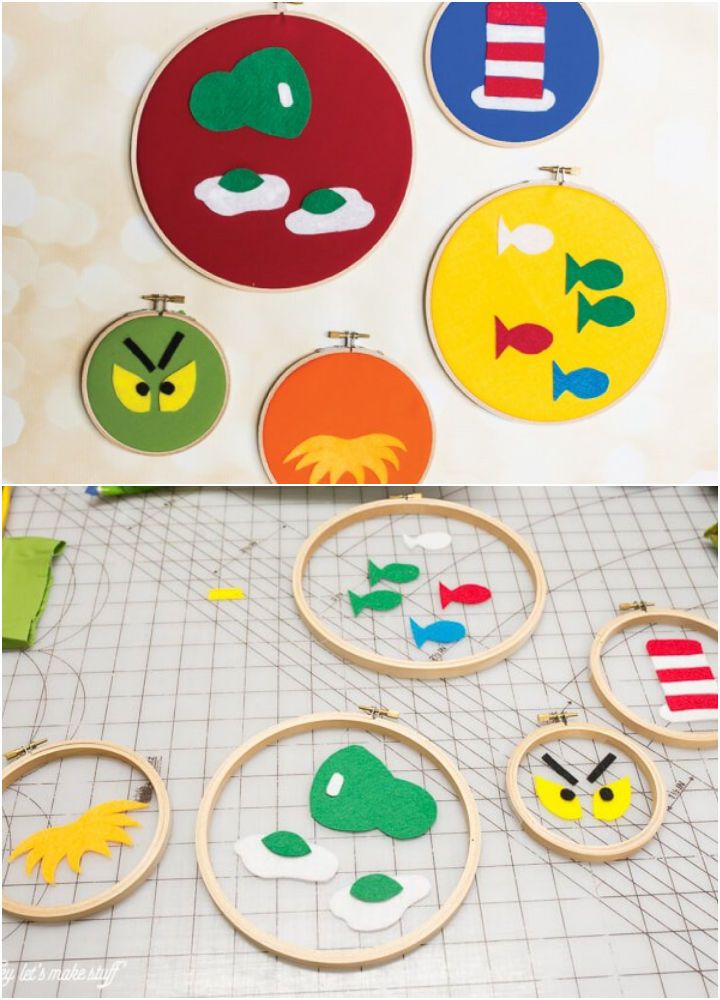 Make also interesting decors and art pieces for kids nurseries using the felt and embroidery hoops! AN interesting example here is this Dr. Seuss decorative felt hoops that are easy to make and will be a super fun making additions to kids nurseries! Intending to clone these precious visual art frames? Complete instructions here heyletsmakestuff
57. Easy DIY Carnation Made in Felt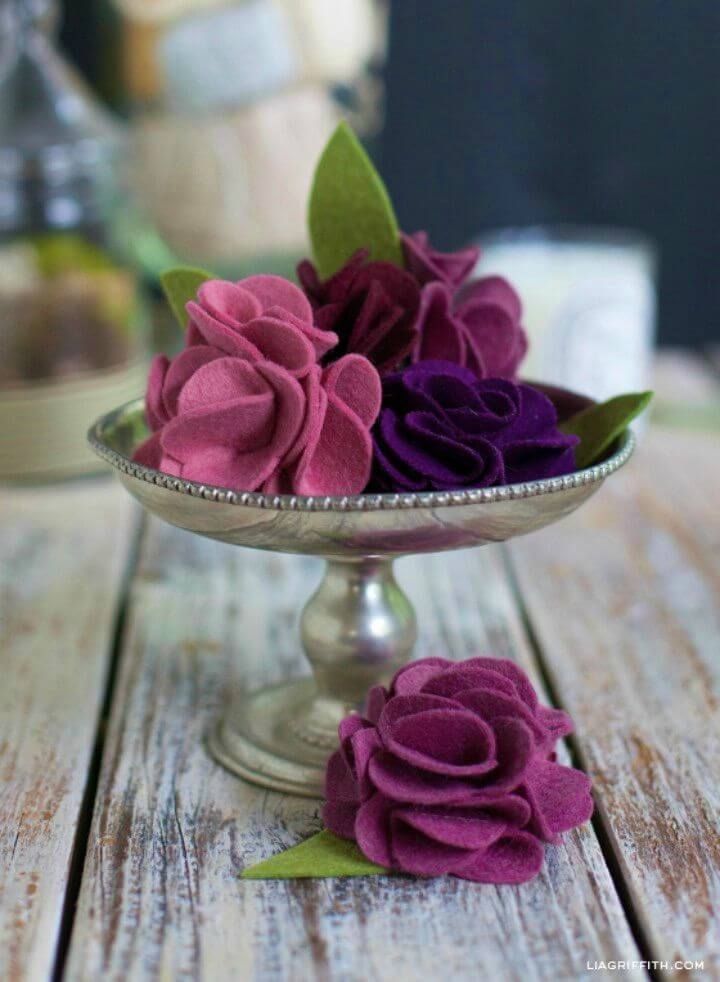 Using your creativity, you can faux every type of flower with the felt, look at these beautiful carnations that are also made of felt and will make perfect embellishments and decors for your spaces! Use the green felt to make the flower leaves! Do use these faux carnations for amazing flower arrangements in home! Details here liagriffith
58. Adorable DIY Felt Flowers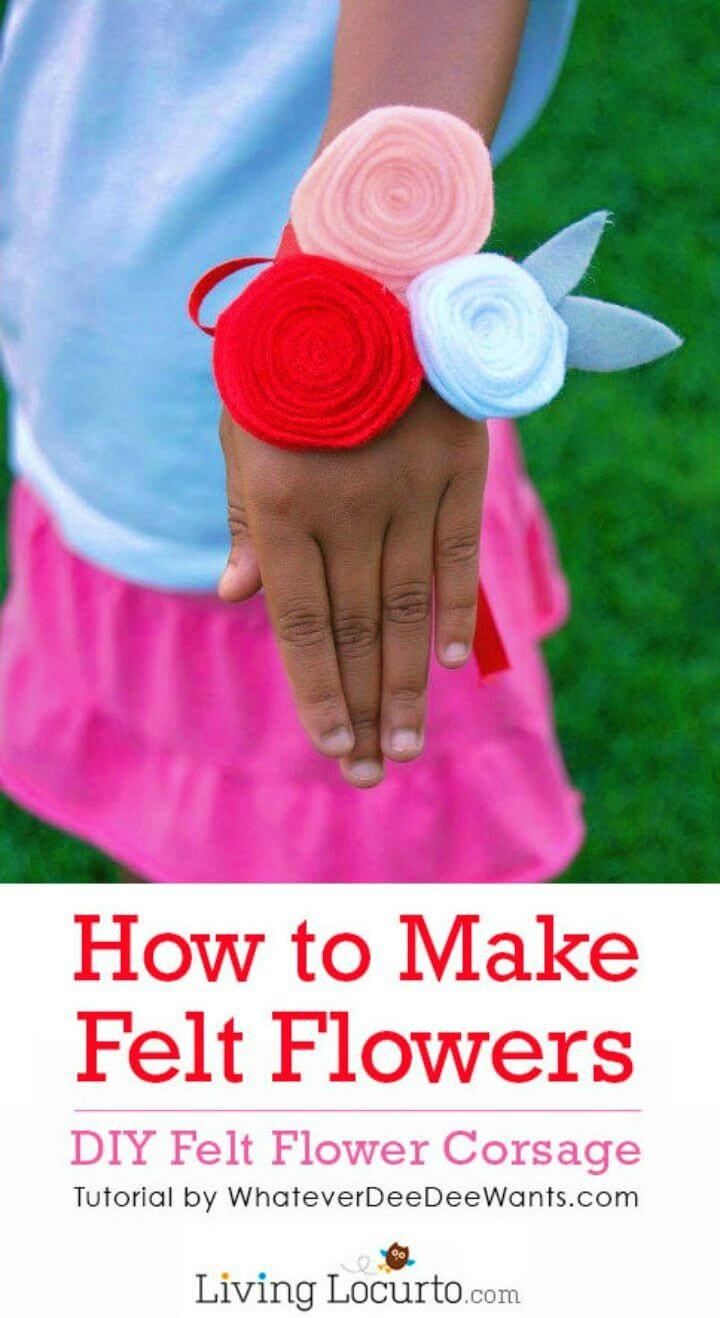 If you are handy at making the adorably cute flowers out of felt then time to bring this game to next level, now also do amazing crafting projects that involve the felt flowers like making this precious corsage! Coil the felt strips and make lovely flowers and then glue them together and finish with ribbon to wear on wrist! livinglocurto
59. Quick DIY No-sew Felt Diaper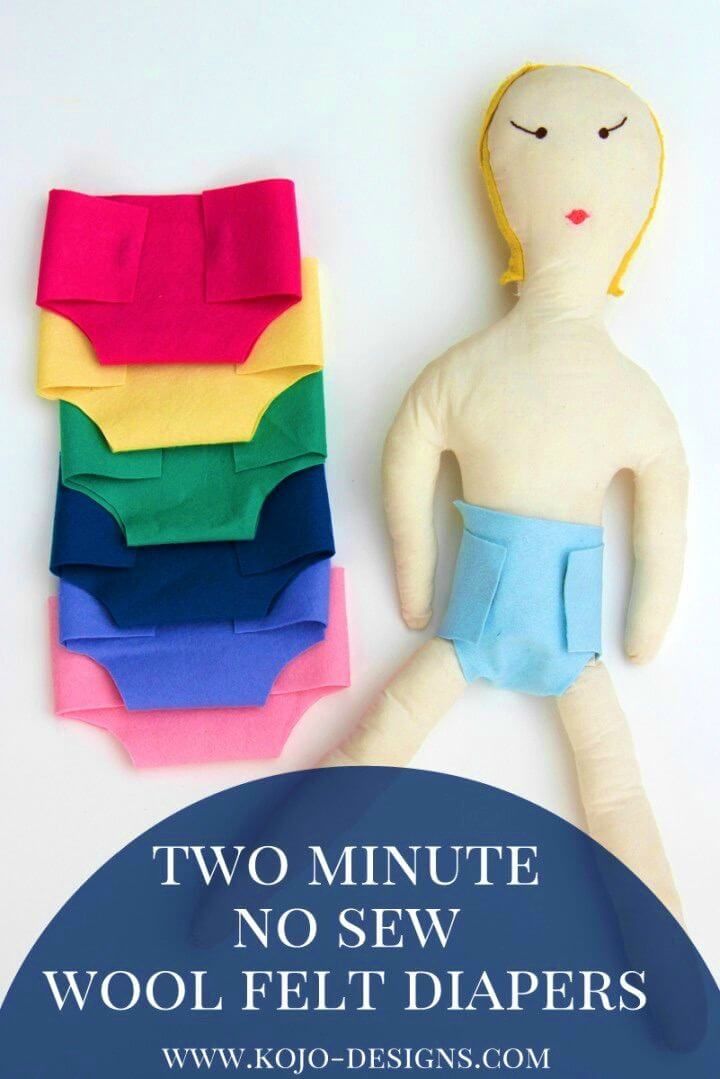 Make also amazingly cute and mini gifts for all the about-to-be mothers using the felt and win extra love of them! Make the colorful diapers using the felt and without using a sewing machine! The diapers would also make a great baby shower gift and this is going to be another super easy and no-sew felt craft! Details here kojo designs
60. How to Make Flower Fairy Wooden Peg Dolls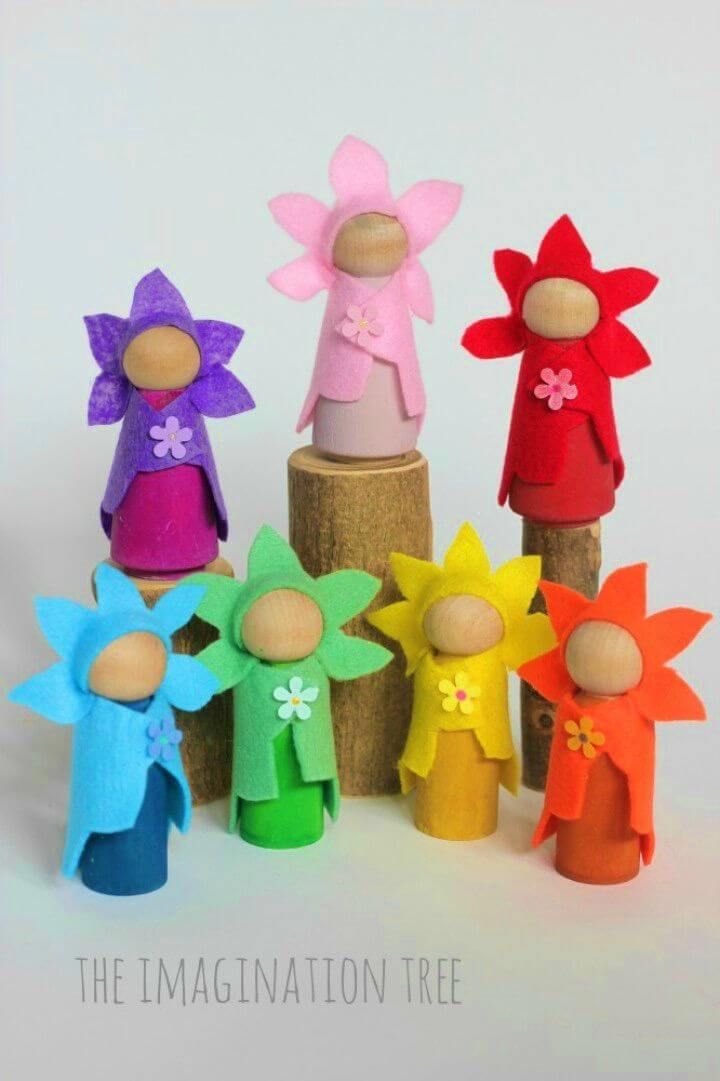 If you intention is to make your kids happy by giving cool handmade gifts then felt is a great choice for you! Using felt you can create beautiful toys and fun gifts for the kids just like these fairy wooden peg dolls! Grab the peg doll figures, felt, glue and custom embellishments to clone these peg dolls! Tutorial here theimaginationtree
61. Easy to Make Felt Succulents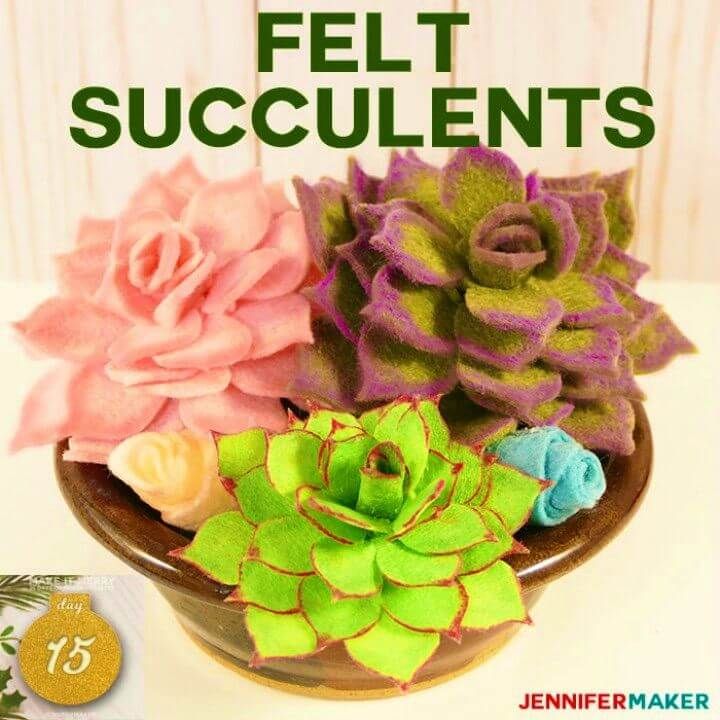 Make also the faux succulents with the felt that will look much near to real and will come in handy to making very natural looking decors for your home, also use felt succulents as embellishments for several of your crafts! Put these succulents in a bowl and make beautiful and ever-lasting succulent planters for your spaces! jennifermaker
62. Make Felt and Vinyl Alphabet Matching Game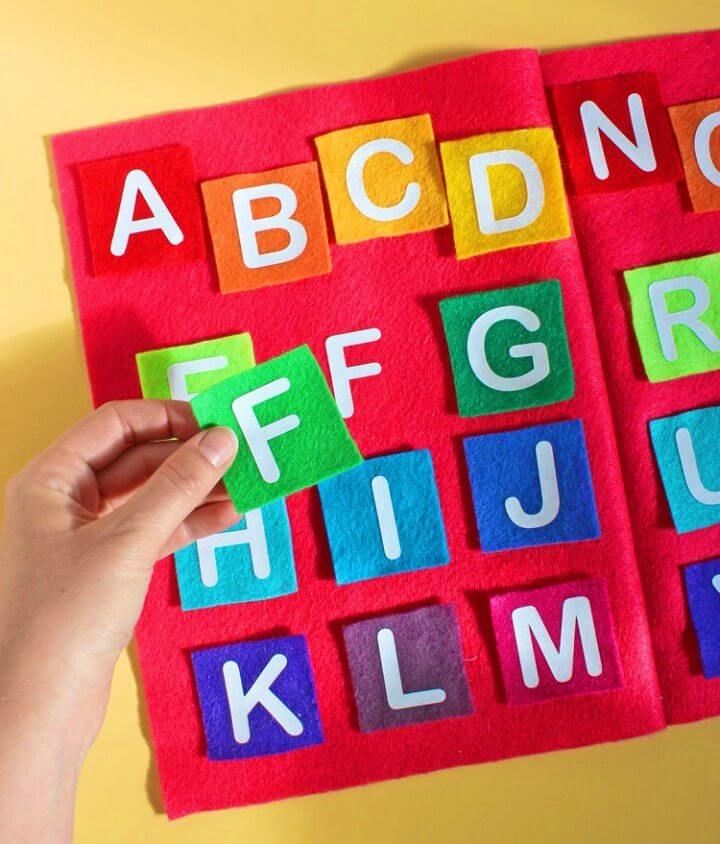 Make your kids busy in some intellectual games and help them develop sharper brains! Also, make the lovely intellectual games using the felt and vinyl! Add the vinyl alphabets on the colorful felt circles and then place them flat on a sheet and gain an alphabet matching game! Another genius kids craft to make with felt! thecraftpatch
63. How to DIY Felt Flower Hair Ties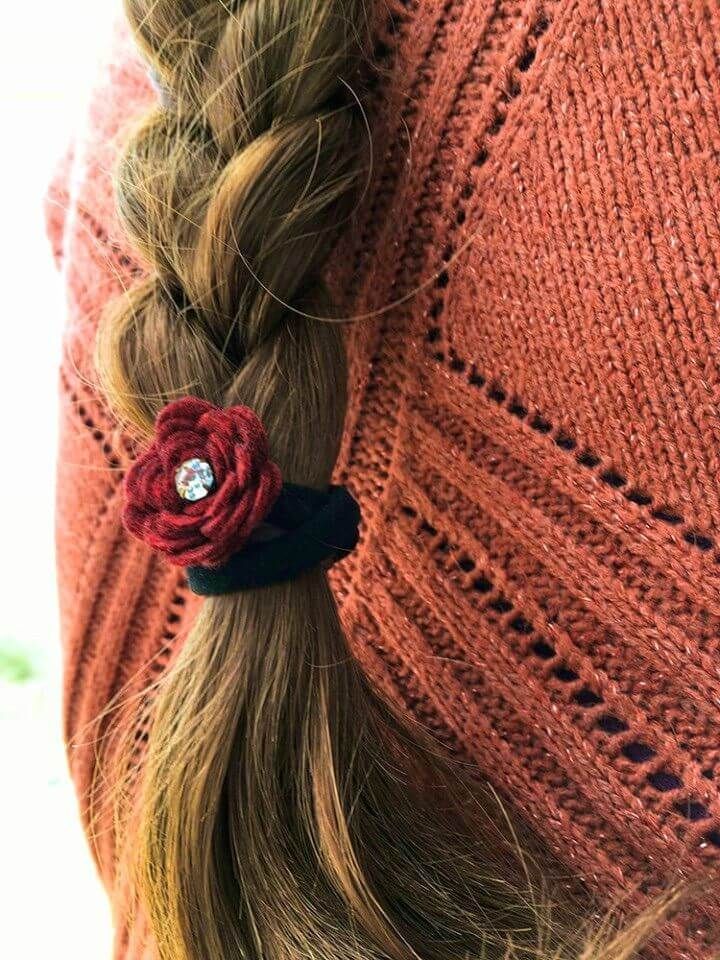 Make the lovely looking felt flowers and use them as embellishments for several of your item of fashion and accessories! Glue the felt flowers on the top of hair ties and make beautiful-looking hair ties that will make you wear a great hairstyle for sure! Take a look at this sample hair tie that is more than beautiful! mermaidsden
64. Awesome DIY Felt Mushrooms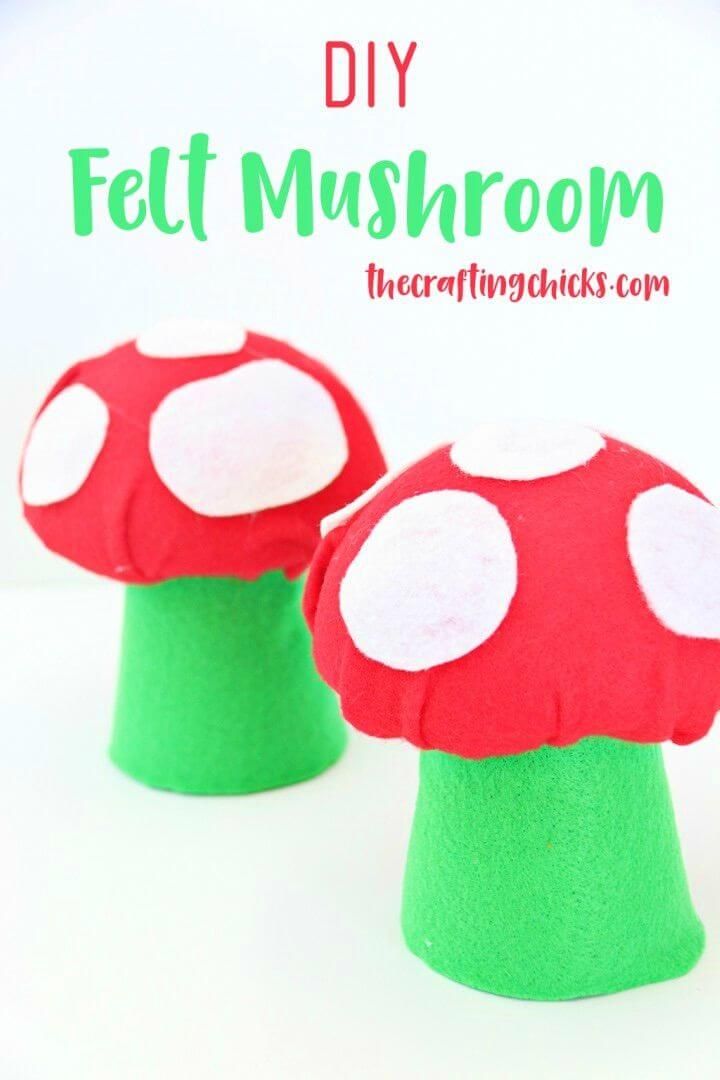 The colorful faux mushroom is mostly part of fairy gardens and they also make visually attractive décor for your garden spaces, so, also make superb mushrooms using the felt and boost your garden decors with them! Wrap the Styrofoam cone in a green felt sheet to make a mushroom base and cover a Styrofoam ball in red felt and add it up with white felt circles for making the top of the mushroom! thecraftingchicks
65. DIY Felt Flowers Five Ways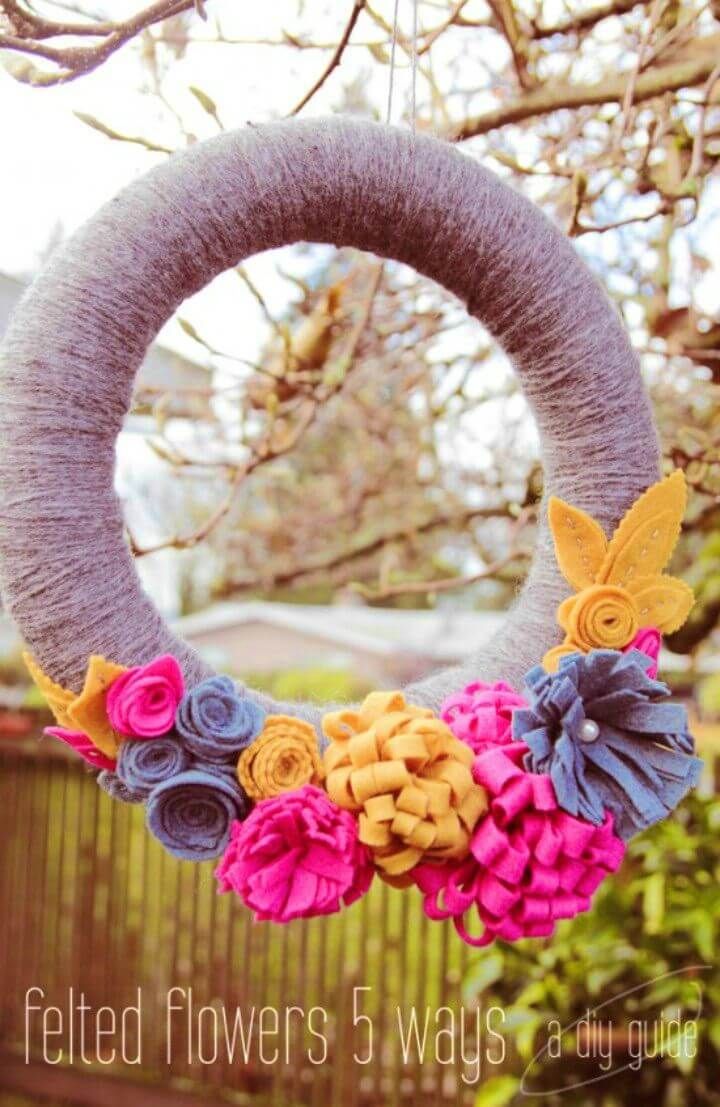 The felt flowers are a big hit in the crafting world as they are part of several crafts and home décor projects! You can make felt flowers in lots of different ways, check out here the smart five ways in this case! All your differently made felt flowers would make great embellishments for a wreath as you can see! papernstitch
66. Adorable DIY Soft and Cuddly Felt Cacti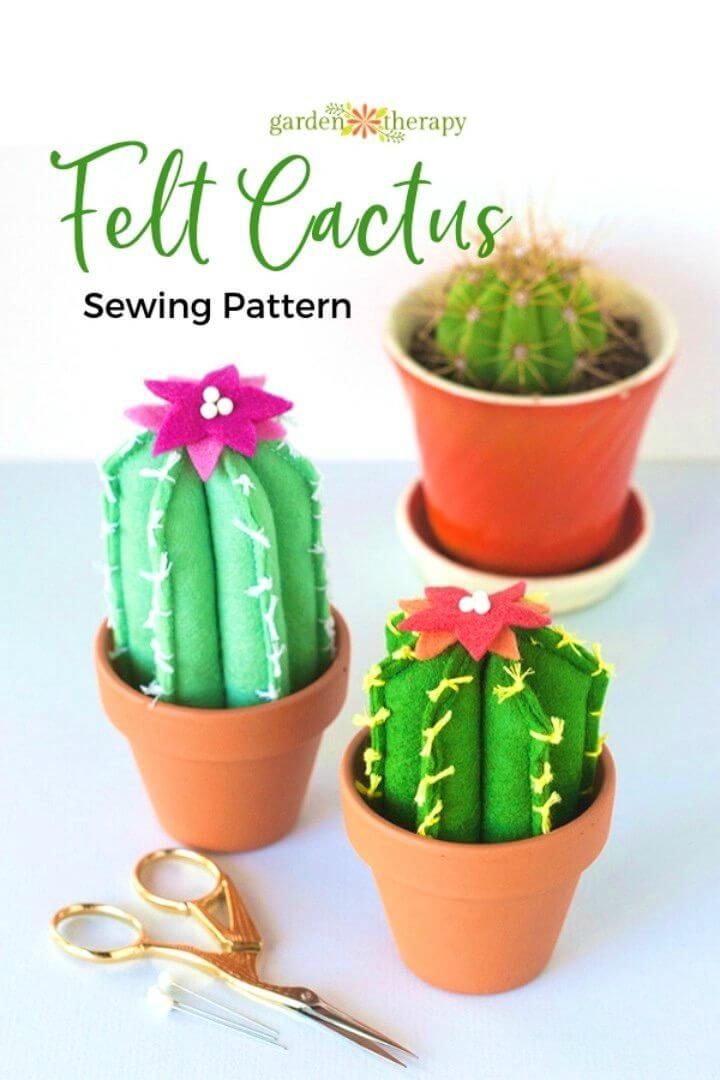 Have you ever thought that you can also give a hug to the cactus plants and they will be super soft to touch also! Yes, it is all possible if you make some faux felt cacti planters or pots at home that will look much near to reality and will make amusing home decors! The trick is to make the stuffed cacti out of felt! Details here gardentherapy
67. Easy DIY Felt Fortune Cookies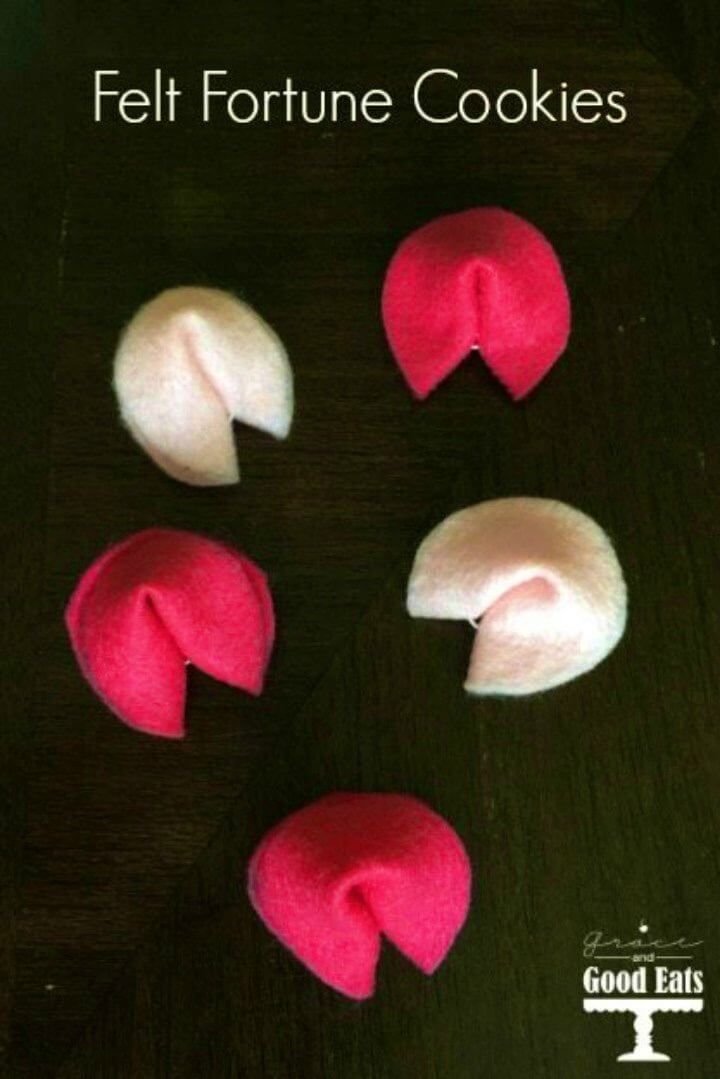 Appreciate the versatility of felt, one of the most loved crafting materials, by making these precious felt fortune cookies that will be ready in less than a few minutes! Simple cut out the circles out of different colored felt sheets and then give them a smart stitch to make the lovely felt fortune cookies as you can see! graceandgood
68. Pretty DIY Framed Felt Flower Picture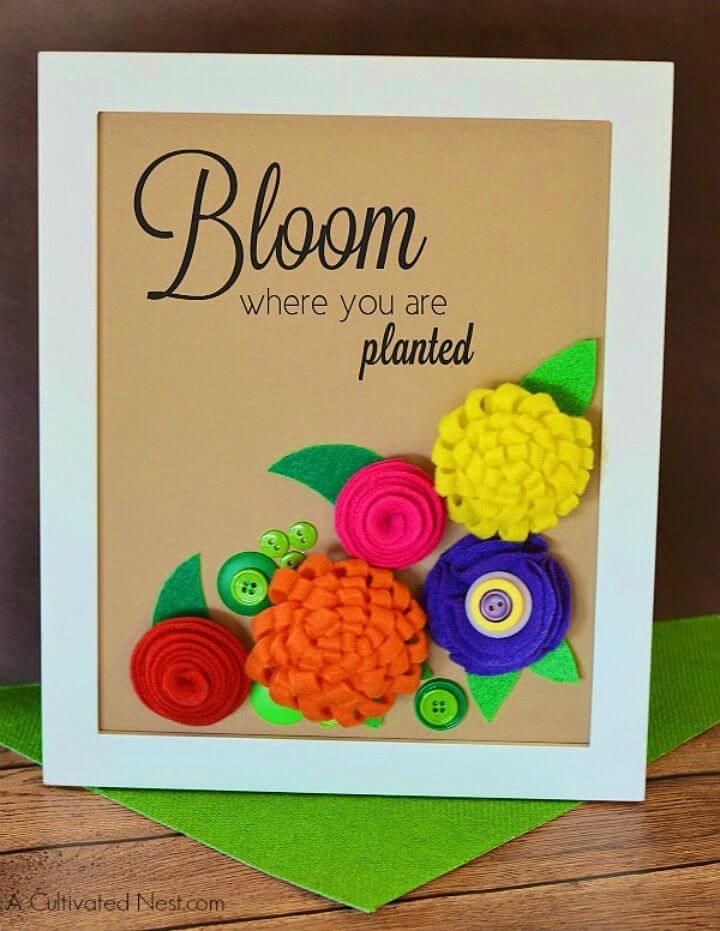 If you have learned to make the pretty wonderful and exquisite flowers with the felt then here is what amazing you can do with the felt flowers, glue them on the backing of a picture frame and then put the frame back in place and make precious felt flower art frames, will bring tons of grace to any interior wall! acultivatednest
69. Gorgeous DIY Ombre Beachy Felt Ball Garland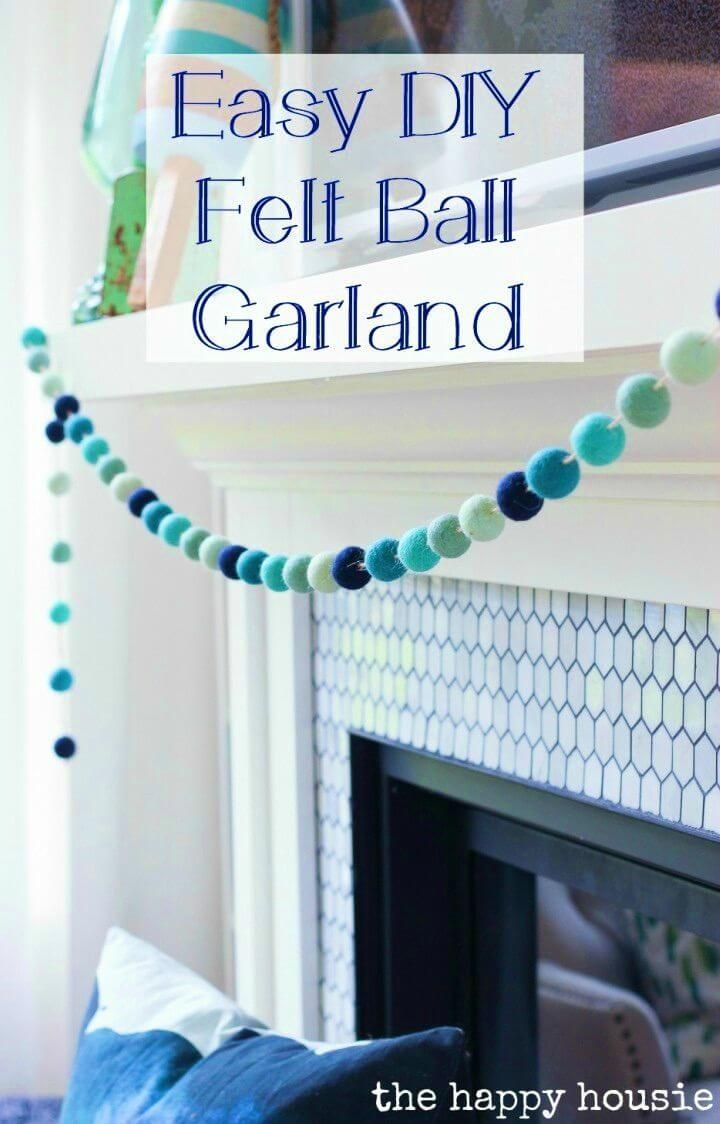 Make also visually pleasing nautical and beachy decors out of the felt without getting a bit expensive! Give any indoor space or decorative mantle a glam touch of beachy decors by adding this felt ball garland that you can quickly make by threading the ombre blue felt balls onto a piece of string! Details here thehappyhousie
70. DIY Kawaii Yeti Monster Plush Softie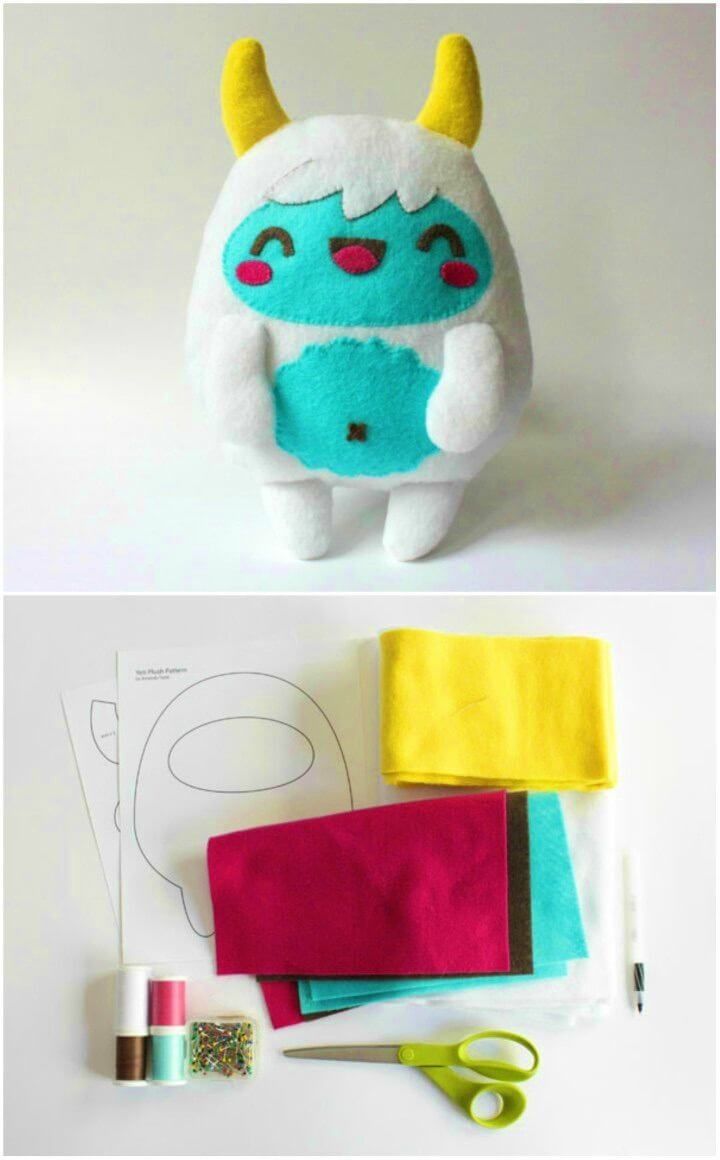 Make also the brilliantly cute plush toys and cuddle me up toys for the kids using the felt and custom batting! Win the heart of your kids by making this very cute looking kawaii yeti monster plush softie that will be loved dearly by all the kids and the perfect huggable toy for all babies, toddlers and kids! Details here crafts tutsplus
Conclusion:

We hope you enjoyed this roundup of 70 DIY felt crafts. All the instructions are easy to follow with in-depth diagrams and instructions. If you're looking for more inspiration, be sure to check out our other posts on DIY projects and home decor. As always, thanks for reading!