If you're looking for some creative craft ideas for adults, you've come to the right place. Whether you're a seasoned crafter or just getting started, these 70 easy and creative craft ideas for adults are sure to inspire you. From homemade jewelry and wall art to home decor and scrapbooking, there are crafts for adults and everyone. So grab your supplies and get ready to get crafty!
Anyone who thinks that crafting is just for kids has clearly never seen the wealth of creative and complex craft projects that are out there for adults. From simple sewing and quilting projects to more intricate woodworking and metalworking, there are craft ideas to suit every taste and skill level.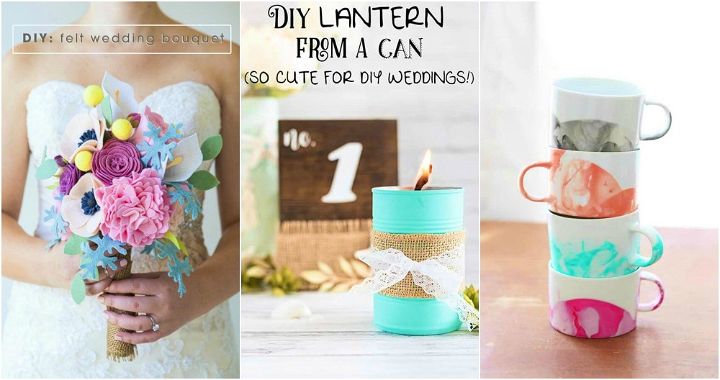 And the best part is that many of these crafts for adults can be done using items that you already have around the house. So dust off those old craft supplies and get ready to get your hands dirty with one of these 70 amazing craft ideas for adults.
1. DIY Pool Noodle Luminaries for Summer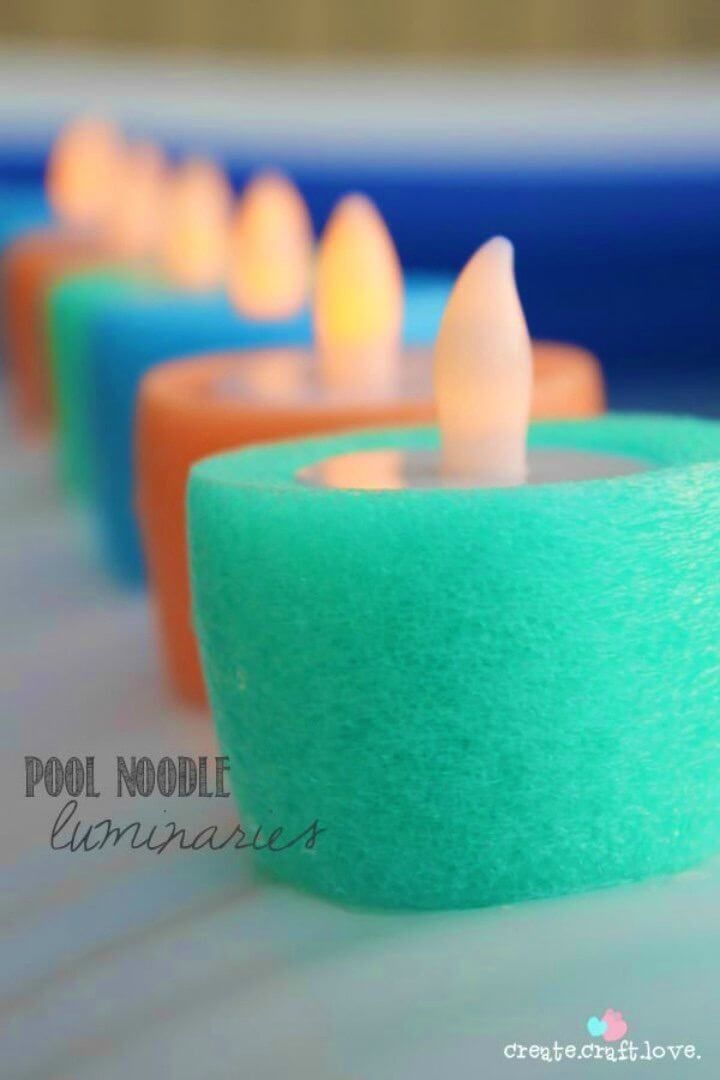 Having these incredible pool noodle luminaries it's a lovely way to decorate your space. In this case, you will need plastic wrap, led tea lights, plastic hair tie, scissors, and pool noodles. Look for these supplies and start to create something incredible. createcraftlove
2. DIY Fabric Covered Spring Vases for Adults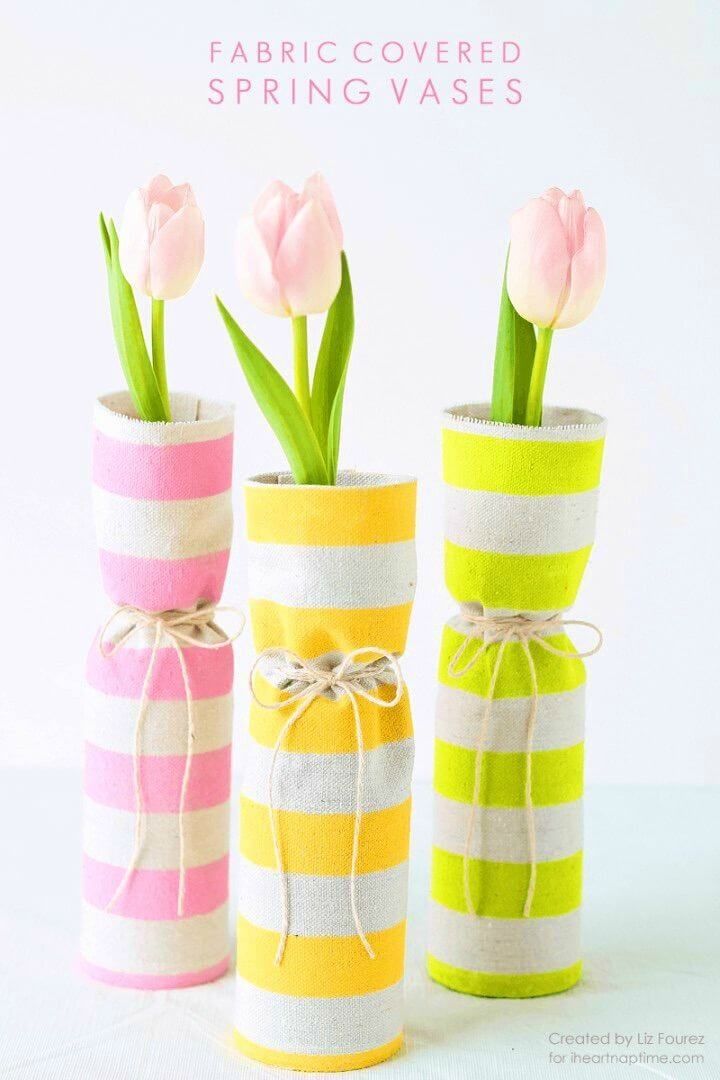 In this occasion, if you have some vases you want to decorate, take some fabric material to cover these items. After everything is done, they will be an excellent centerpiece in your living room table. Click on the link below. iheartnaptime
3. DIY Pottery Barn Inspired Rope Wrapped Candleholder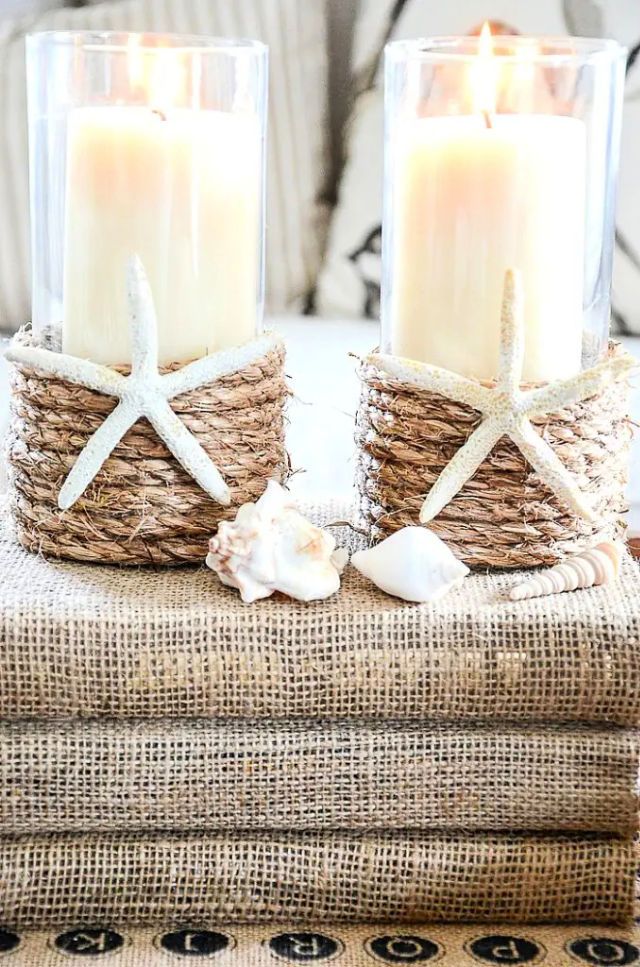 Here you will learn how to make some cute candleholder by using some wrapped rope. Make sure to have the right sizes of your candles and begin to work on this fun idea to decorate your home. Check how to make it here: stonegable
4. Easy DIY Marbled Mugs with Nail Polish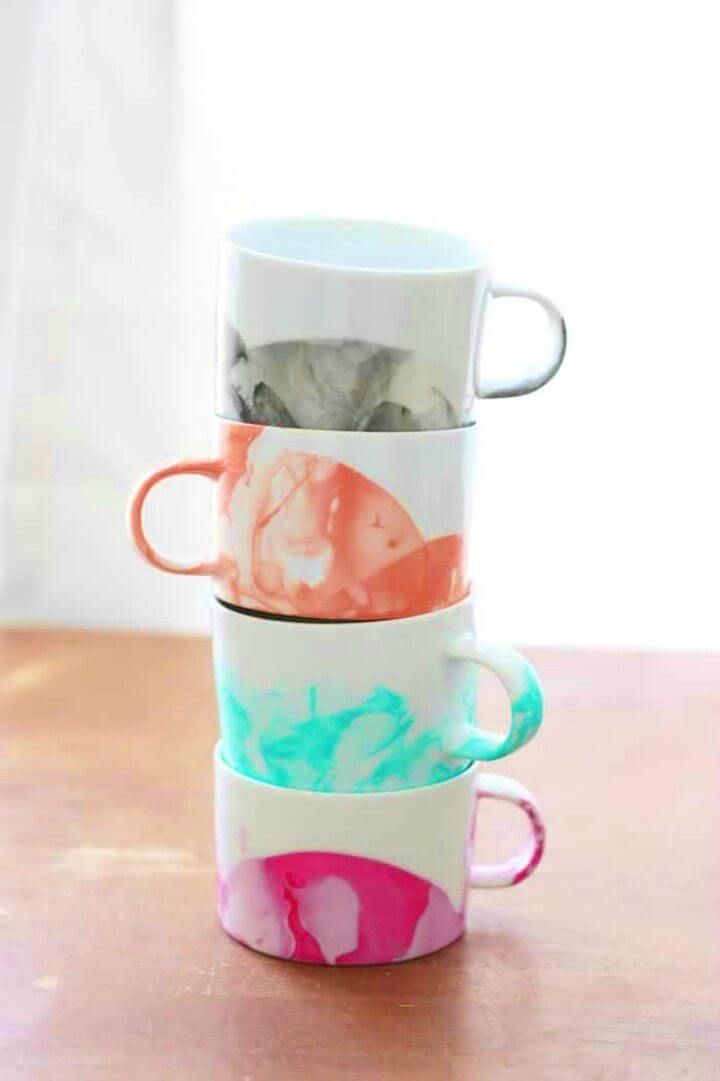 If you have some mugs with just one color, for example, white, you can add some cool nail polish creating a marbled effect which will be adorable and they will look elegant and unique. Click on the link below to see how to make it. diycandy
5. Pretty DIY Chevron Pallet Mounted Hanging Mason Jar Vase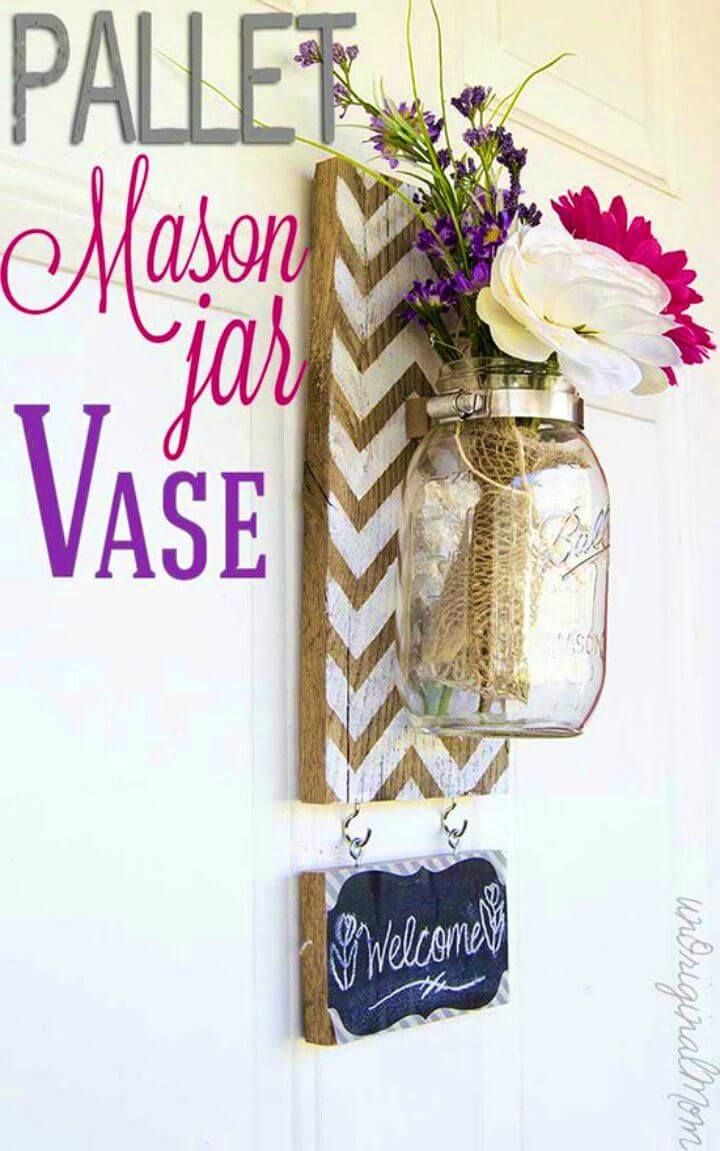 If you have an empty Mason jar vase, you can use it as a decoration for your home. The first thing you have to do is to select some flowers you can insert and also, some paints you can use in a pallet to hang it up on the wall and create a lovely adorn piece. unoriginalmom
6. DIY Rubik's Cube Word Learning Game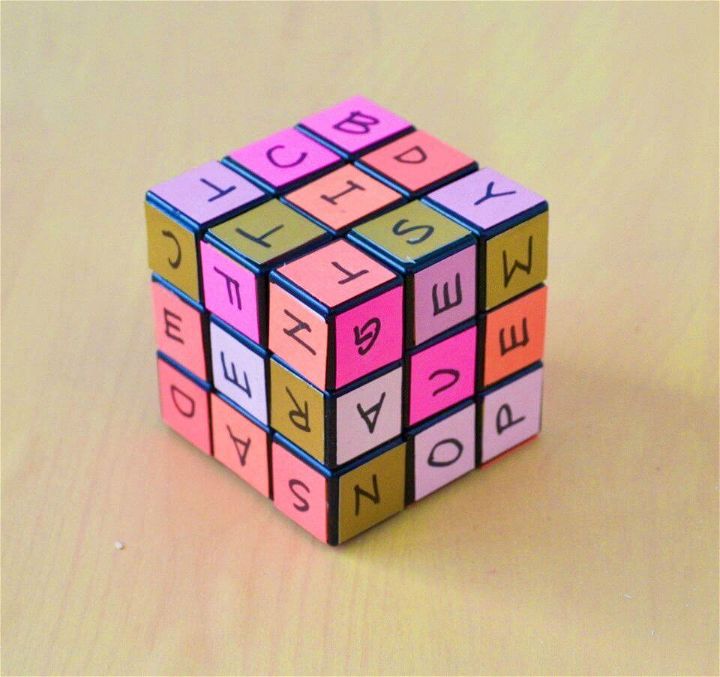 If you have a Rubik toy, you can add some fun stuff to make it more original and interesting. Choose cardboards in different colors, and add a letter on each square. Then, begin to play and create funny words in it. Click here on the link to see more details: sparkandchemistry
7. Make a Yarn Wall Hanging for Adults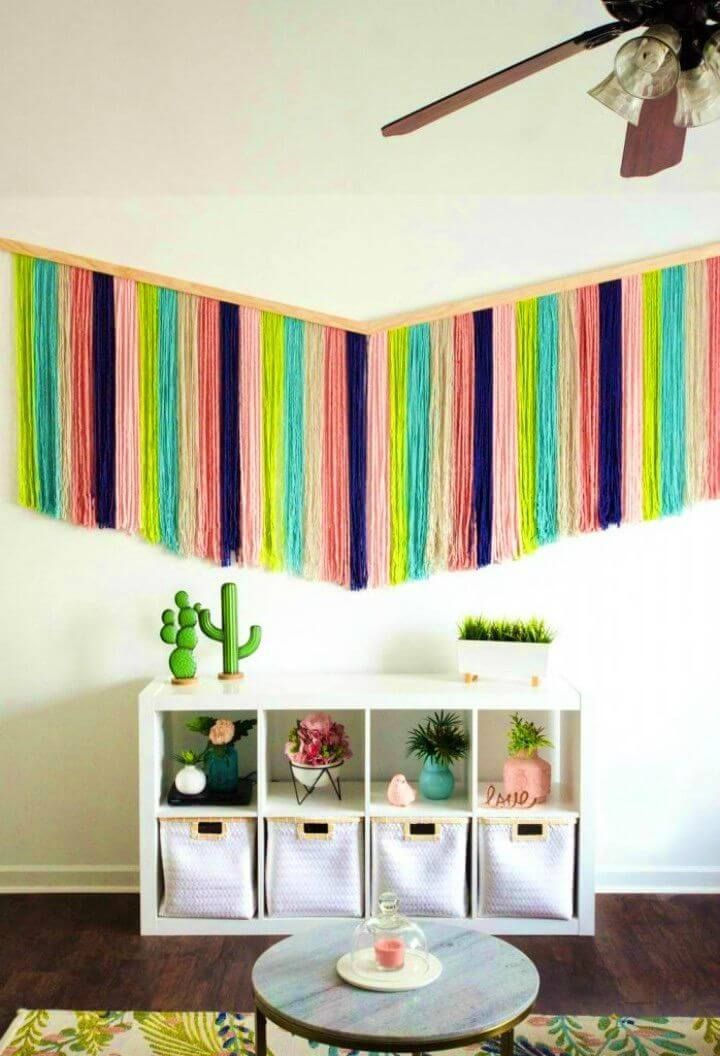 Sometimes there are walls at home with a solid color and you want to change it to make it look more colorful and captivating. Think about creating a wall hanging using different colors but always having in mind a palette color. Check the link below to know more: alittlecraftinyourday
8. Simple DIY Washi Tape Clocks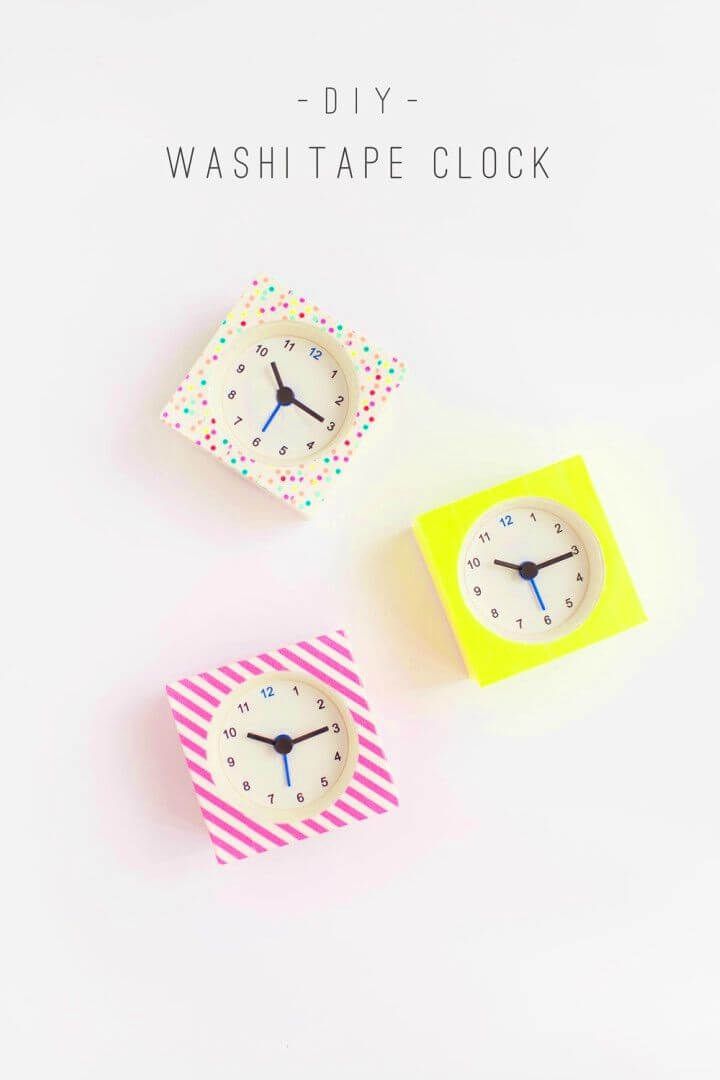 These lovely washi tape clocks can be perfect for a birthday gift or to give it on a special occasion. If you want to know all the supplies you will need, click on the link below and start to look for them. It will look enchanting having these items all over the house. tellloveandparty
9. How to Make Placemat Clutch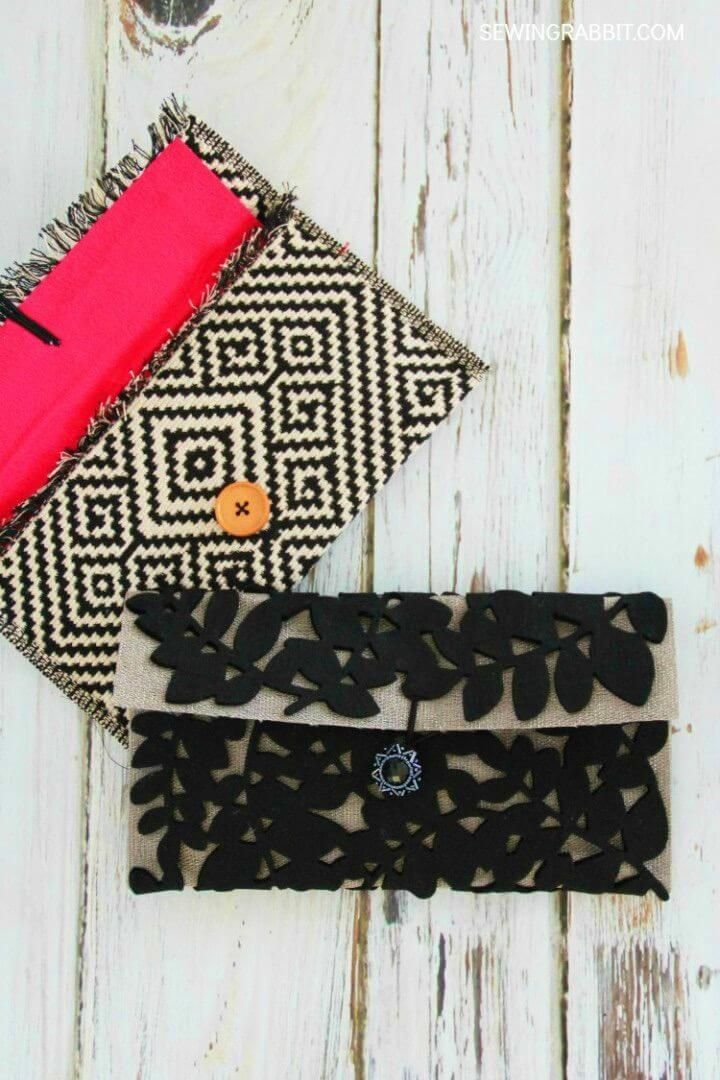 If you have some placemat clutch at home and you do not know what to do with that, here you have a lovely option. They can be perfect to create a coin purse in different sizes. Also, you can add a bottom in the middle to make it more real and fancy. mesew
10. How to DIY Mug Rug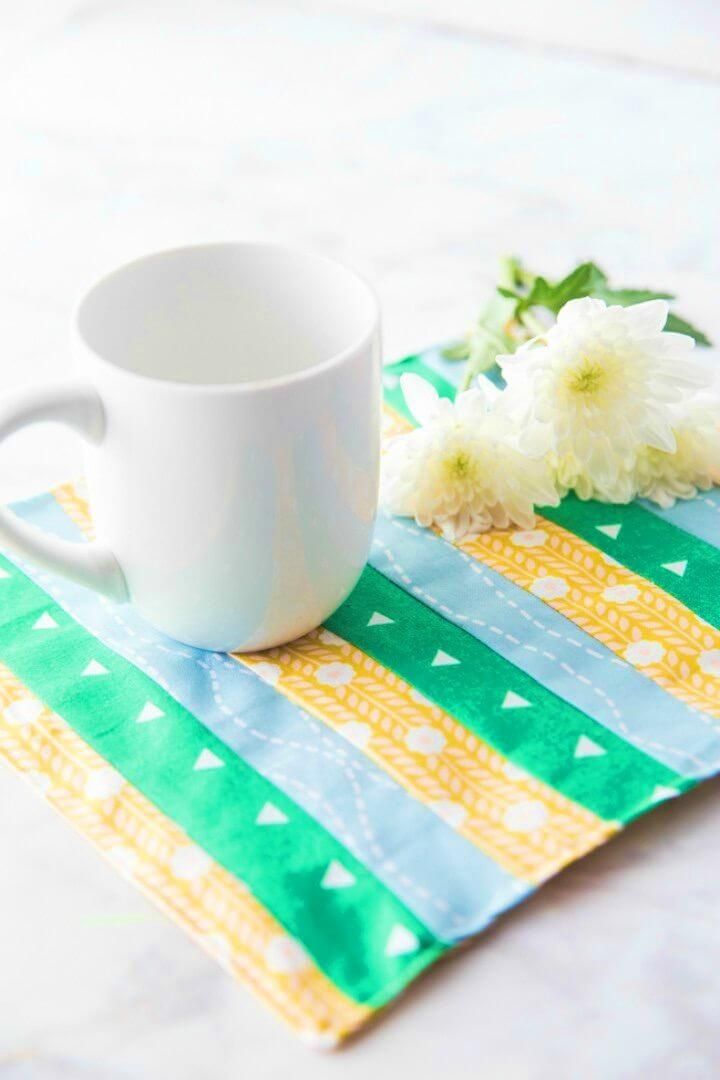 It is necessary to have always some rugs to place the mugs when you are using them in order not to damage the table with hot liquids. Try to make colors that combine perfectly with your kitchen theme. It will be so adorable. crazylittleprojects
11. Make Pineapple Honeycomb Party Decorations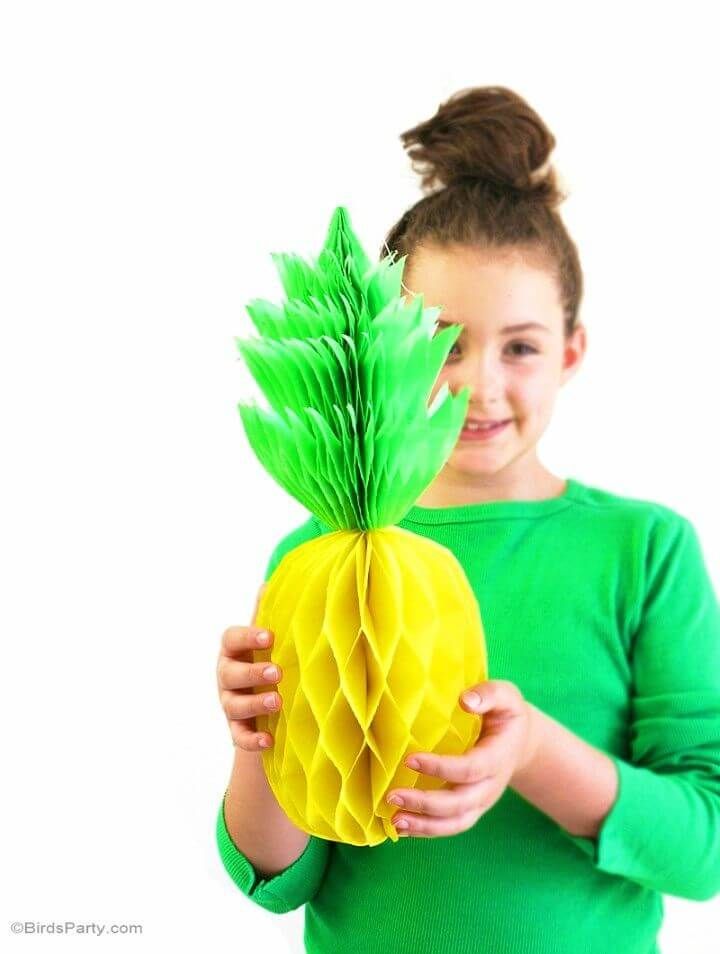 In this case, you can use some colorful felts to make a lovely decoration for a birthday party or for any other event. Choose yellow and green colors and start to work on this project. After everything is done, they will be ready to use them as a centerpiece. Click here for more: birdsparty
12. Recycled Bottle Flower Vase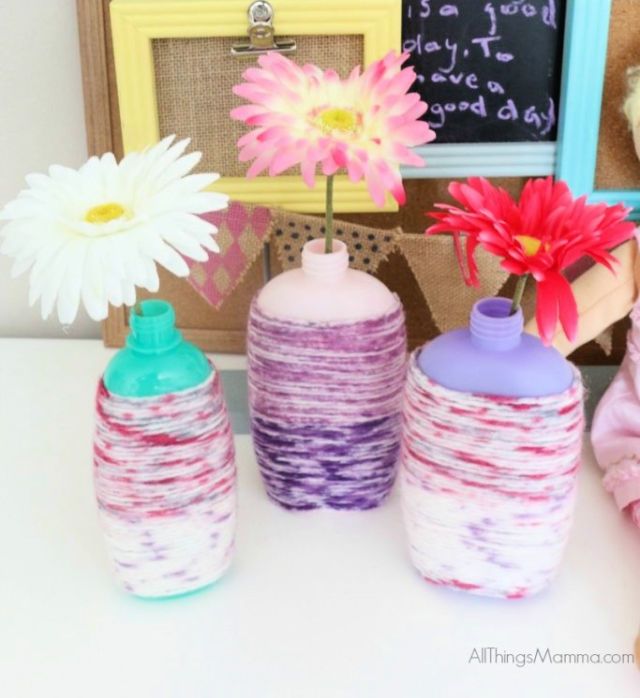 If you have some bottles at home you will not use, you can use them as flower vases. You just need to decorate them using some fabric or felt material around the bottles to make them look cuter and unique. Check how to make it here: allthingsmamma
13. No-Sew Appliqued Pillow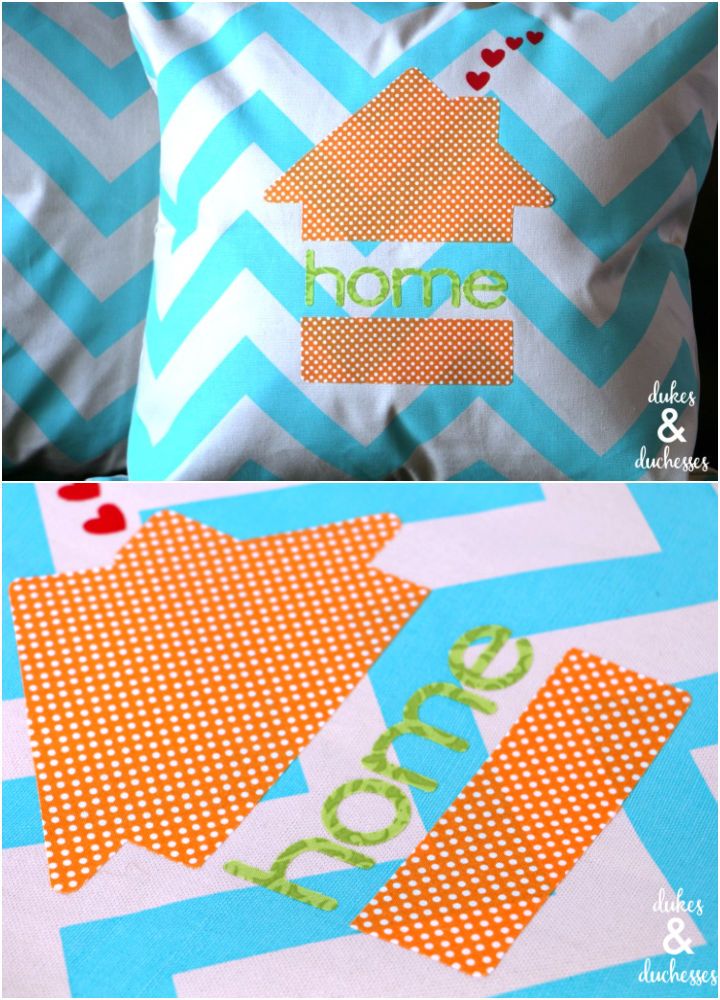 Creating some pillows for your home, it's an incredible opportunity to change your style and to innovate the view at home. Also, you will totally explore your creativity by making these lovely pillows. Click below to learn how to make them without sewing. dukesandduches
14. Easy to Make Stained Glass Art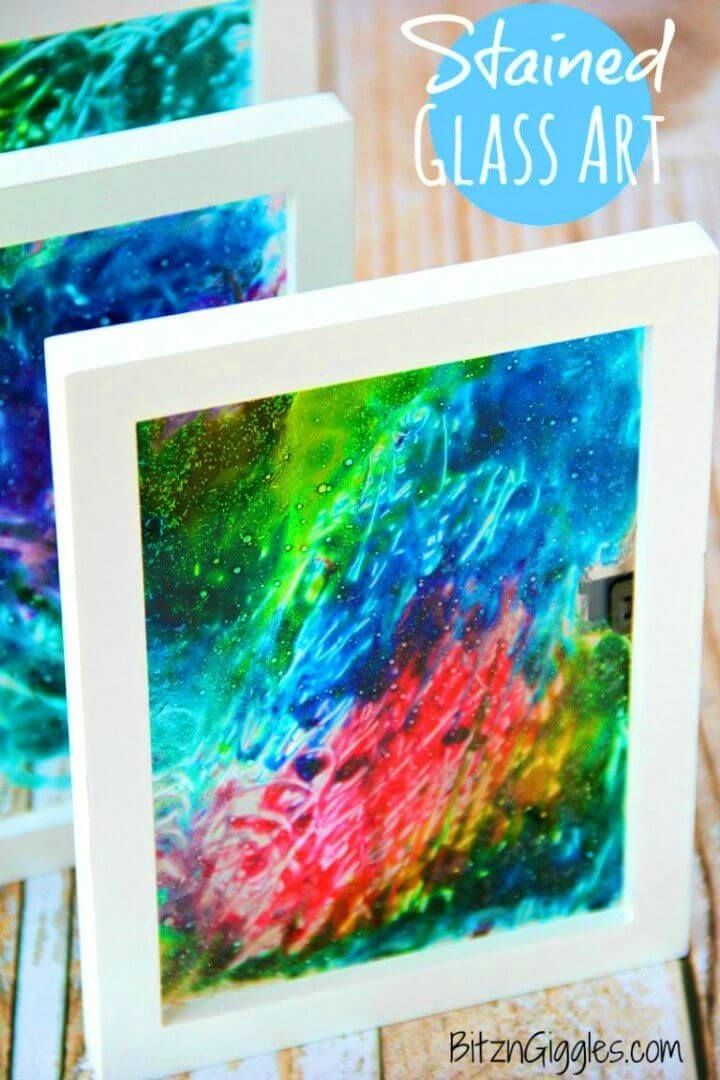 If you consider yourself as an art lover, you must create this awesome piece for your home. Select some paints in different colors and begin to work in your paint. It doesn't need to have a figure or something symmetric, just feel free to paint what's in your mind. Click here for more: bitzngiggles
15. Gold-decorated Clay Jewelry Dishes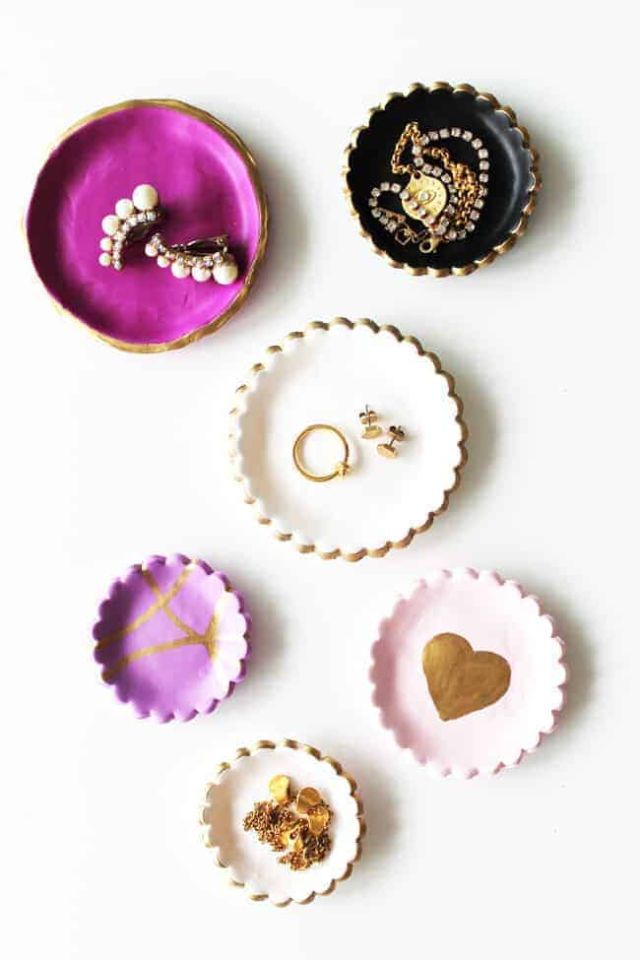 Elegant pieces are completely necessary at home. In this case, you will learn how to create some jewelry dishes. It's perfect to place women accessories and it will be original and unique as well. Check the complete steps by clicking here: helloglow
16. DIY Watercolor Napkins for Adults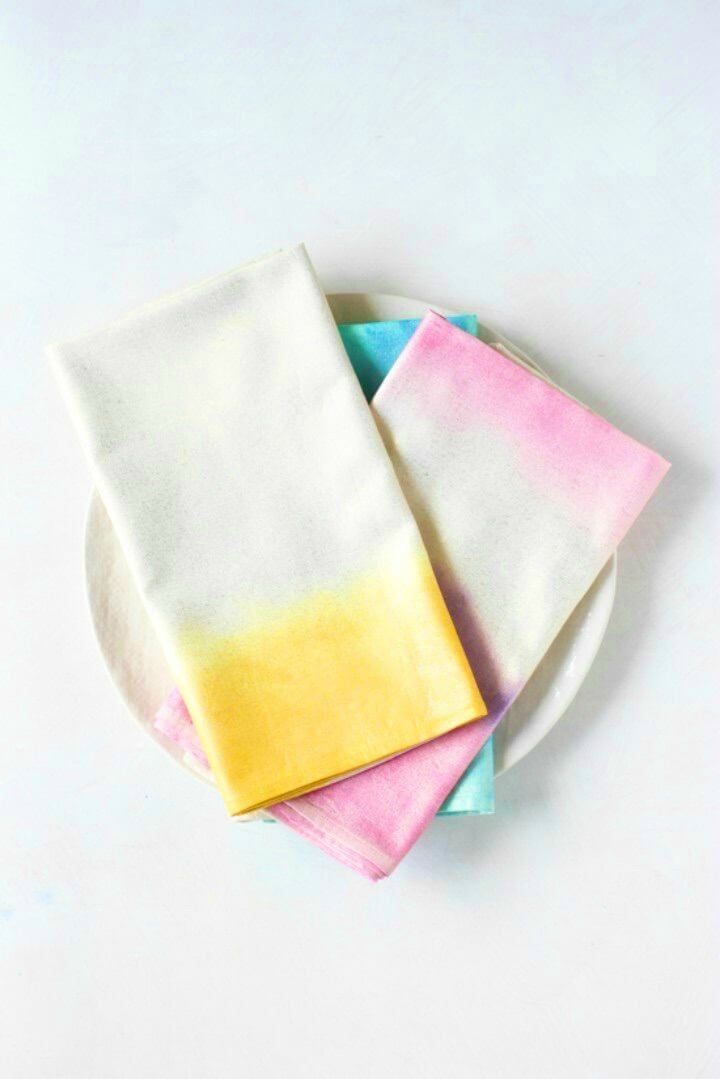 If you have a party at home and want to impress and innovate everyone by creating something cool and original, you can make some colorful watercolor napkins for a summer dinner party. Choose always light tones to make them look more captivating and enchanting. papernstitch
17. DIY Marbleized Appetizer Plates Paint Pouring Tutorial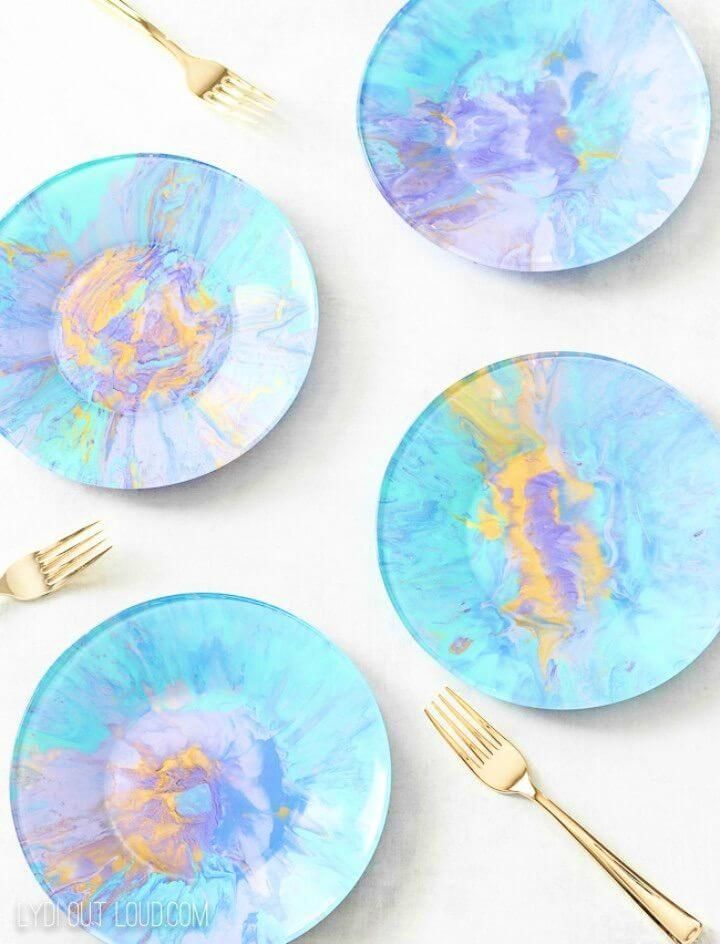 These items combine perfectly with the watercolor napkins explained above. Choose always light tones and create a perfect effect by adding and mixing different colors. Choose as many as possible, click on the link below to see more details: lydioutloud
18. Awesome DIY Tissue Paper Covered Pots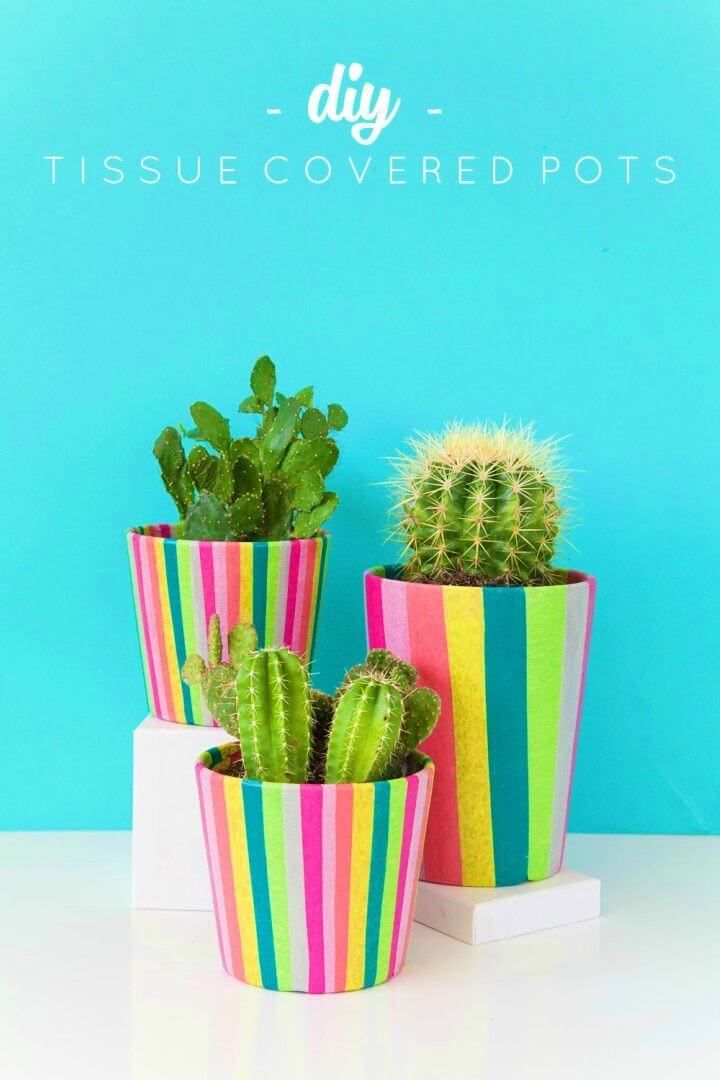 You might have a lot of simple pots at home, but if you want to explore your creativity and innovate the place, you must decorate them by adding some tissue paper in different colors. They will look absolutely fascinating and chic. tellloveandparty
19. Cute DIY "Go, Girl!" Felt Tote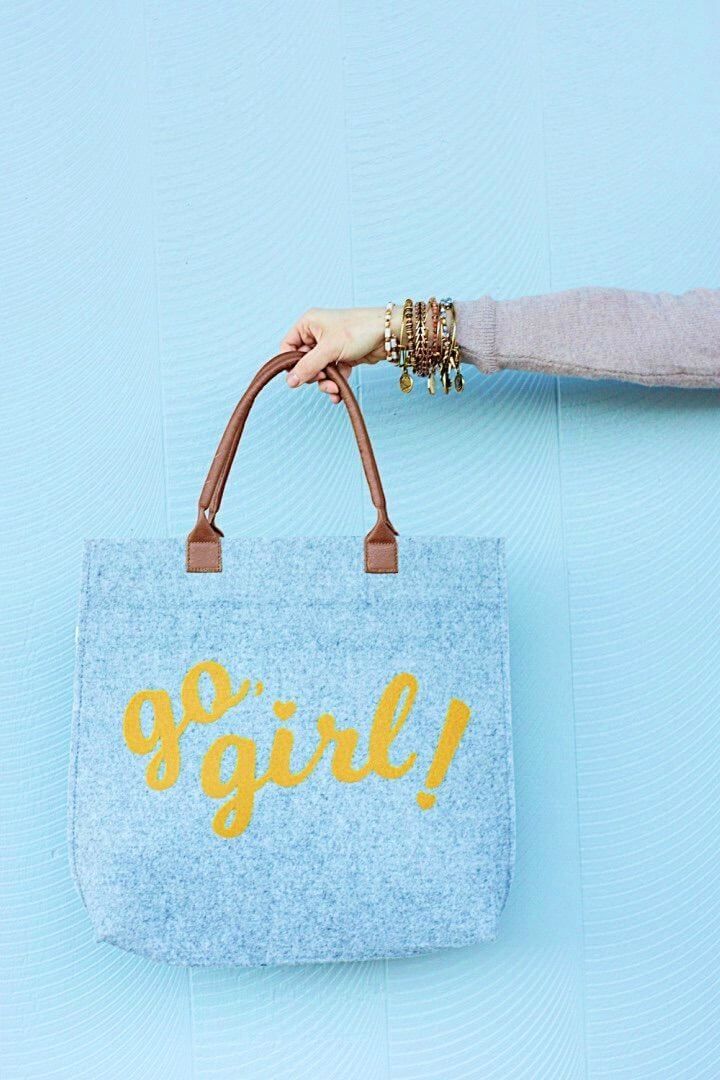 Purses are accessories that women need to have in different sizes and different colors. In this case, to create this lovely tote you will need to look for some materials which are described on the link below. Click here and begin to work on this. prettylifegirls
20. How to DIY Paper Flower Frames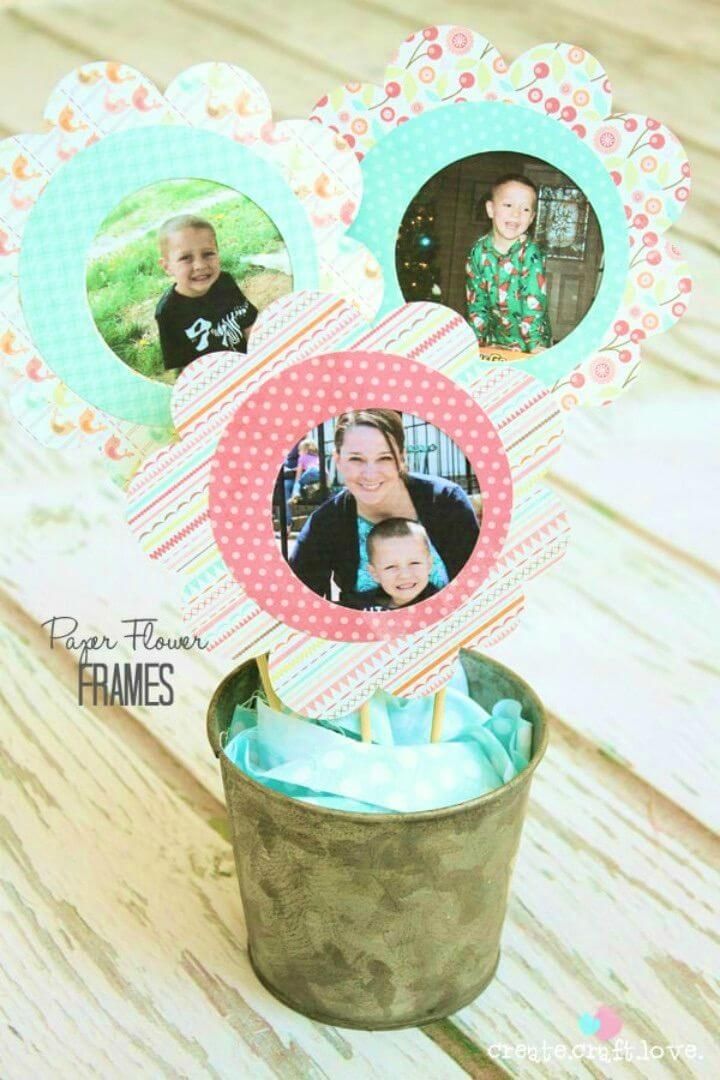 This can be a perfect gift for someone special, for example, for the mother's day. Create a lovely flower creating some frames on the top part to put some pictures of your family. At the end of the day, you will have an awesome family portrait which can be placed on your night table. createcraftlove
21. Make Mod Podge Flower Pots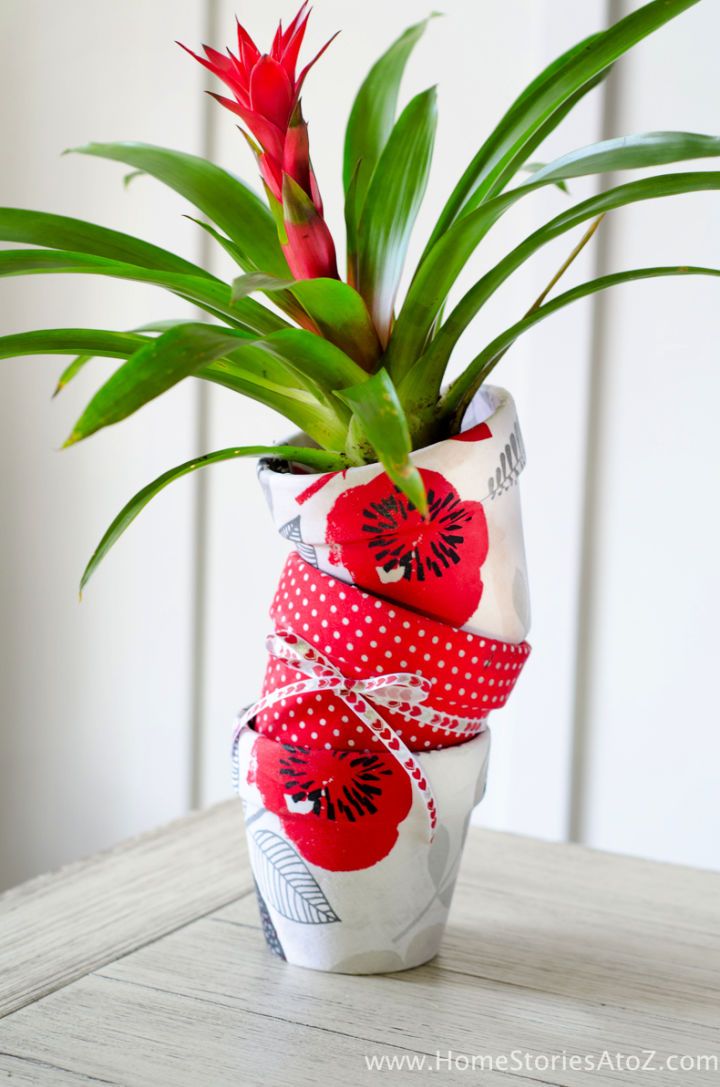 In this occasion, you can explore your imagination by creating new designs on your flower pots. They will look absolutely amazing, but you need to look for the right supplies first. Check the link below to see more details: homestoriesatoz
22. Amazing DIY Watercolour Clock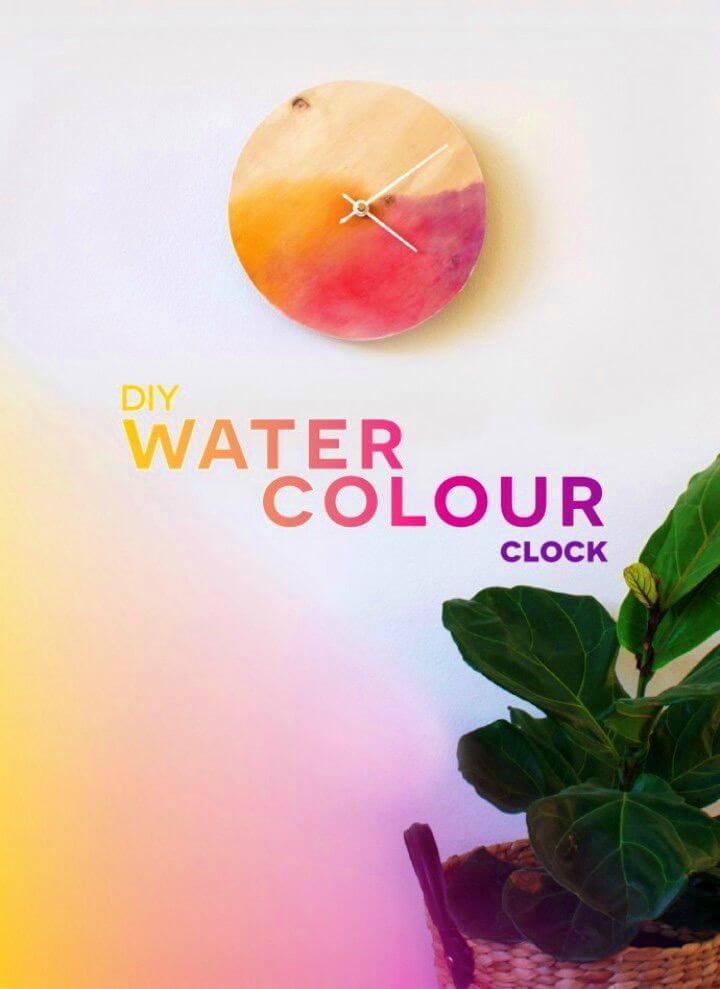 For this lovely watercolor clock, you will need a 7mm thick plywood, watercolor paints, and brushes and white acrylic paint but this one is optional. Start to paint the wood circle as you want, it doesn't have any parameters. At the end of the day, it will look captivating and chic. makerssociety
23. DIY Fresh Flower Hair Bows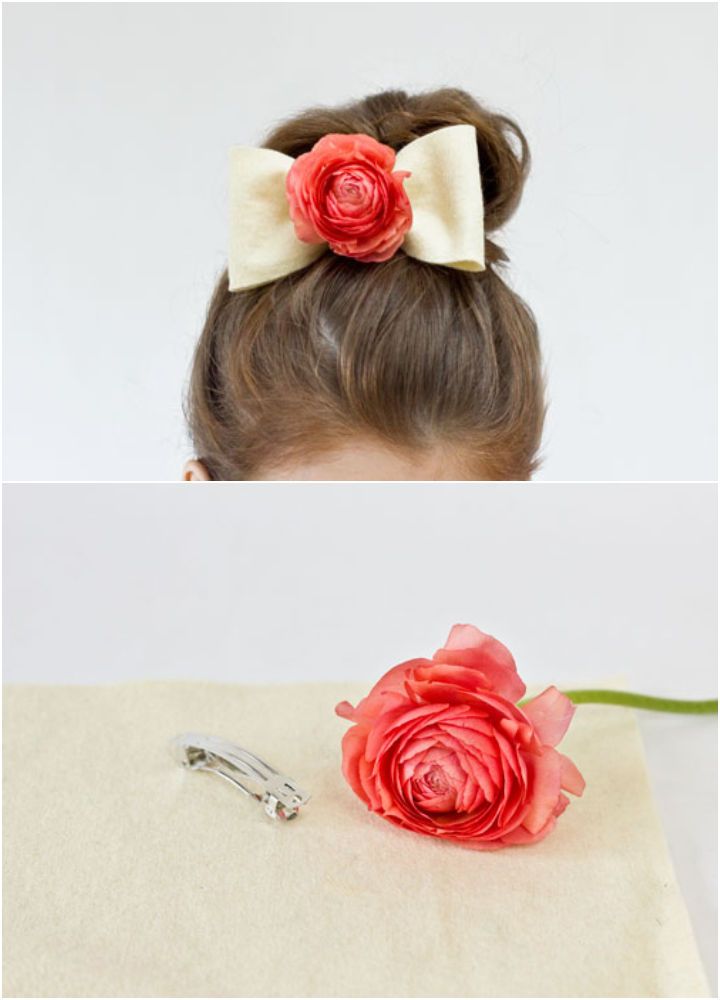 Using a different kind of material such as fabric or felts you can create this lovely flower hair bow. The size and the colors will depend on you, but make sure both colors combine perfectly. You can make as many as you want so that you can use them with all of your outfits. studiodiy
24. How to Make Pom Pom Sandals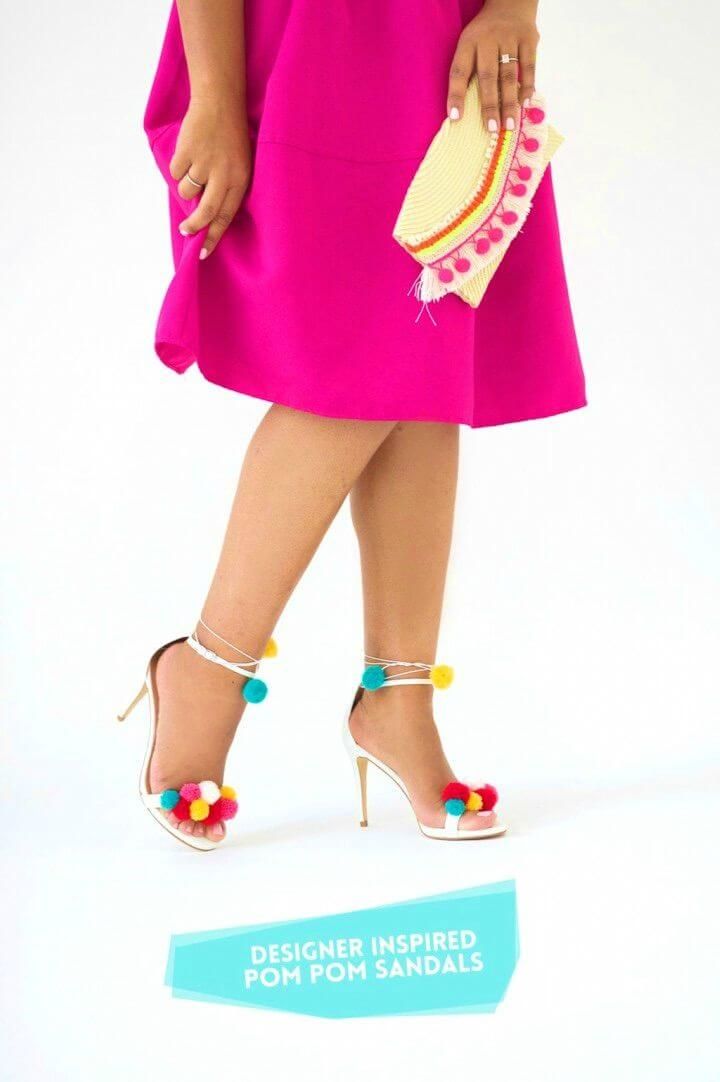 If you have some serious sandals and you want to add some colors, choose colorful pom-poms and attach them in the sandals. Make sure the size of the pom-poms are small so that they won't look extravagant. damasklove
25. Easy to Make Derby Hat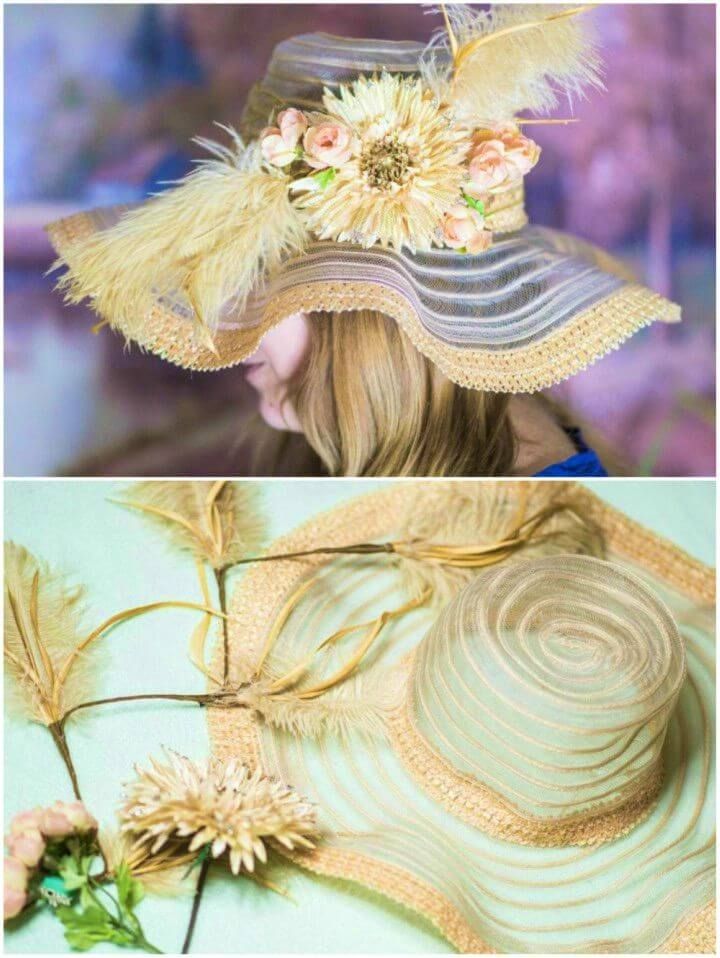 Adding some cute stuff to your things is perfect to personalize them and innovate your style. In this case, having a lovely hat at home, choose some artificial flowers and attach them by making an enchanting decoration. Check here to see more details: bathtubringsandartsythings
26. Easy DIY Paper Plants for Adults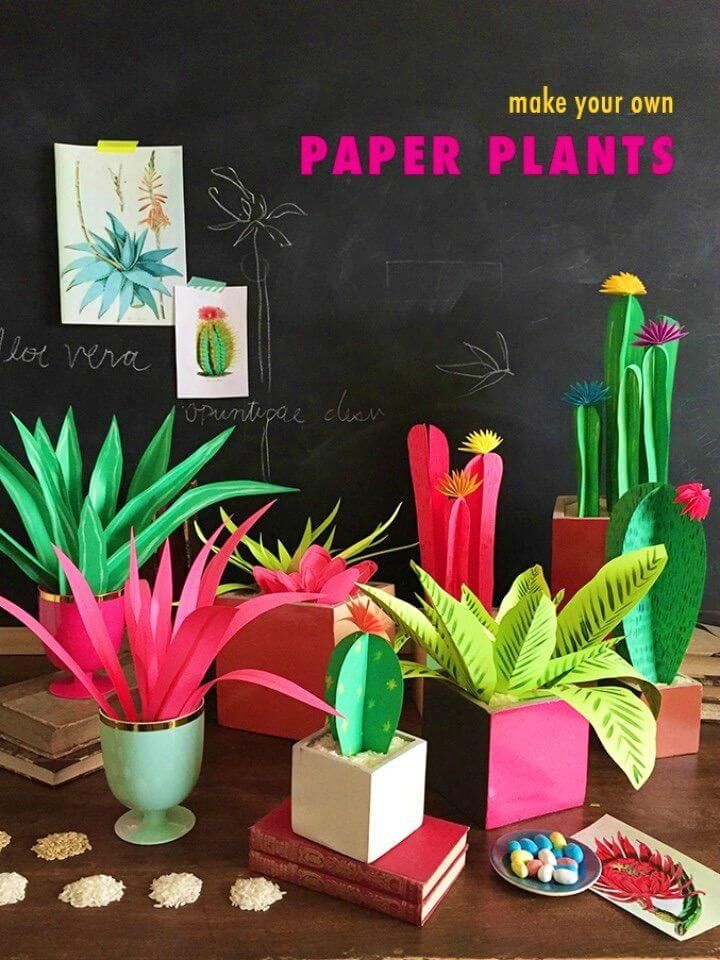 If you don't like to have real flowers inside the house for the time they take to water them and take care of them, you can create your own artificial flowers to make a fascinating decoration. Choose different colors and make something different and innovative. thehousethatlarsbuilt
27. Make Your Own Pom Pom Trivets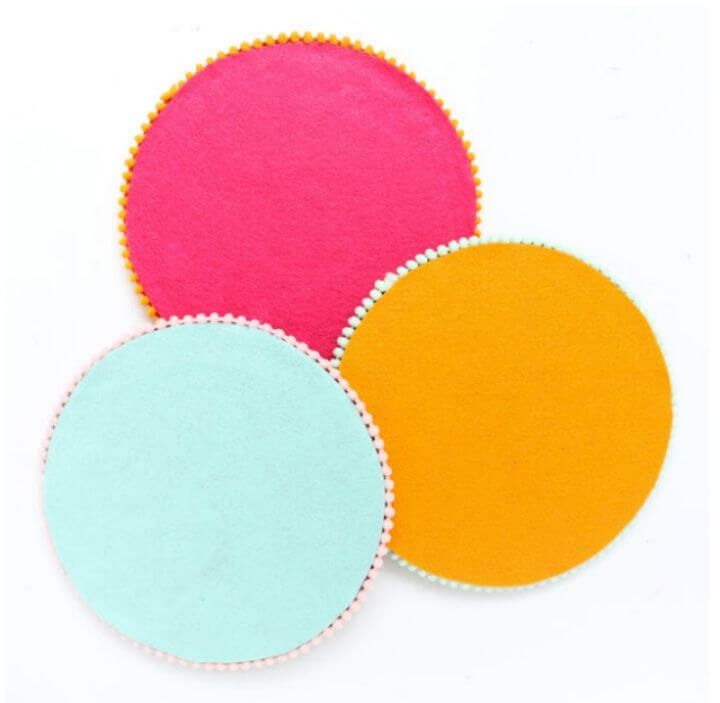 To create these lovely pom-pom trivets you need to look for cork trivets, felt in various colors, hot glue, mini pom-pom trim, and scissors. They make your kitchen look more colorful, fun, and different. You should definitely do it. akailochiclife
28. Flower Petal Candle Holders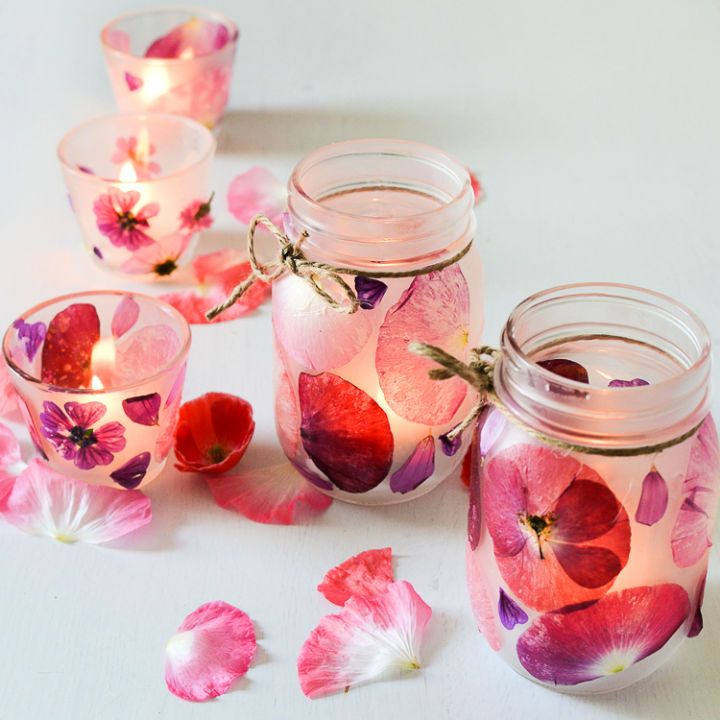 Creating some candle holders is one of the easiest things you can do to decorate your home. Grab some empty glass and some flowers of your favorite colors, then, take the petals and attach them in the glass creating a lovely personalized candle holder. adventure in a box
29. Easy to Make Flower Rings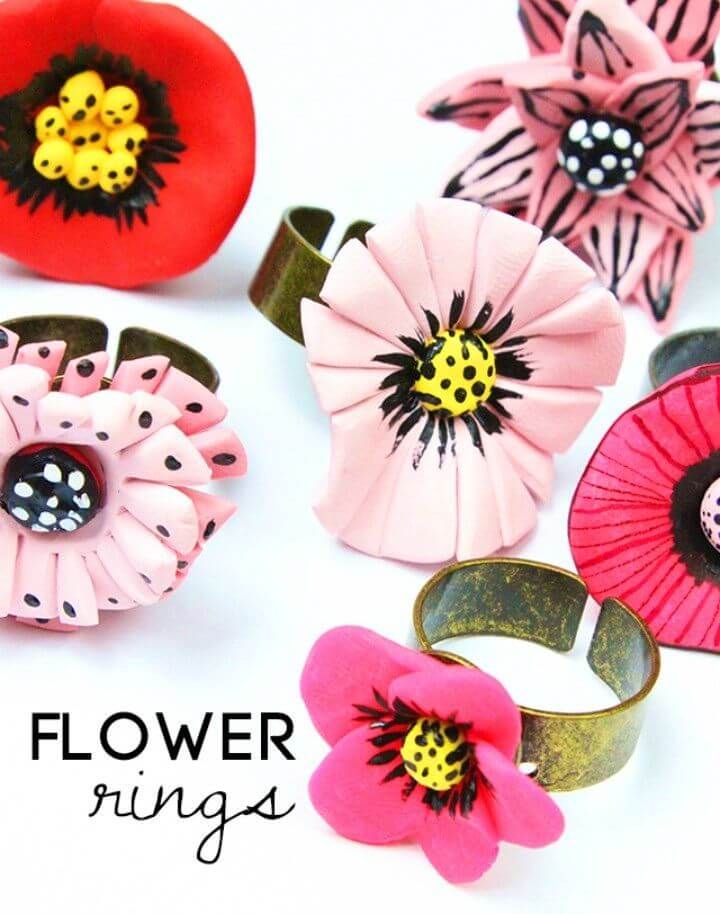 If you have some rings but wants to add something cool and unique, click on the link below to see how to create these incredible flowers. Use your favorite material such as felt, and using different colors, make a flower shape to attach it in it. It will look chic and cute. alisaburke
30. DIY Stamped Clay Bowls Using Air Dry Clay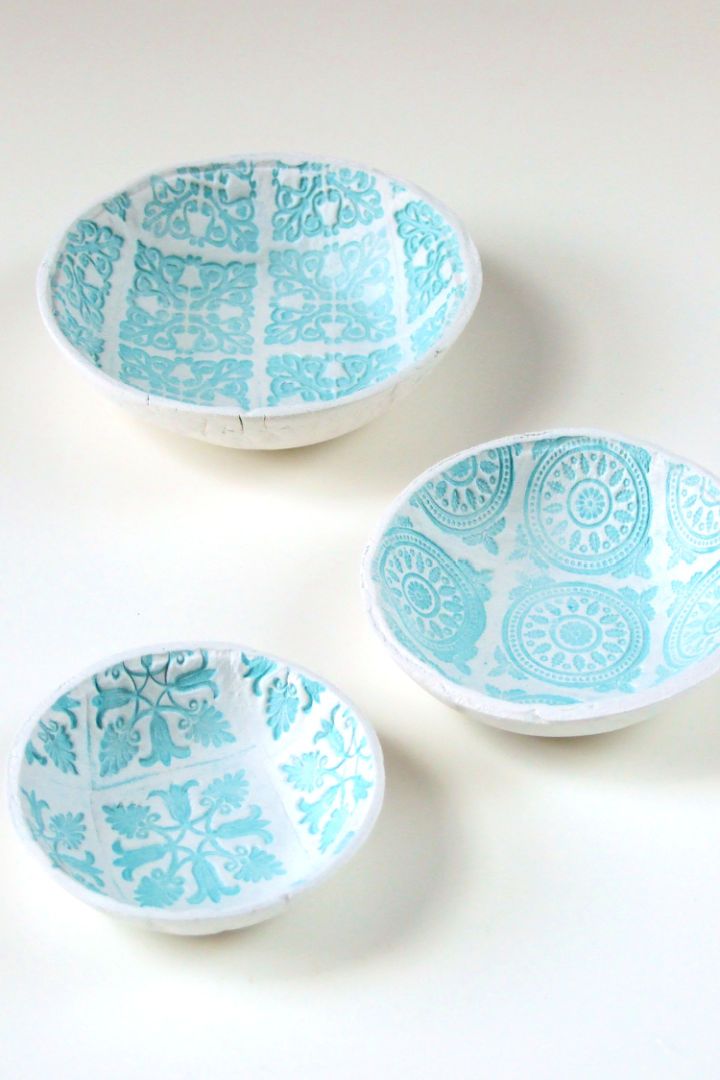 In this opportunity, you can make your own stamped clay bowl by selecting the colors and the material of your preference. Make sure to wrap it very well to make them look perfect. Click below to see more details: gatheringbeauty
31. Easy DIY Foam Cactus Sign for Adults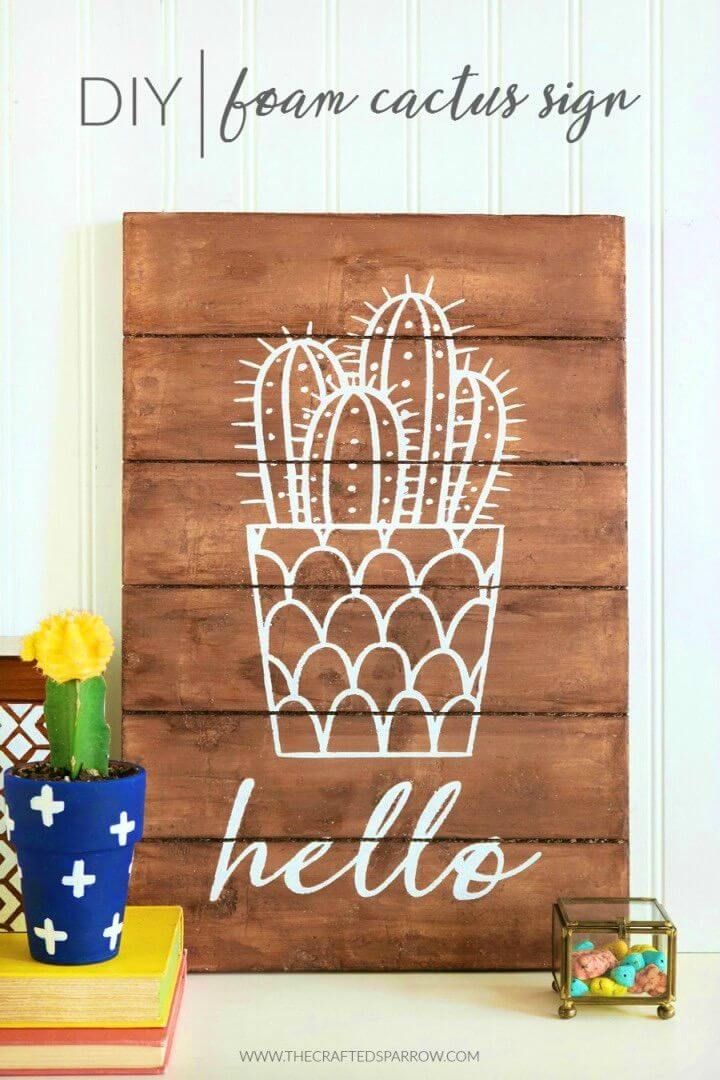 To create this lovely cactus sign, you will need foam brushes, acrylic paint or wood stain, ruler, and vinyl stencil. It's perfect to hang it up in your living room or in any other place you want, it also adds a rustic aspect which is fascinating. thecraftedspar
32. Make Marble and Copper Foil Chargers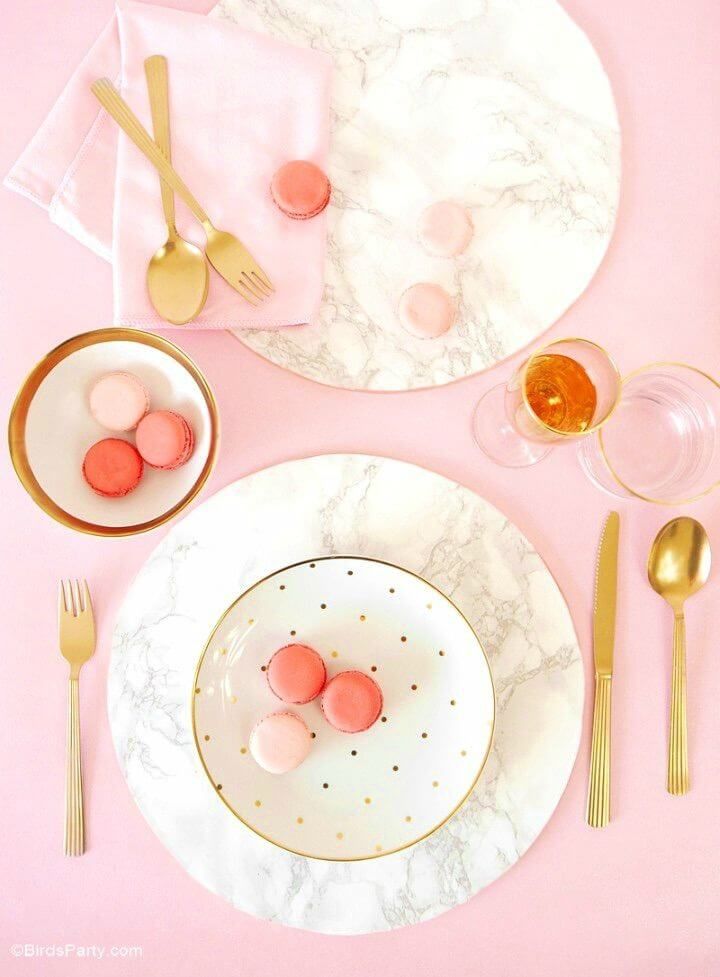 If you want to innovate your plates, you can create this lovely theme which makes the dining room look elegant and captivating. You need to look for marble contact paper, copper tape, scissors, white foam boards, pencil, and craft knife. Click here to know more details: birdsparty
33. Adorable DIY Watercolor Basket Makeover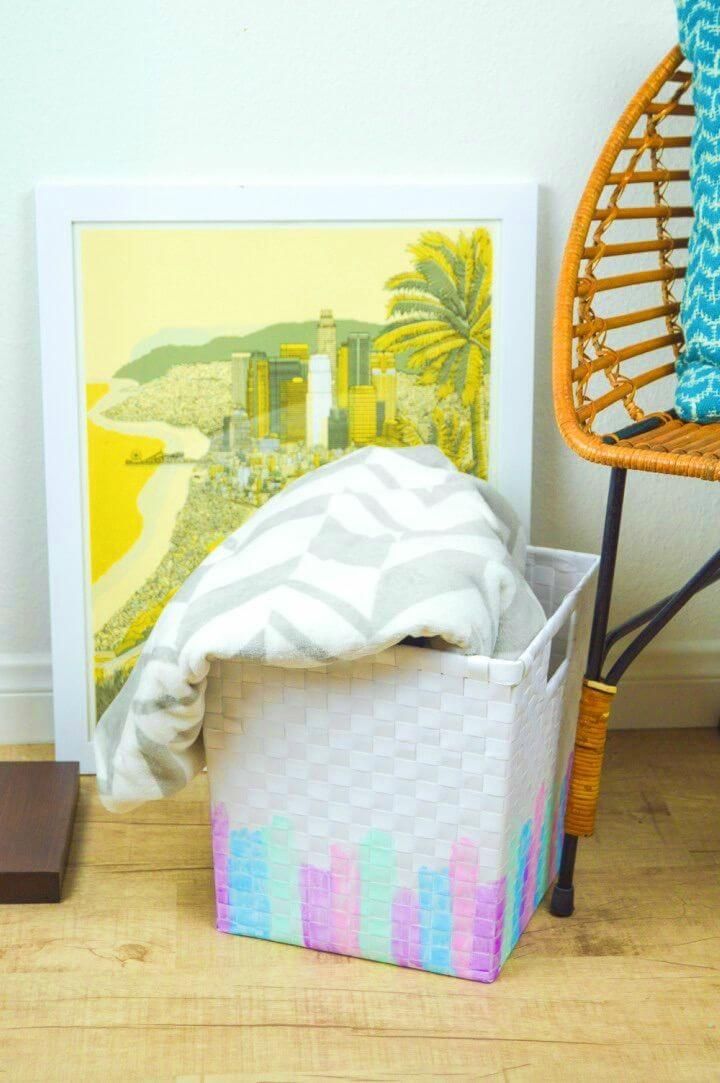 You can change and innovate any item you have at home by adding your style and personalizing it using some colors. In this case, it consists of changing your basket style creating some cool figures on the bottom of it. Use the color of your preferences. It'll look awesome. clubcrafted
34. Quick DIY Glitter Wooden Gift Crate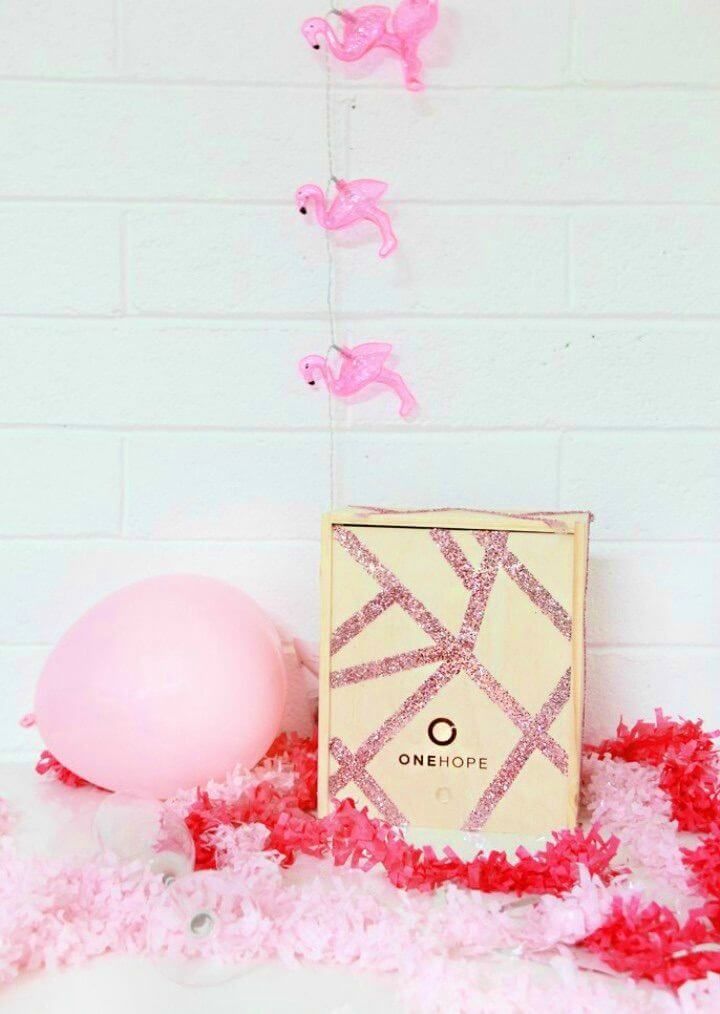 Here you have a lovely wooden gift crate which consists of making a small square adding some glitter and colors. You can write everything you want and make it special for the person you love. To create it, click below to read the full instructions: abubbly
35. DIY Hand Stamped Wooden Utensils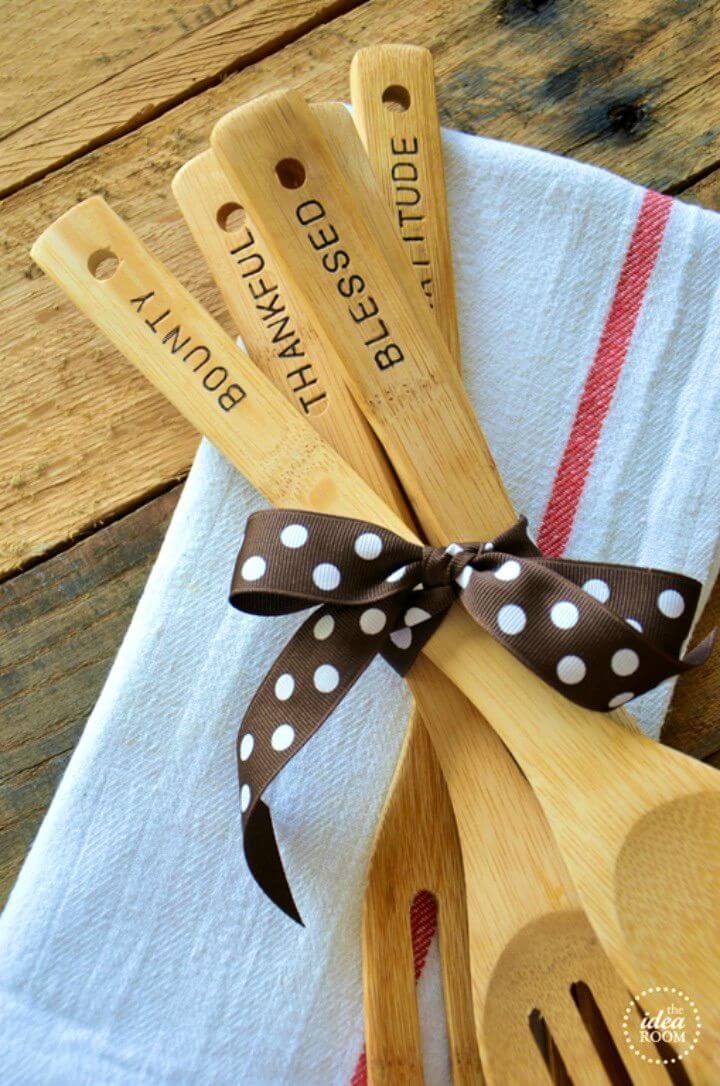 If you want to personalize your wooden utensils, using some hostess gift hand is perfect to do it. Write a word on the bottom part and you will see how captivating and cool it looks. Click below to see more details: theidearoom
36. Quick and Inexpensive DIY Fabric Art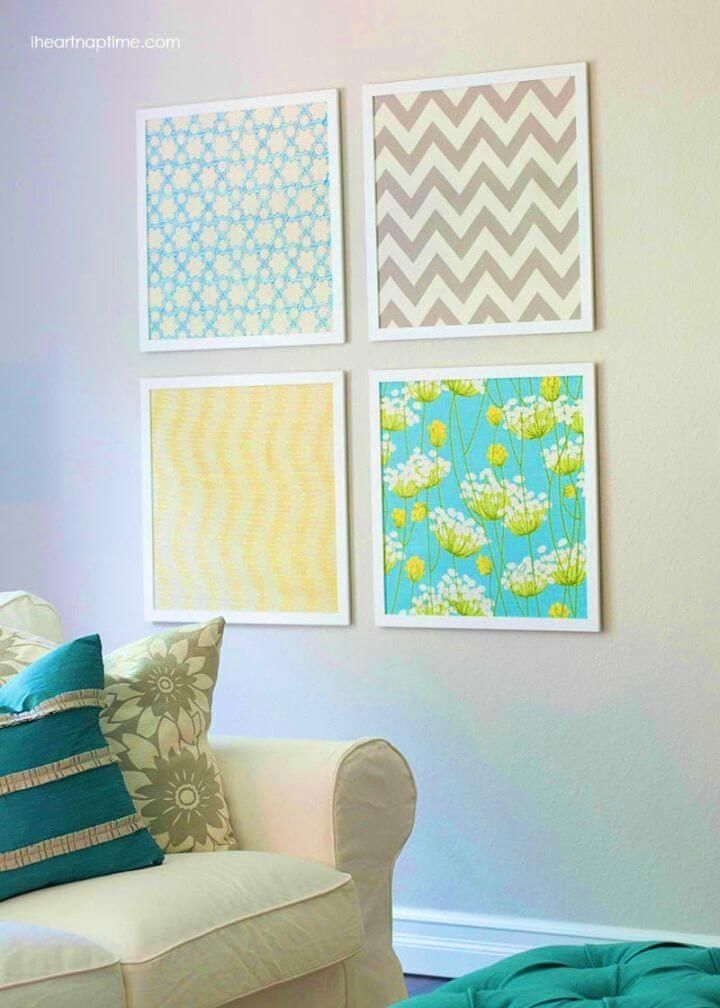 It is not necessary to buy a lot of pictures frames to hang them up on your walls' room, you can create them on your own by using some fabric materials. If you want to explore how far your imagination can go, then, you must totally do it. Click here for more: iheartnaptime
37. Make Turtle Template Coloring Page for Adults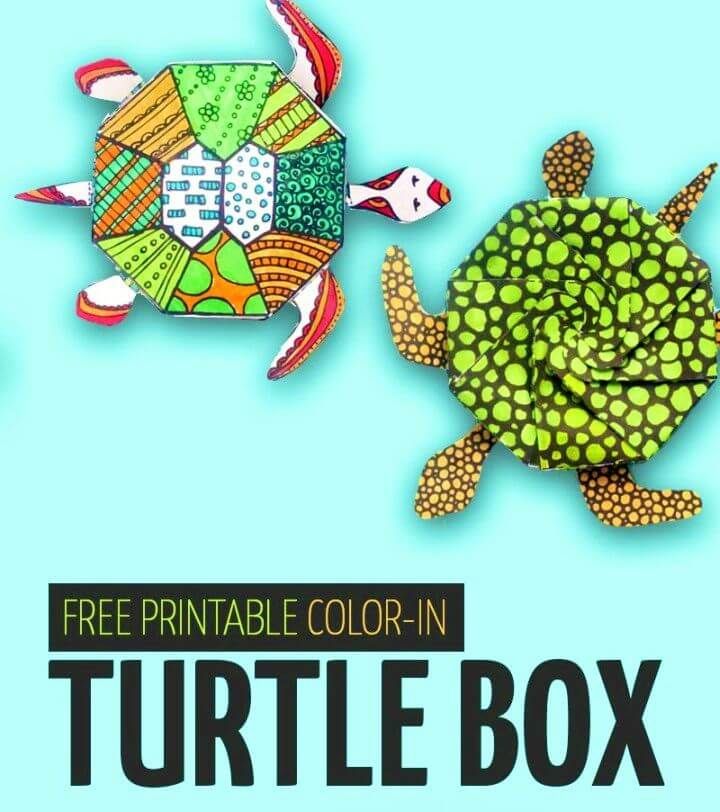 This free printable color-in turtle box is perfect for your kids. They can paint them like they want and have fun while doing it. It's a great way to keep your kids entertained when you are busy. Click here for more: momsandcrafters
38. Easy DIY Sun Catchers with Coloring Pages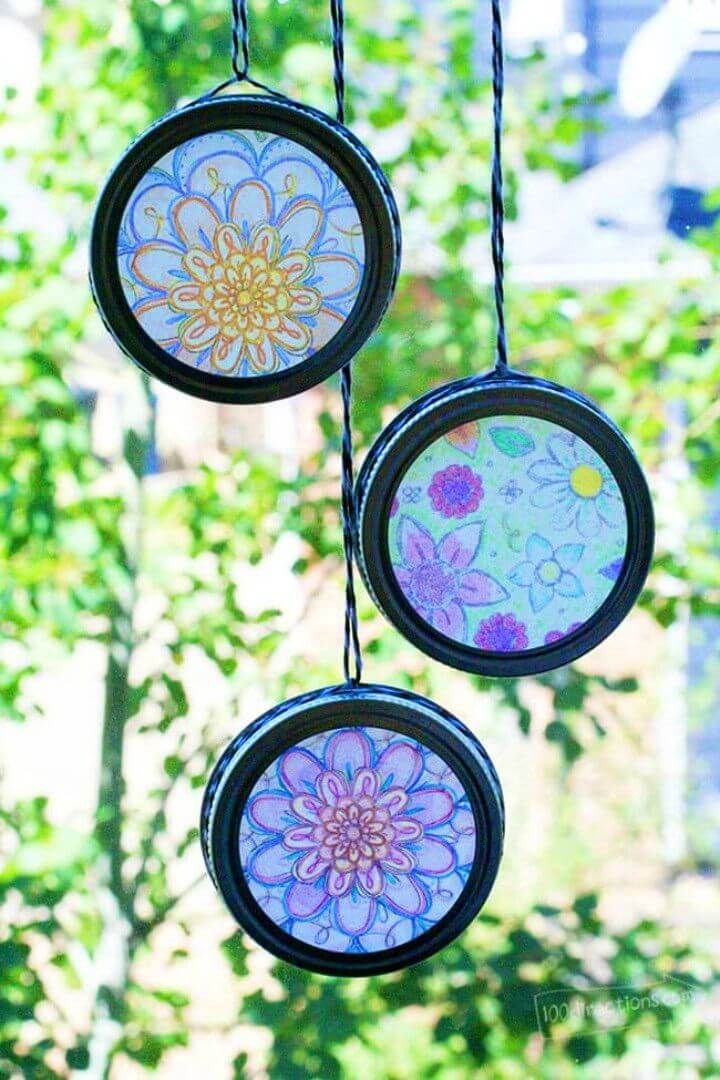 Here you have lovely sun catchers which are so easy to create. Make some coloring pages to add them to the catchers by applying some oil in it. They can be perfect to decorate part of your living room or maybe to place them in the entryway. Click here for more: 100directions
39. How to Make Natural Branch Coasters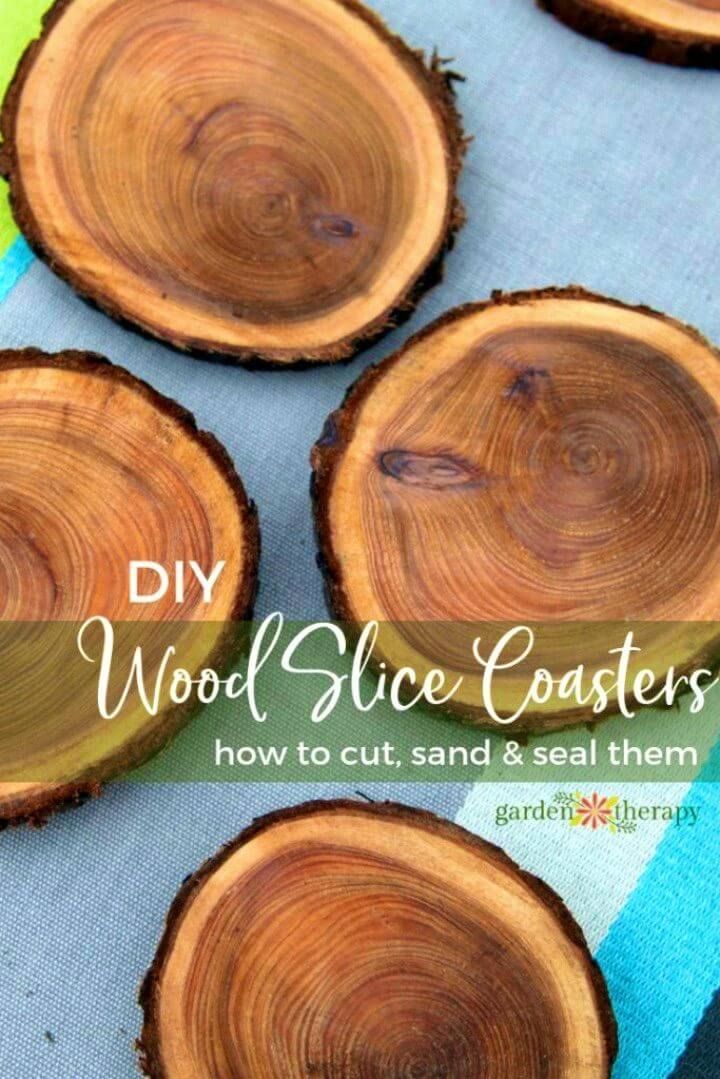 In this opportunity, you will learn how to cut, sand, and seal some Wood material to create natural coasters. Make sure to cut them in a small or medium size to make them look fancy. They give a rustic effect which makes them original and unique. entherapy
40. Make Felt Flower Wedding Bouquet + Boutonnieres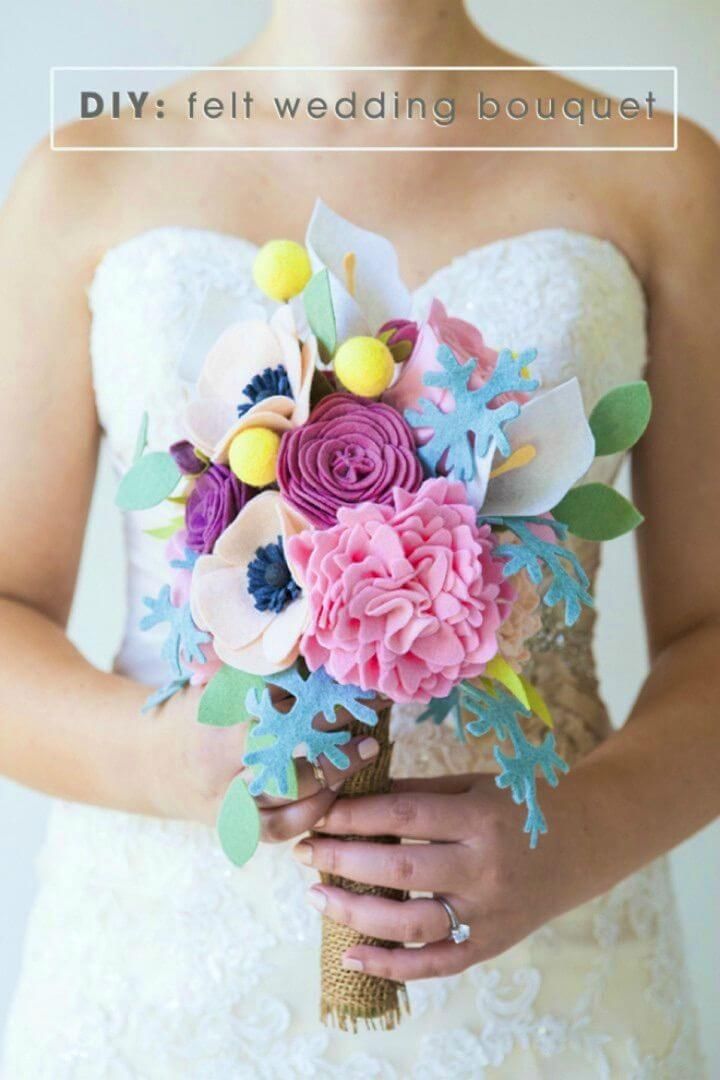 In marriages, it is not necessary to have a real flower bouquet, you can make it on your own instead by using colorful felt. Create some fancy flowers in different colors and you will have an original and captivating wedding bouquet. Click below to see more details: somethingturquoise
41. How to Sewing Tote From a Tea Towel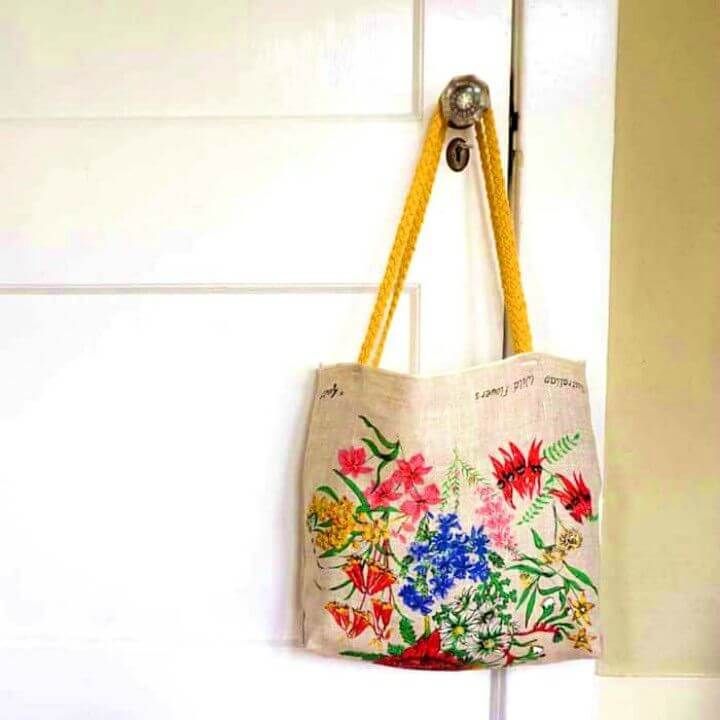 Explore your imagination using the same things you have at home to create something new and useful. In this case, you will create a funny tote from a tea towel. It will look absolutely stunning and chic. You must read the complete steps described below to make it. diycandy
42. DIY Wooden Bangles for Animal Lovers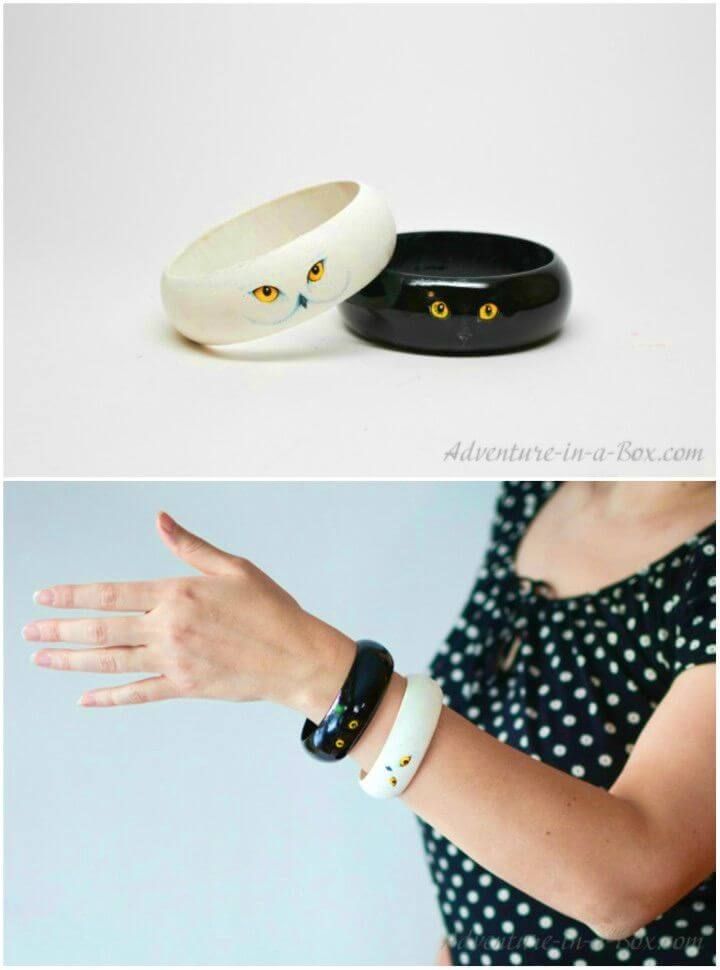 If you have some wooden bangles, you can personalize them by painting them in your favorite colors and then, create a lovely animal face such as cats or dogs. These bracelets are perfect for animal lovers, however, you can add any design of your preference. adventure in a box
43. Awesome DIY Sand Art Candles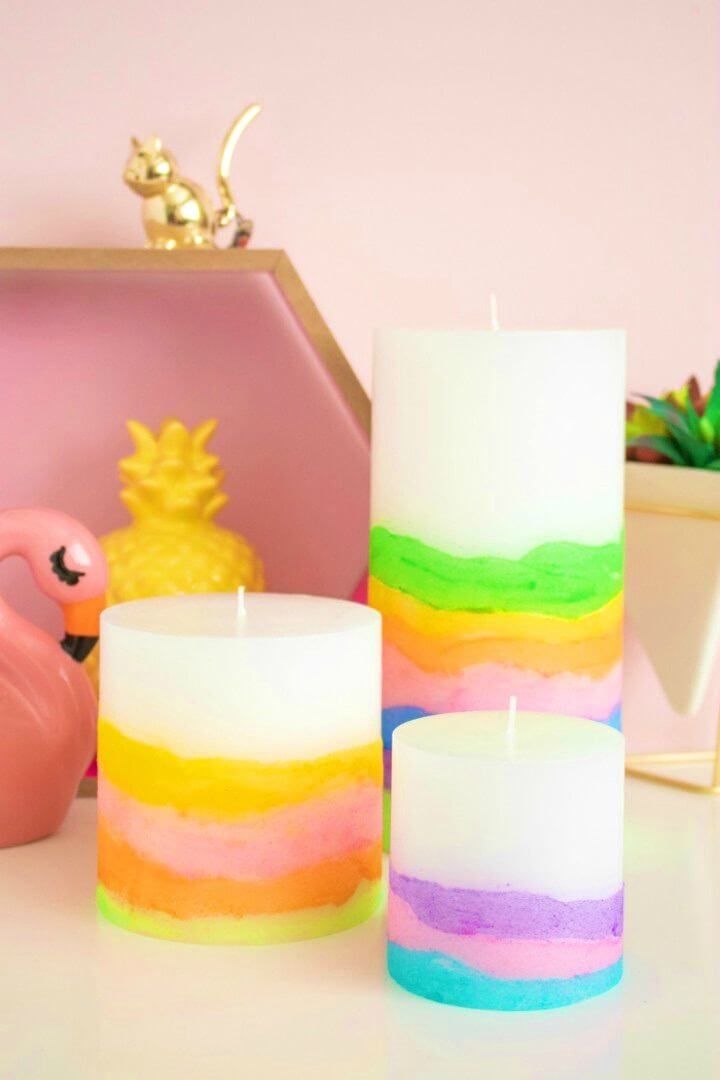 In this opportunity, you can grab any sand art kit and use it in your candles creating some special effect on them. It will definitely look more captivating and cute. You can place them all over the house and I'm sure everybody will love it. clubcrafted
44. How to Make Decoupaged Flower Vase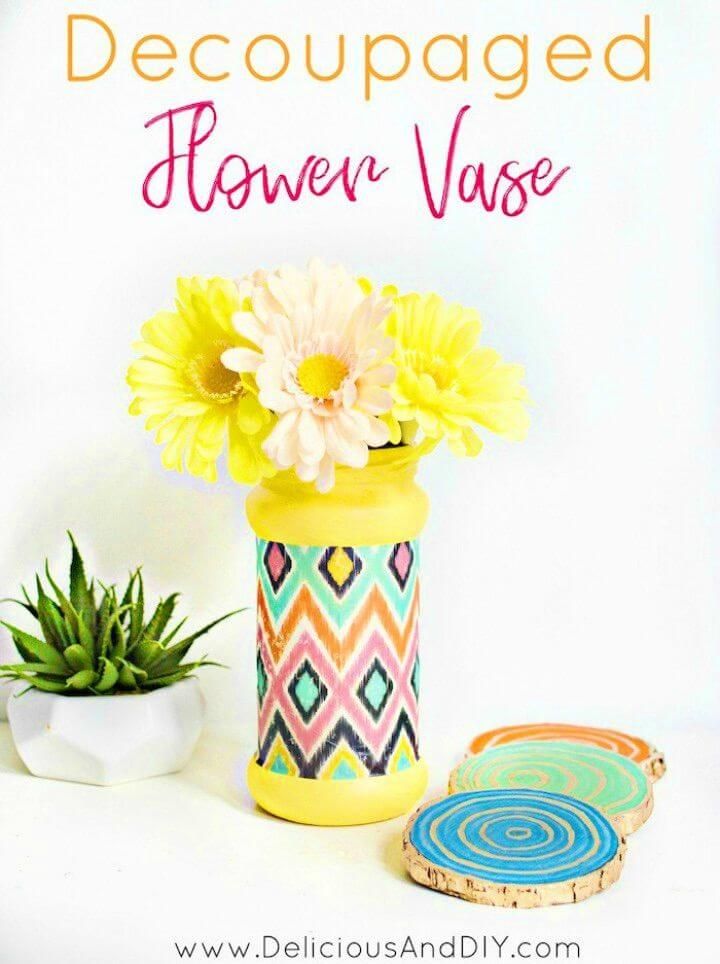 Personalize all of your flower vases at home to innovate your style and make the view of the place more captivating and fun. Choose colors that combine with your living room's walls so that everything will look fancy and cozy. Click here for more details: deliciousanddiy
45. DIY Nail Polish Marble Cups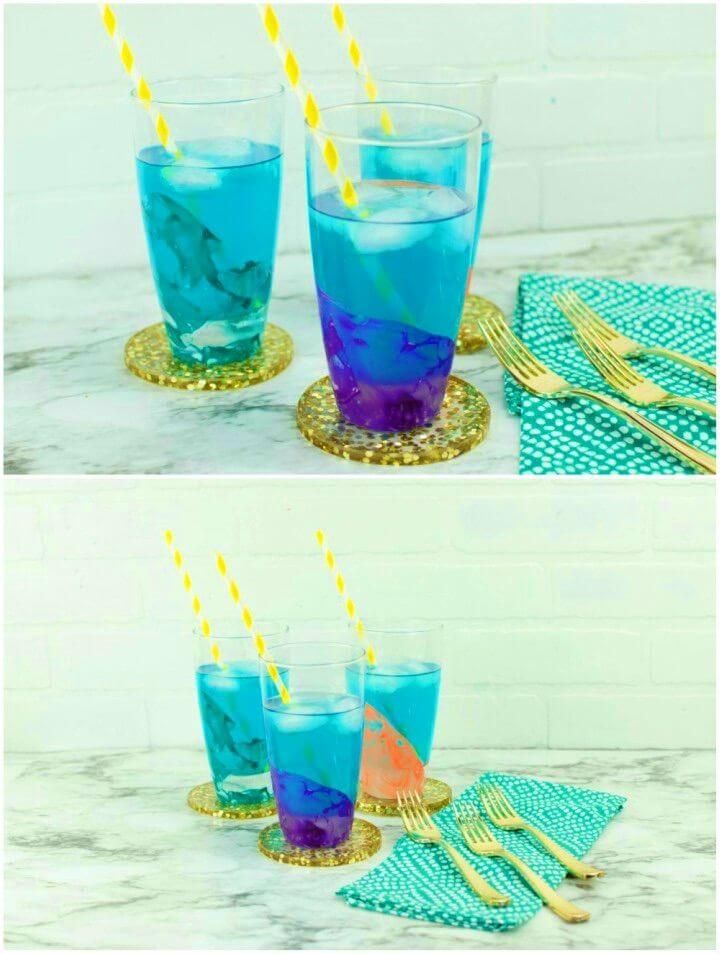 Here you have an incredible idea to personalize your cups by using nail polish. Use different colors but use the same color palette to keep an organized style. At the end of the day, you will have lovely marble cups created on your own and ready to use. alittlecraftinyourday
46. How to Make Mandala Earrings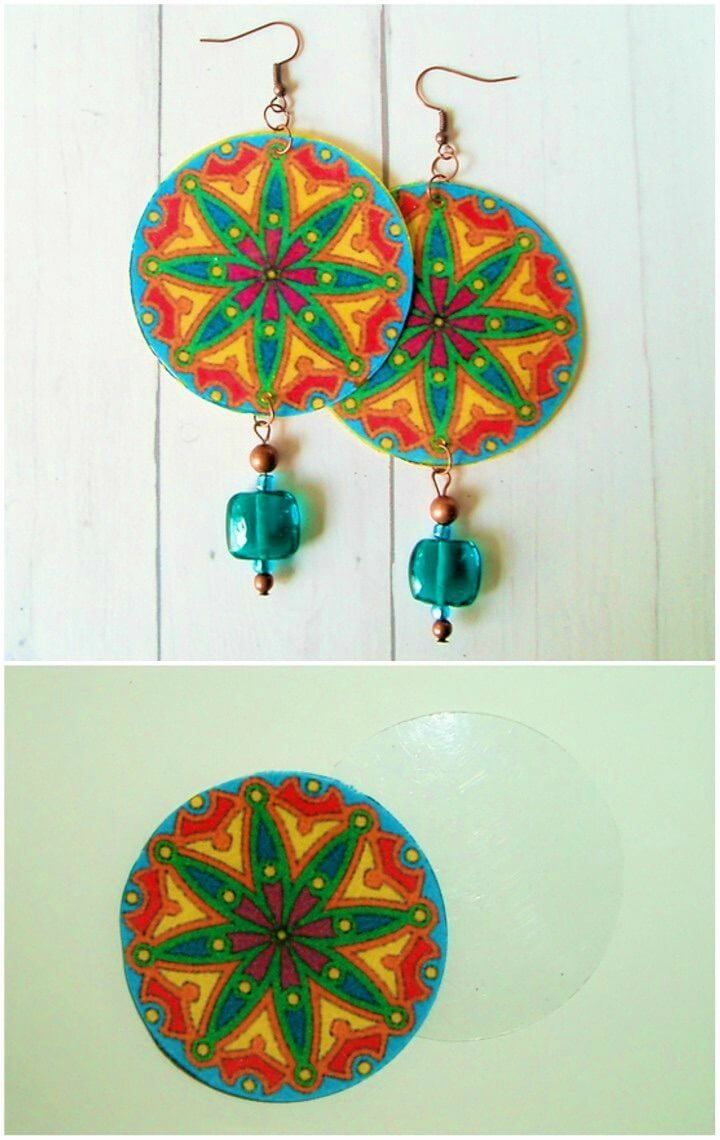 Mandala designs are perfect to make them in earrings. Choose powerful colors such as orange, green, yellow to innovate them and make them look unique. It's free printable so that you can use your imagination as much as possible. whimziville
47. Marbled Resin Wall Clock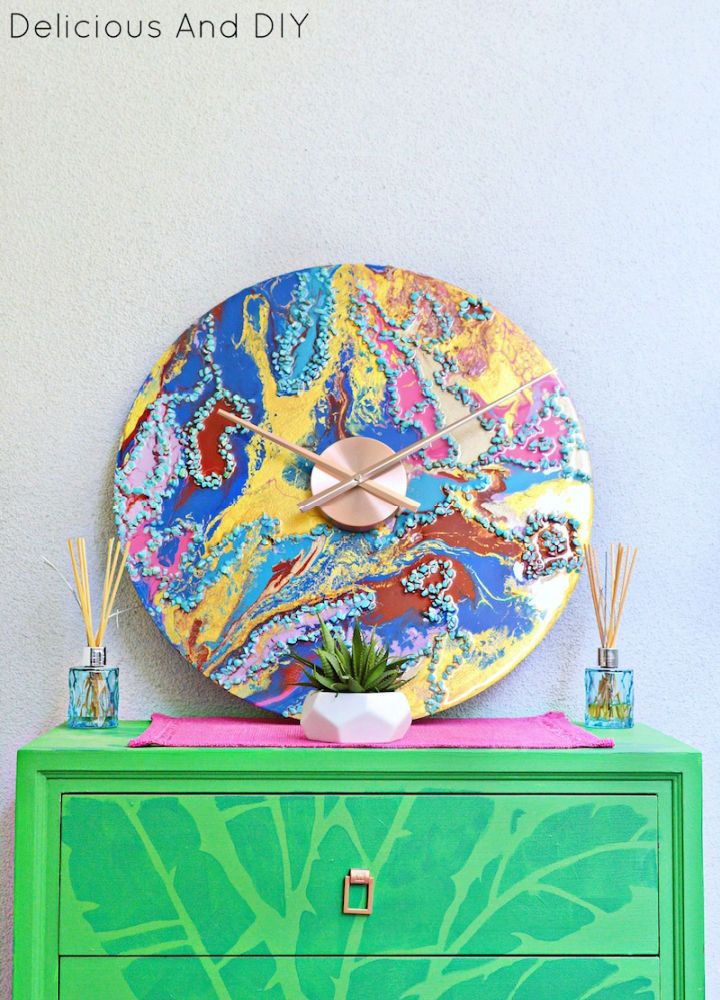 This design over here is really similar to the one explained above. Choose a wood circle and some watercolor paints to create something different and special. It is not necessary to create a figure, you just let the colors get a lovely fusion and you will see how artistic will look. deliciousanddiy
48. DIY Wooden Waldorf Rainbow for Adults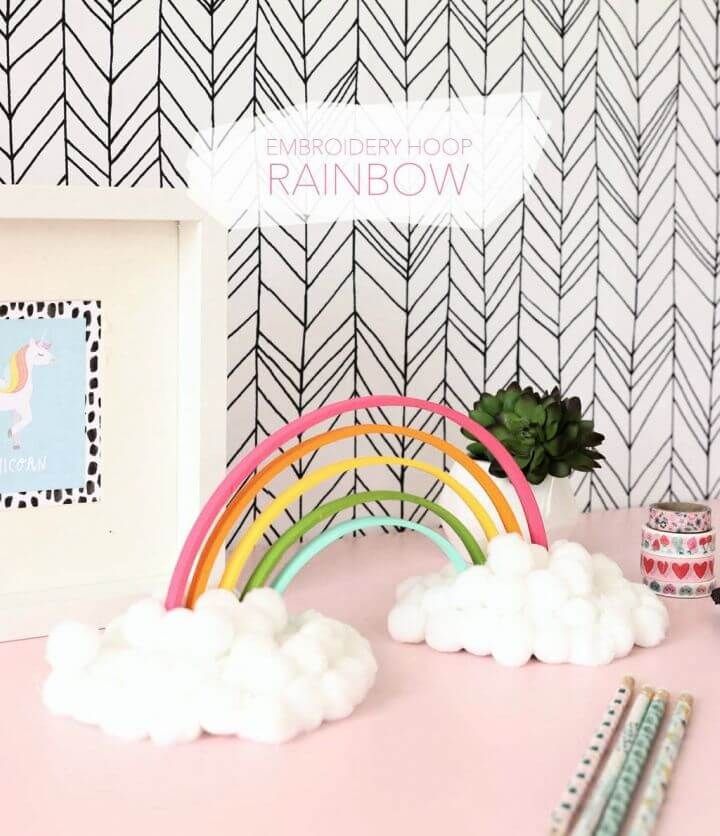 This lovely rainbow is perfect to decorate your baby's room. Selecting wood material you can create this lovely pattern and add some colors to make it look cuter and enchanting. Click below to see more details: damasklove
49. Pretty DIY Ombre Candle Holders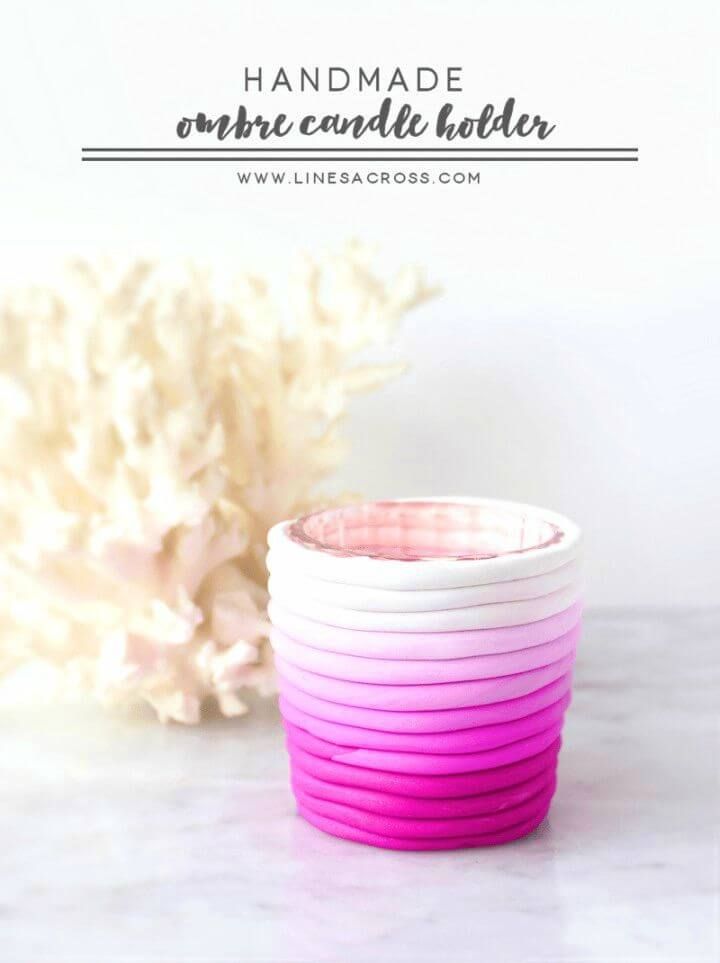 This interesting candle holder is unique by its degraded effect which makes it look captivating and cool. Select the color of your preference and begin to work on this project. Make sure to create a lot of them so that the view will be more beautiful. linesacross
Looking for some more creative and decorative craft ideas for adults? Here are more unique crafts for adults that are perfect for grown-ups. From simple sewing projects to decorative painting ideas, there's something here for everyone.
50. DIY Lantern from a Recycled Can Tutorial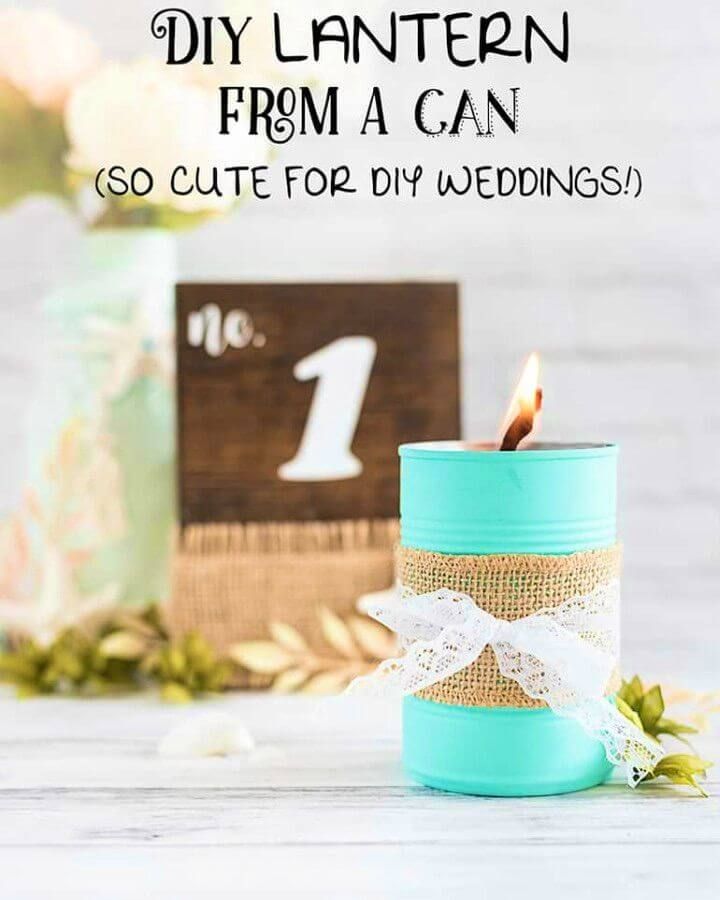 Using recycled cans can help you to renovate your style at home. You can paint them, add some decorations stuff such as ribbons, bottoms, or any other thing you like to, and use them as centerpieces or flower pots. Check the link below to see more details: natashalh
51. Cute DIY Kate Spade Inspired Bangles for Adults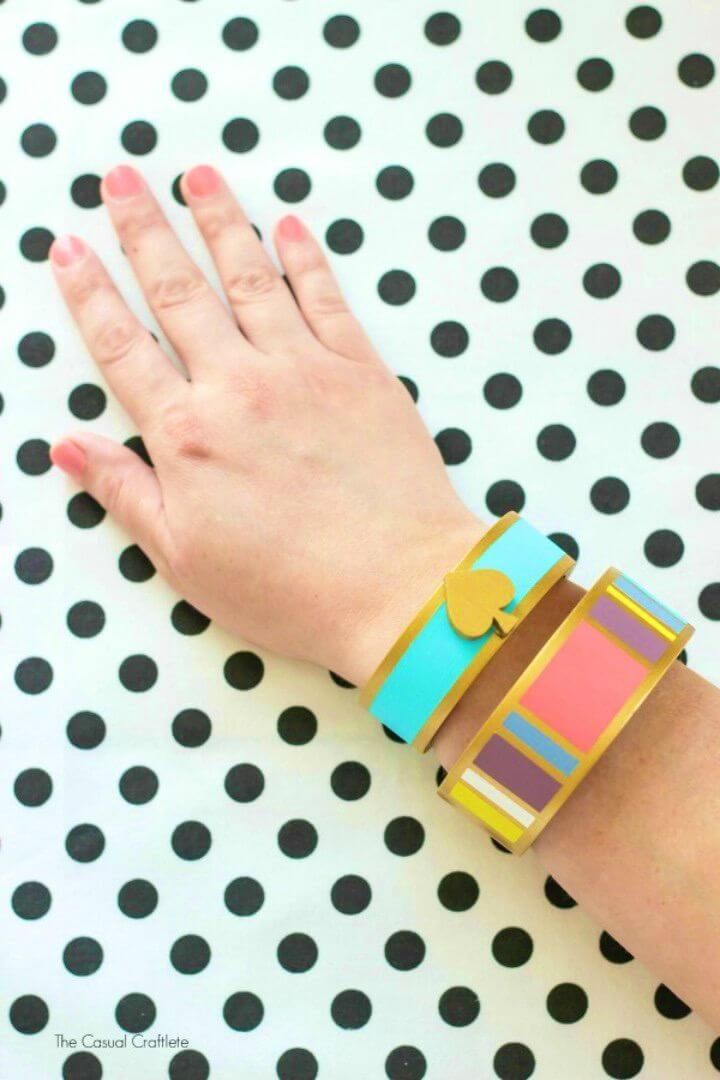 These bangles over here are perfect for your baby girl. I'm sure she will love to have these lovely and colorful bracelets. Make different designs and use different colors so that she can combine them with all of her outfits. purelykatie
52. Make Stenciled Floral Wall Art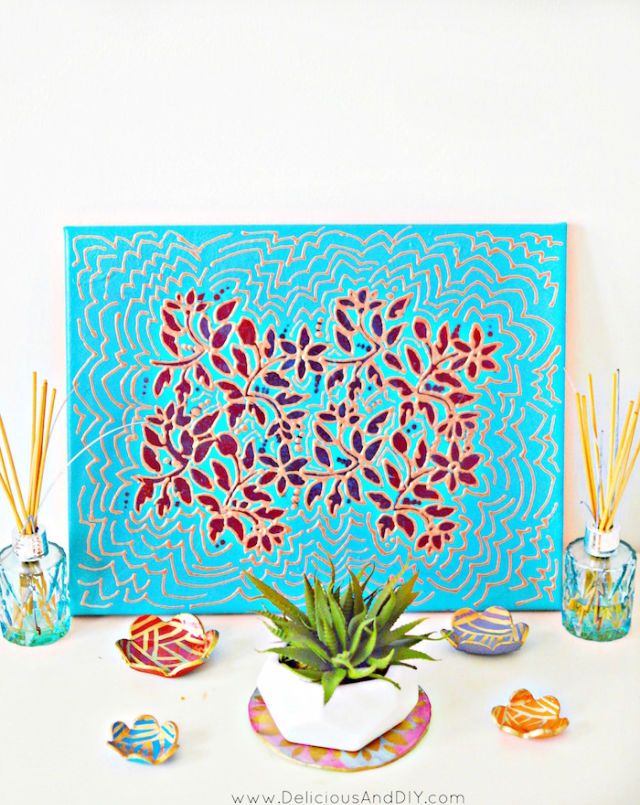 You can innovate your decoration by creating an incredible stenciled floral wall art. It basically consists of creating a square lie a frame and using some brushes and paints, make some cool figures in it. In this case, lovely flowers to make the place look prettier. deliciousanddiy
53. Easy DIY Paper Wall Craft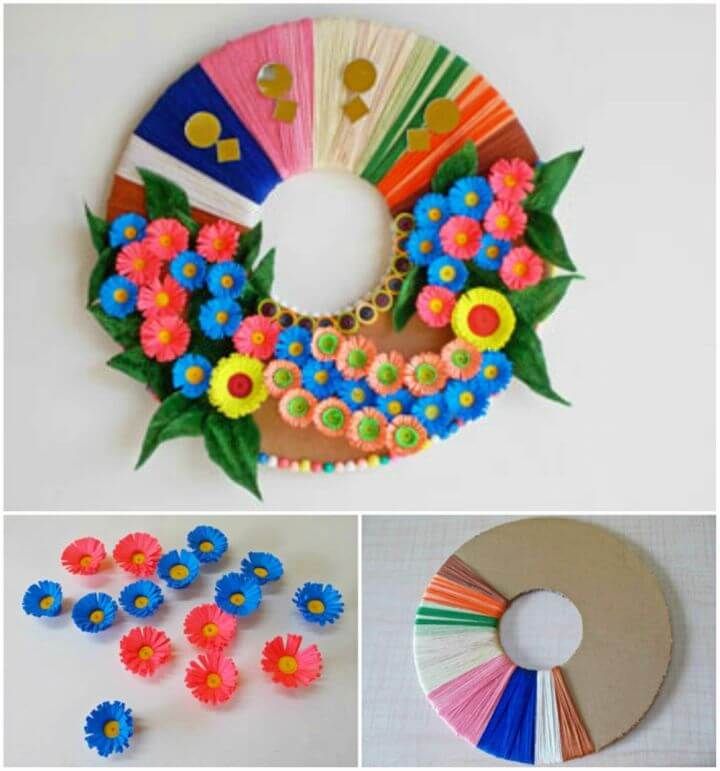 There are many designs you can make to hang it up on your walls to renovate and improve your style. Look for wool, scissors, color papers, circular cardboard, thread, pencils, green tape, and any other supply you might use. Click here and start to decorate your home. stylenrich
54. DIY Disney Sleeping Beauty Slumber Party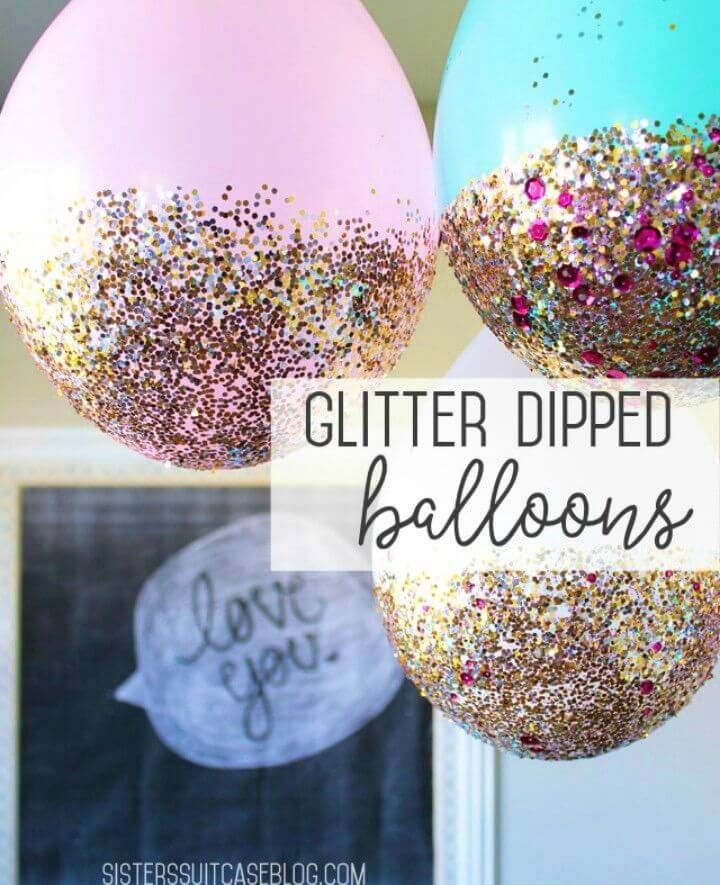 If you are a balloon lover, I'm sure they are completely necessary for every party. It is important to renovate the style they have to impress everyone all the time. In this case, you can use some colorful glitter all over the balloon to make it elegant and cool. sisterssuitcase
55. DIY Leather Embellished Loafers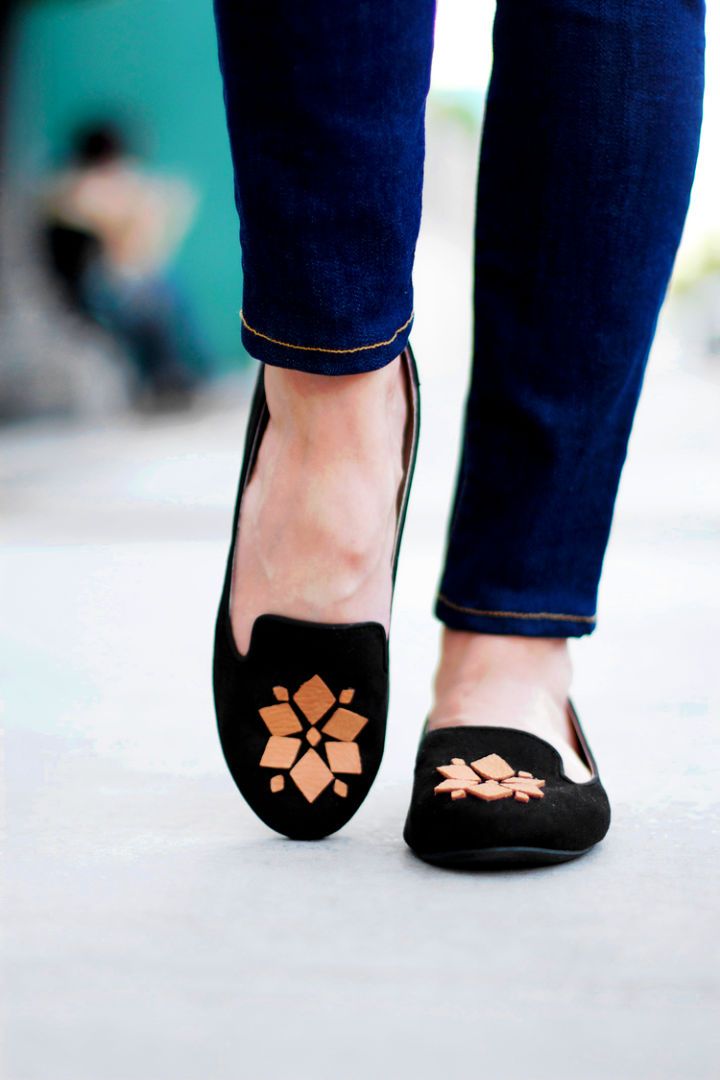 In this case, you can add some embellishments to your shoes to decorate them and personalize them. If they are black, you can select any felt color of your preference, however, make sure to use a color you can combine most of the time with your outfits. kristimurphy
56. How to Make Color Block Vase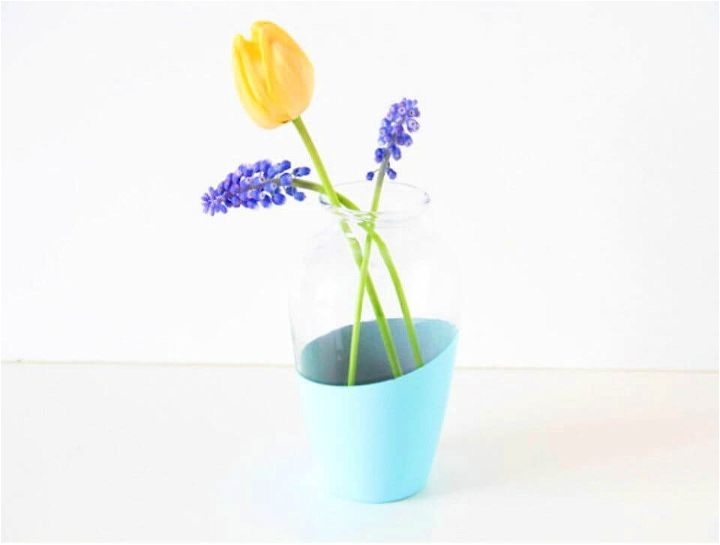 There are many designs you can create to your vases, however, sometimes it is so much better to make just a color block in it, such as light blue, pink or any other you want. Solid colors will combine with everything. Check the link below to see more details: momtastic
57. Beautiful DIY Bottle Garland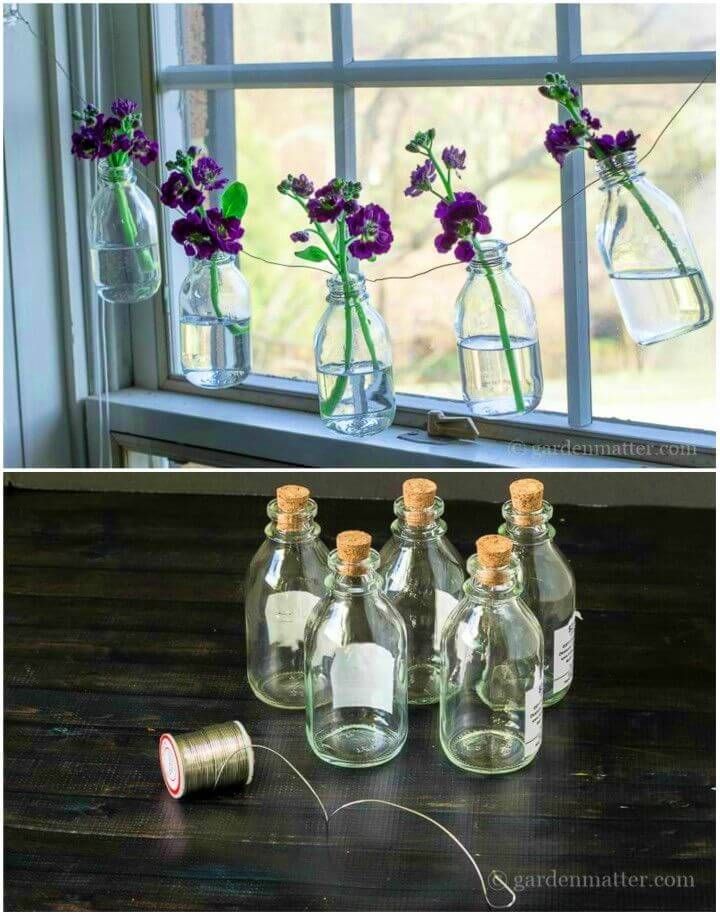 Having a few empty bottles, you can make something different and fun. It's about a bottle garland which will be attached to each other by a strong rope. Insert in each bottle some water and a flower to make the view more captivating. It's original and fascinating. hearthandvine
58. Pretty DIY Glitter Mason Jar for Adults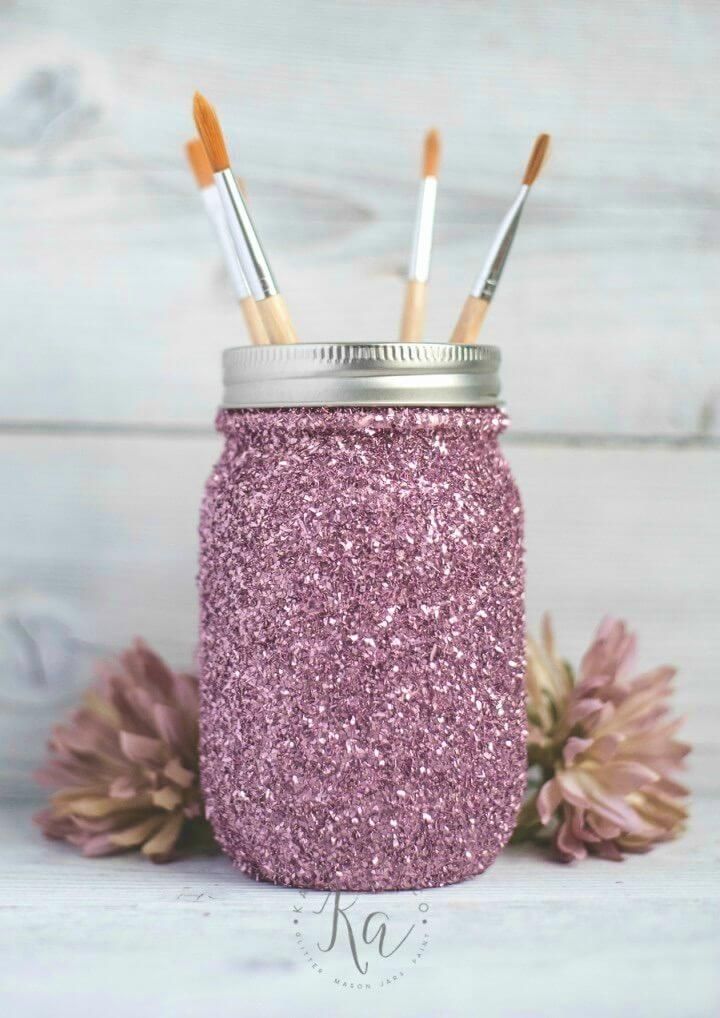 Change the perspective of the empty jars by adding some glitter around and making them look more elegant and original. Those jars can be used as flower pots, to save your paint brushes or any other supplies you like. Click below and read the complete steps to make it. kastyles
59. DIY Flower Balloons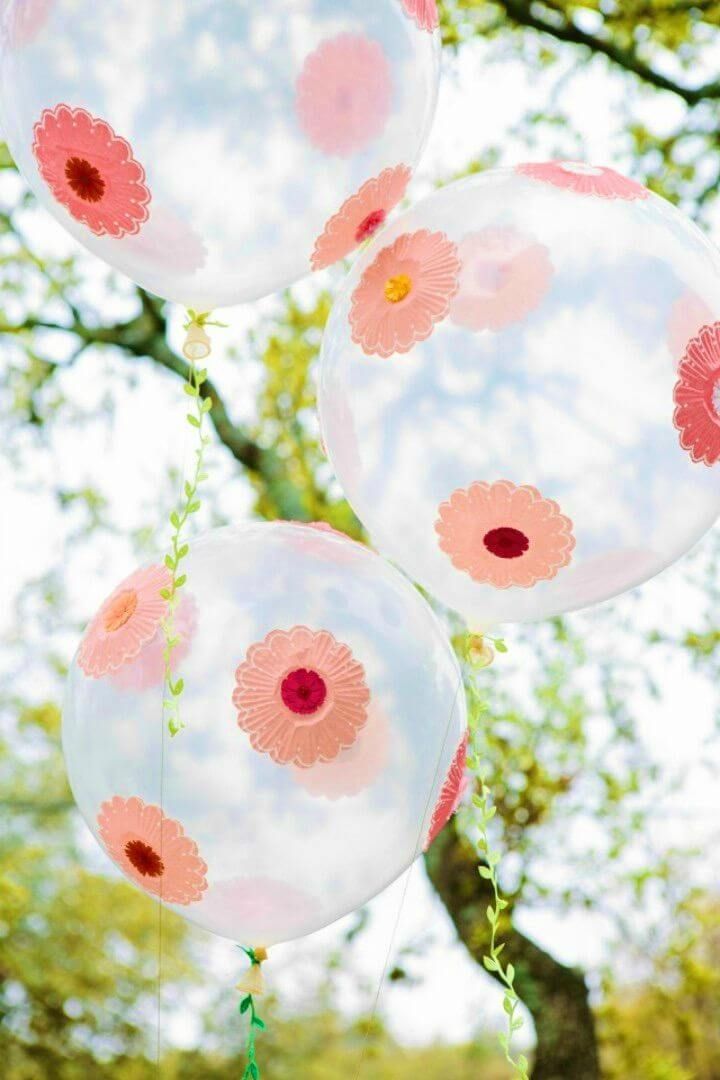 If you want to make something different, you can buy some transparent balloons and create your own designs on them. In this case, make some flowers using felt or any other material of your preference. I'm sure everybody will love it. designimprovised
60. Awesome DIY Rainbow Gumball Necklace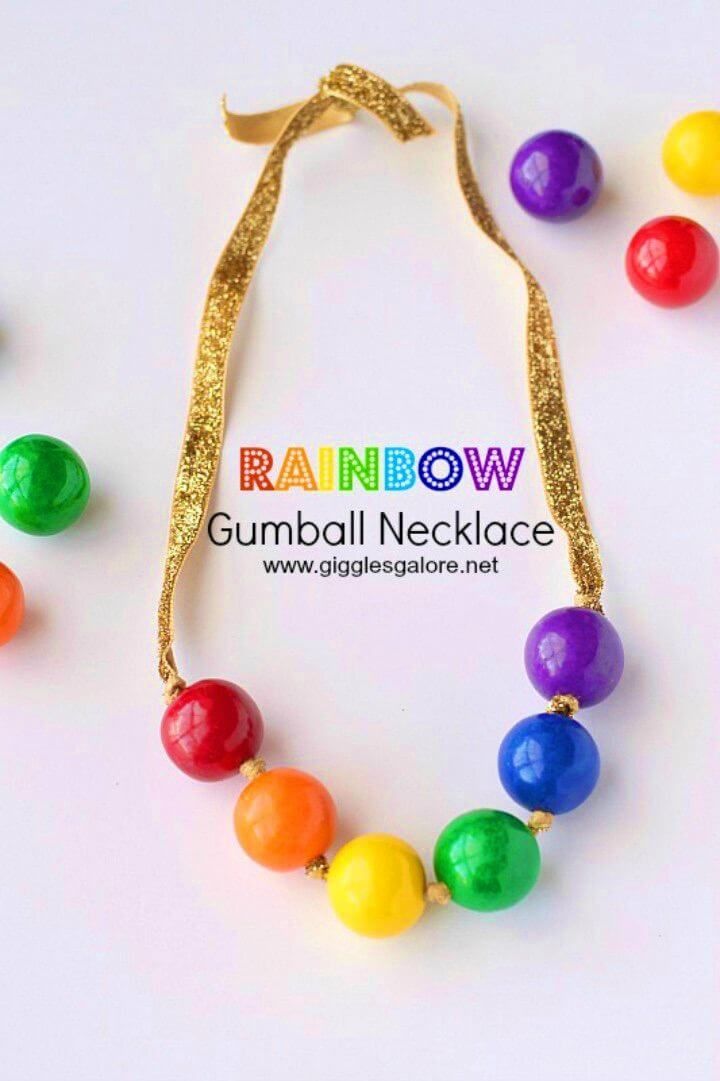 This is probably one of the most interesting and lovely necklace design your girl will like to have. It consists of using some colorful gumballs and attach them together using a thin rope. It's original and cute. Check the link below to see more details: gigglesgalore
61. DIY Pinch Pots with Crayola Air-dry Clay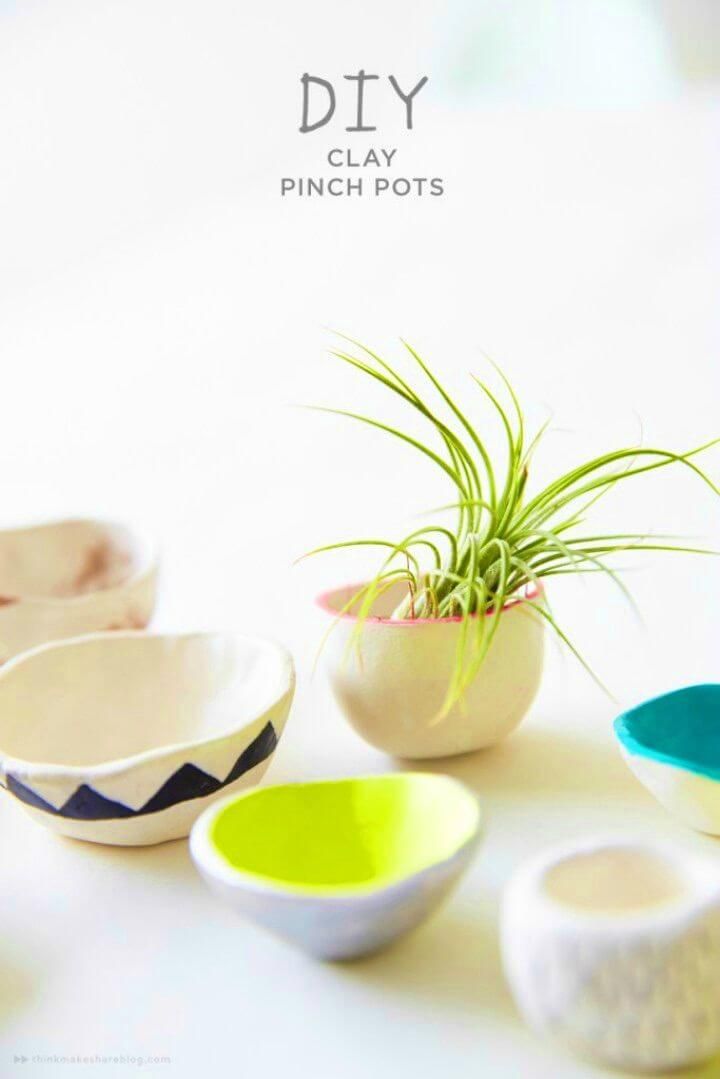 Having clay material is an incredible advantage to make your own pots. Make different sizes and different forms and have fun while making it. Also, after you have done them, uses some color to create designs on them to personalize them. They will look stunning. thinkmakeshare
62. Easy to Make Colorblock Bangle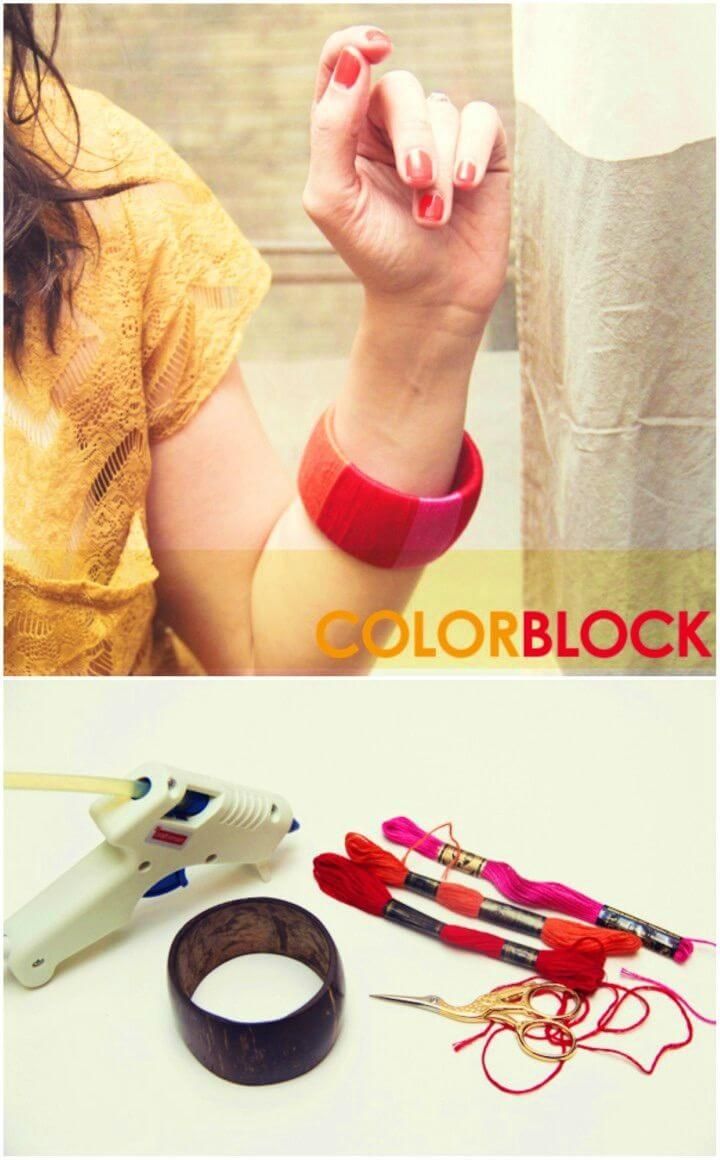 If you have some bracelets that seem to be serious or you just don't like it, grab some colorful yarns and begin to wrap around it to make something cool and different. It will look absolutely stunning and perfect for your daily activities. Click here to see more details: lovelyindeed
63. Make a Boutique Style Hair Bows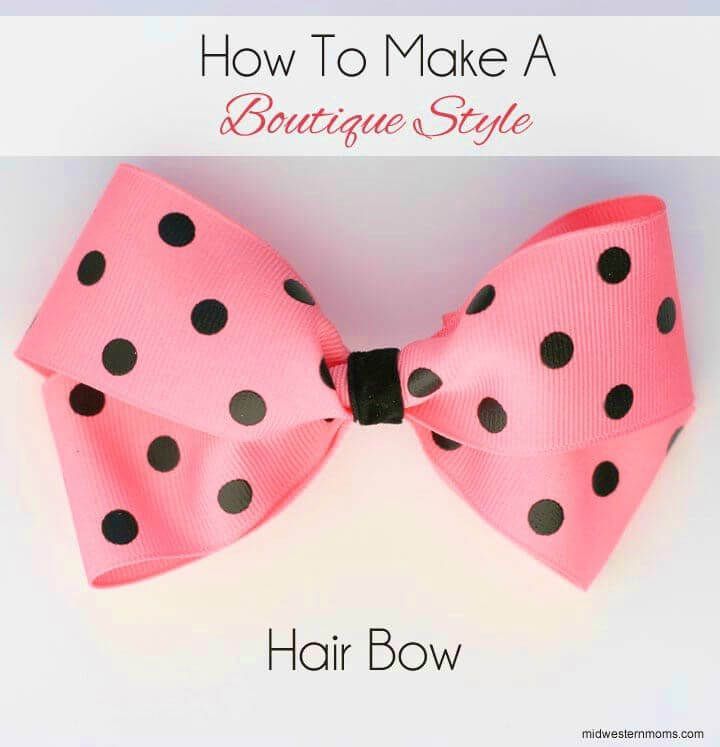 In this opportunity, you have the chance to create a fascinating and enchanting hair bow. Use colorful ribbons to make something fun and pretty. The method is really easy, click below to see the complete instructions. It's perfect to give it to your baby girl as a cute gift. midwesternmoms
64. DIY BFF Heart Matching Phone Cases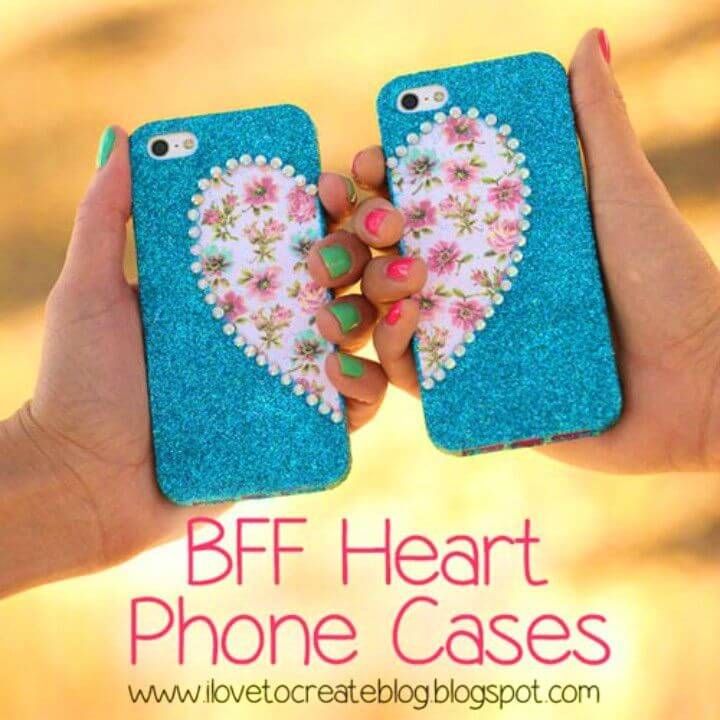 These phone cases are perfect to give it to your best friends on her birthday. It consists of creating half of the heart on each case adding some embellishments such as pearls. Use colors that you both like and I'm sure it will be cute and special. ilovetocreate
65. Easy DIY Pom Pom Wall Hang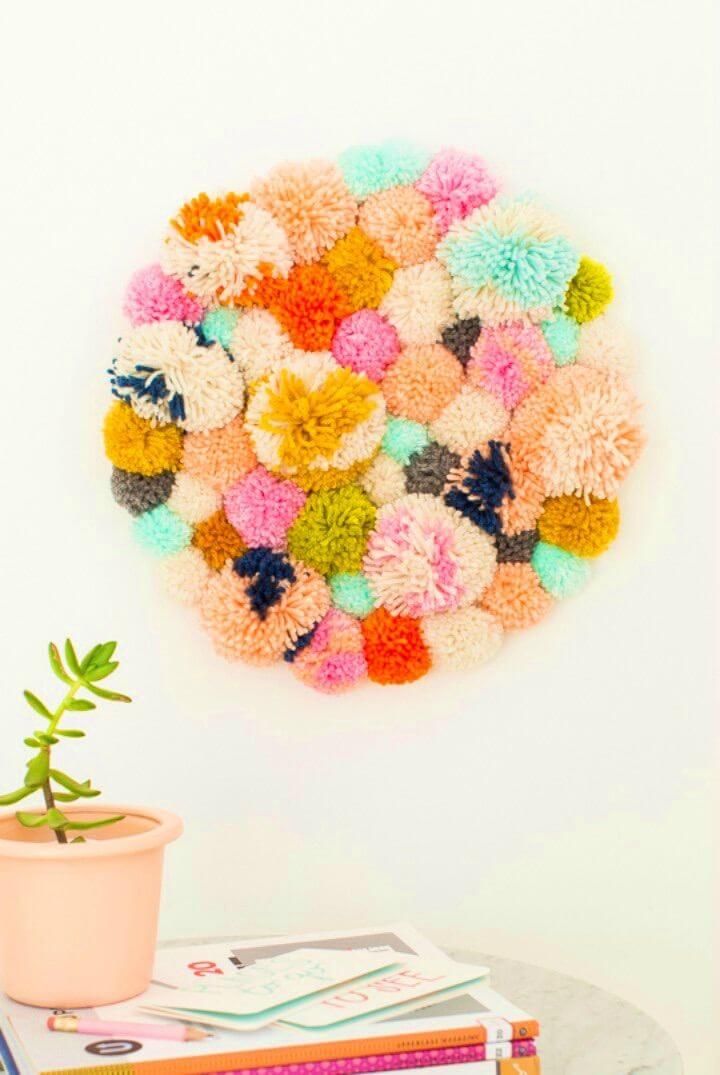 If you are a pom-pom lover, then, you must create this. It consists of making a huge pom-pom wall hanging which consists of attaching them all together and place it in your favorite wall. It will look absolutely captivating and colorful. sugarandcloth
66. DIY Glitter Shoes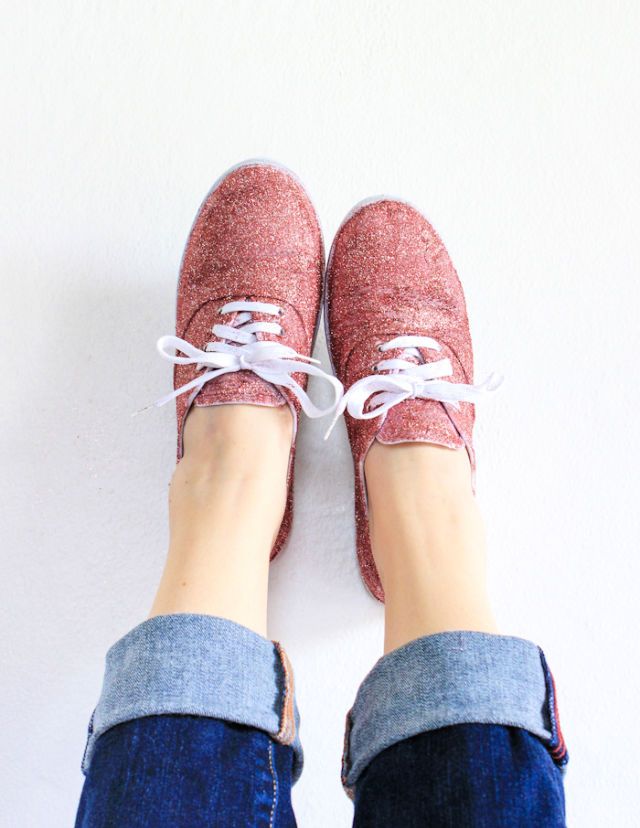 If you have some shoes you don't like, and you want to renovate the style, you can easily use some glitter and spray them all over the shoes creating a lovely effect. Everything depends on the material of them and the colors as well. Click here for more details: thecraftedlife
67. Quick DIY "Lovely" Button Heart on Canvas Decoration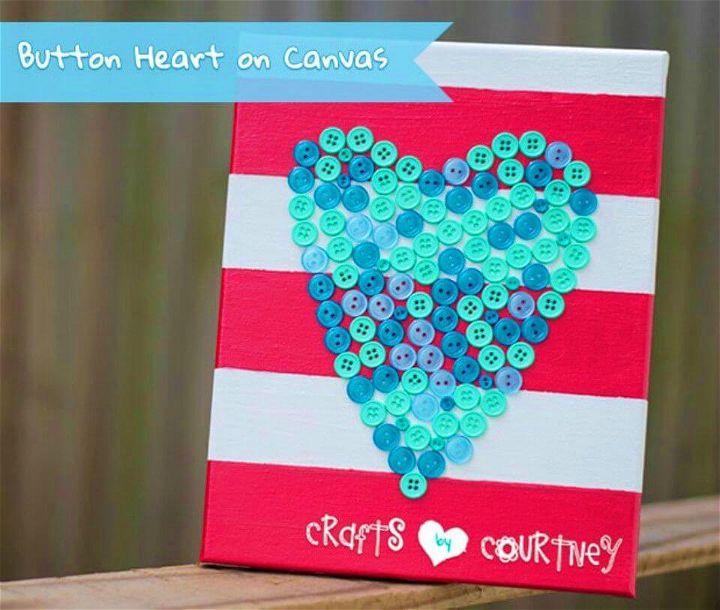 Explore your creativity by using different supplies at home to create something cute and special. In this case, select a lot of buttons with the same color and create a lovely heart shape and paste them in a frame or wood square. It's an adorable craft. crafts
68. Make a Heart of Hope Dreamcatcher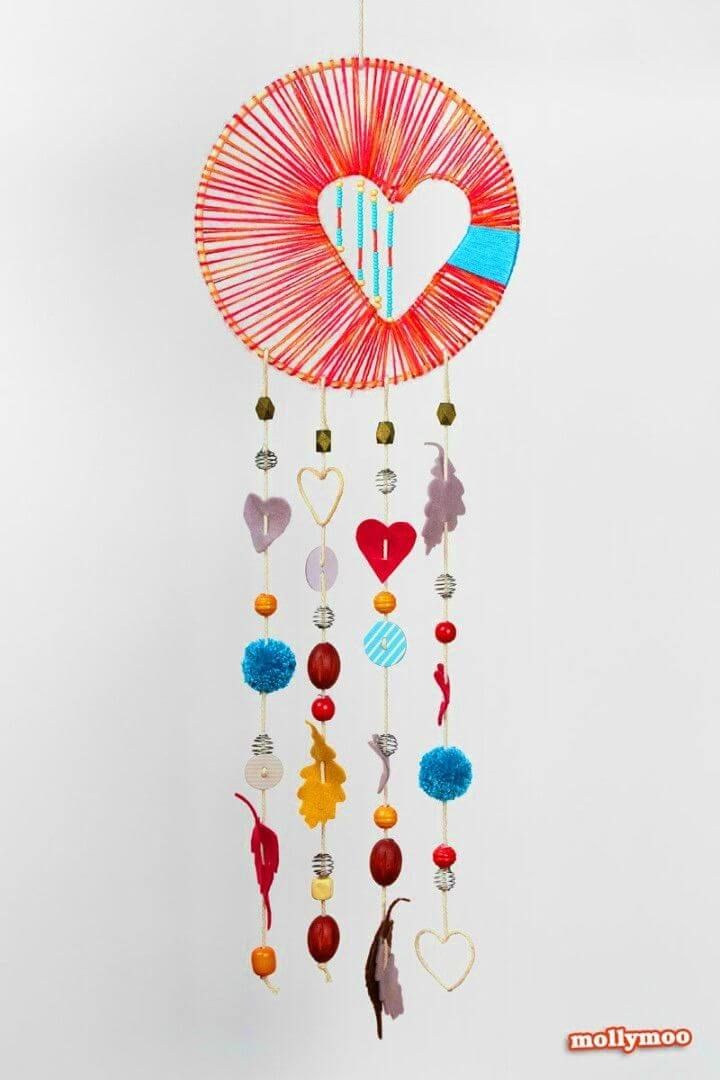 Here you have an amazing dream catcher which is perfect to place it in your baby's room. Select small figures to decorate it and use lovely colors that combines perfectly with the colors of the room. Check the link below and see the complete instructions. mollymoocrafts
69. How to Make Vintage Buttons Necklace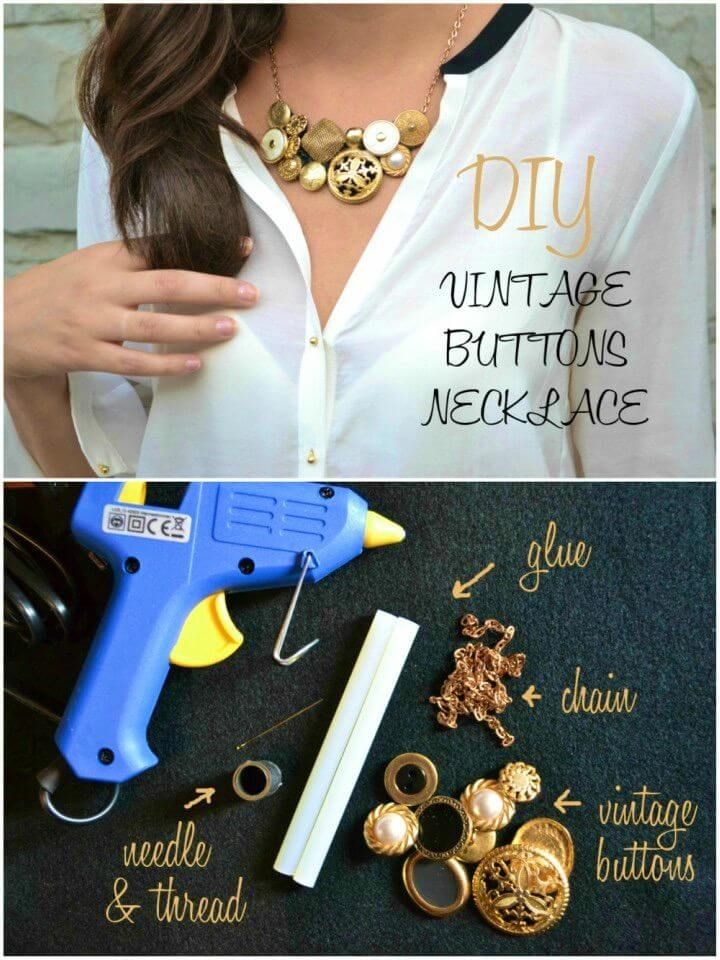 Here you have an adorable accessory I'm sure every woman will love. It consists of selecting a few vintage buttons, hot glue, a chain, a needle, and a thread. Begin working on this beautiful necklace and look elegant using it. chocolateandcraft
70. Easy SIY Marbled Mugs With Nail Polish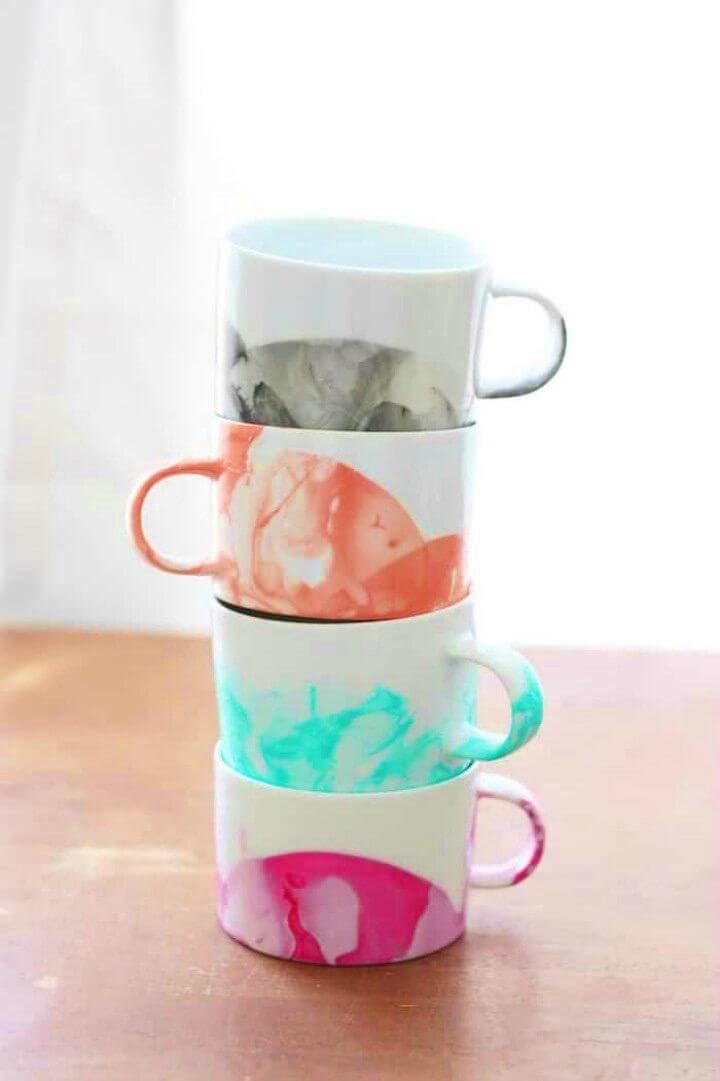 Changing the style of your mugs is as important as you think. It's a way of presentation you have. If you want to make something new and fun, use nail polish to create a marbled effect. Use different colors and renovate your kitchen style. Click here for more details: diycandy
Conclusion: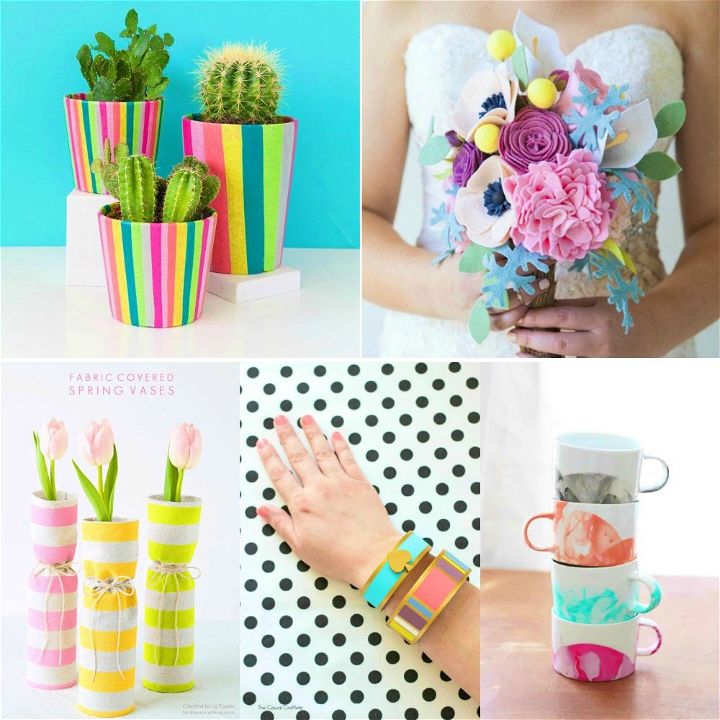 Whether you're looking for a creative new hobby or just want to find an easy way to relax after work, we hope that this list of 70 fun and easy crafts for adults has given you some ideas. We tried to include a variety of different crafting mediums so there's something for everyone, regardless of your skill level or interests. If you decide to give any of these crafts for adults a try, be sure to share your results with us!