Find inspiration in these 30 beautiful outdoor patio ideas and designs to plan your backyard patio this summer on a budget. The perfect way to spend the summer is a backyard patio. Whether you're planning a new patio design or looking for the perfect outdoor living space, these patio designs are for you.
June is finally here, and the summer season is in full swing. This means many plans and a lot of time will be spent in your backyard alone or with your friends and family. There will be many moments when you'll be sitting on a DIY bench that you made, soaking up the sun with a drink in your hand. Some other times would be when you will be grilling with your friend using the outdoor kitchen that you re-created! Using these patio ideas will help you to make one of the best memories this season!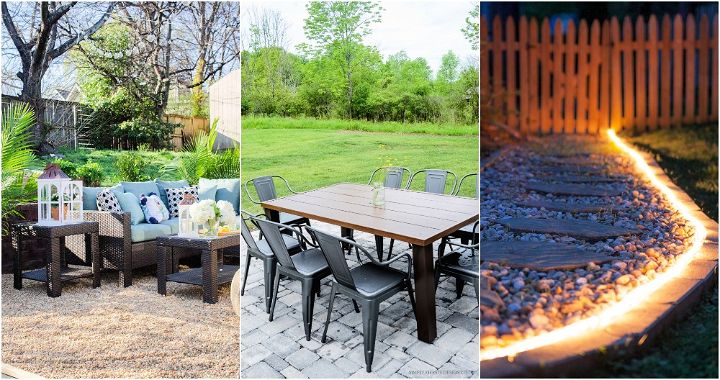 Not only will the building process be a lot of fun, but also after the building is done! You will be able to enjoy both parts of it. This is because vacations can be a little boring, so having a project on your hands will really help you have a lot of fun and feel motivated to wake up every day! This article will cover a range of unique outdoor patio ideas, from rope lights walkaways to chaise lounges, from pergolas to cinderblock benches, and from painted tiles to planter boxes. There are a lot of patio ideas to choose from!
What Is A Patio?
A patio is a paved outdoor area adjoining a house and is a popular spot for outdoor entertaining like used for recreation or dining. A patio can be either attached to the house or detached and is usually made of concrete, stone, pavers, bricks or other materials.
You've to consider several things when planning a patio, such as a shape, size, and location. Patio shapes can be square, rectangular, or circular, and they can be built onto existing structures like decks or porches.
Patio size will depend on the available space and its use. Location is also important, as patios should be situated in areas that receive enough sunlight and offer privacy from neighbors.
When it comes to patio design, there are endless possibilities. Some popular patio ideas include outdoor kitchens, fire pits, water features, and pergolas. These features can make a patio more functional and enjoyable.
If you're looking for patio ideas, plenty of resources are available below. With a little patio planning and creativity with these outdoor patio ideas, you can create the perfect outdoor space for entertaining and relaxing.
1. Stone and Brick Backyard Patio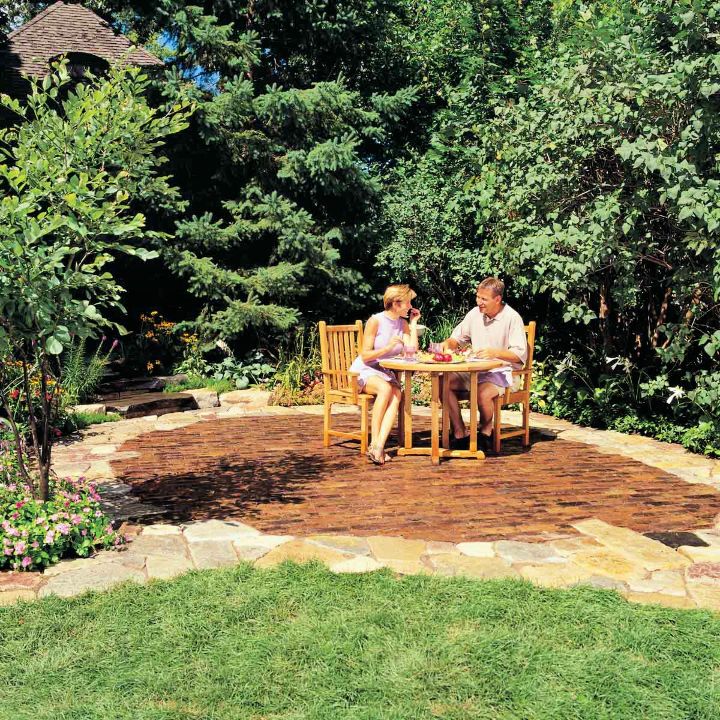 Stone and brick flooring will make your patio look absolutely stunning! Flooring plays a big role in how your patio will look once it's fully done! You will need a few basic tools and materials to make this project a success. Patience will be required. familyhandyman
2. Two-tier Patio Water Fountain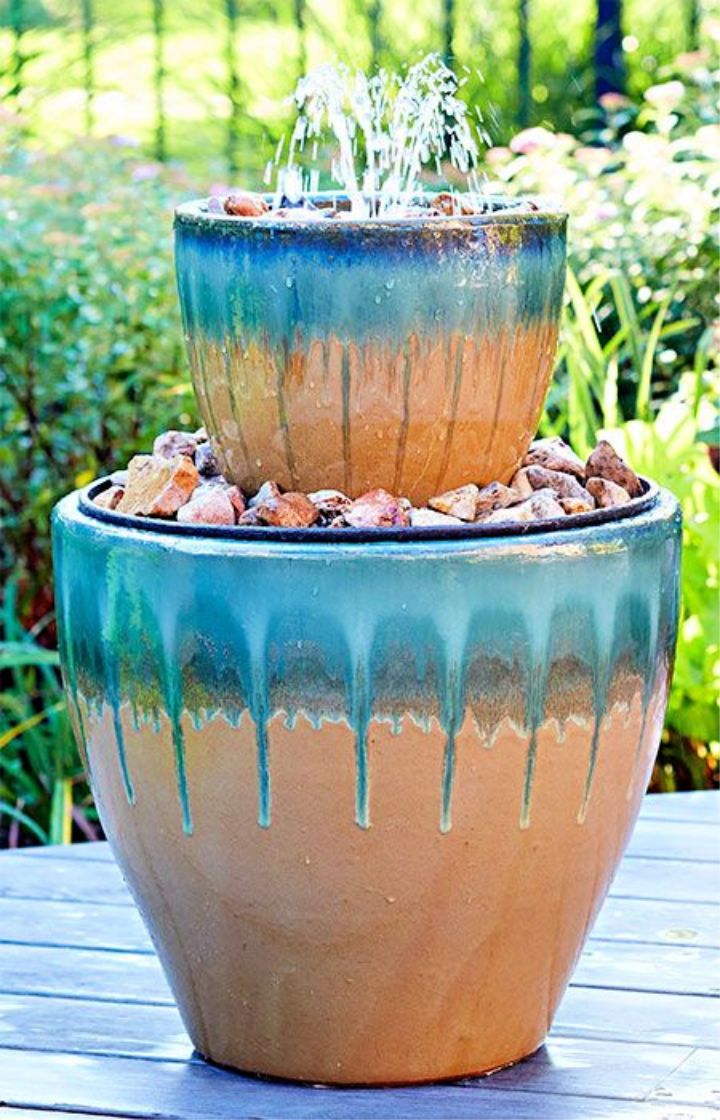 Water fountains help add a lot of beauty and make your backyard look a lot more interesting! You can decide on the theme before working on this project. Choose any of your favorite colors that go well with the color theme of your backyard. The final product is super stunning. lowes
3. DIY Patio Water Wall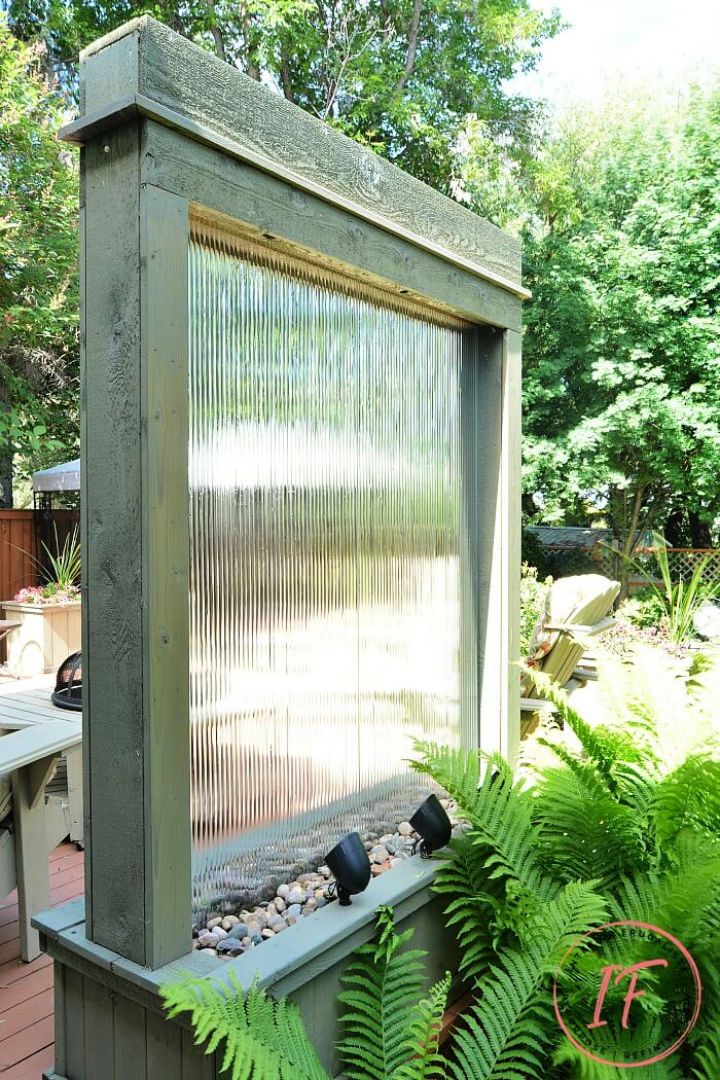 Are you looking for exciting and unique ways to make your patio look very beautiful and out of the box? Here's an excellent plan for a water wall, which is amazing. You can complete it in a few days, and it will turn out really nice. Attach it to any corner of your patio. interiorfrug
4. Outdoor Patio Seating with Stovepipe Fireplace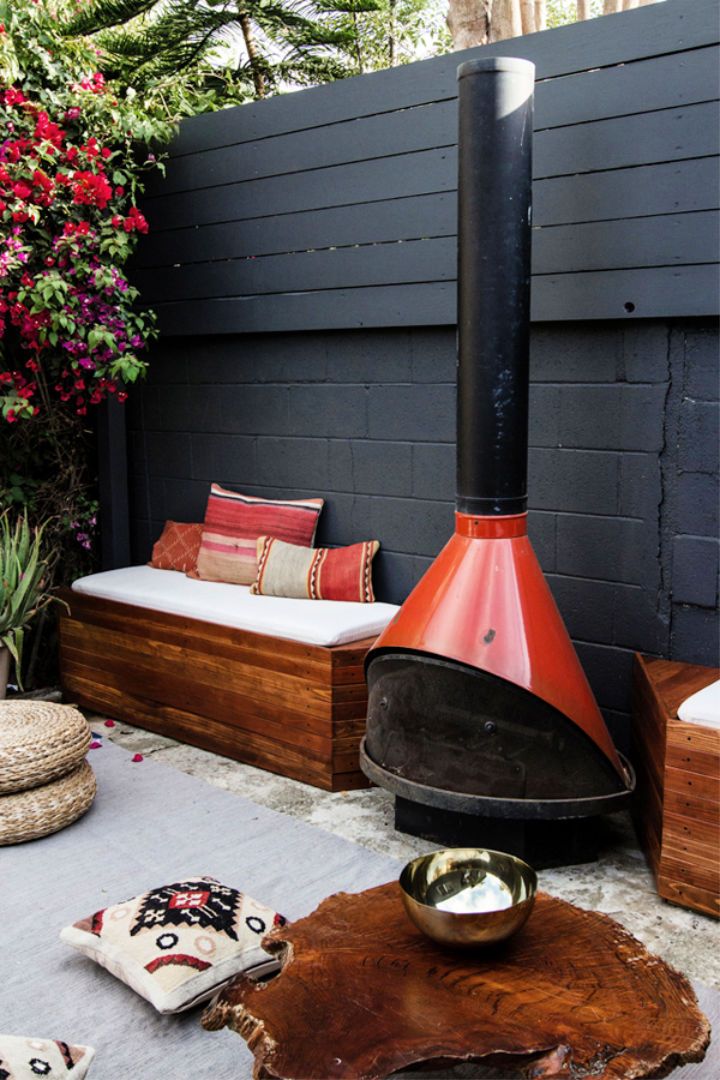 Do you live in a cold place and you can't sit outside due to that? Well, here's a great way to warm it up and make it feel super warm and cozy. The seating can be placed close to the heater. The overall vibe of this place will be just amazing, and you will have a lot of fun hanging out with your friends. homemydesign
5. Patio Bar with Built in Cooler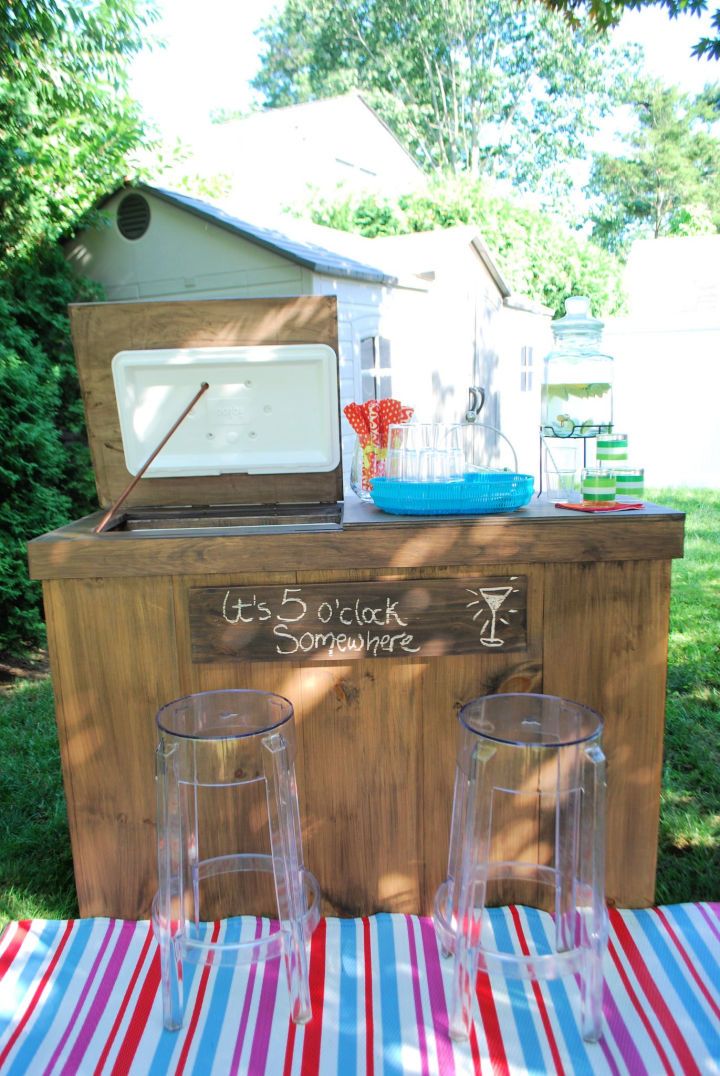 Are you planning to spend a ton of time in your backyard lying in the sunshine this summer? If yes, then you can make this amazing patio bar with a built-in cooler. This way, you won't have to go to the kitchen every second to get a drink. effortless
6. DIY Brick Fire Place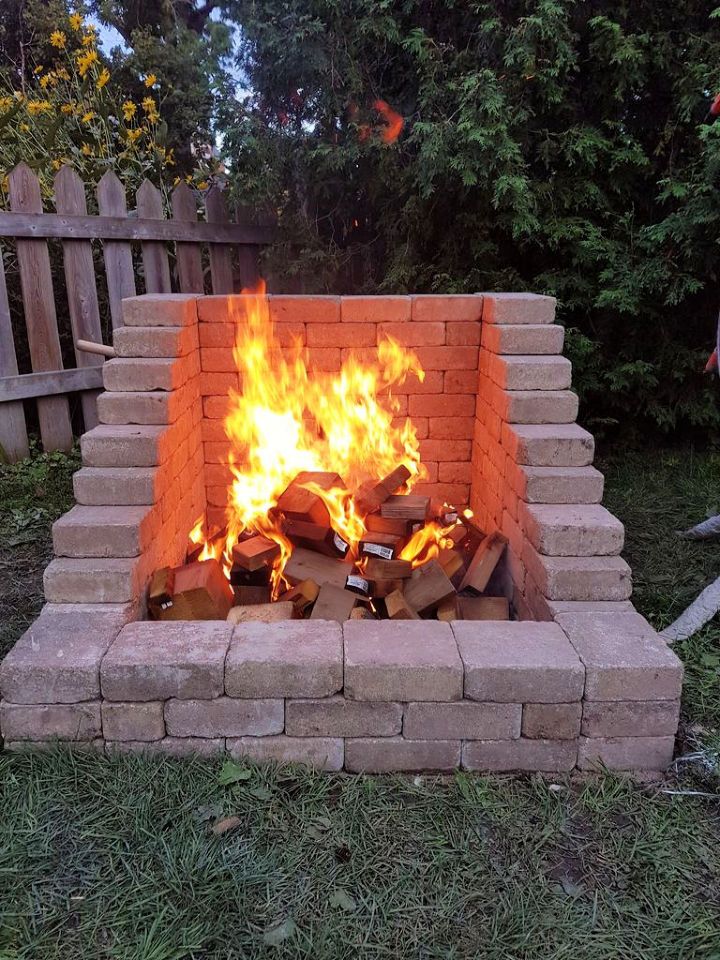 Fireplaces can help add a very cozy and relaxed vibe to anywhere in the cold weather. If you live in a place with a cool climate, then installing this in your backyard will make your evenings in there ten times better! Tape measure, edging shovel, spade shovel, hand tamps, a few other supplies needed. instructables
7. Patio Pool Out of Pallets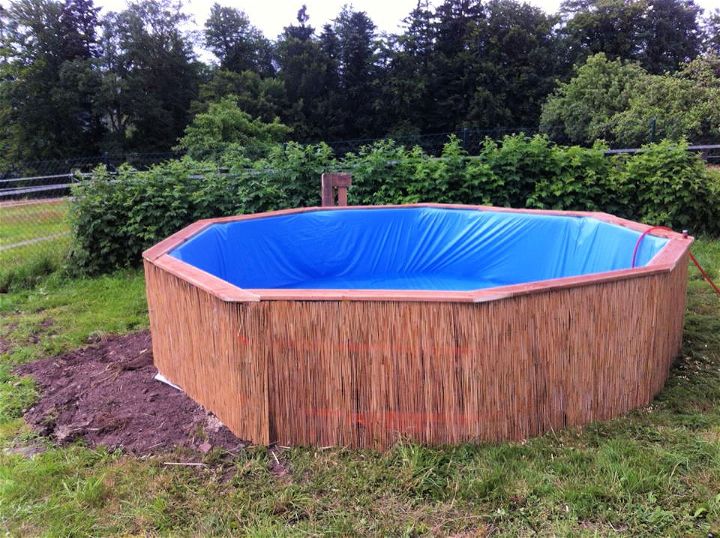 Here's another great pallet swimming pool plan for you to spice up your patio for the summer season! In comparison to all other outdoor patio ideas, this one's a little complicated! However, it's definitely worth it! This pallet swimming pool will help you make a lot of summer memories that you will remember forever! easy pallet ideas
8. DIY Enclosed Patio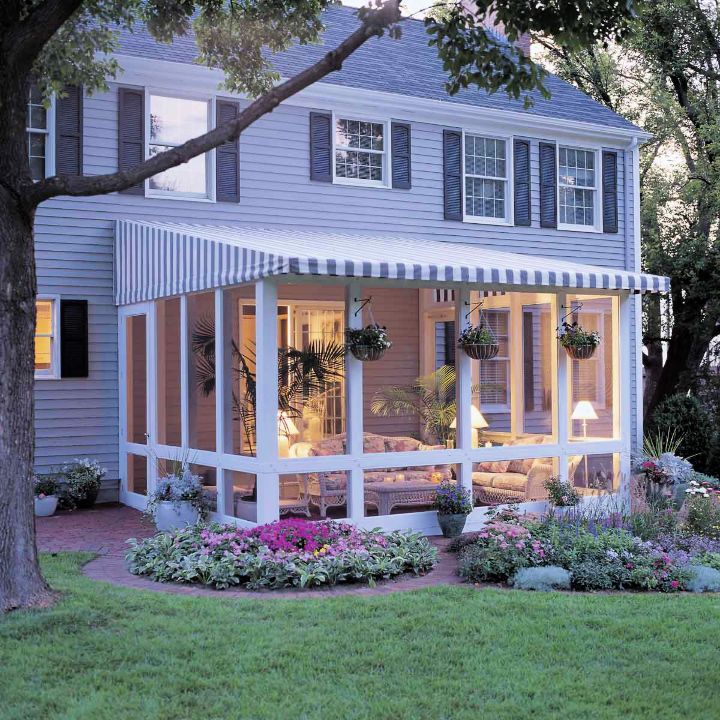 Are you looking for an enclosed patio? There can be many reasons for that. It's hard to imagine sitting in your open patio with so many mosquitoes if you live in a tropical place. If you don't want to be interrupted by other types of insects, as well, this is perfect for you. familyhandyman
9. Tree-encompassing Deck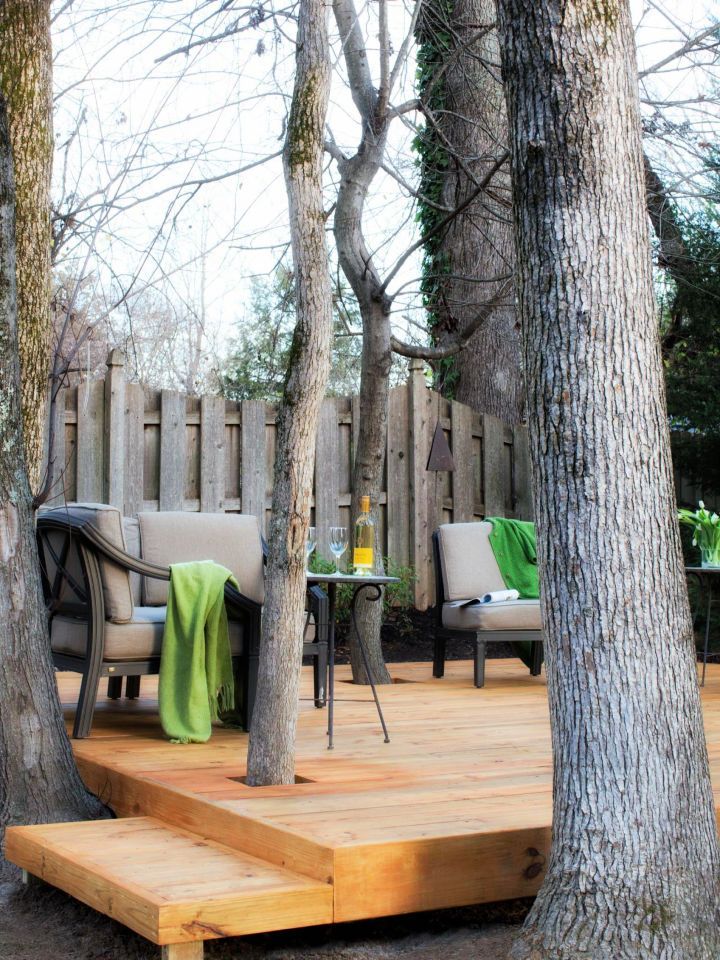 Isn't this the coolest thing you've seen? It's so beautiful with wooden flooring. The best part is that you won't have to cut down any trees for you! The trees will be able to get through this wooden deck. Hand saw chop saw, jigsaw, post digger, L bracket, safety goggles, and a few other tools required. hgtv
10. Outdoor Patio Kitchen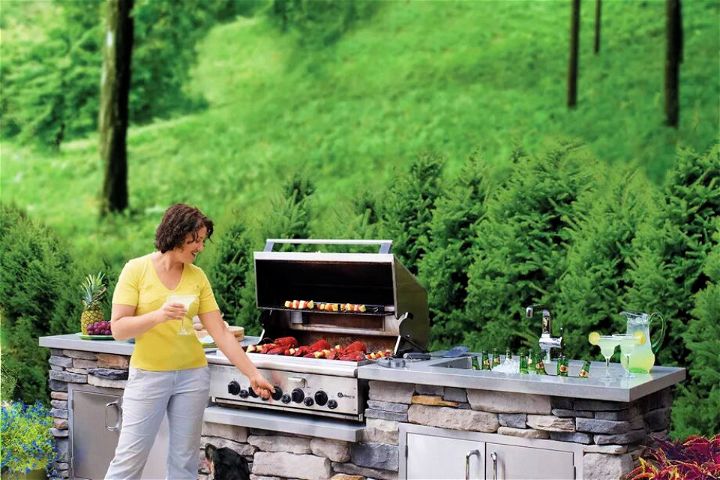 The summer season comes with countless backyard barbeque parties! Having an open kitchen in your backyard is a great idea if you love these types of parties. You will have a lot more fun cooking and grilling, and it will be more fun, as well! thisoldhouse
12. Chic DIY Gravel Patio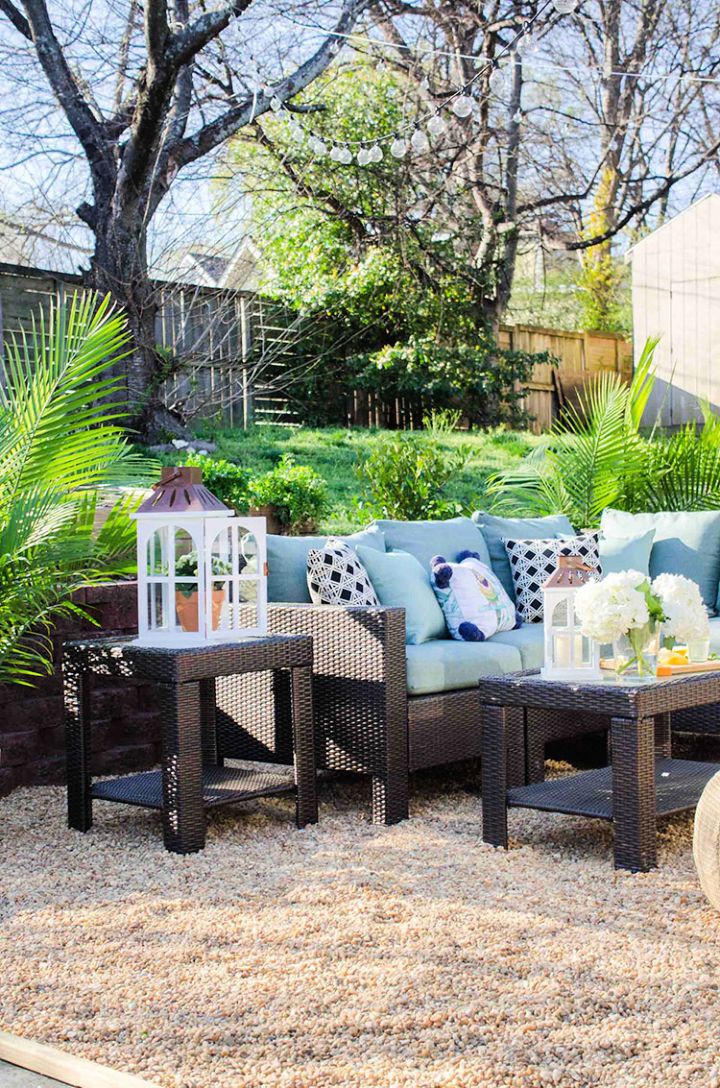 Gravel patios are quite famous! That is because it is quick and easy to do and the out amazing. It is not recommended that you have little kids, though. It turns out to look very pretty! Hammer, wood chisel, vigoro pea pebbles, and a few other supplies will be needed for this plan. homedepot
Related DIY Projects To try:
Flower Pot Ideas – A house is incomplete without the flowers in the backyard. Get inspired with these unique flower pot ideas to find your style and make your patio more attractive.
Pallet Furniture Ideas – Pallet furniture is a great way to recycle unwanted materials and old pallets. With a little creativity, you can make pallet patio furniture that is both functional and affordable.
Wooden Crates – Find great inspiration for decorating with wooden crates. The crate is used as a decorative element in bedrooms, living rooms, kitchens and more.
Outdoor Privacy Screen – There are many ways to create private outdoor space without breaking the bank. Here are some of the best outdoor privacy screen ideas for your patio.
12. $20 Outdoor Patio Bench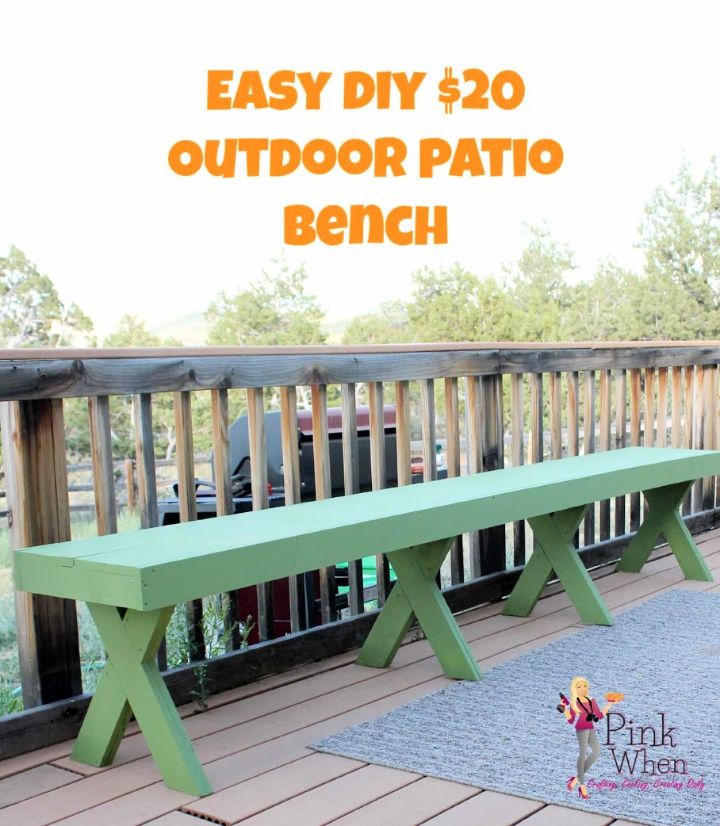 Outdoor benches can be very expensive for some reason. It is also hard to find one that you really like and goes well with the theme of your house. Why not make it yourself? It can be made under $20, and you will be able to customize it according to your likings! pinkwhen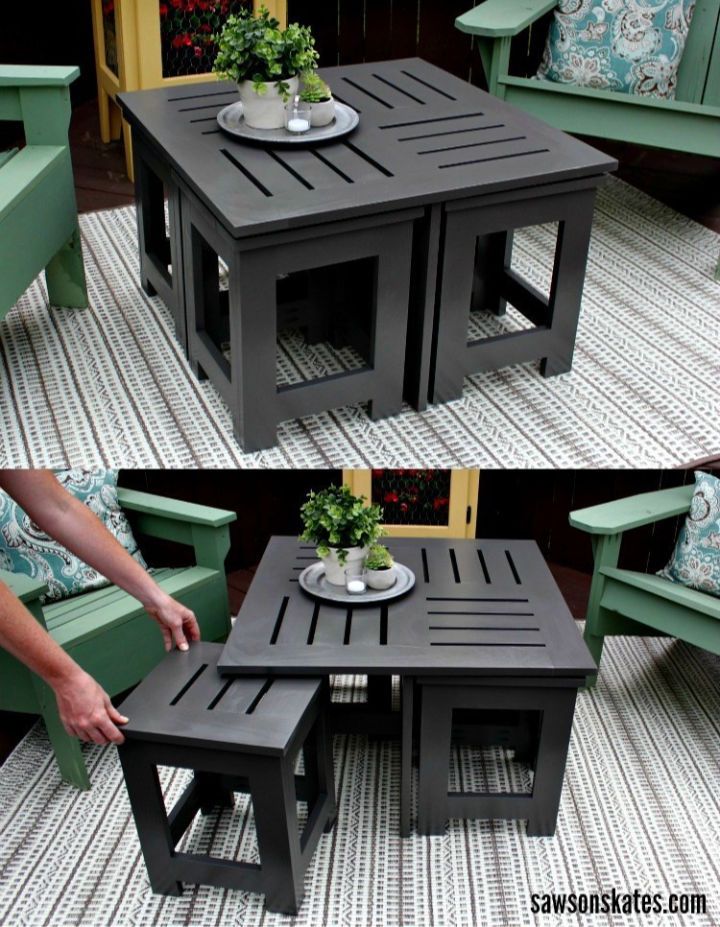 If you live in a small space or just try to keep everything as spacious and open as possible, try out this plan! It is a beautiful table with four hidden side tables! These side tables can also double up as seats. The color of this table is very dark so it will work well with any theme. sawsonskates
14. Build a Paver Patio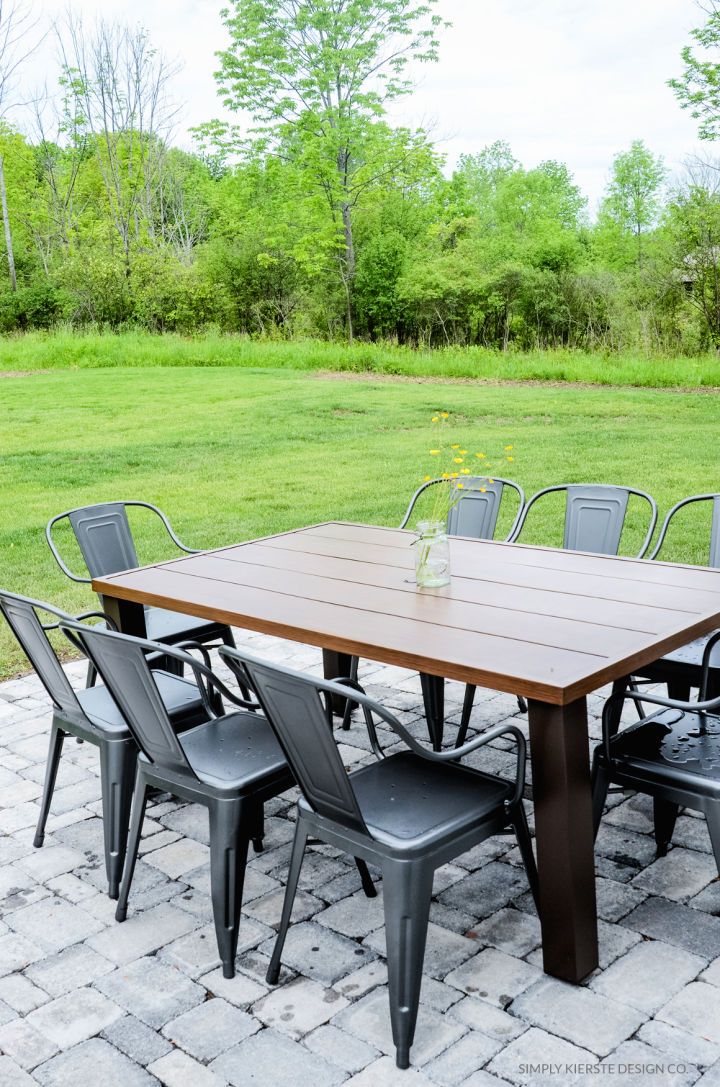 Are your relatives visiting you, and you want to make your patio as presentable as possible? This is a great set up for some amazing breakfasts with your family. Everyone will be able to soak up some sunlight in the cold mornings and have some steaming tea! oldsaltfarm
15. Modern DIY Patio Pipe Chair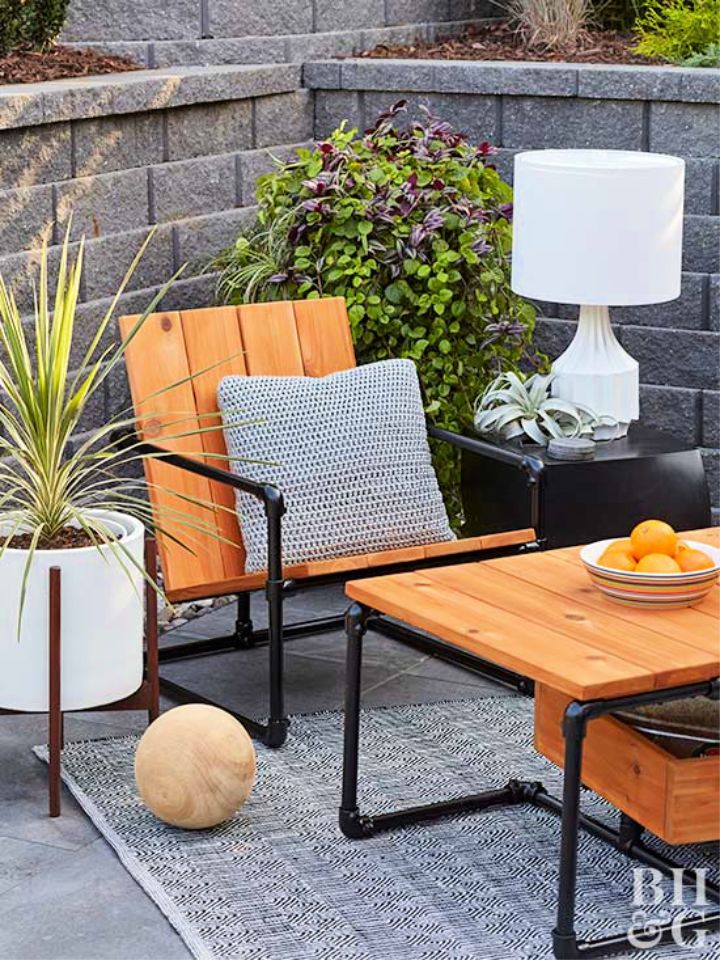 If you're a beginner, it is recommended to try out this DIY as PVC pipes are being used in it, which are quite helpful and easy to work with. Circular saw, measuring tape, sandpaper, reciprocating saw, steel angle, drill, drill bit, pencil, wood glue, and a few other supplies will be needed. bhg
16. Outdoor Patio Privacy Screen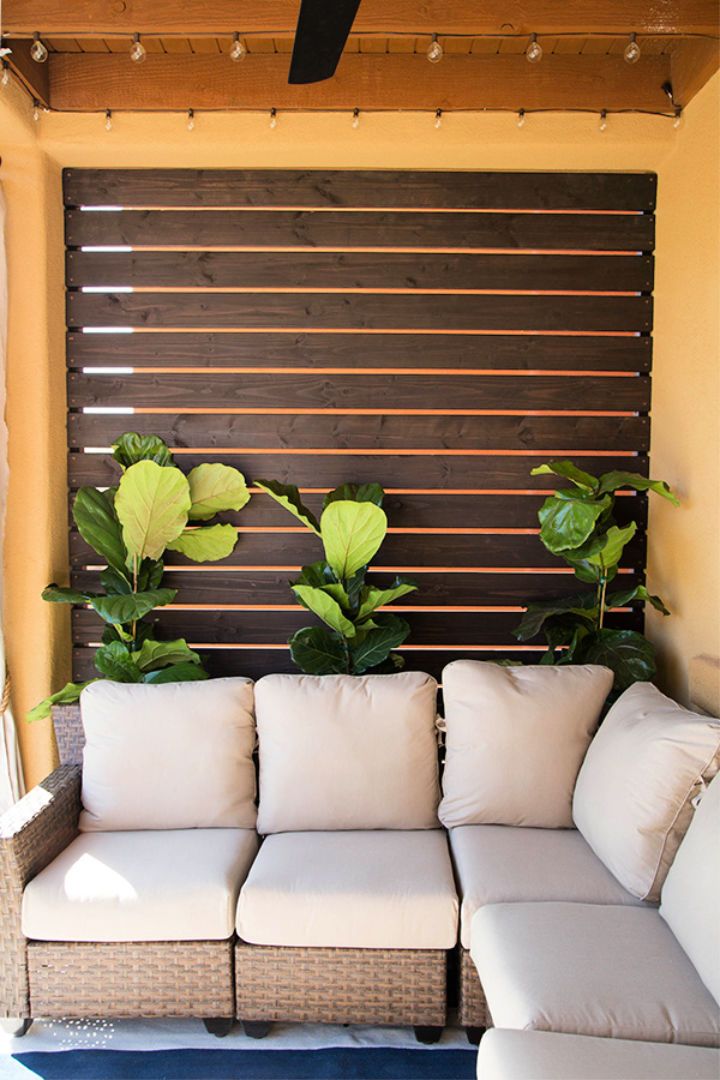 Do you live in a place where the houses aren't separated, and your neighbors can see almost everything you're doing in your backyard? Well, if that's the case, then this is a great plan. Do yourself and your neighbors a favor by re-creating this privacy screen. homedepot
17. Planter Box for Hanging String Lighting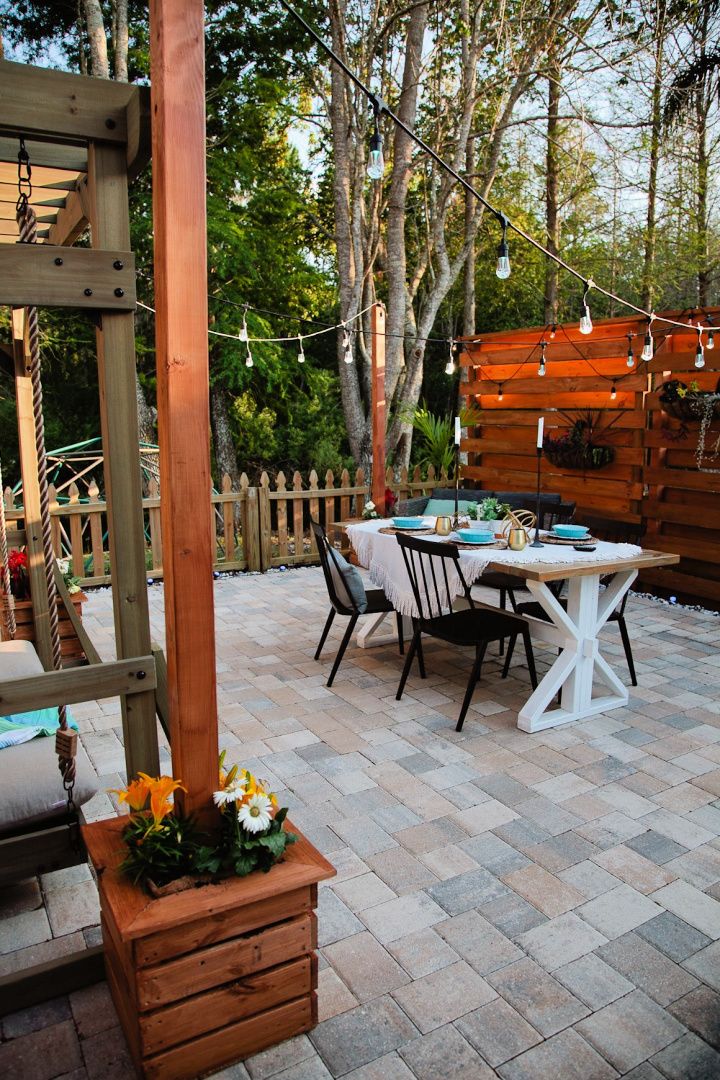 String lighting can make your nights in the patio a lot better! The warm lights came to help create a beautiful vibe that you will love! These boxes can be used to hang them up and make everything look very pretty and beautiful. freshmommy
18. Farmhouse Outdoor Patio Table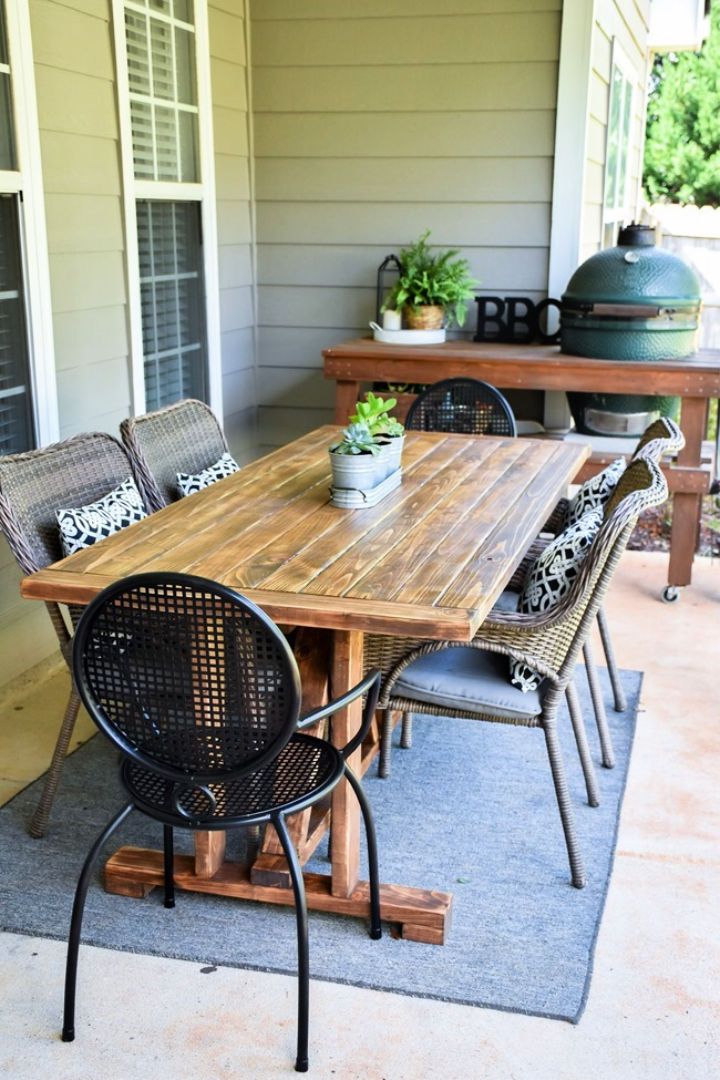 There's something special about farmhouses. They have this old-school vibe there, which helps you escape the normal life when visiting it during the holidays. You can use rustic furniture like this patio table to further enhance the vibe! thefrugalhome
19. DIY Painted Patio Tile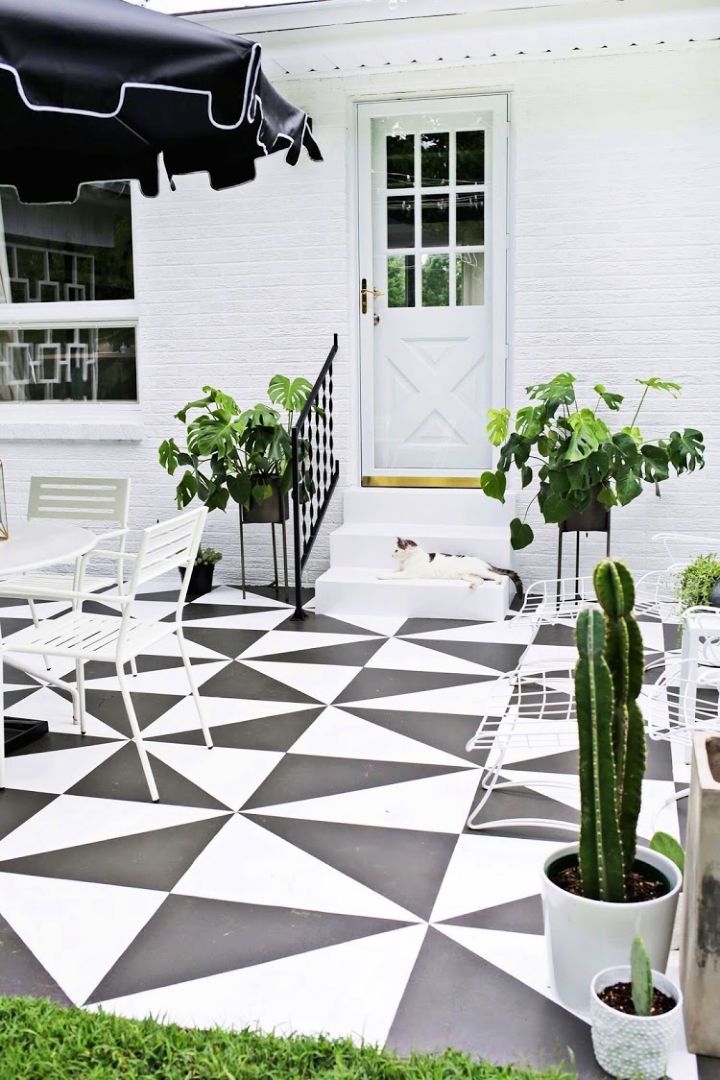 White tiles can be quite plain and boring. You can spice it up by painting the flooring! Here's a fantastic design which you can follow. The white and black can really make everything look very unique and out of the box! Once done, use green plants to make it all blend together. abeautifulmess
20. Outdoor Patio Cinderblock Bench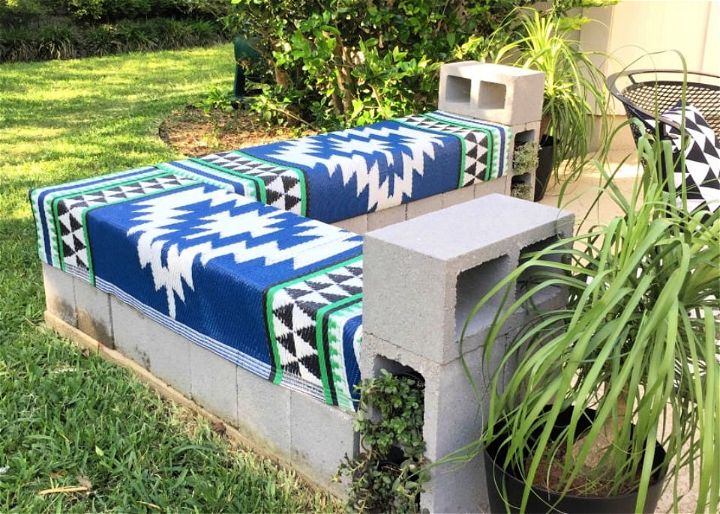 Cinderblock benches make amazing places to hang out and catch up with friends. In comparison to the other outdoor patio ideas, this one is quite easy, and almost anyone can nail this project. The outcome looks like it was done by professionals. jenniferperkins
21. DIY Patio Pallet Bar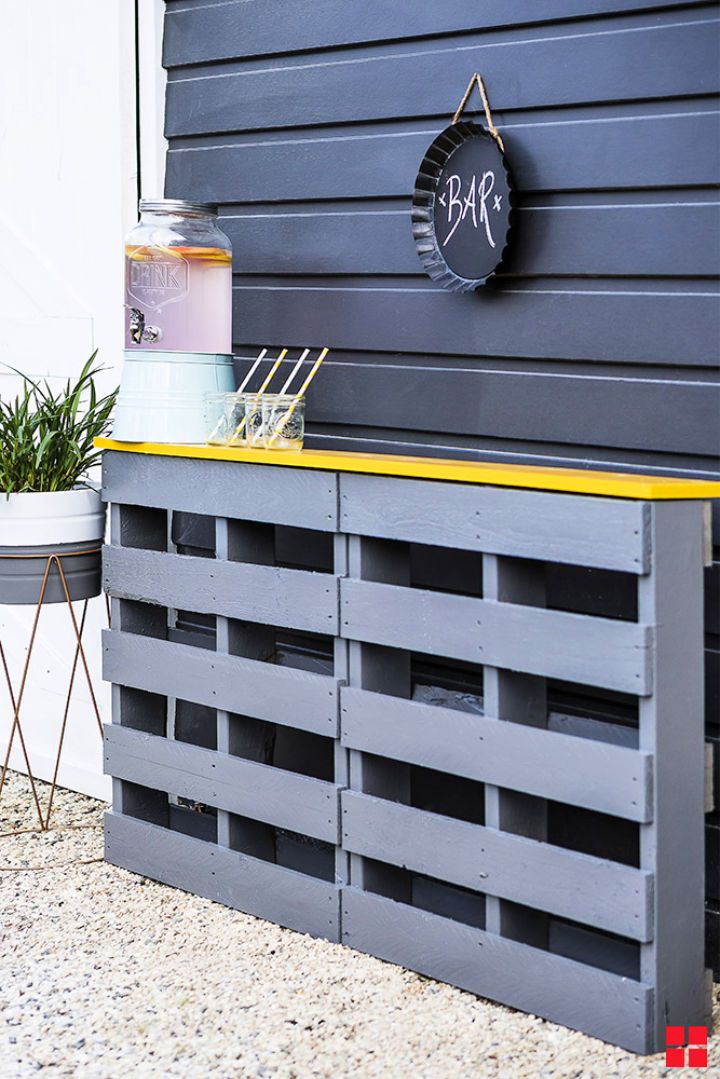 Who knew that grey and yellow could combine to make an amazing combination! It's so pretty, and you can match it with a grey aesthetic! Place it in any corner of your patio and keep a ton of drinks on top of it! No need to head to the kitchen just to get drinks. rustoleum
22. Build a Pergola in Patio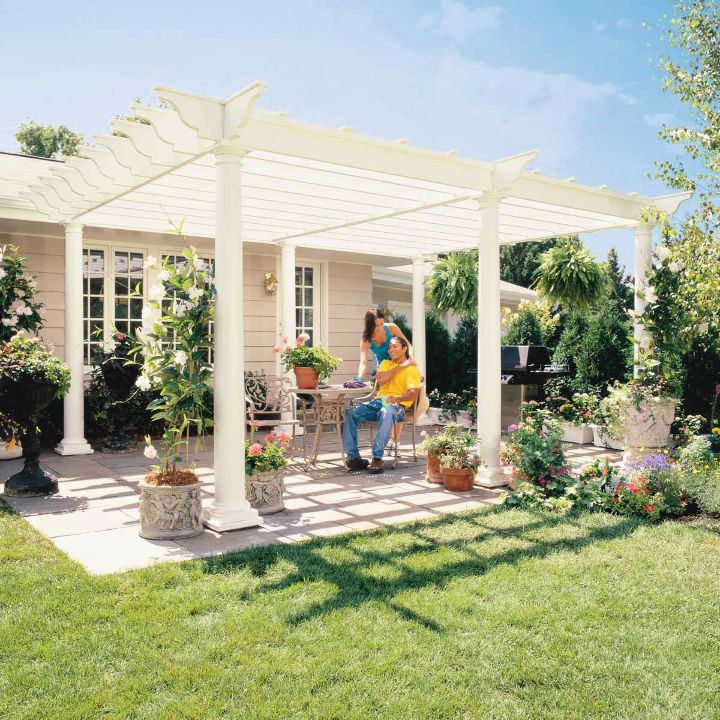 One of the beautiful outdoor patio ideas. Trying to add that luxurious and rich feeling to your house? Well, here's a great plan to do so. It isn't that expensive to install too! Anyone with an average budget can make this a success. Level, miter saw, posthole digger, putty knife, router, safety glasses, spade, and a few other tools needed. familyhandyman
23. Outdoor Patio Sectional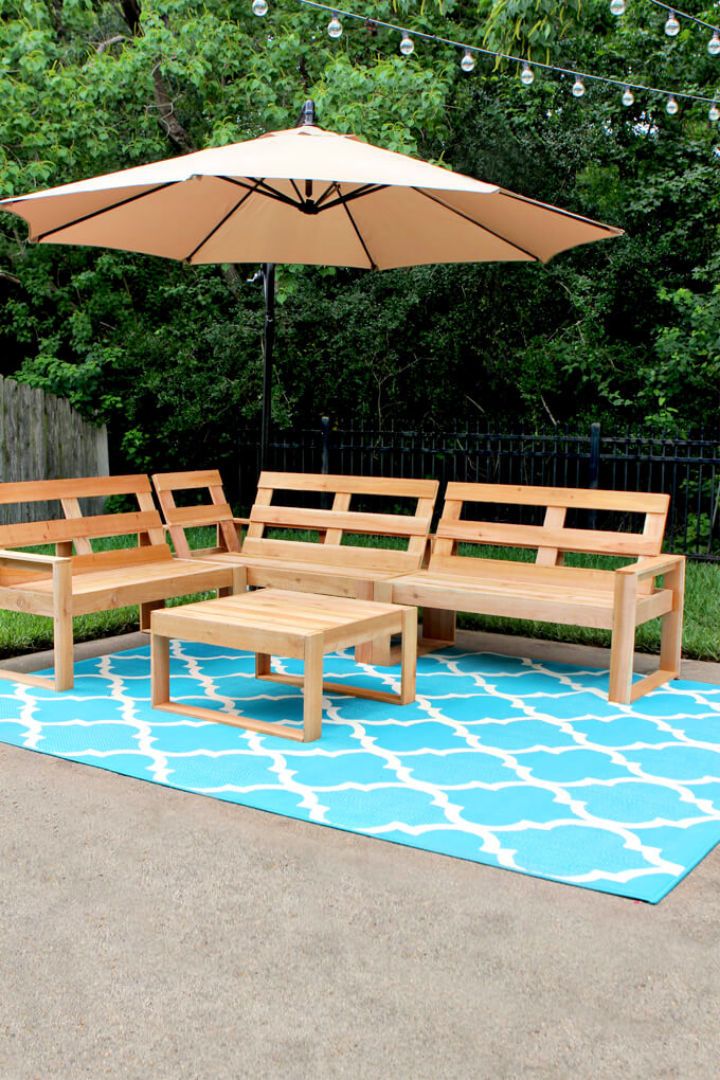 Such an adorable idea! Once you're done with this plan and start hanging out in this place, it will feel like you're on vacation! The benches, lights, and a lot more details! It is recommended to use a bright colored rug to really blend in with the neutral benches and table. grayhousestudio
24. Homemade Patio Chair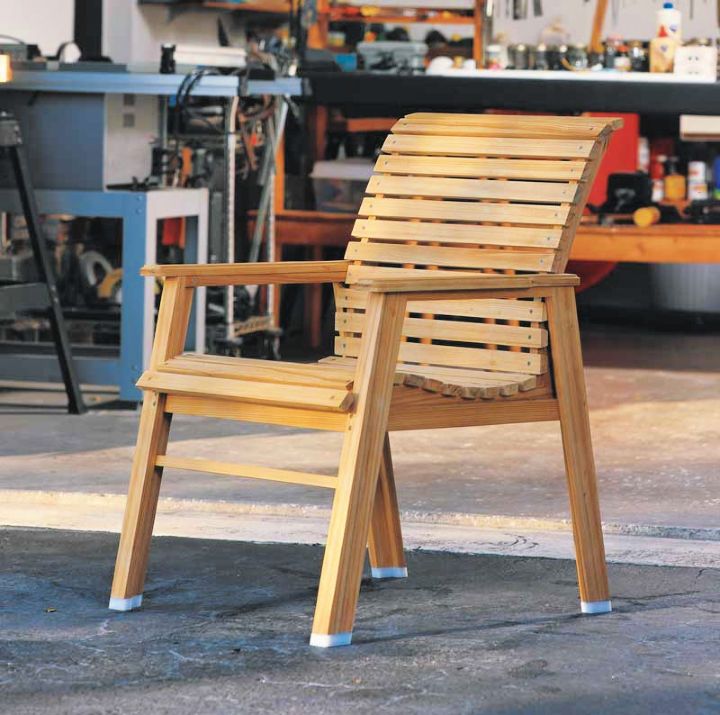 In comparison to the other outdoor patio ideas, this one is very functional, and many people can re-create this. That is because who doesn't need a chair? This is a very good quality chair that you can re-create and place in your patio. It can be kept in any other area too. popularwood
25. Outdoor Chaise Lounge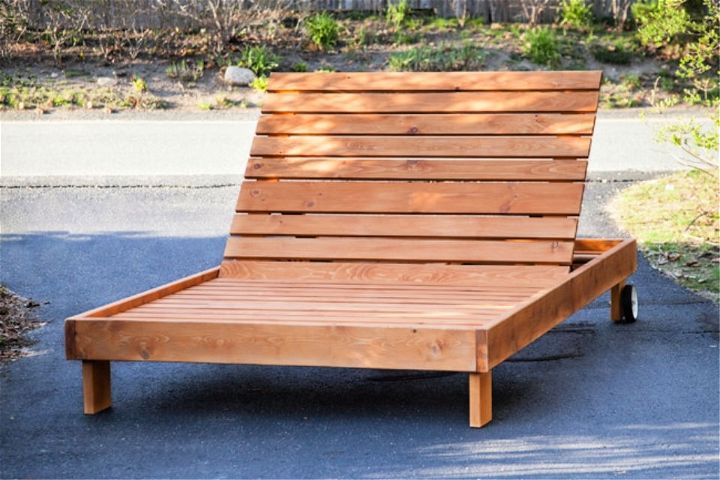 Are you already dreaming of lying in this amazing chair and soaking up the sun with a drink in your hands? Well, then get to working right away! This is a fantastic project, and you don't need much woodworking experience to re-create this! blackanddecker
26. DIY Rope Lights Walkway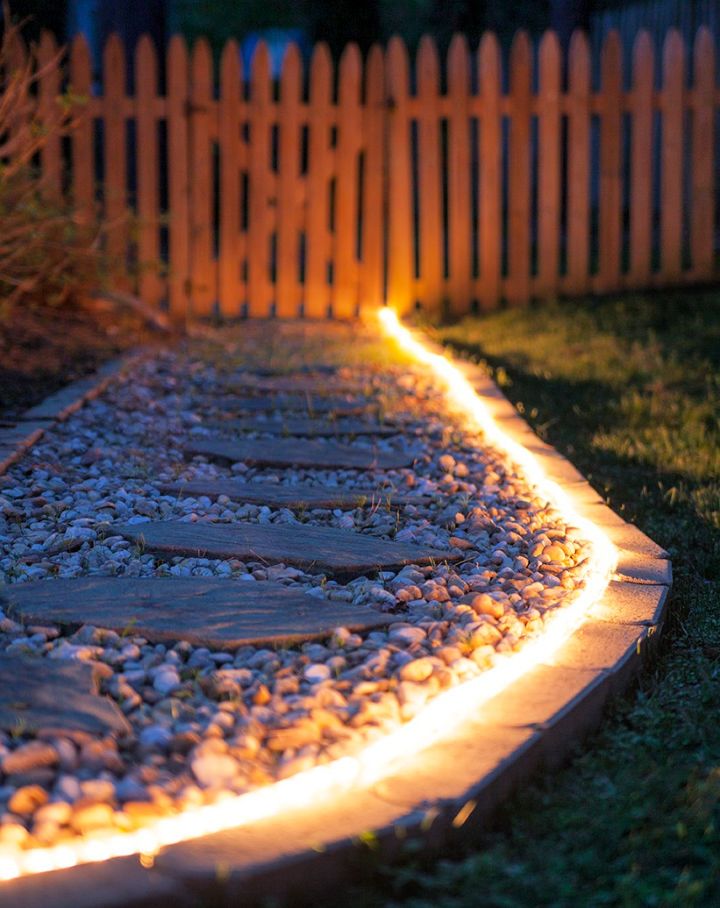 If you're obsessed with fairy lights, this is definitely a DIY that you should try out! These rope lights walkaways are just absolutely stunning. You can really take the flooring of your patio to the next level by following this amazing plan! christmaslightsetc
27. Unique Privacy Fence Wall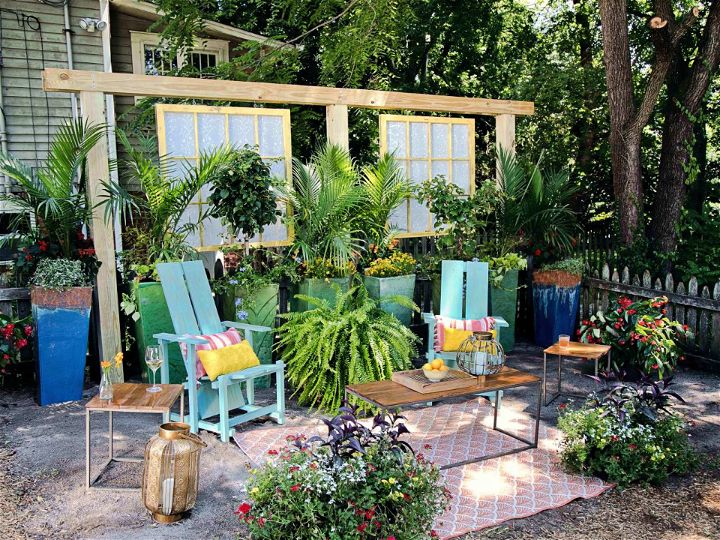 Privacy is very important as you don't want your neighbors to pry on you when you're spending some quality time with your family in your backyard. Do yourself a favor and keep this privacy fence in your backyard! Circular saw, chisel, hammer, orbital sander, and a few other tools required. hgtv
28. Hanging Table for Patio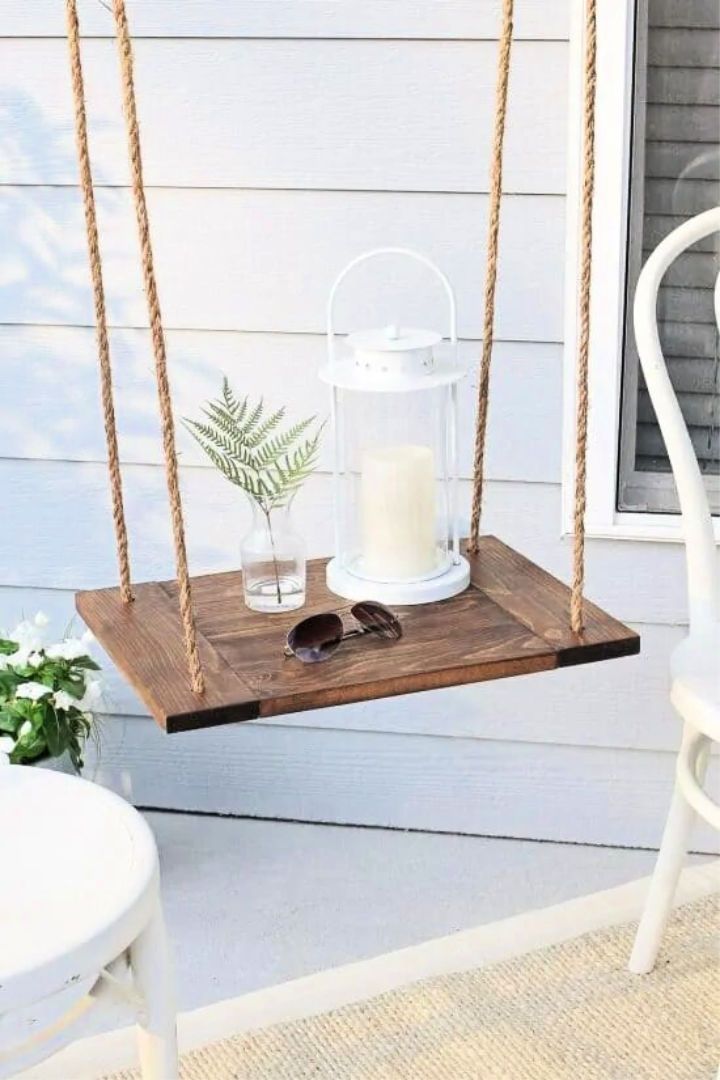 Did you get some new decor for your patio but don't know where to keep it? Don't you worry! Make this amazing hanging patio to add something beautiful to your patio! Keep beautiful decorations on it, or you could also just use it to keep some stuff like drinks, food, etc. angelamariemade
29. DIY Solar Fountain in 1 Hour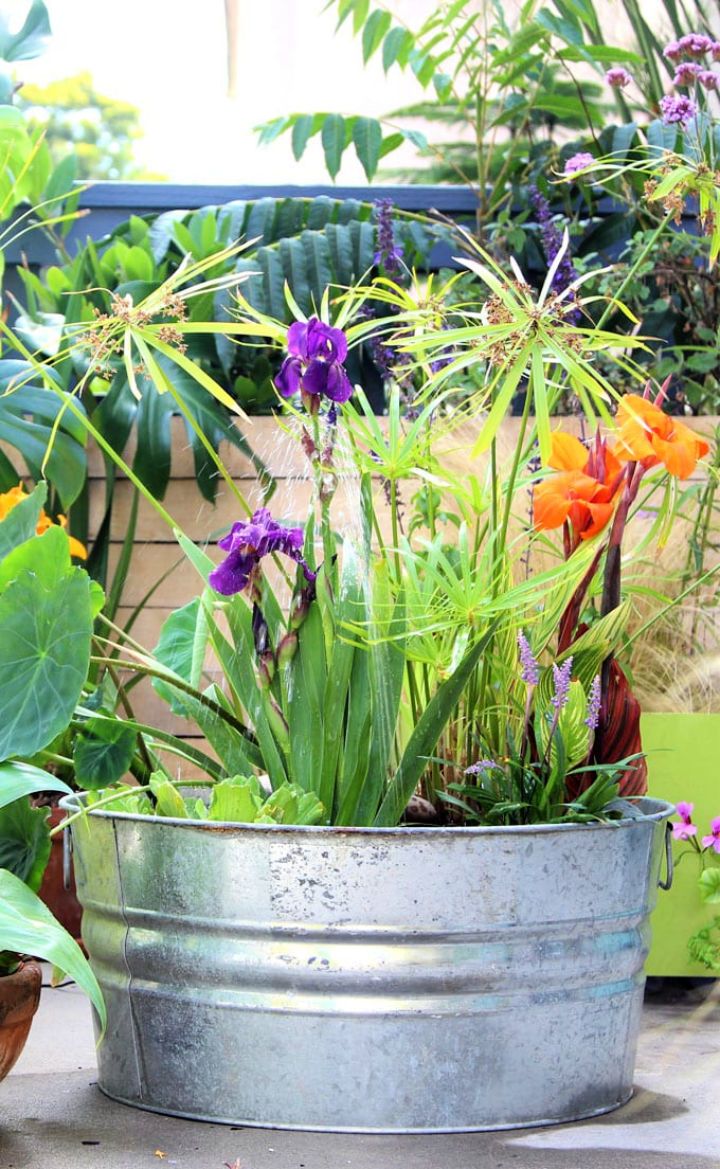 You don't have to spend a long time trying to make something adorable for your backyard. If you don't have a few days a few, don't worry! This fantastic plan only requires an hour. You can make a beautiful waterfall in very little time. apieceofrainbow
30. Weather Proofed Table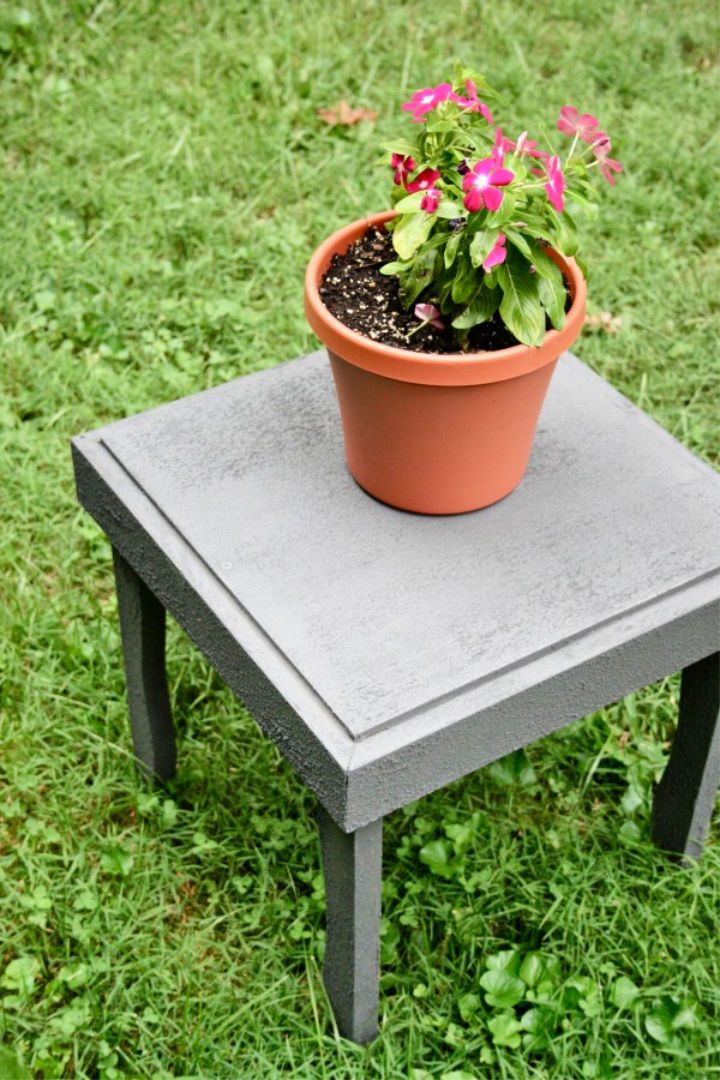 All the outdoor furniture tends to get old very fast. It's because they are not weatherproof! Keeping something in sunlight, fog, snow, and rain can really damage it over time. Here's a fantastic plan for a weatherproof table to look into, if you face that problem. dreamgreendiy
How To Build A Patio?
We've shared many outdoor patio ideas to build a patio, but there are a few key things that you need to keep in mind:
You need to make sure that your patio is level and even.
Your patio is large enough to accommodate all of your outdoor furniture.
Your patio has good drainage.
The patio is made of materials that will withstand the elements.
One of the best ways to build a patio is to use pavers. Pavers are the best way to create a level and even surface for your patio. They are also very easy to install and come in various colors and styles. Pavers are also very durable and can withstand any wear and tear.
Another great way to build a patio is to use concrete. Concrete is a resourceful material you can use to create various looks for your patio. Concrete is also easy to install and can be stained or painted to match your existing patio furniture.
If you are thinking of a more permanent solution, you may consider using stone or brick to build your patio. Stone and brick are very durable materials that will last for many years. Stone and brick can also be stained or painted to match your existing patio furniture.
How To Build A Paver Patio?
Building a paver patio is a great way to add value and beauty to your home. Pavers are very ppular and available in various colors, shapes, and sizes, so you can create a unique patio that fits your style. Follow these steps to build a paver patio:
1. Plan Your Patio Layout
The first step in building a paver patio is to plan the layout. You'll need to decide on your patio's size, shape, and location. Once you have a plan, you can begin measuring and marking out the space.
2. Prepare the Patio Space
Once you have your layout planned, you'll need to prepare the patio space. This involves clearing the area of any debris, leveling the ground, and adding a layer of gravel.
3. Install the Pavers
After the patio space is prepared, you can begin installing the pavers. Start by laying the first row of pavers along the edge of the space. Then, continue adding rows of pavers until the entire area is covered.
4. Fill in the Joints
Once all of the pavers are in place, you'll need to fill the joints between them. This can be done with sand, mortar, or grout.
5. Seal the Pavers
To protect your new patio, you'll want to seal the pavers. This will help to prevent staining and fading.
Building a paver patio is a great way to improve the look of your home. You can create a beautiful and long-lasting patio that will provide years of enjoyment by following these steps. Remember to check out our other outdoor patio ideas.
How Much Does A 20×20 Paver Patio Cost?
The cost of a 20×20 paver patio will depend on the type of pavers you choose, the tools and materials needed, and the time required to complete the project. Pavers come in various colors, sizes, and styles, so the total cost of your project will vary depending on your specific needs. However, on average a 20×20 paver patio will cost between $800 and $1,200.
How To Hang String Lights On a Covered Patio?
Learn how to hang patio lights. It's a simple process, and we'll show you how to do it the right way. Follow these 6 steps, and you'll have your patio lit up like a giddy child's birthday party in no time.
1. Plan where you want to string the lights on your patio. Decide how high or low you want the lights and if you want them in a straight line or a pattern. You can also use string cheap lights to highlight specific patio areas, such as an outdoor fireplace or built-in grill.
2. Choose the type of string lights you want to use. There are many different types and sizes of string lights available. Consider the overall patio look you are trying to achieve when making your selection.
3. Purchase the necessary supplies. In addition to the string lights, you will need support wires or hooks and fasteners to attach the lights to your patio ceiling or eaves.
4. Install the support structure for your string lights. This may involve attaching hooks to your patio ceiling or running support wires along the underside of your patio roof.
5. String the lights. Once the support structure is in place, you can begin stringing the lights. Start at one end and work your way to the other, evenly spacing the lights as you go.
6. Plug in the lights and enjoy! After you have finished stringing the lights, simply plug them in and enjoy your beautifully lit patio space.
How To Keep Mosquitoes Away From Patio??
You can our tips to keep mosquitoes away from your patio. First, make sure there is no standing water near your patio. Mosquitoes lay their eggs in water, so now eliminating any sources of standing water will help reduce the mosquito population.
You can also use mosquito repellent products to keep mosquitoes away from your patio. There are various products available, so be sure to choose one that is right for you.
Finally, consider planting mosquito-repelling plants around your patio. Some plants that repel mosquitoes include citronella, marigolds, and lavender. You can enjoy your patio without worrying about being bitten by mosquitoes by taking these steps.
How To Get Rid Of Flies Outside Patio?
If you're looking for ways to get rid of flies outside your patio, there are a few things you can do. Try hanging flypaper or electric bug zappers near the area. You can also try using natural repellents like citronella candles or essential oils. If you have a garbage can nearby, keep it covered so that flies don't have access to food. Finally, keep your patio clean and free of debris so that flies don't have anywhere to land.
How To Clean Concrete Patio?
The first step is to remove any debris or foreign objects from the patio's surface. Next, you will need to sweep the entire patio with a broom to loosen any dirt or dust on the surface. Now it is time to power wash the patio using a pressure washer set to a low setting. Be sure to move the nozzle back and forth as you work your way across the patio to remove all of the dirt and grime.
After power washing the patio, you will need to rinse it off with clean water from a hose. Once the patio is completely dry, you can apply a sealant if desired. This will help protect your patio from weather damage and stains. Enjoy your newly cleaned patio!
How To Pour A Concrete Patio?
Pouring a concrete patio is a big job, but it's one that most homeowners can handle. Here are the basics of how to pour a concrete patio:
1. Plan your patio. Decide on the size, shape and location of your patio. You'll also need to consider things like drainage and whether or not you want a built-in fire pit.
2. Excavate the area for your patio. This includes removing any grass, topsoil or other debris. You'll need to dig down to a depth of about 6 inches.
3. Install forms around the perimeter of your excavation. These will act as the sides of your patio when you pour the concrete.
4. Reinforce the forms with steel mesh or rebar. This will help to prevent cracking.
5. Pour the concrete into the forms and level it off. You'll need to use a trowel to smooth out the surface.
6. Allow the concrete to cure for at least 24 hours before removing the forms.
7. Finish the patio by adding a layer of sand over the concrete and then sweeping it in. This will help to give your patio a smooth, finished surface.
Pouring a concrete patio is a big job, but it's one that most homeowners can handle. With careful planning and execution, you can have a beautiful patio that will last for years to come.
How Much Does A 20×20 Concrete Patio Cost?
The cost of a 20×20 concrete patio depends on the thickness of the concrete, the type of finish, and any special treatments or decorations. The average cost for a basic 20×20 concrete patio is around $6 per square foot. For a more elaborate patio with decorative features, the cost can be as high as $15 per square foot.
Where To Buy Patio Furniture Near Me?
If you're looking for patio furniture near you, there are a few places you can check. Department stores, home improvement stores, and online retailers sell patio furniture. You can also find used patio furniture at garage sales or thrift stores. When shopping for patio furniture, measure your space and consider the type of furniture you want. lounge chairs, dining sets, and umbrellas are all popular types of patio furniture.
Department stores: Macy's, Kohl's, JC Penney, Target, Walmart
Home improvement stores: Lowe's, Home Depot, Menard's
Online retailers: Amazon, Wayfair, Overstock
Garage sales: Check your local listings
Thrift stores: Goodwill, Salvation Army, Habitat for Humanity ReStore
When shopping for patio furniture, measure your space and consider the type of furniture you want. lounge chairs, dining sets, and umbrellas are all popular types of patio furniture.
For more ideas, check out our list of patio furniture stores near you.
Macy's
Kohl's
JC Penney
Target
Walmart
Lowe's
Home Depot
Menard's
Amazon
Wayfair
Overstock
Goodwill
Salvation Army
Habitat for Humanity ReStore
These are just a few places where you can find patio furniture near you. When shopping for patio furniture, measure your patio space and consider the type of furniture you want. lounge chairs, dining sets, and umbrellas are all popular types of patio furniture. For more ideas, check out our list of patio furniture stores near you.
Here are some tips for choosing the right patio furniture and accessories:
Consider your budget. Patio furniture can be quite expensive, so it's important to set a budget before you start shopping.
Think about the size of your patio. You'll need to choose furniture that's the right size for your space.
Consider the style of your home. You'll want to choose patio furniture and accessories that complement the style of your home. Think about how you'll use your patio. Will you be using it for entertaining, relaxing, or both?
Make sure the furniture is comfortable. You'll be spending a lot of time on your patio, so you want comfortable furniture to sit or lounge on.
Choose durable materials. Patio furniture and accessories should be made from durable materials that withstand the elements.
When it comes to patio ideas, there are many different ways to create a space that you love. It all starts with the finding right outdoor patio furniture and accessories. With a little bit of planning, you can create a stylish and functional patio.
How To Enclose A Patio?
There are a few things to consider when enclosing a patio. First, you'll need to decide what type of enclosure you want. There are three common types of enclosures: screened, glass, and solid. Screened enclosures are the most popular type of patio enclosure because they offer good ventilation and allow you to enjoy the outdoors without being bothered by bugs. Glass enclosures provide a more enclosed space but can be more expensive. Solid enclosures provide the most privacy but can make your patio feel indoors.
Once you've decided on the type of enclosure you want, you'll need to choose the material. The most common materials for patio enclosures are wood, aluminum, and vinyl. Wood is the most popular choice because it's relatively inexpensive and easy to work with. Aluminum is a good choice if you want a durable enclosure that won't rust. Vinyl is a good choice if you're looking for an easy-to-maintain enclosure that won't fade in the sun.
Finally, you'll need to choose a door type. The most common doors for patio enclosures are sliding doors and French doors. Sliding doors are more popular because they're easier to install and use. French doors provide a more traditional look but can be more expensive.
Installing a patio enclosure is a great way to add value to your home and enjoy the outdoors without being bothered by bugs or the weather. With so many choices available, you're sure to find the perfect patio enclosure for your home.
How Much Does It Cost To Screen In A Patio?
If you're considering screening on your patio, you might be wondering about the cost. The cost of screening in a patio can vary depending on a few factors, such as size of your patio, and the type of screen material you choose. But on average, you can expect to spend between $1,000 and $2,000 to screen in a standard-sized patio.
If you're looking for some patio inspiration for your screened-in patio, check out this list of outdoor patio ideas.
Conclusion:

Are you ready to try out all of these amazing outdoor patio ideas? It is recommended that you take a look at your backyard and really map out what you need and what you don't. You may have some of these already and may need some of these to really elevate the aesthetics of outdoor patio ideas. After that's fine, choose a color theme and decide if you're going to customize the plan. Some of the customizations can be things like colors, wood type, etc. These things are important to plan before getting started, so you don't mess up!