Organize, store and decorate your things in style with a wooden crate. Find 30 DIY wooden crate decorating ideas to transform wooden crates into a rustic, chic, or modern storage solution, furniture and other home decorations. They are so much fun, and the results are definitely worth it! Wooden crates are everywhere and very easy to find. You may even have some used ones lying around in your house right now. It's a matter of polishing them and making them look presentable. Who knew that you could make beautiful things like these for very little money? Any beginner can follow these wooden crate ideas as they are very easy and you don't really have to do any special wood cutting.
Some of these wooden crate decorating ideas will make perfect gifts, as well. If one of your friends is getting into college, make them a bookshelf! This article will cover a range of wooden crate decorating ideas, from bookshelves to show racks. Or planters to toy boxes, also kitchen console table to rolling carts, and from locker cubbies to side tables. There's a lot to choose from! This much variety will help you make an effective decision which will make you happy with the final product! Go through all of these wooden crate decorating ideas and find one that will fit your surroundings and needs perfectly!
1. Wooden Crate Shoe Organization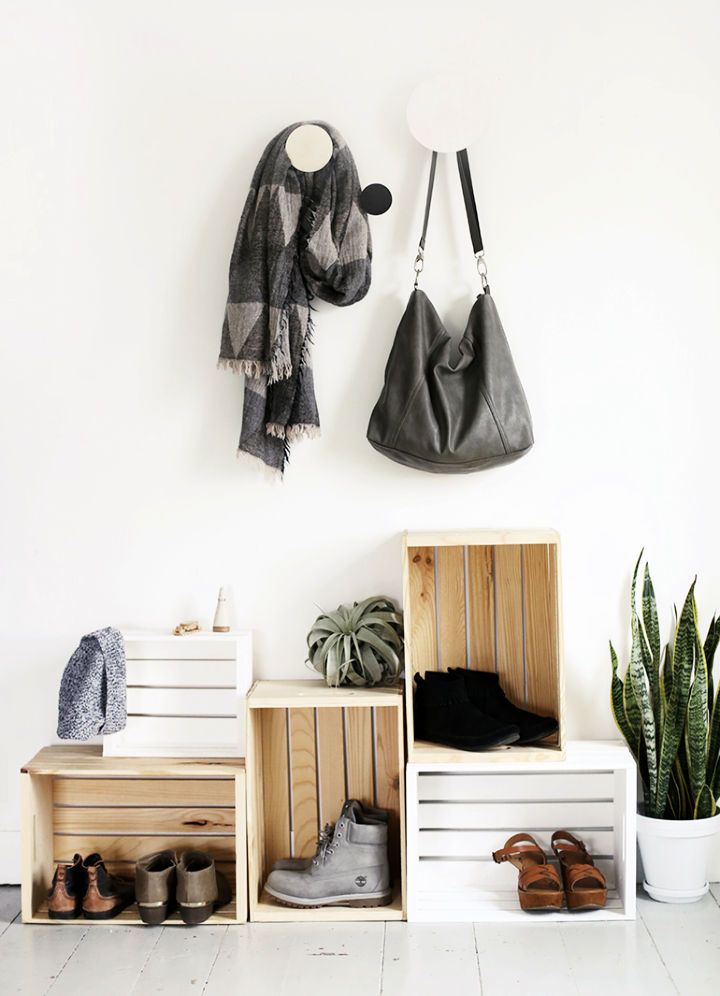 This is a great way to utilize your space and store your shoes, scarves, and handbags when you get into the house. You won't have to worry about keeping the stuff into the closet right away. It will also just make your entryway look super cute and put together! themerrythought
2. DIY Lego Minifigure Display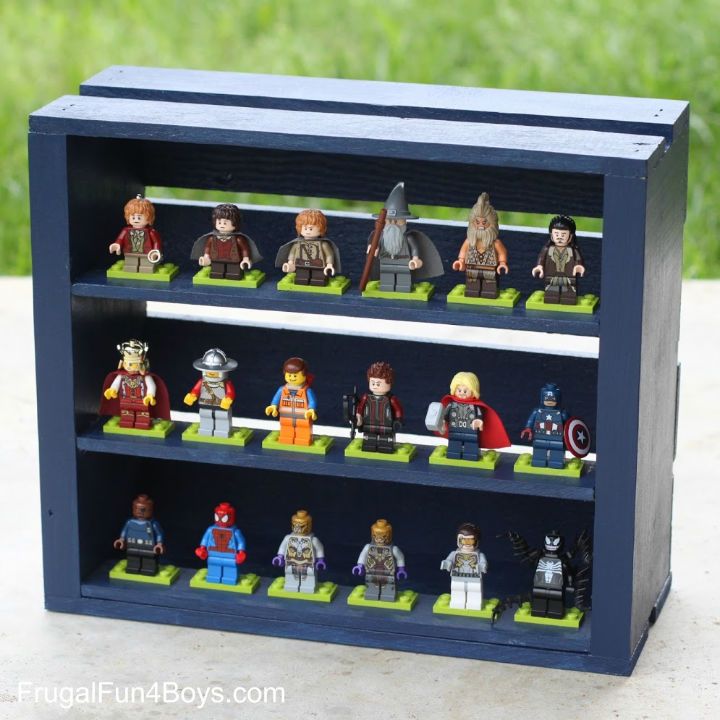 Lego has been all the rage lately. People like to buy it to use as a display, as well! However, the main question is, how can you really make it look super adorable in the display? Follow this amazing plan to learn to do so. The final product is super adorable in any corner of your house. frugalfun4
3. Outdoor Table From Wood Crate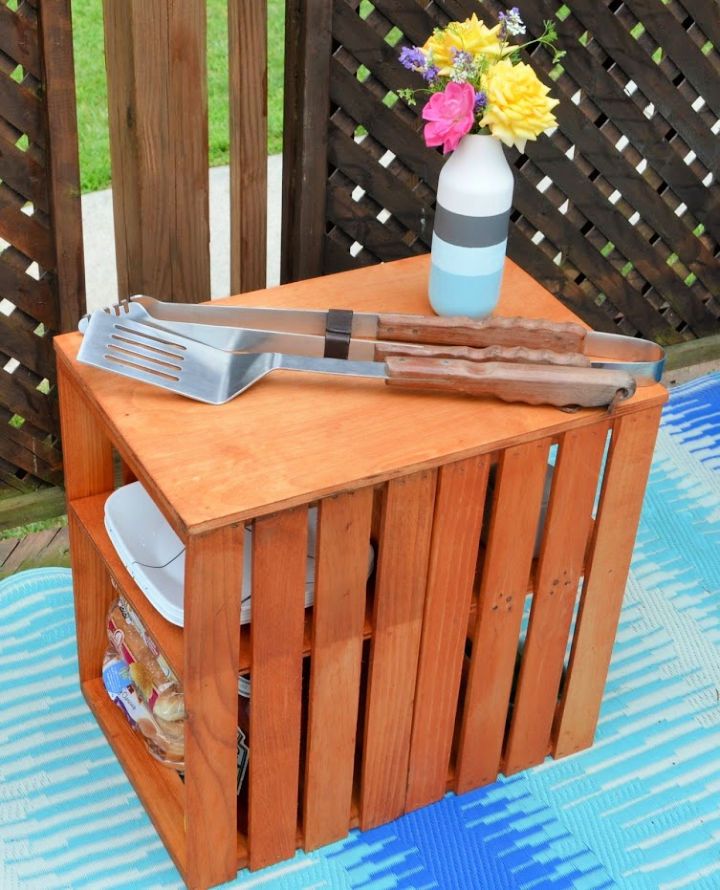 All you need is a single wood crate and a few other tools to make this amazing project a success. It is super handy and can be done in a few hours. Place this anywhere in your house. It will suit the outside surroundings a lot, so keeping it on your porch or patio is a good idea. amylattacreations
Outdoor privacy screen: Do you want to add some privacy to your outdoor living space? Here are DIY outdoor privacy screen ideas that you can use to transform your outdoor area into a relaxing and beautiful space.
4. Crate & Pipe Industrial Table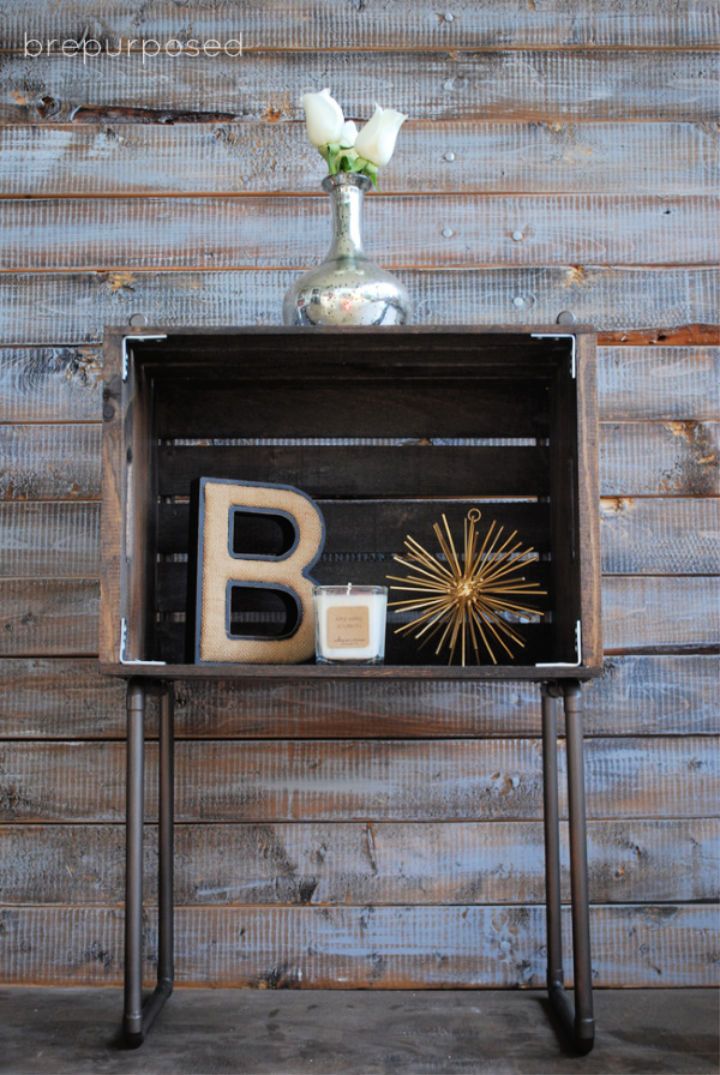 If you're trying to make your house looks more modern and out of the box, this fantastic industrial table plan will work out perfectly. It is super stunning and very different from what average people own- this makes it stand out! brepurposed
5. Crate Bookshelf with Rope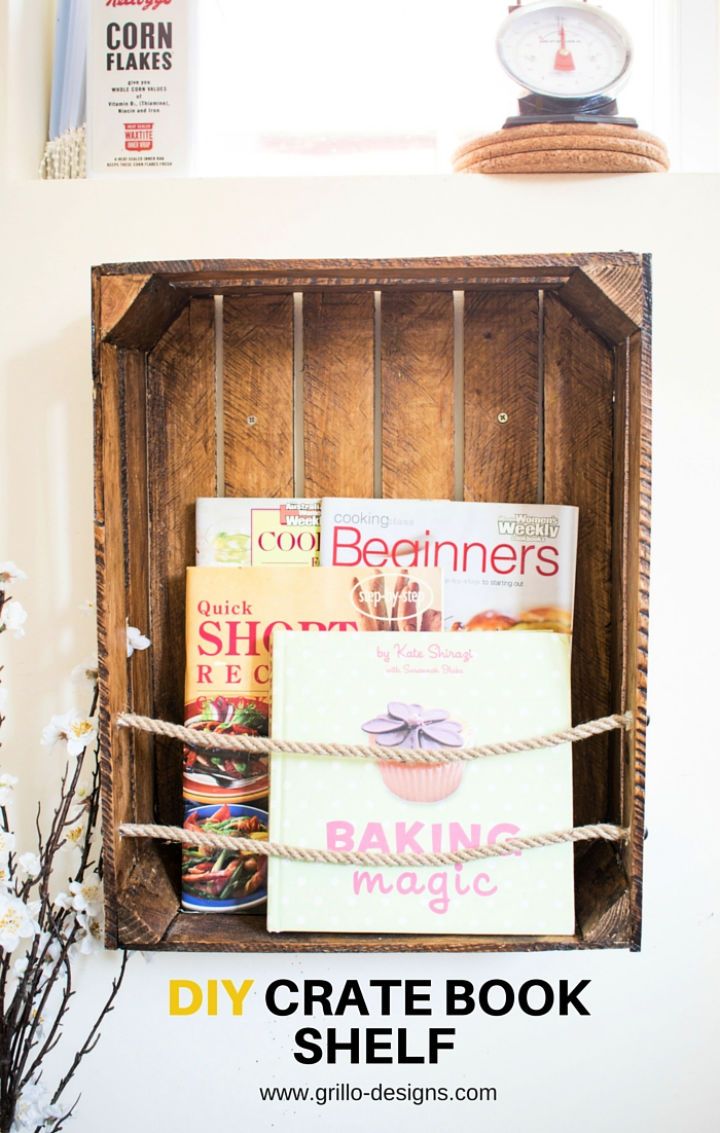 Did you just get some new books and want to put them up on display? Well, here's a great idea how! You can literally use a crate to make this fantastic project a success. Crates, rope, miter saw table saw, and a few other tools and materials will be required for you to nail this plan! grillo designs
6. Wooden Crate Shelf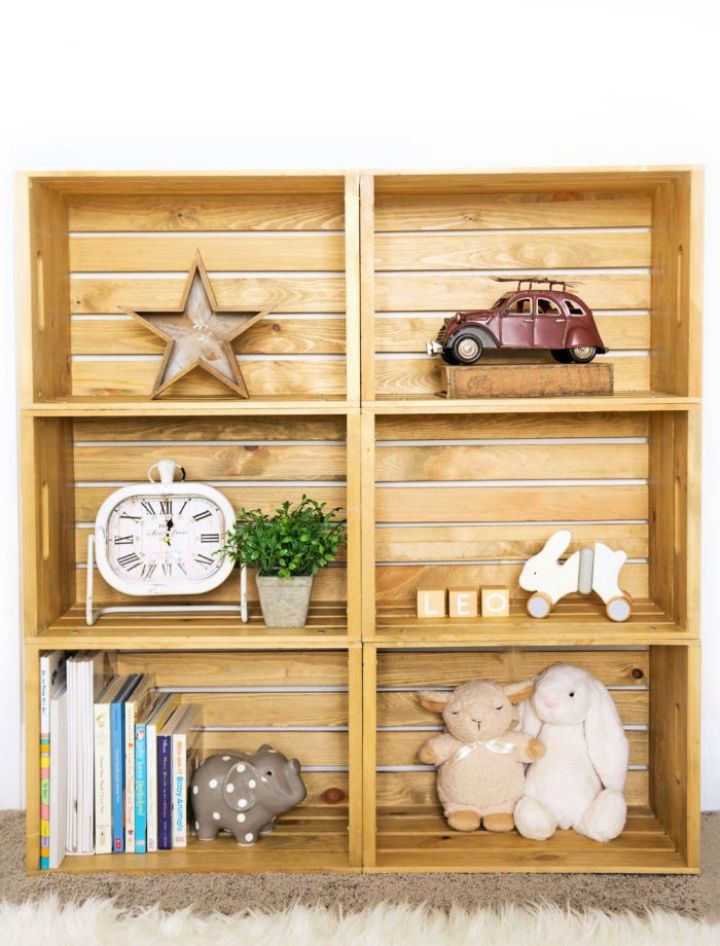 How beautiful is this bookshelf? It has six huge compartments which give you a ton of space to store things. However, to make it look presentable, don't put too much stuff in there-use some pretty books, medals, trophies, etc. This is quite functional in comparison to the other wooden crate decorating ideas. hauteandhealthy
7. Wooden Crate to Toy Storage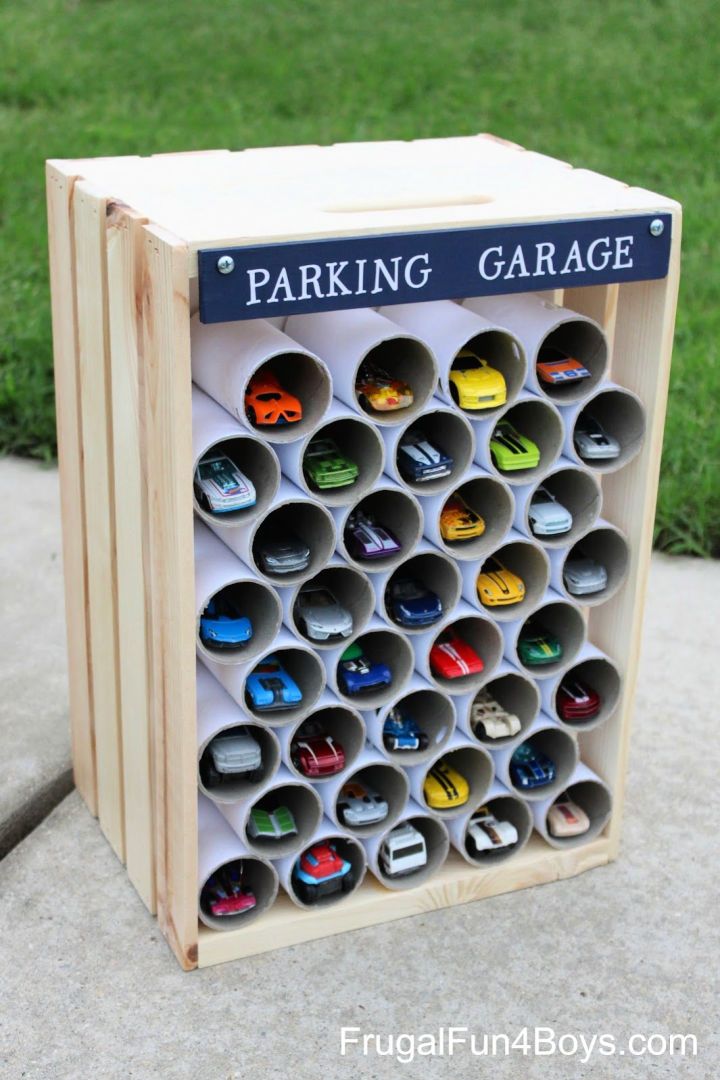 If your kids are young, then they may love buying little car toys and playing with them. However, when they are done playing, they tend to throw it on the floor and not bother to pick it up. This interesting storage way will make your kids clean up the mess! frugalfun4
8. Storage Ottoman Using Wooden Crates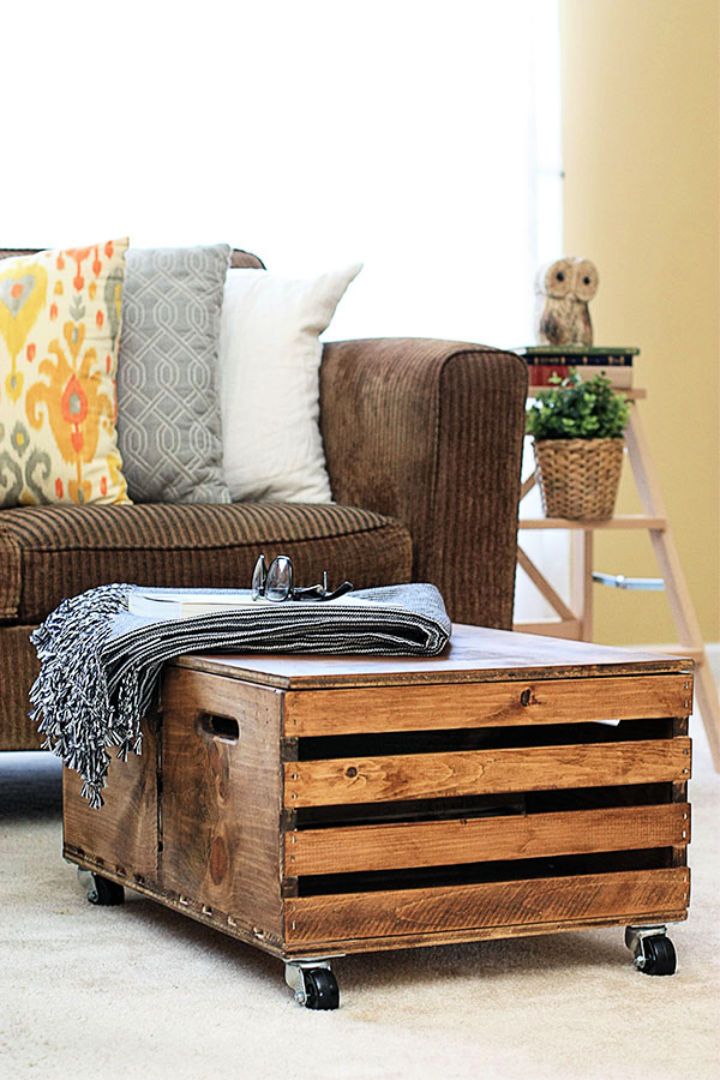 This beautiful piece of furniture is going to look amazing in your house, no matter where you decide to place it. Anyone can make this project a success as it is quite easy to re-create. The best part about this plan is that this storage space has wheels under it- moving it would be easier. homedepot
9. Rolling Storage Table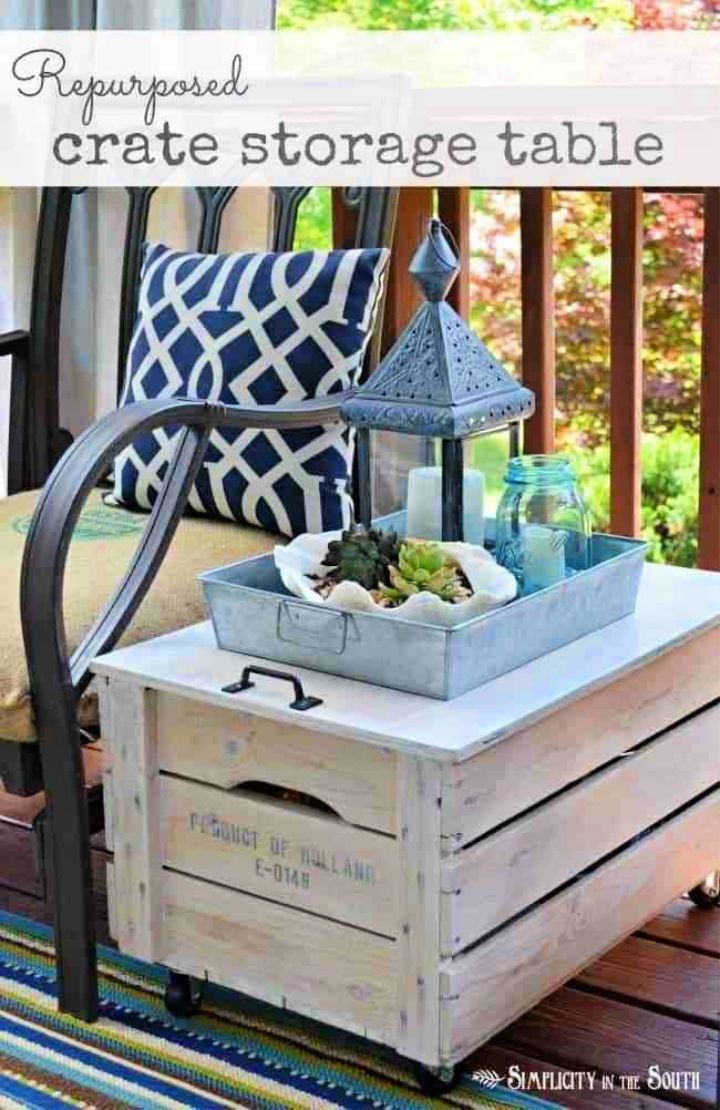 Isn't this just the best idea ever? The light wood crate used in this guide tends to give off an old-school vibe, which is perfect if you like vintage stuff. You will need a few tools and materials to nail this project, and it will turn out to look absolutely stunning. simplicityinthe
10. How to Build Crate Desk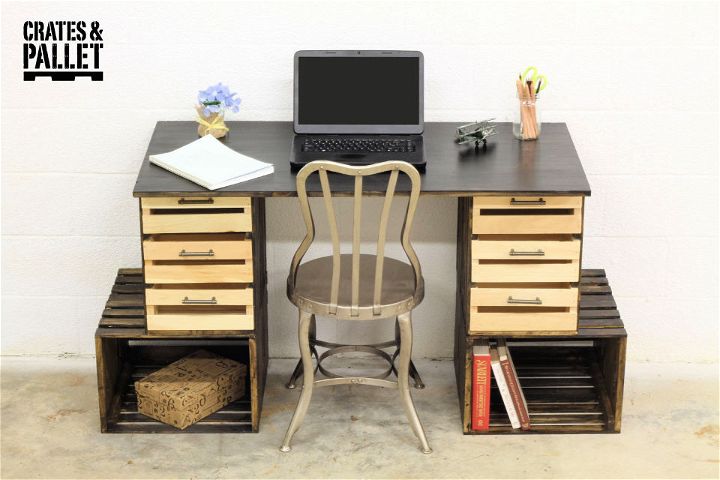 How cool is this idea! You can make a desk out of a few crates, which will just be a great addition to your bedroom, especially if your exams are coming up! Store anything from books to magazines, from toys to picture frames! Everything will look amazing. hometalk
11. DIY Wood Crate Bookshelf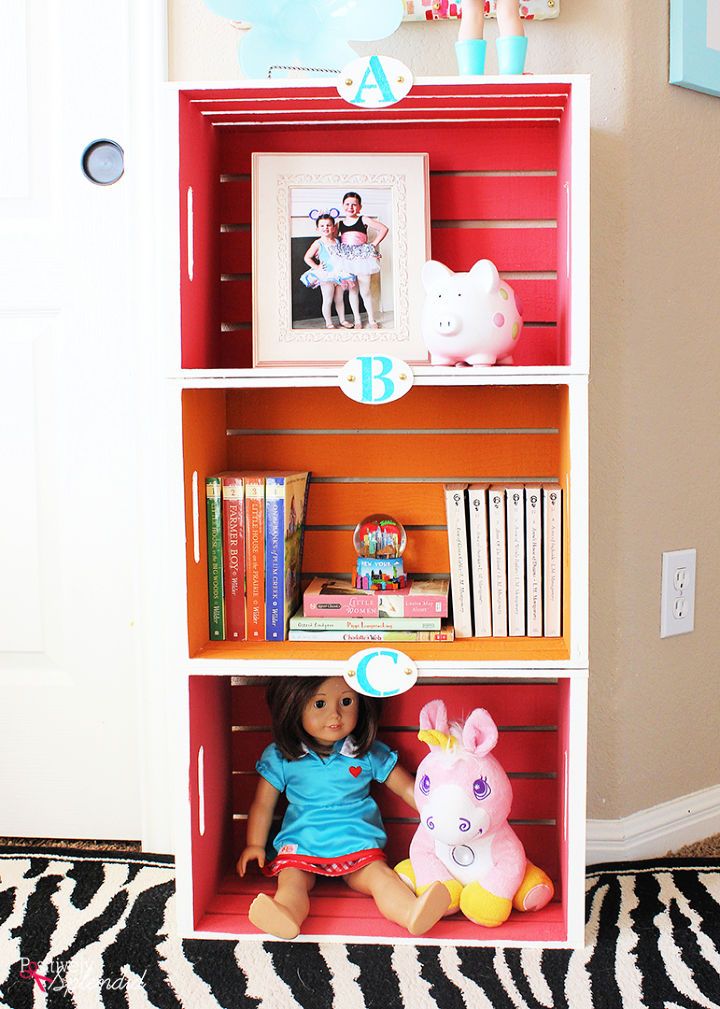 Trying to add some color and beauty to your room? Spring can make you do that as it is a season of colors! The insides of this amazing bookshelf are all red, which gives it a nice little touch. It will make your room look brighter and happier. You can choose to use your favorite color! positivelysplendid
12. Wooden Crate Pumpkins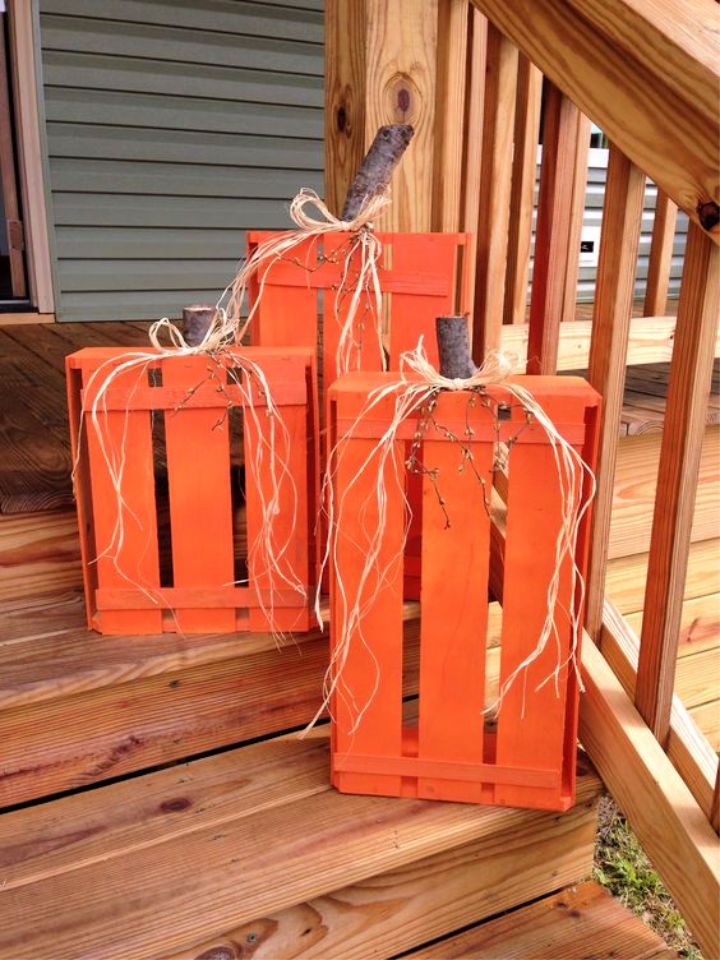 Don't want to spend a million years carving out a pumpkin this Halloween season? Well, then now is the time to make these fantastic crate pumpkins, which will help you add more festivity to your house and make your life a lot easier! craftymorning
13. Wooden Crate Shoe Rack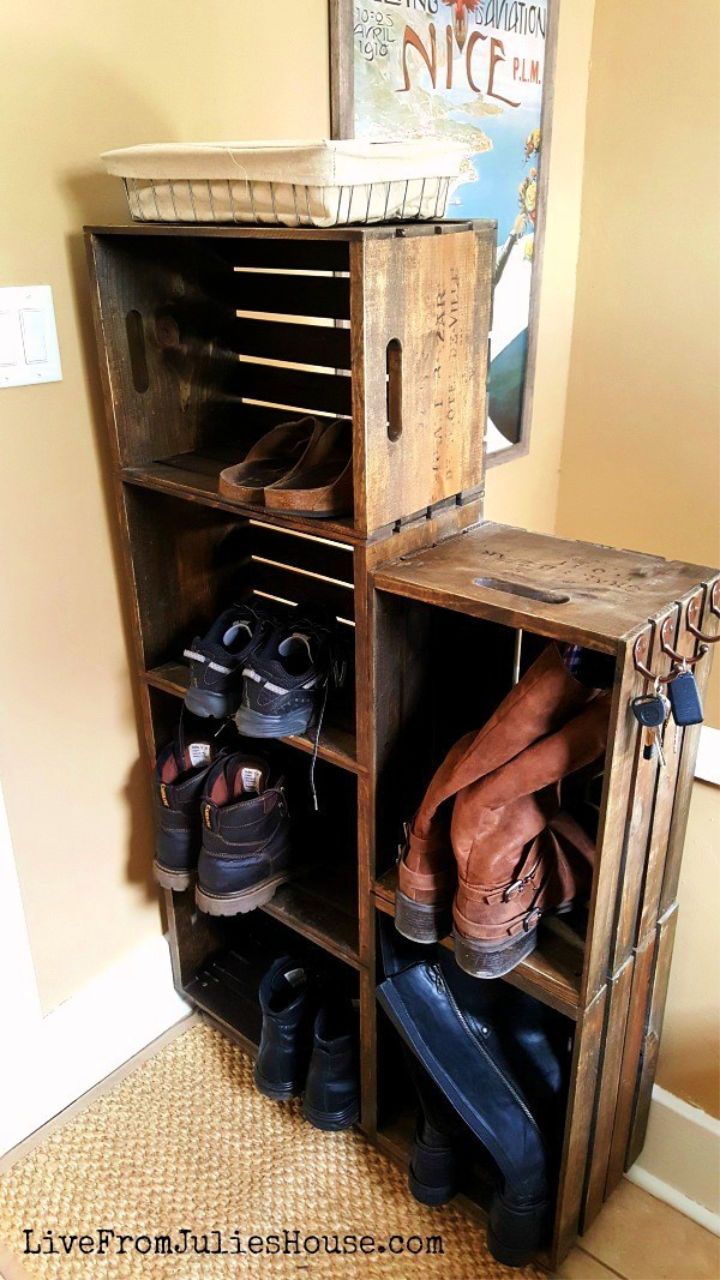 Who knew that piling and attaching a few crates could get you something as functional as this amazing shoe rack! It has so much space to almost store all of your shoes! Keep the coloring of all the boxes almost the same to make them look professional. livefromjulies
14. Wood Storage Crate Shelf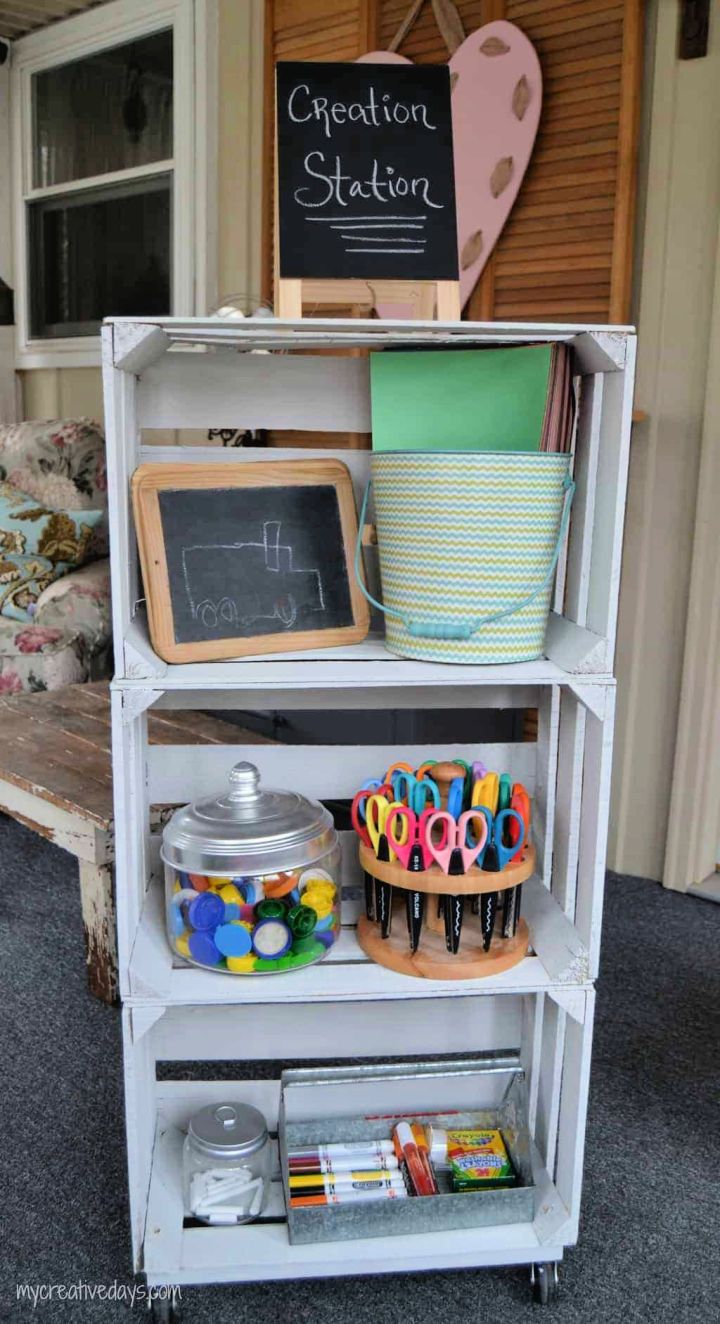 All the minimalists reading this guide have finally made it to their plan! This one's simple and plain with pure white color. Even if you're not into this aesthetic, you should try it for once as it will help add a clean and spacious feel to your house. mycreativedays
15. DIY Wooden Crate Planter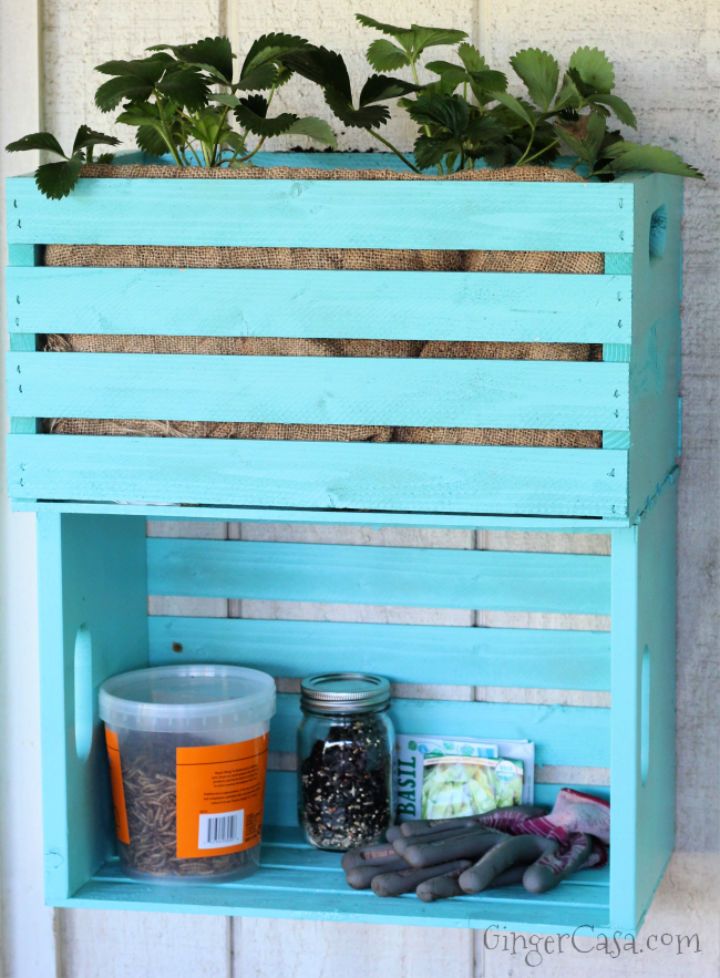 Turquoise is such a soft and beautiful color and definitely helps to make this crate look like a statement! If you want to change anything in this guide, just don't change the color! It's absolutely stunning and will match any house with plain aesthetics. gingercasa
16. Wooden Crate End Table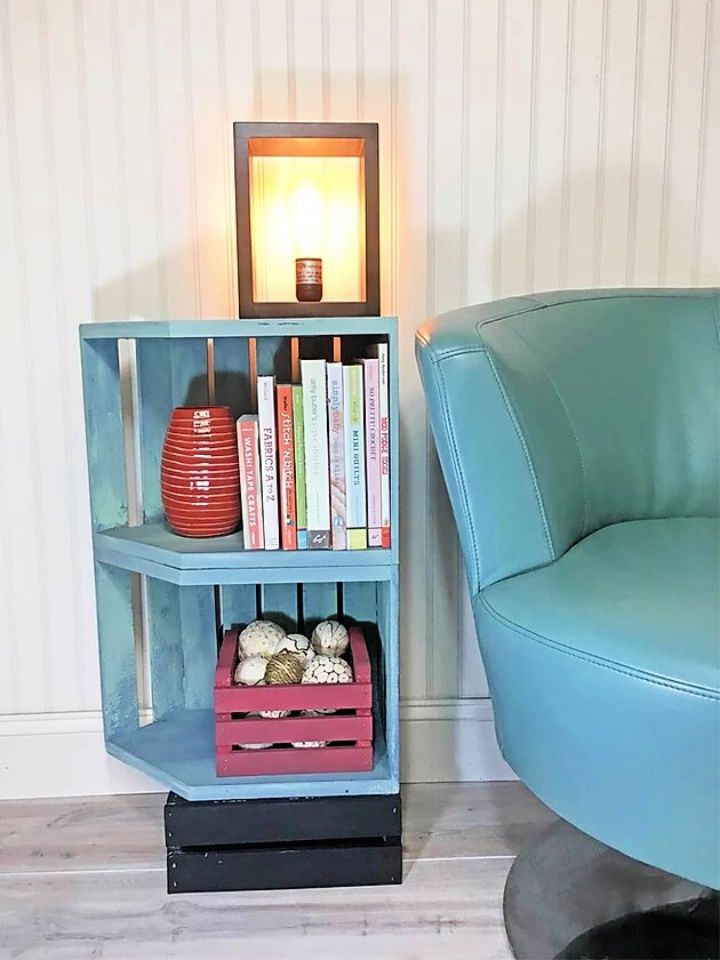 Isn't this just beautiful? A side table and a bookshelf- it can be double as both! You will love the final result, and the faded blue color of this table really makes it stand out and look absolutely stunning! Everyone should try out something new and give this project a try. rusticdecorguy
17. Wooden Crate Toy Box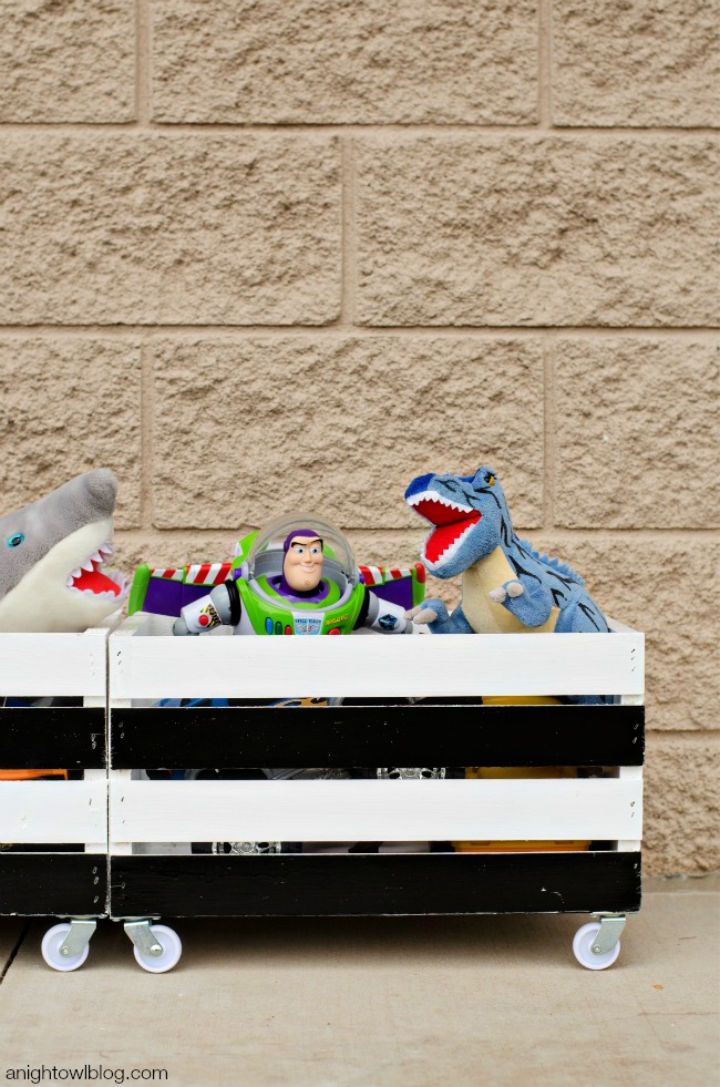 Wooden crate, paintbrush, power drill, wood, and a few other tools and materials will help you nail this project! It is hard to mess up as long as you have the right tools and follow the steps. Any beginner can follow this guide as they will find it quite easy! anightowl
18. Rustic TV Console Table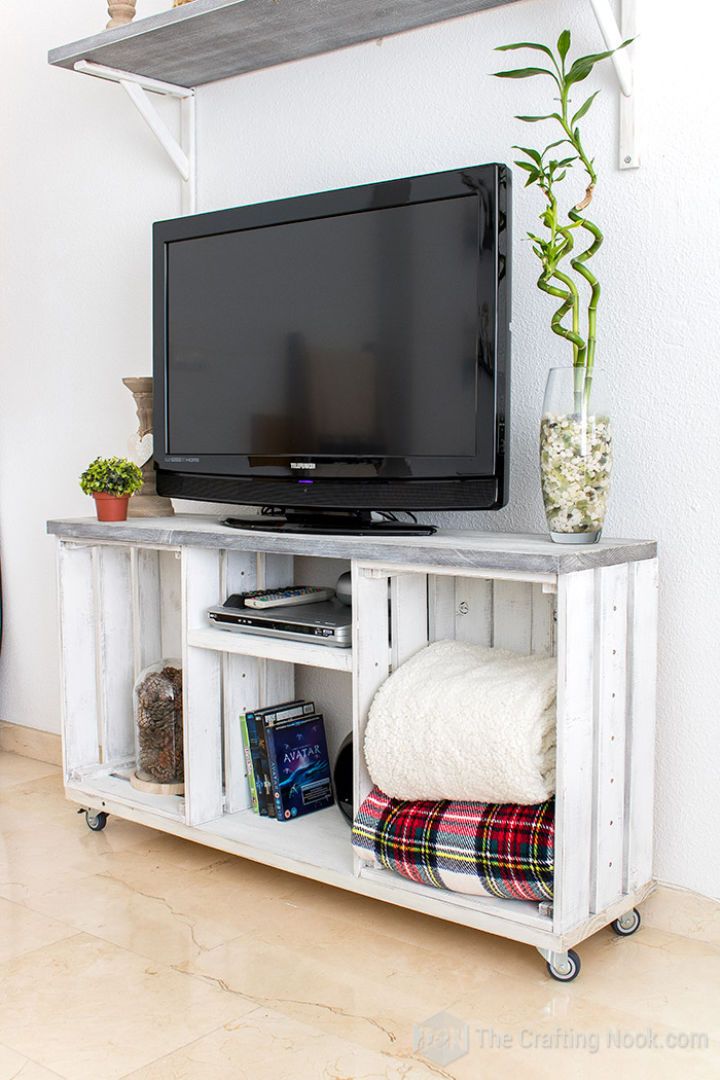 Rustic furniture has a different vibe to them, which really helps to elevate your decor. You can use this amazing console table in your living room to give off an old-school vibe. It is painted with neutral colors, so any minimalist will love this plan. thecraftingnook
19. Kitchen Crate Shelves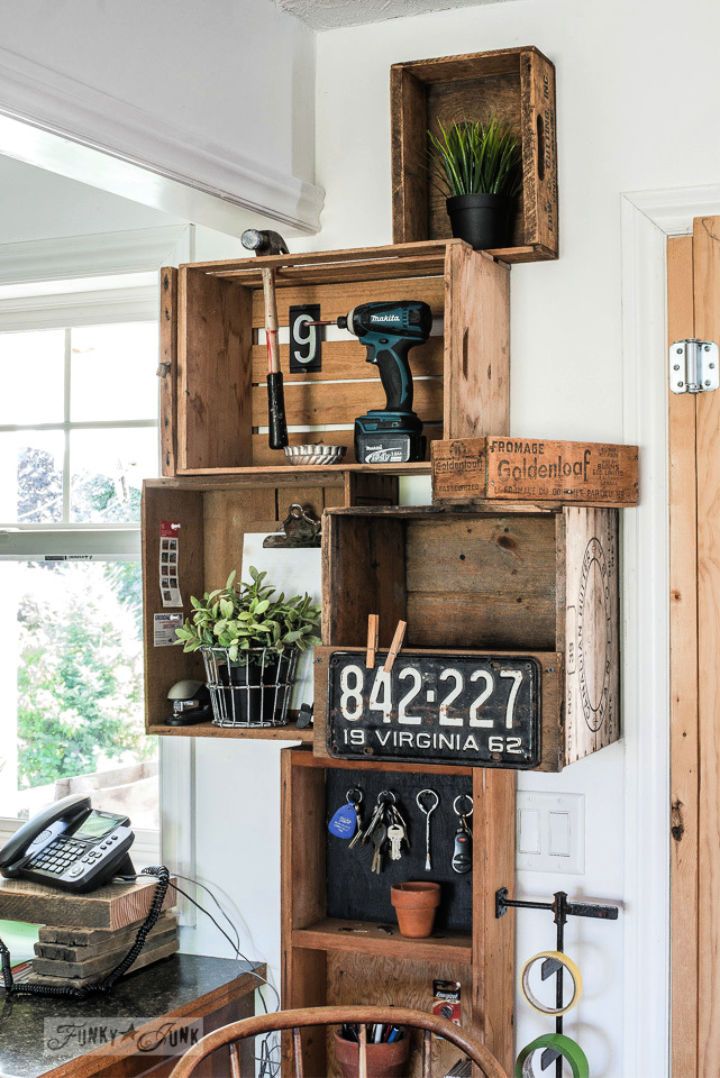 If you spend most of your time in the kitchen, then making it look pretty is compulsory! Here's how you can make an amazing DIY to spice it up. This is not for you if you don't like things jumbled up as it is a few crates joined together, which gives a unique result. funkyjunkin
20. Wood Crate Rolling Cart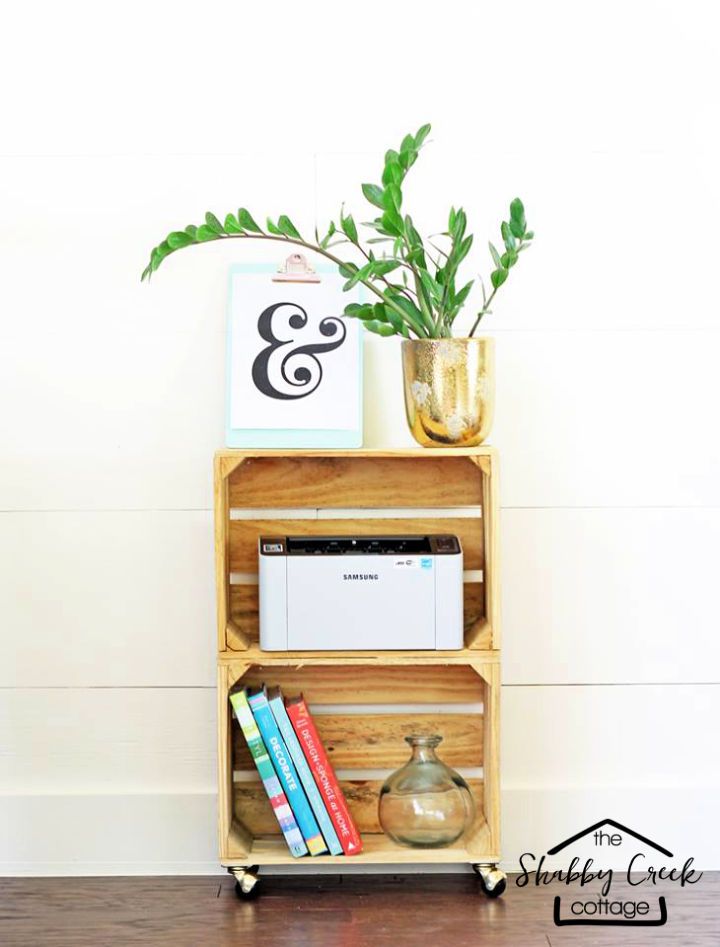 Trying to make your house look rich and luxurious? This plan may be cheap to make; however, it gives off a very rich look, which makes it look very aesthetically pleasing. Wood crates, ball castors, wood screws, drill bits, and a few other tools and materials will be needed to nail this project. theshabbycreek
21. Wooden Crate Locker Cubbies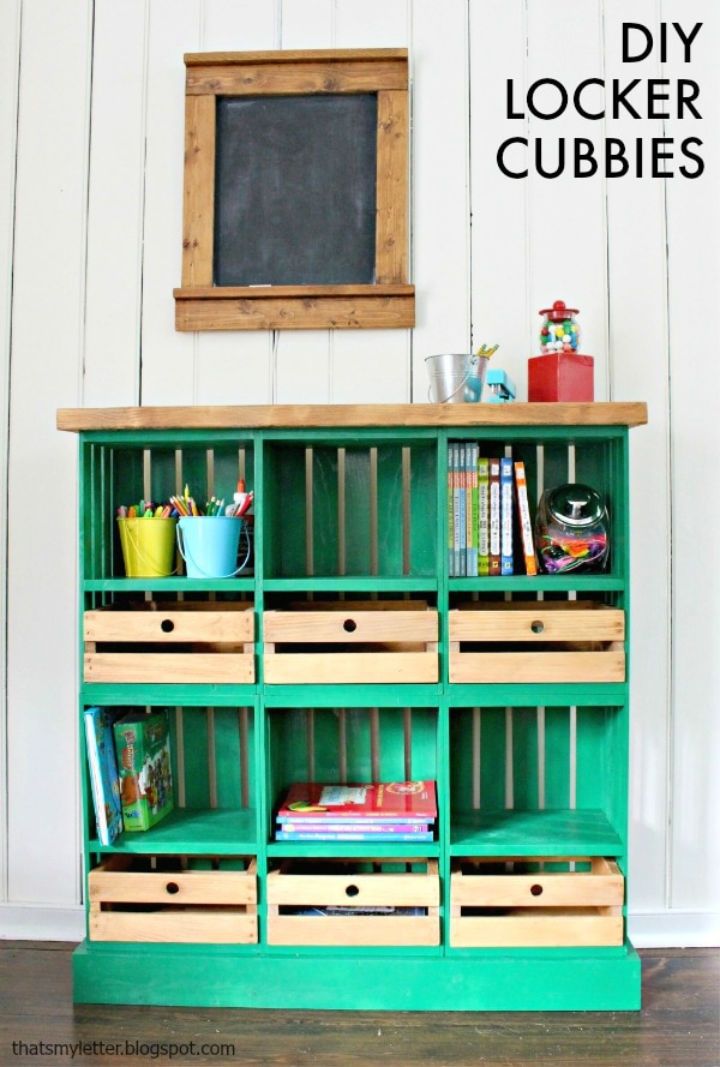 Green is a very unique color for using furniture as early anyone ever uses it. If you like to experiment with new and unique experiment, then you will love to have this in your house. It will also go really well with a nature house theme, i.e. many plants, etc. jaimecostiglio
22. Rolling Crates Bookshelf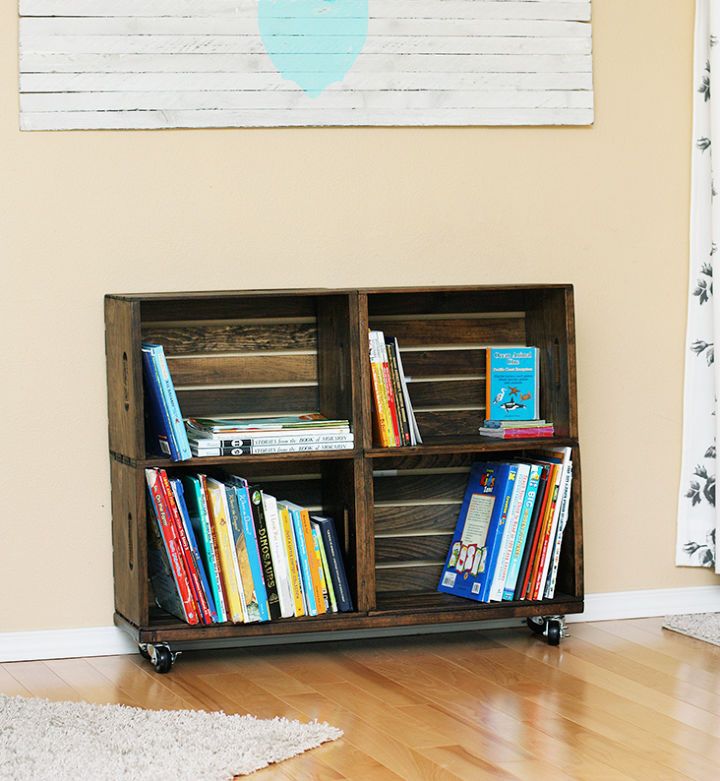 Too many books this semester? Don't know where to keep them all? This guide will save you! All you need are a few basic supplies which can be easily found at almost any stationary shop. Crates, wood, ball castors, drill bits, and a few other tools and materials will be required. sewmuchado
23. Wooden Crate Side Table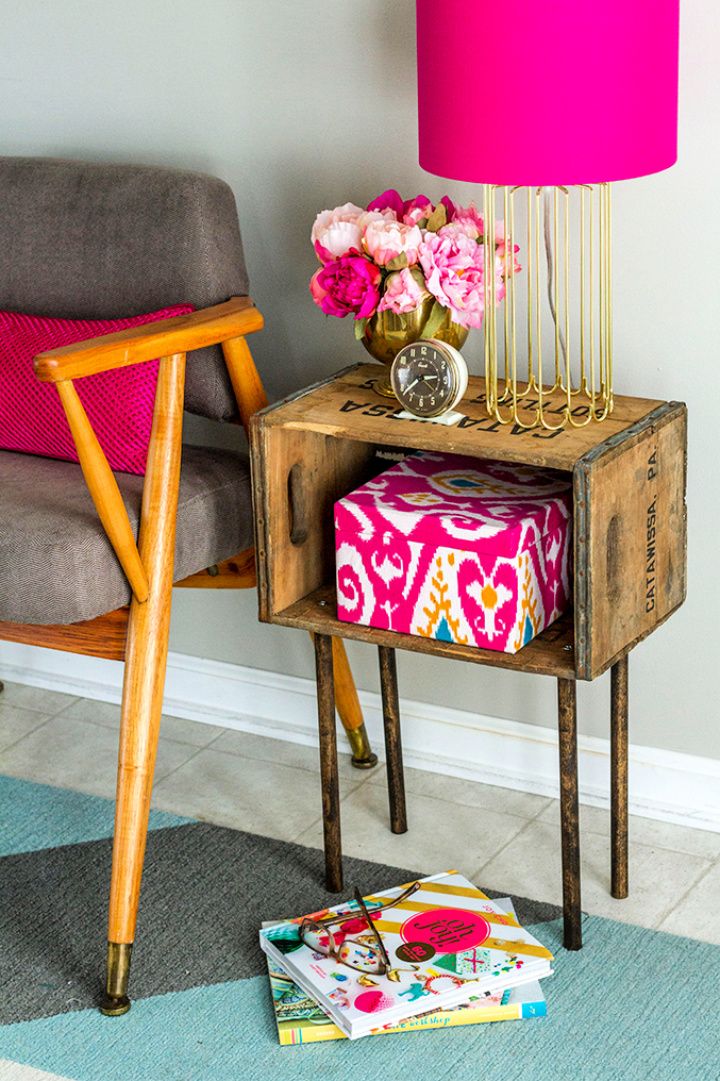 In comparison to the other wooden crate decorating ideas, this one is pretty cool and simple. You don't need to put it much effort to make this. It's very straightforward, and any beginner can nail this project in a few hours! dreamgreendiy
24. Industrial Style Crate Toy Box

Industrial furniture always ends up making a statement as it's white different when compared to the other wooden crate decorating ideas. It is quite modern and polished. Storage chest handles, corner straps, castors, and a few other tools and materials will be required. addicted2diy
25. Crate Red Pickup Truck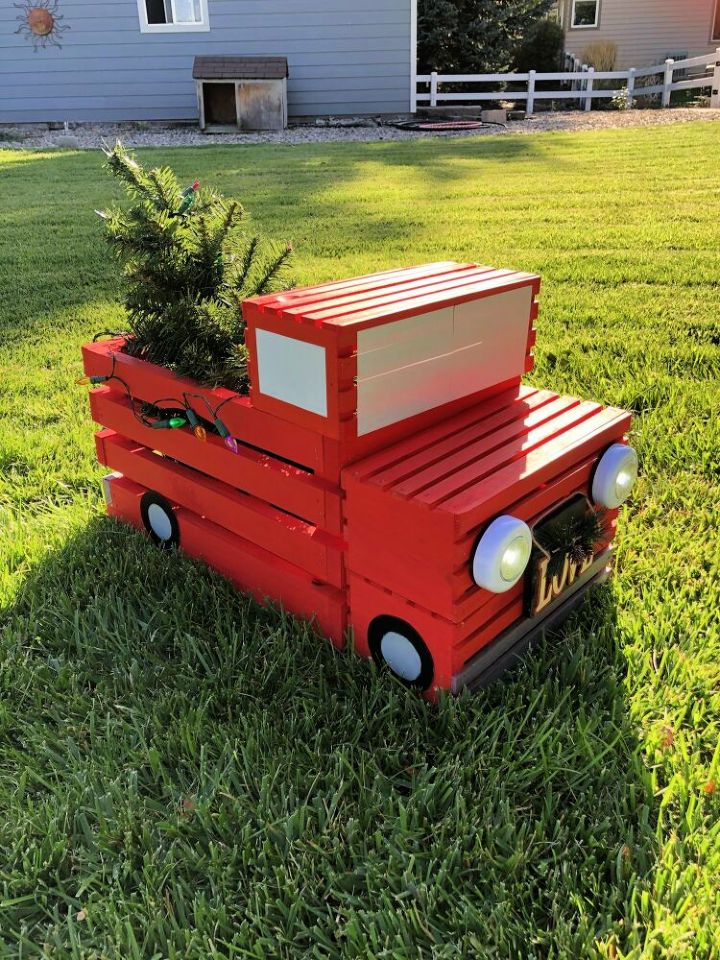 Red is an amazing color that can easily make anything look ten times better! This red pickup truck is a super stunning and enjoyable little project. LED stick-on lights, wooden circles, glue, paint, coasters, and a few other tools and materials will be needed for you to nail this project. hometalk
26. How to Build Wooden Storage Crate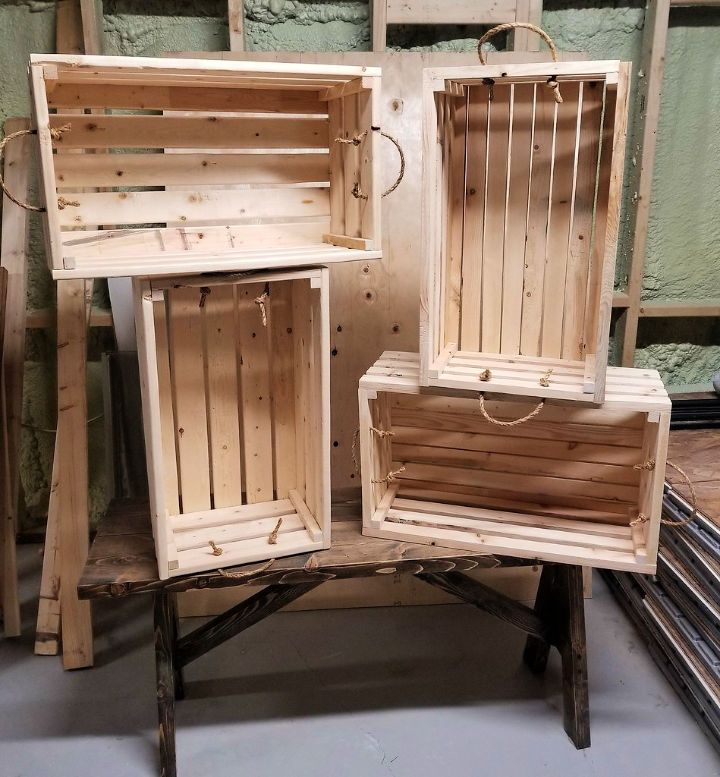 You can create a beautiful and trendy storage place using the simplest material, a crate. You can place the crates in your home or office and place some useful products in them. What you will need very simple and basic. Gather boards of size 1*2*24 inches (8+8), boards of size 1*2*12 inches, staples and sisal rope, and you are good to go. turtlesandtails
27. Crate Storage Ottoman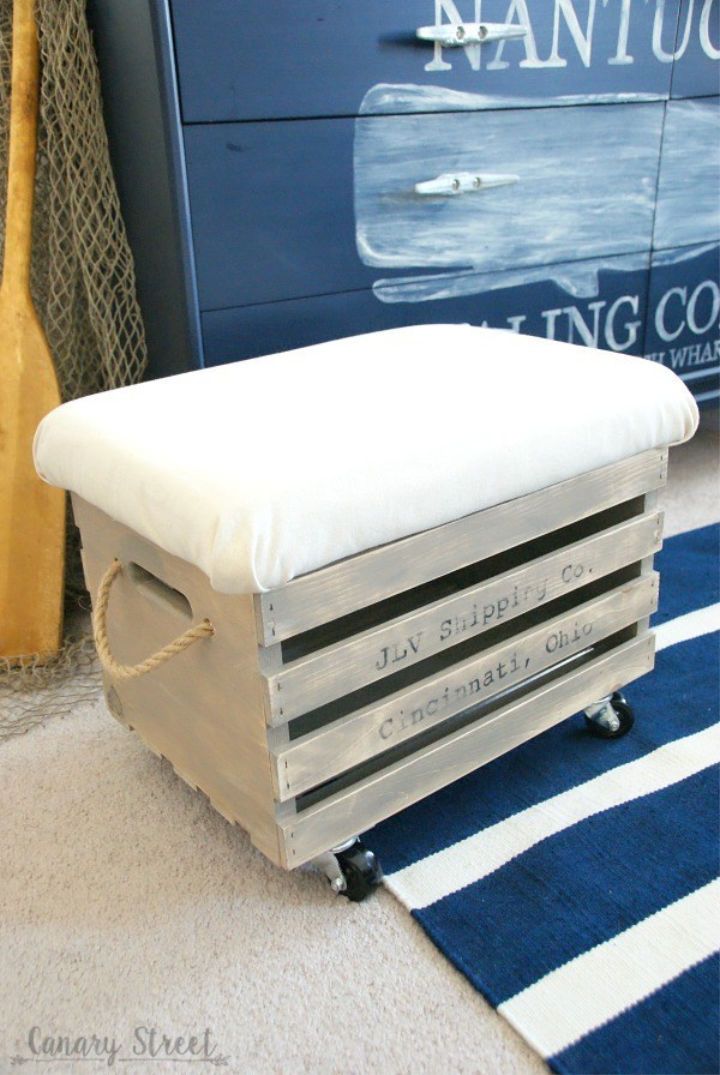 Ottoman can never go out of fashion. Now, you can make them at home using the crates. What a wonderful and mesmerizing idea! Also, attach tires at the bottom to make them portable. You will need wood slats, glue guns, tires, sisal rope, and staples. canarystreet
28. Wooden Crate Lemonade Stand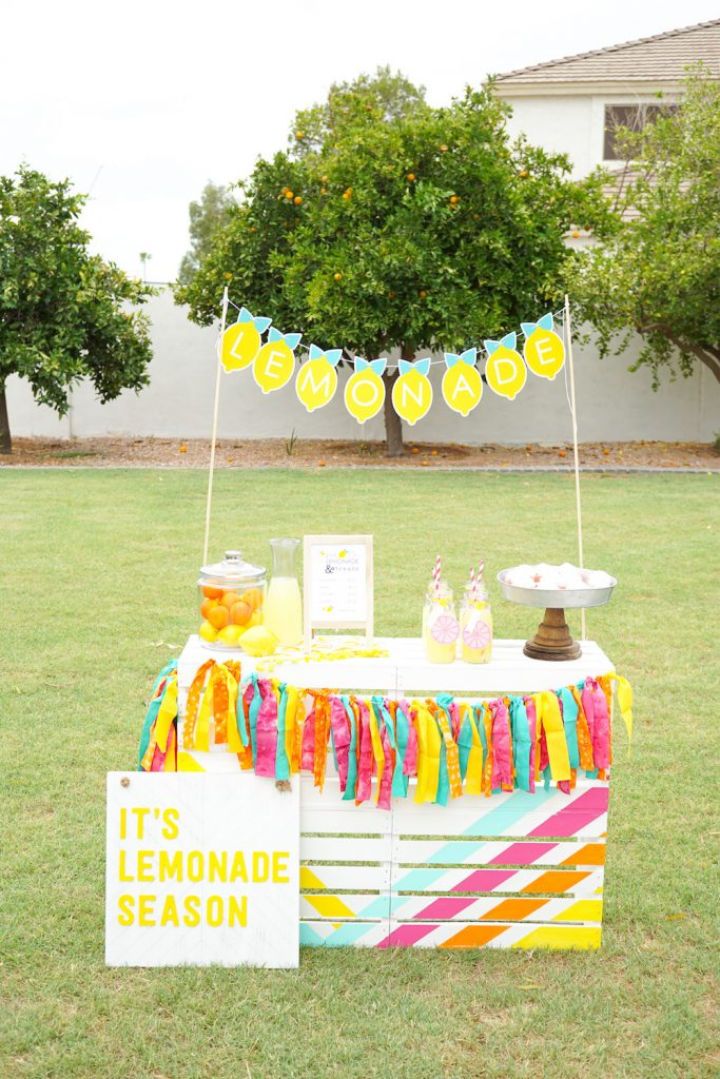 In this scorching summer, you need a lemonade stand, that too made out of a crate. Color the crate in the theme of lemonades and decorate it further with pom pom and a written board. Place the lemonades on top and ta-da! The idea is perfect for birthday parties or Sunday brunches. rebeccapropes
29. Upholstered Wood Crate Seat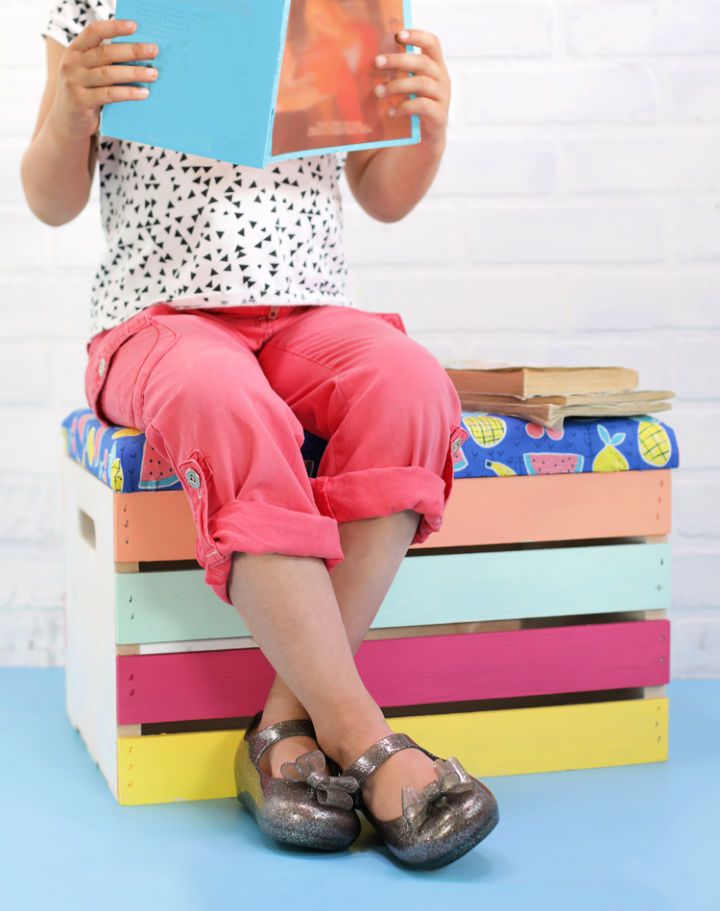 Make extra seating in your home, preferably for kids, using a crate. You can attach an upholstery seat on the top of the crate. Paint the crate in different colors or a single color. Place the seat in the kid's room or living room. Either way, it will definitely rock. thecraftpatch
30. Wooden Crate Lockers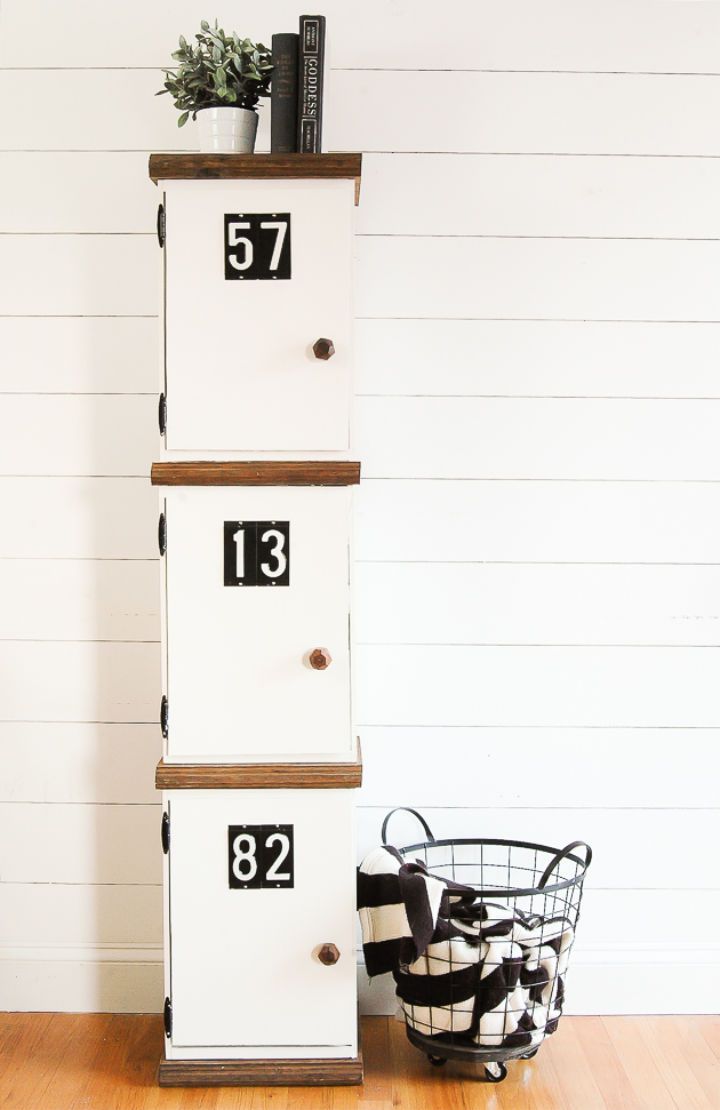 You can make lockers to keep your things safe inside using crates. Supplies needed will be; plywood, clamps, Minwax express stain, paintbrush, white paint, screws, and magnetic latches. Also, cabinet hinges, door pulls, aluminum reflective numbers, silver decorative brads, drill, drill bits, and wood glue. The locker you will make with this pattern will be a super hit. littlehouseof
Conclusion: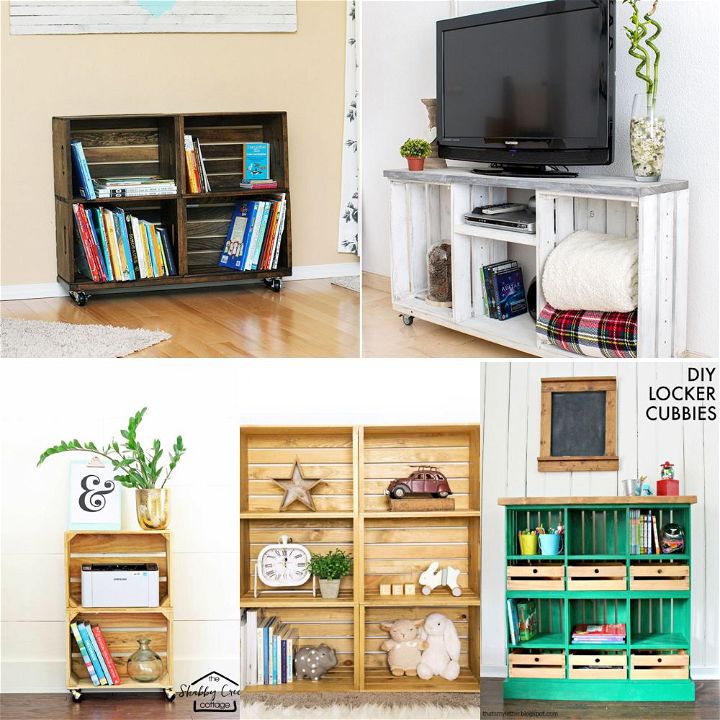 Tempted to try out a few of these amazing wooden crate decorating ideas? Well, now is the time to get started on them! This is because the summer season is giving you a lot of time free. You can easily waste all of this free time or do fun projects like these to make it all worth it! Gather the supplies by either finding them online or going to the carpenter stores. You can also borrow the tools very easily from a friend or even from a few online websites. Browsing the internet will help you familiarize yourself with these farmhouse wooden crate decorating ideas.