Mason jars are a versatile craft supply that can be used for a wide range of crafts. For example, they can be used to create beautiful vases, lanterns, and even kid's crafts. mason jars are also a popular choice for wedding decorations and centerpieces. If you're looking for some mason jar craft inspiration, check out these 35 easy mason jar crafts and ideas. From rustic mason jar chandeliers to mason jar planters, there's something for everyone.
Mason jars are a popular choice for crafts because they are versatile and easy to use. There are many mason jar ideas ranging from simple mason jar decor to more complex mason jar crafts. Some of the most popular mason jar crafts include; painting mason jars, making mason jar candles, and creating mason jar centerpieces.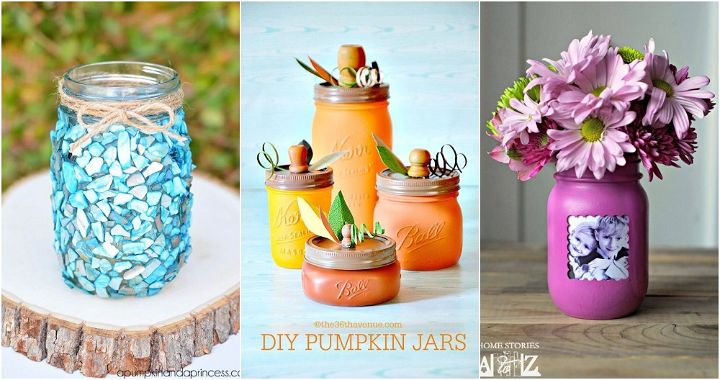 Painting mason jars is a simple way to add color and style to any room. Mason jar candles make great gifts or home decorations, and mason jar centerpieces are a beautiful addition to any table. Whatever your craft project, mason jars are a great choice. With a little creativity, you can turn any mason jar into a work of art.
1. DIY Beach Inspired Mason Jar Craft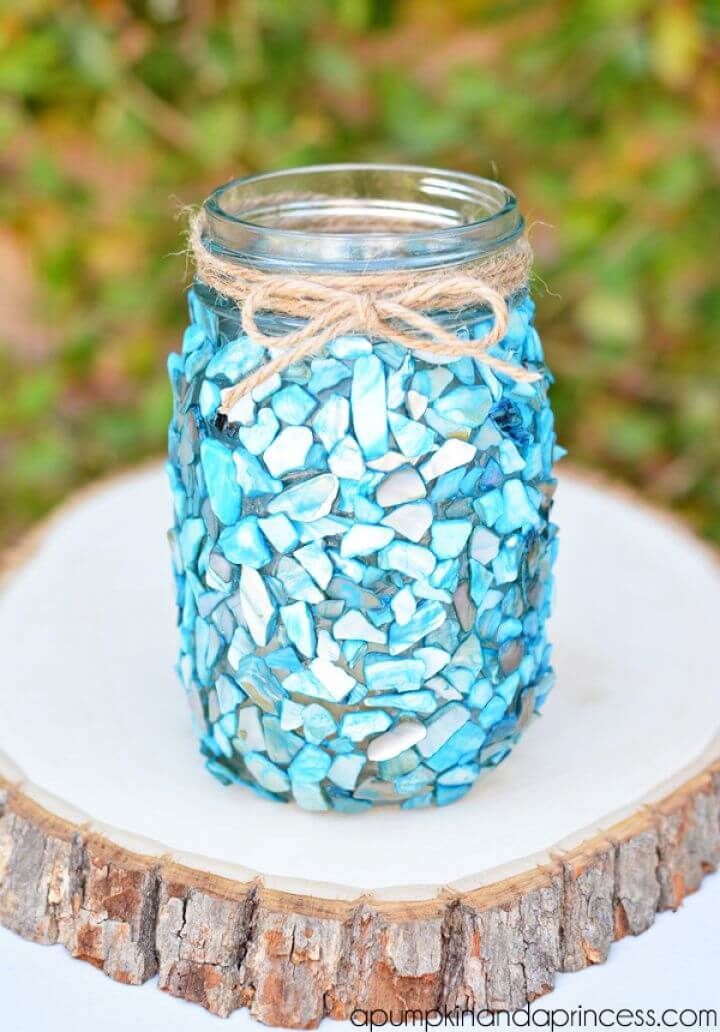 Embellish your home also with the nautical decor centerpieces that one can easily make at home! Refine your home decors with this beach-inspired Mason jar, grained by gluing the broken seashells all around the Mason jars! Grace up the finally finished Mason jar beach centerpiece with decorative twine and put a battery operated tea light inside! apumpkinandaprincess
2. Easy DIY Mason Jar Light Under an Hour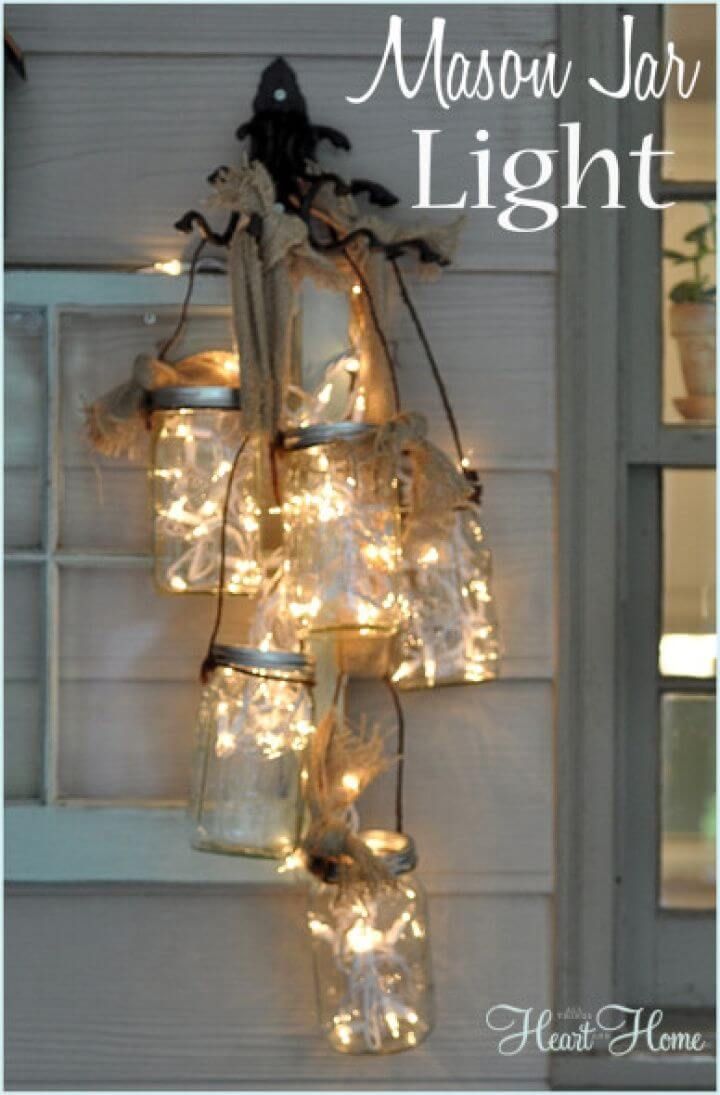 Prettify any of your outdoor or indoor with these incredible homemade mason jar lights that will be ready in less than an hour! Tie the grapevine wire to openings of the Mason jars and hang them together! Finish by adding LED string lights inside and then decorate with a burlap ribbon and get stunning Mason jar light centerpieces, will make a great fall decor! allthingsheartandhome
3. DIY Mason Jar Night Light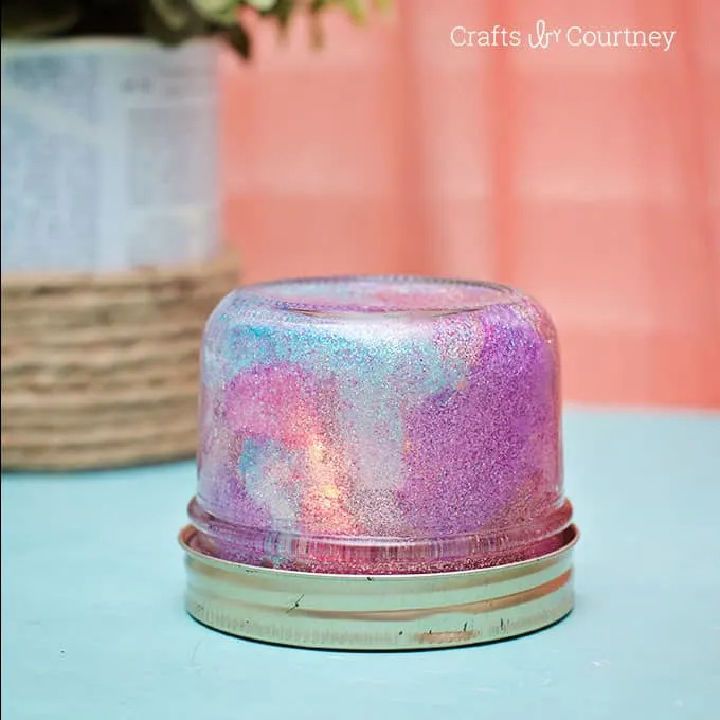 Brighten up your spaces in a fab style also by making these cute mini Mason jar night light centerpieces, would be a big pleasure to make! Spread a layer of glue to all inside of the Mason jar and then add glitter inside and start shaking the Mason jar to set the glitter on all the glued areas! Finish by adding custom lights in and that's it! Another great 1 hour Mason jar craft idea! modpodgerocks
4. How to Make Mason Jar Drinking Cup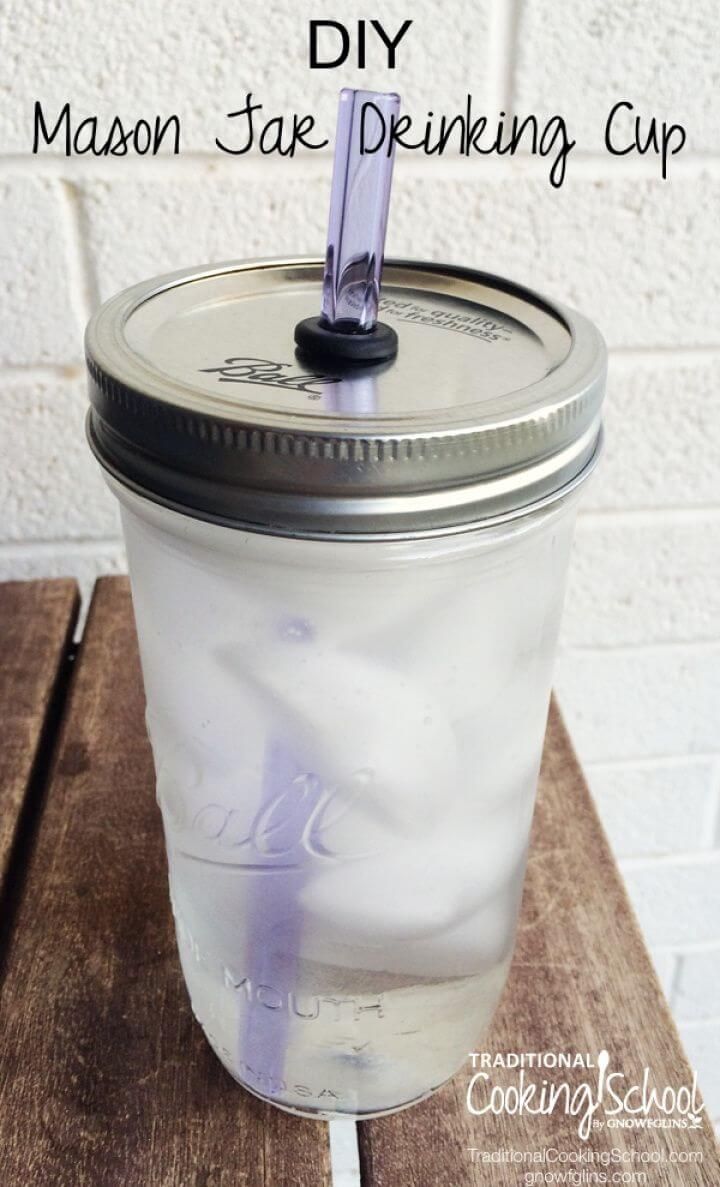 Please your friends and kids by making beautiful tumblers and drinking glasses out of Mason jars that will be super quick to make also! Grab the longer Mason jars, decorate them in your own way and then drill a hole in the jar lid, fit the steel straw in and secure the hole using rubber and grommet! Take a look at the given below sample! traditionalcookingschool
5. Pretty DIY Drip Painting Mason Jars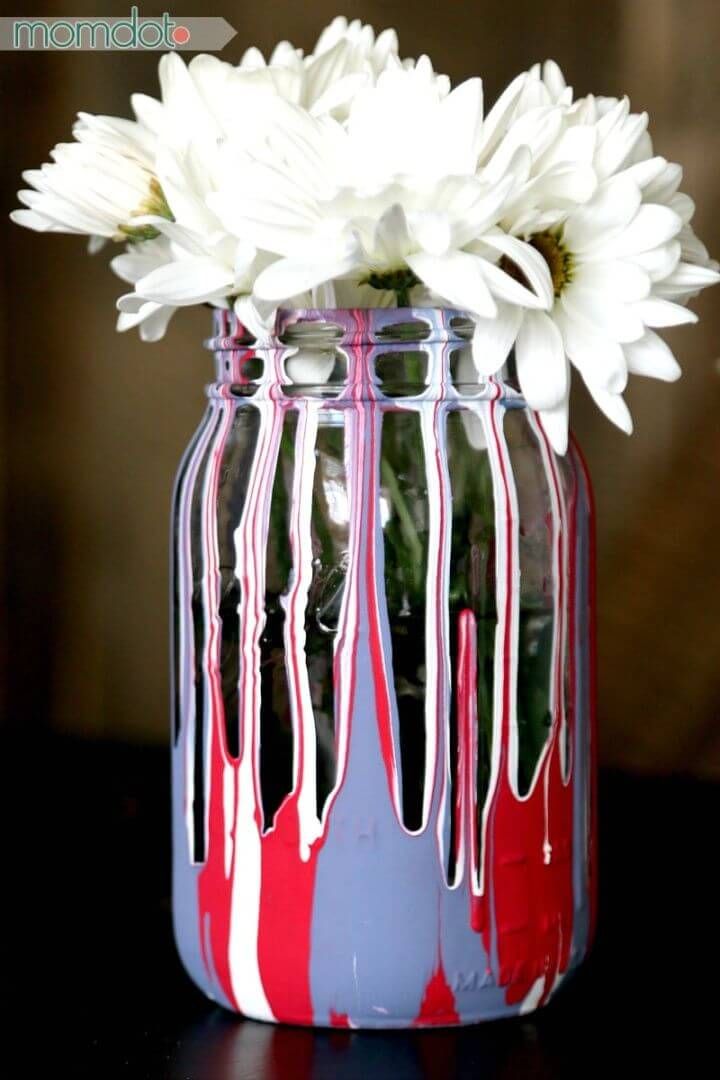 If you love to play with the paint colors and love to do paint crafts then you will definitely like this Mason jar project, flip your selected Mason jar over and then drop paint on its bottom that will drip down making the Mason jar painted in a lovely style! Use different paint colors to do so! Next, make the adorably cute vases or lanterns out of your drip painted Mason jars! momdot
6. Simple Pumpkin Mason Jars Under an Hour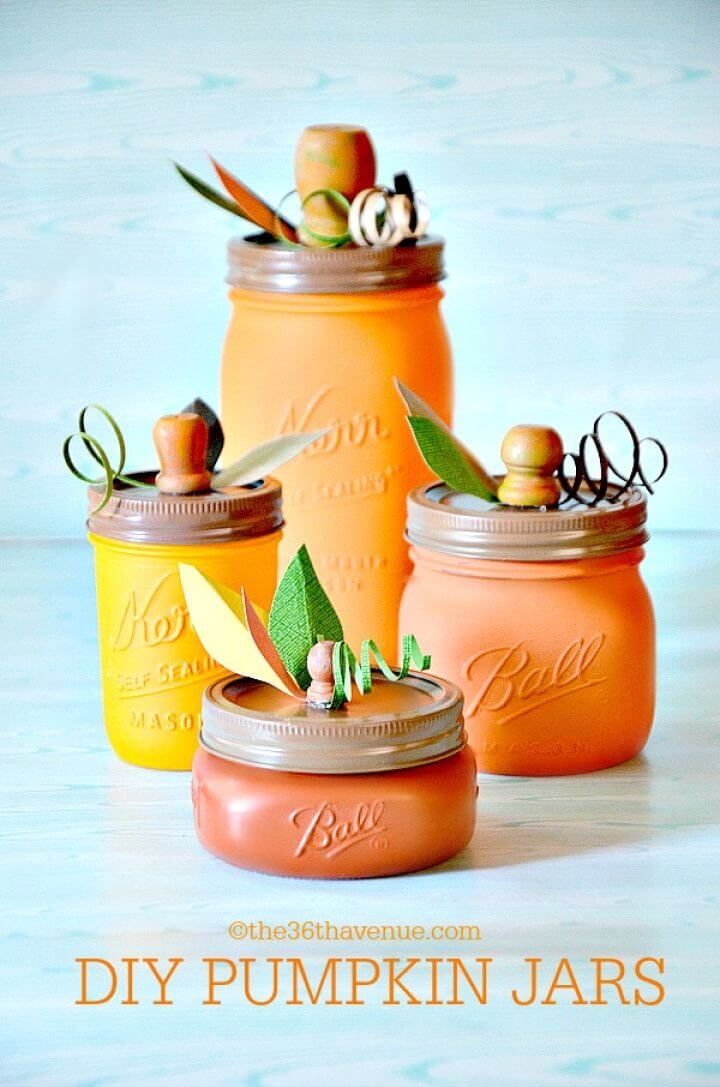 Beautify your home this fall season with these pumpkin Mason jars, will make adorable fall decors! Paint the Mason jars for a lovely pumpkin appeal, add wooden finials on the top of the lid as pumpkin tails or stems and finish with scrapbook paper leaves! Fill the Mason jars with custom treats and make lovely treat gifts-in-a-jar! the36thavenue
7. DIY Gold Spray Painted Mason Jar Tutorial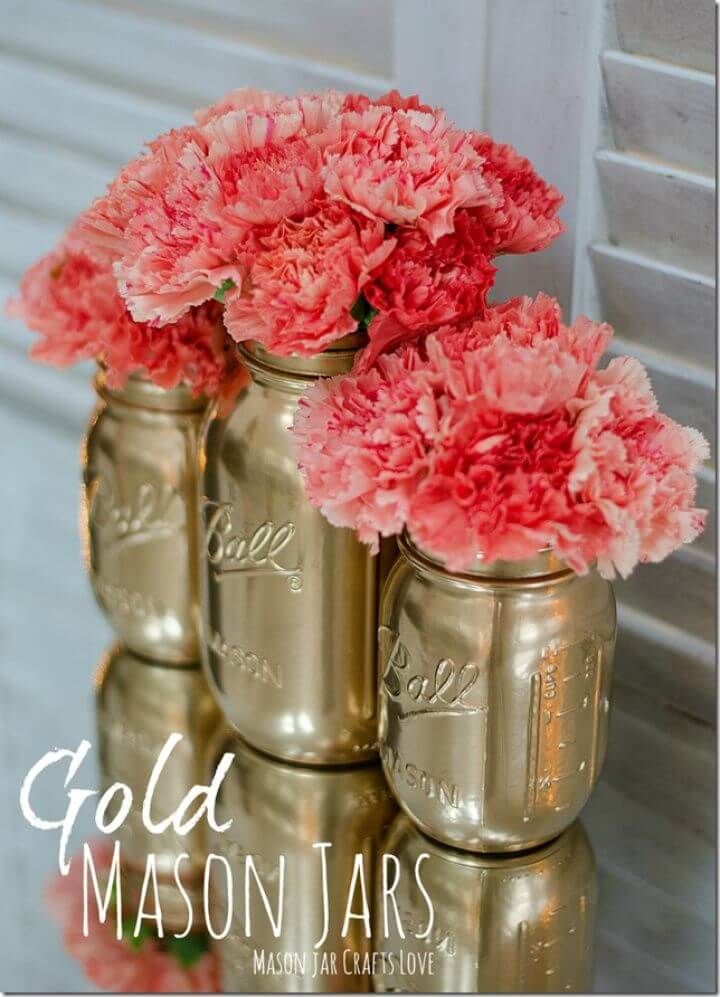 Perk up your home spaces also with these posh looking gold painted Mason jar vases that are another glam one hour Mason jar craft! Spray paint the Mason jars in gold and then finish by adding cut flowers of your choice, another great Mason jar home decor centerpiece to make in no time, will also make a great handmade gift! masonjarcraftslove
8. How to Make Mosaic Mason Jar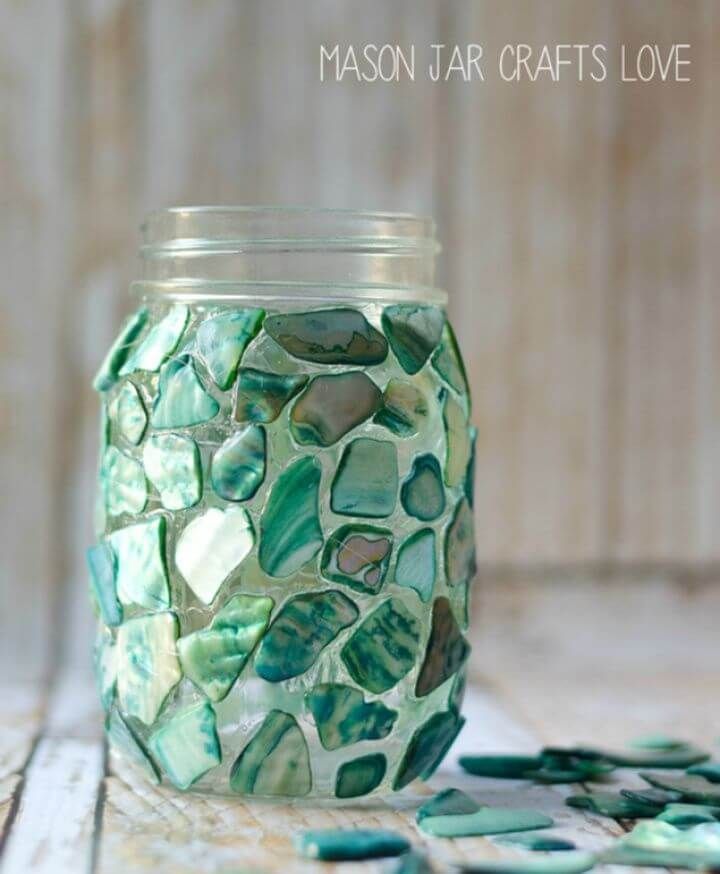 Glue the broken china, ceramic pieces, and broken glass all around the Mason jars and make fantastic mosaic Mason jars, will enhance the visual appeal of an accent table or a bookshelf! Do compliment your home decor style with this easy-to-make Mason jar centerpiece, can be used as a glam vase and also as a gorgeous candle holder!
9. Easy DIY Mason Jar Herb Garden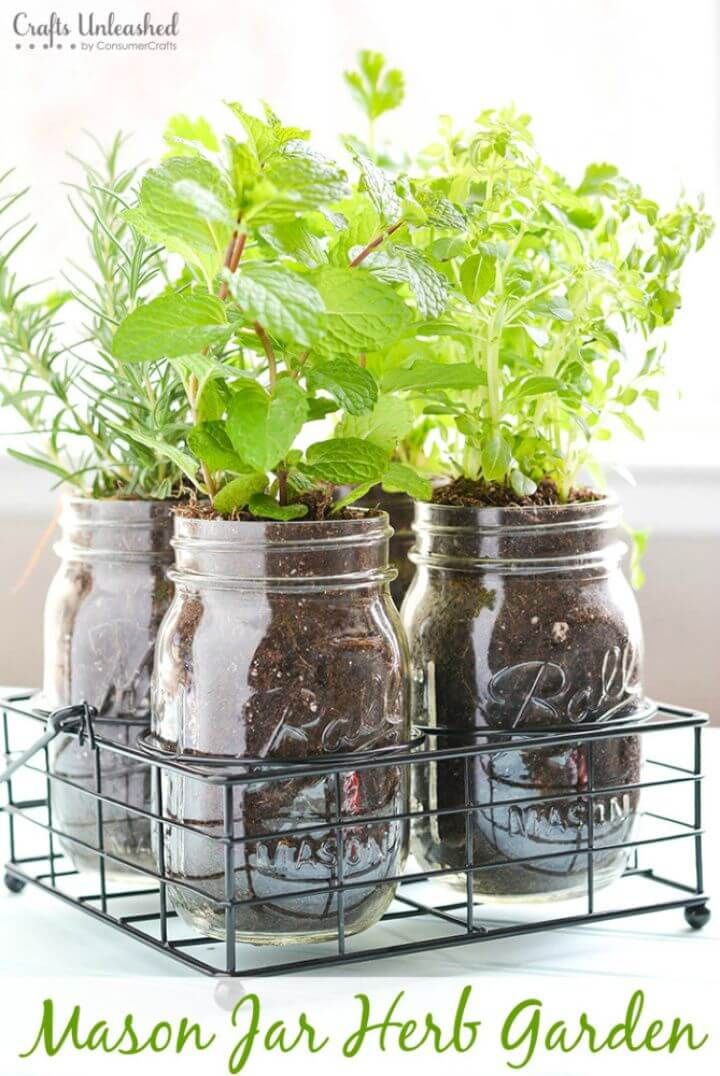 Opt for this Mason jar herb garden that will be a nice and cost-efficient way to grow your hard-to-find herbs and also to bring greenery to your home! Make 4 Mason jar herb planters, put them in a metal carrier and gain a lovely Mason jar herb garden, will give a great natural finish touch to any of your space if used as a centerpiece! myfrugaladventures
10. DIY Mason Jar Cups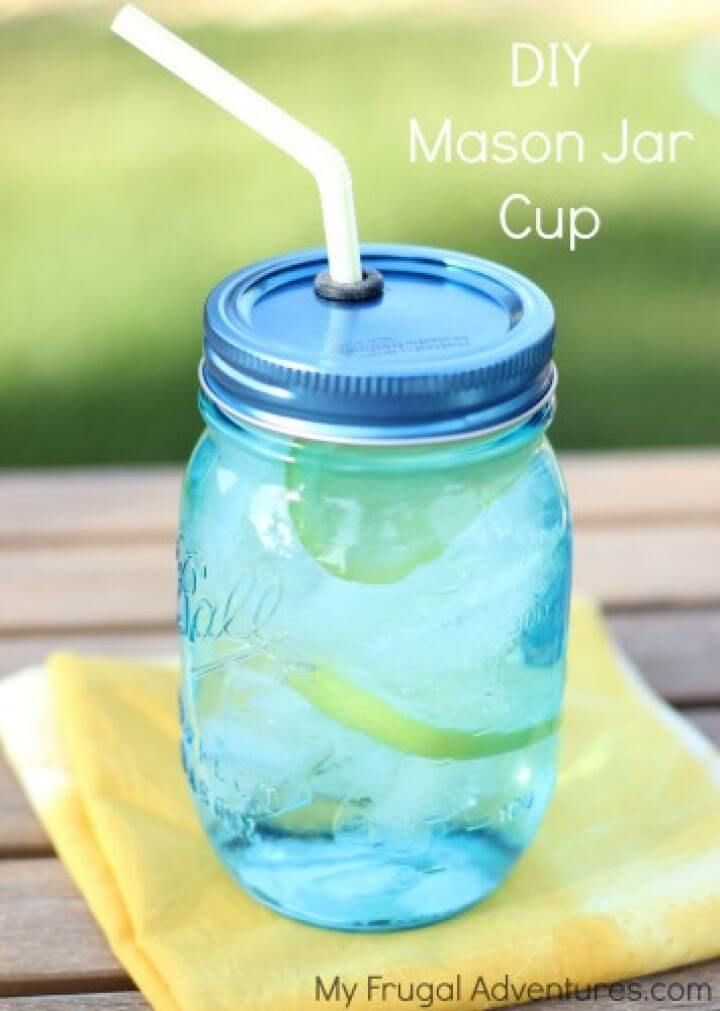 Clean and wash your empty Mason jars well and star drinking your favorite drinks in them as they can instantly be changed into beautiful tumblers and drinking cups! Drill a hole in the Jar lids, fit a rubber grommet in the hole and next add a custom straw, one more outstanding one hour Mason jar craft that everyone can do with getting a bit puzzled! herecomesthesunblog
11. Make Solar Powered Mason Jar Lantern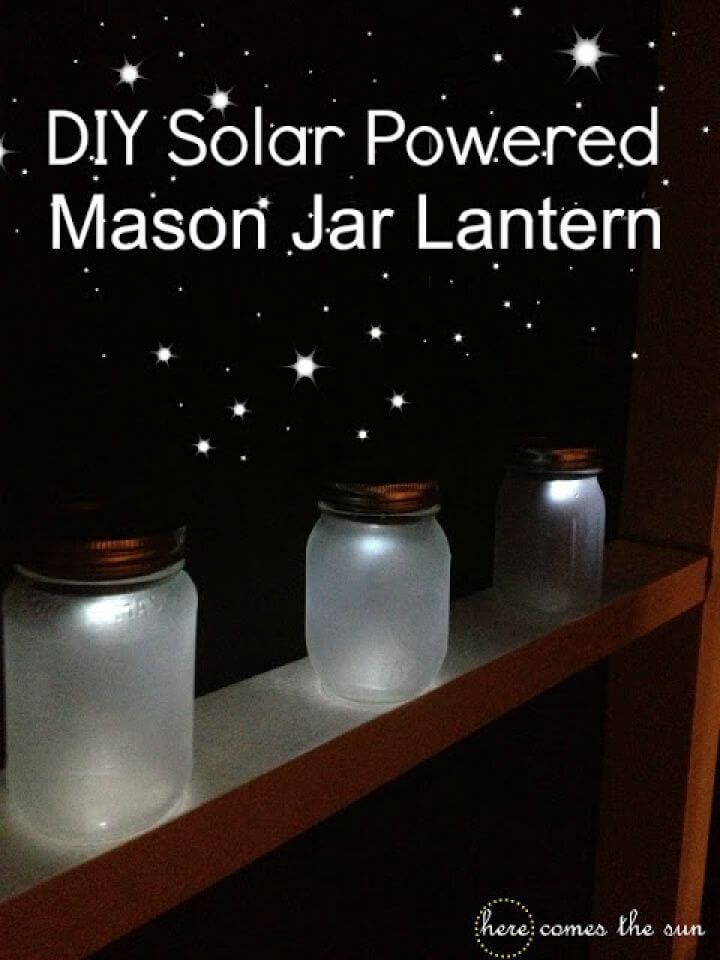 Create a divine look of your spaces at night using the Mason jar lanterns that are a piece of cake to make! Duplicate these given solar powered Mason jar lanterns, install the solar light panels to jar lights and then tight again the jars in the lids! Make the Mason jar frosted for more amazing and enchanting light demonstrations at night! masonjarcraftslove
12. DIY Upcycled Mason Jar with Glass Knob Tops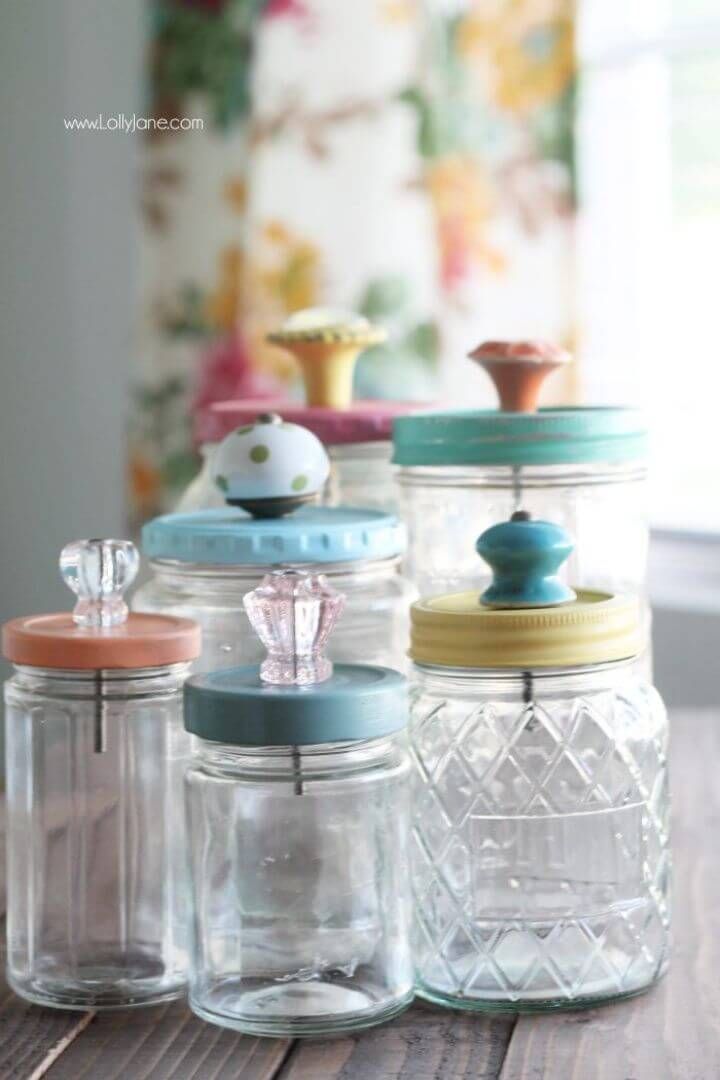 Also, solve your home storage issues in style by using the recycled Mason jars! Fit the colorful knobs to jar lids and make glam accessory holders and organizers, check out the lovely given samples that are adorably cute and will be ready in less than 60 minutes! Grab some paint, Mason jars, and colorful knobs to clone these jars! lollyjane
13. Cute DIY Monogrammed Mason Jars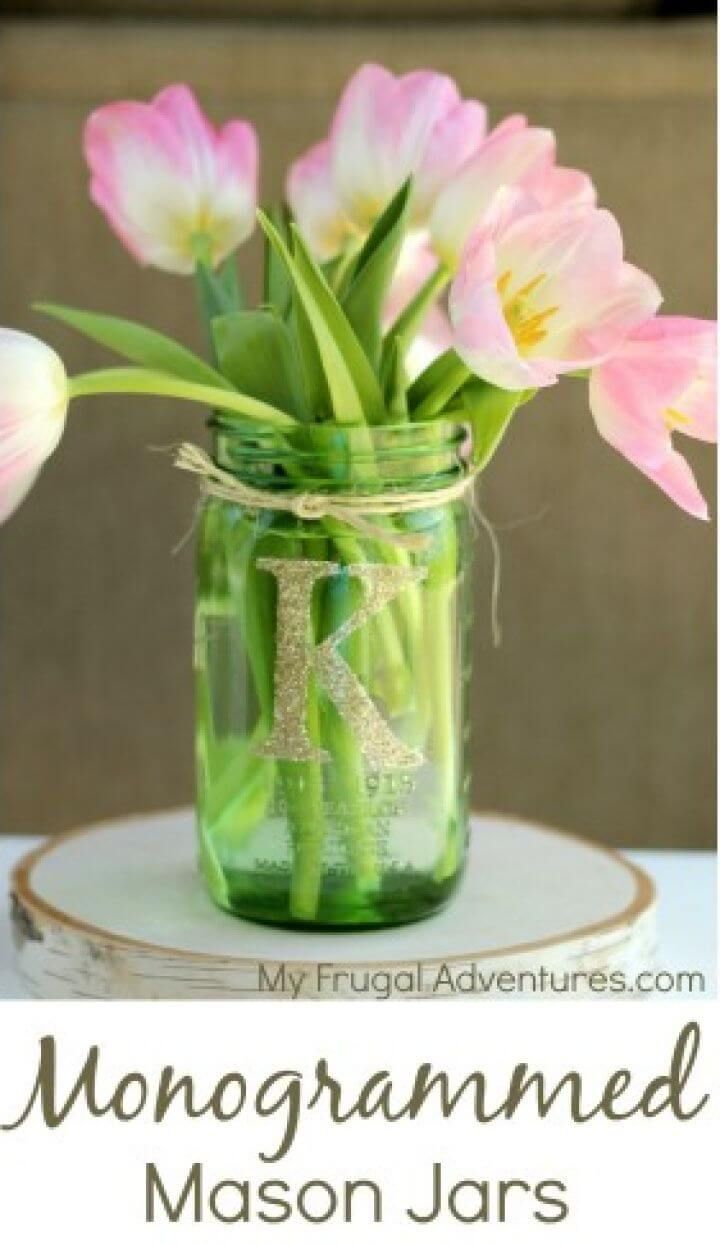 Create amazing personal decor statements in any room interior also by making personalized Mason jar decors or centerpieces just like this monogrammed Mason jar vase, made to rock and inspire! Use your Cricut machine and cut your favorite vinyl alphabet letter with double side adhesive! Stick it in front of your jar and cover with glitter and make sparkly monogrammed Mason jars, can be filled with cut flowers and also with tea lights! myfrugaladventures
14. Easy to Make Mason Jar Soap Dispensers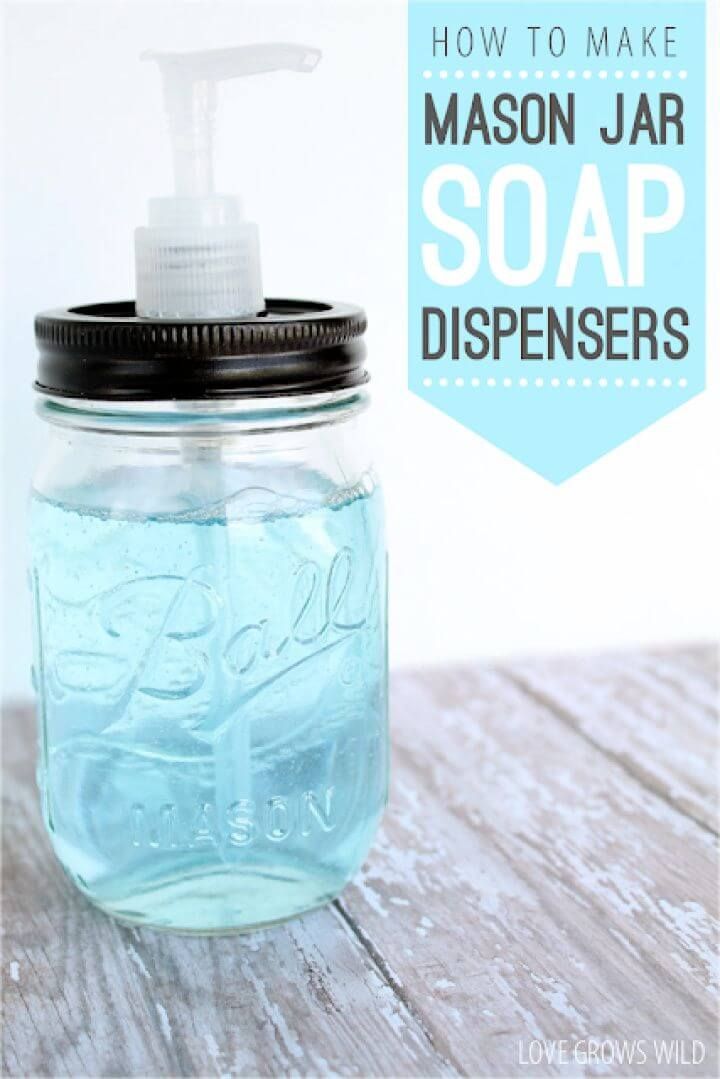 Upcycle your Mason jars also to make lovely soap dispenser, would be a highly utilitarian item to make at home and it takes less than an hour to be at your hand! Grab a dispenser pump, fit it to airtight jar lightly and secure the hole if there is any leakage of air! This would also make a lovely handmade gift to your friends! lovegrowswild
15. DIY Burlap and Doily Luminaries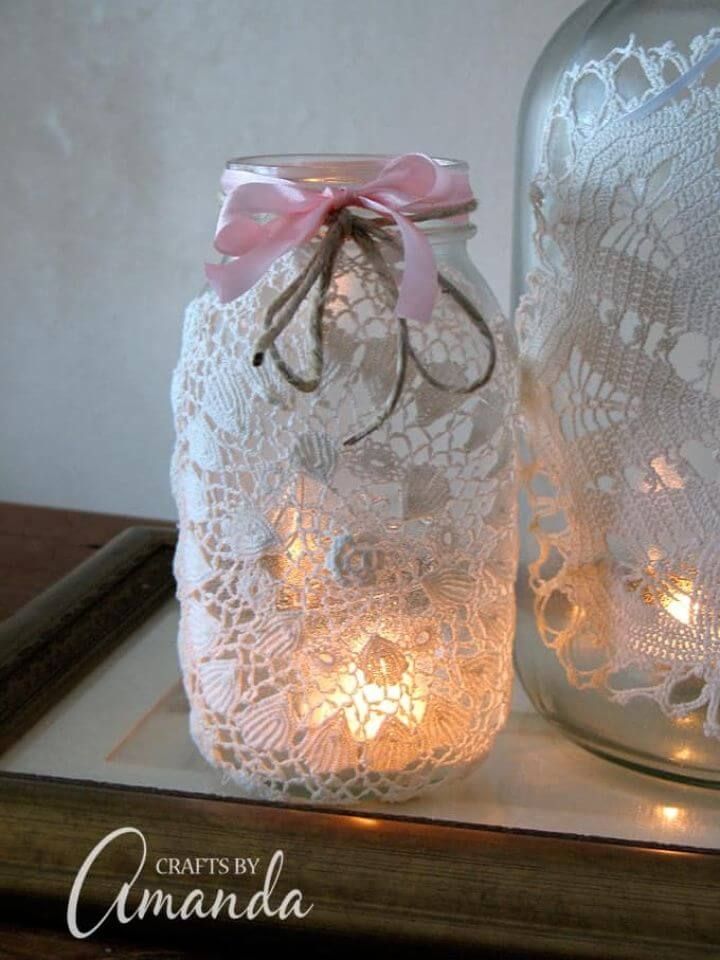 Make your favorite home interior look fascinating by adding inside the glorious Mason jar luminaries, will allow an art style emission of light! Take a look at this burlap and doily covered Mason jar luminaries that are more than cute and lovely and will be ready in a few minutes! Wrap the doilies or burlap around the jar using an adhesive spray and then put custom lights inside! craftsbyamanda
16. DIY Painted Cactus Mason Jars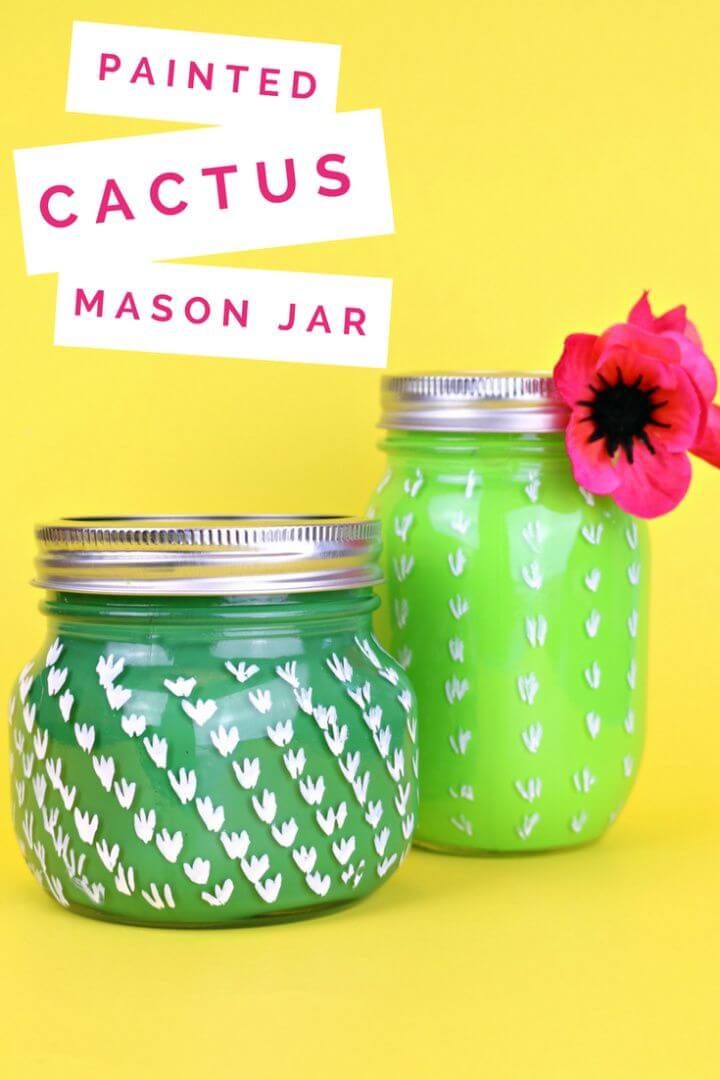 Do amazing makeover of your Mason jars using paint, custom decals, and other embellishments and turn them into gorgeous home decors, gifts, and centerpieces! An amazing example here is this cactus painted Mason jars, pour green paint in the jar, shake them well to cover entire inside and then paint the cactus spines to outer sides using a white sharpie, would make epic accessory holders and gifts! madincrafts
17. DIY Glitter Polka Dot Mason Jars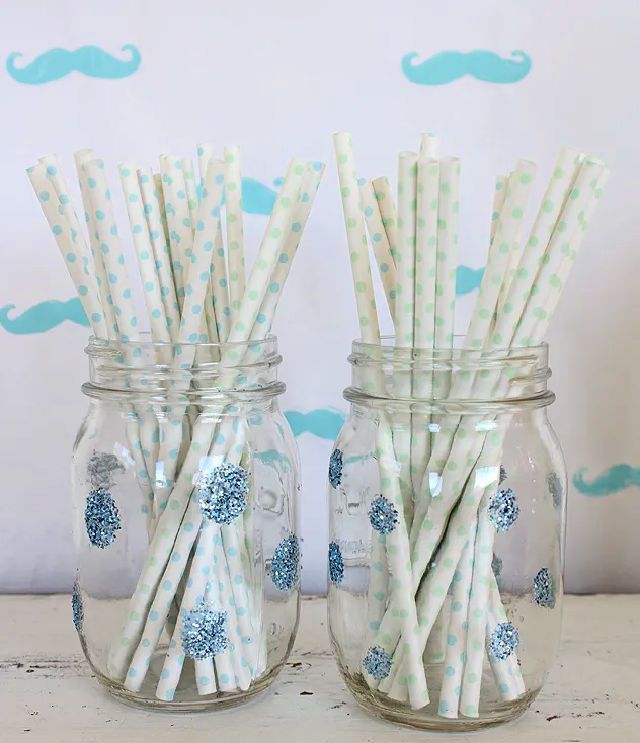 Make also stunning polka dot Mason jars at home that can be used as lovely vases, as stunning candle holders and also as fabulous Mason jar lanterns or luminaries! Layer the mod-podge all around the Mason jars, next use a round foam pouncer and glitter to add glitter polka dots! Another great and beautiful 1 hour Mason jar craft! abubblylife
18. DIY Summer Mason Jar Luminaries Under 1 Hour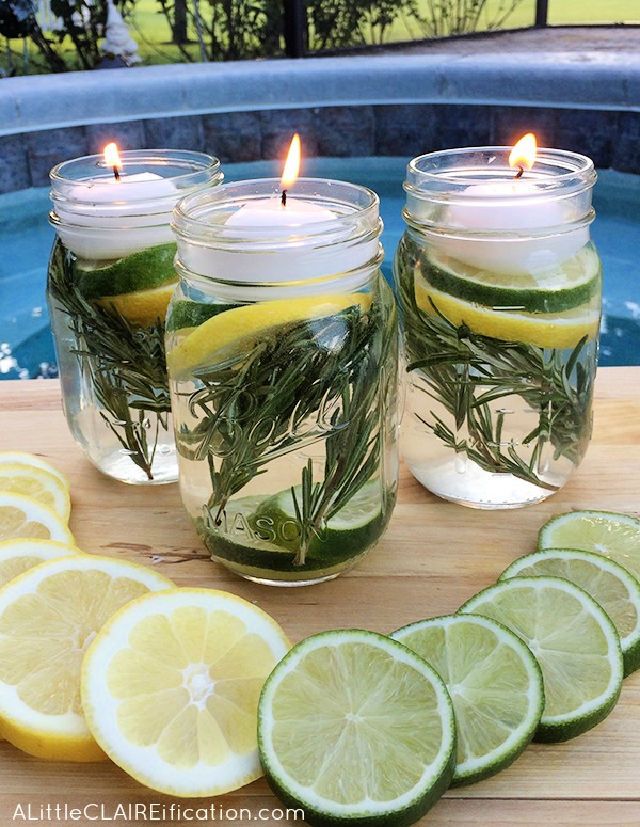 Fill the Mason jar with water, essential oils, lemon slices, rosemary sprigs and then finish by adding floating tea light candles, this will make you get the perfect summer Mason jar floating luminaries, will also make great wedding decor centerpieces and can also be used as elegant party decor! One more creative Mason jar 1-hour craft to do at home! alittleclaireification
19. Glitter Monogram Mason Jars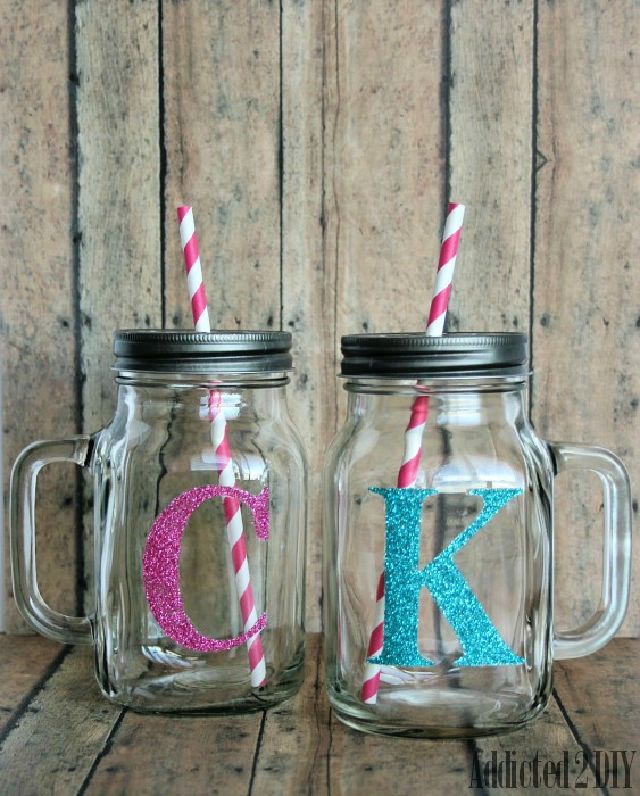 Spend also a less than an hour and turn the Mason jar into fantastic tumblers and drinking mugs! A great and interesting sample here is these glitter monogrammed mason jars, made of Mason jars having handles and then have been personalized with glitter letter monograms! Adhere letter stencils in front of the Mason jars, layer mod-podge, and glue and then glitter! addicted2diy
20. How to Make Thumbprint Flower Mason Jar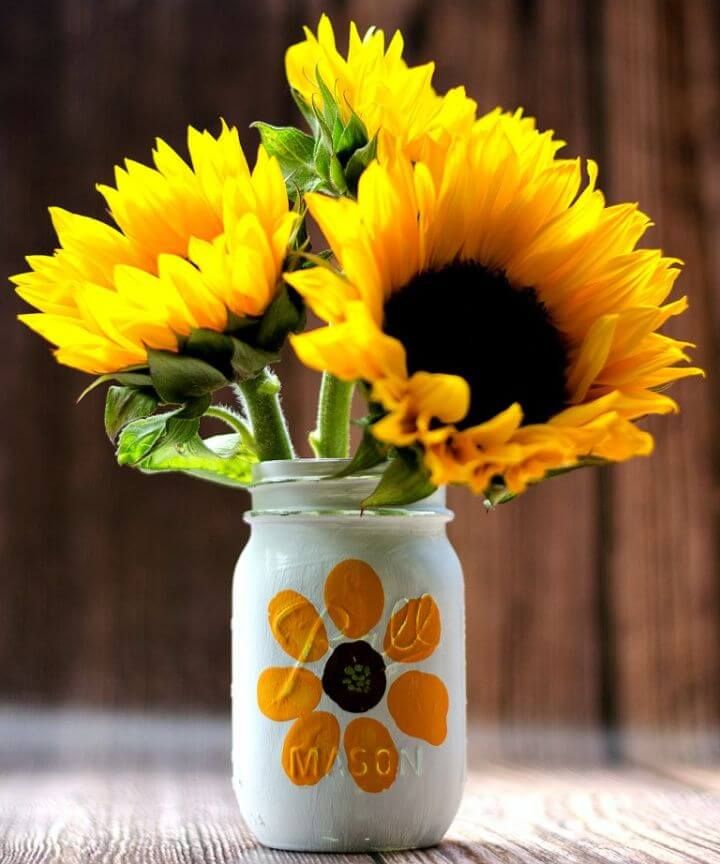 Also hand paint the Mason jars to regain them as fantastic home decor vases, organizers and enticing candle holders! Spice up the Mason jars with the thumbprint flower art and then gain a cute vase out of it by adding cut flowers! This is here another smart Mason jar 1-hour craft that even little kid can do at very easily! masonjarcraftslove
21. How to DIY Mason Jar Bird Feeder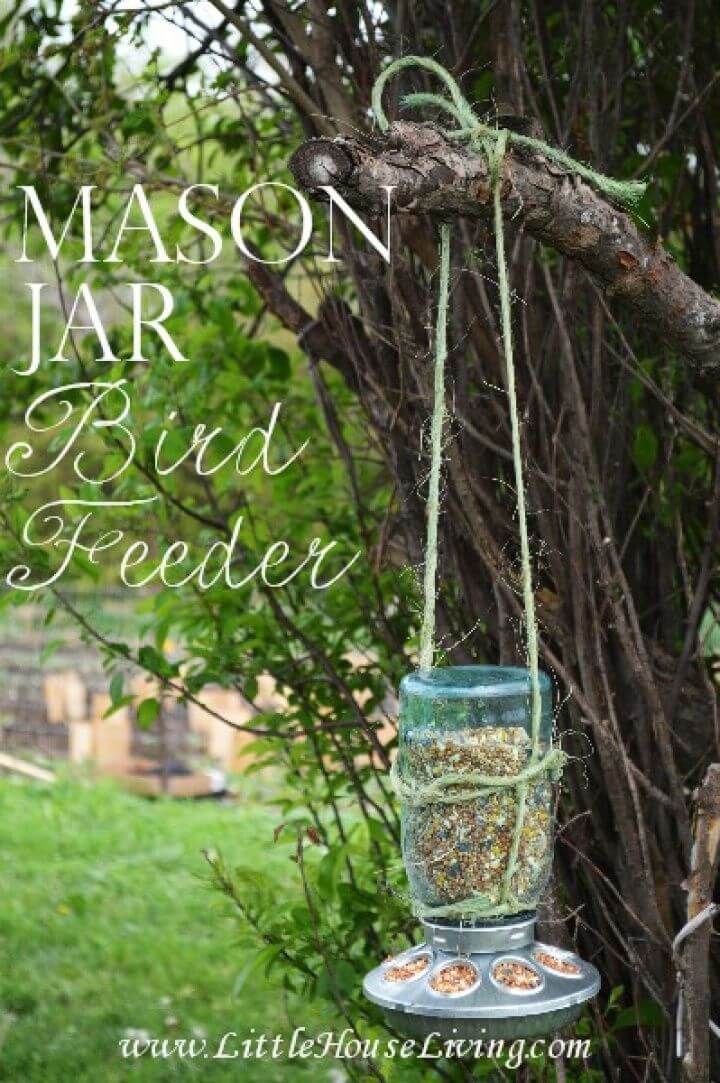 Perk up also your outdoor spaces and gardens with the homemade Mason jar decors! Clone this Mason jar bird feeder using some bird seeds, a round chicken feeder, and a Mason jar, will also make a great hanging outdoor or garden decor! One more amazing 1 hour Mason jar craft to do at home! littlehouseliving
22. DIY Mason Jar Picture Frame Vase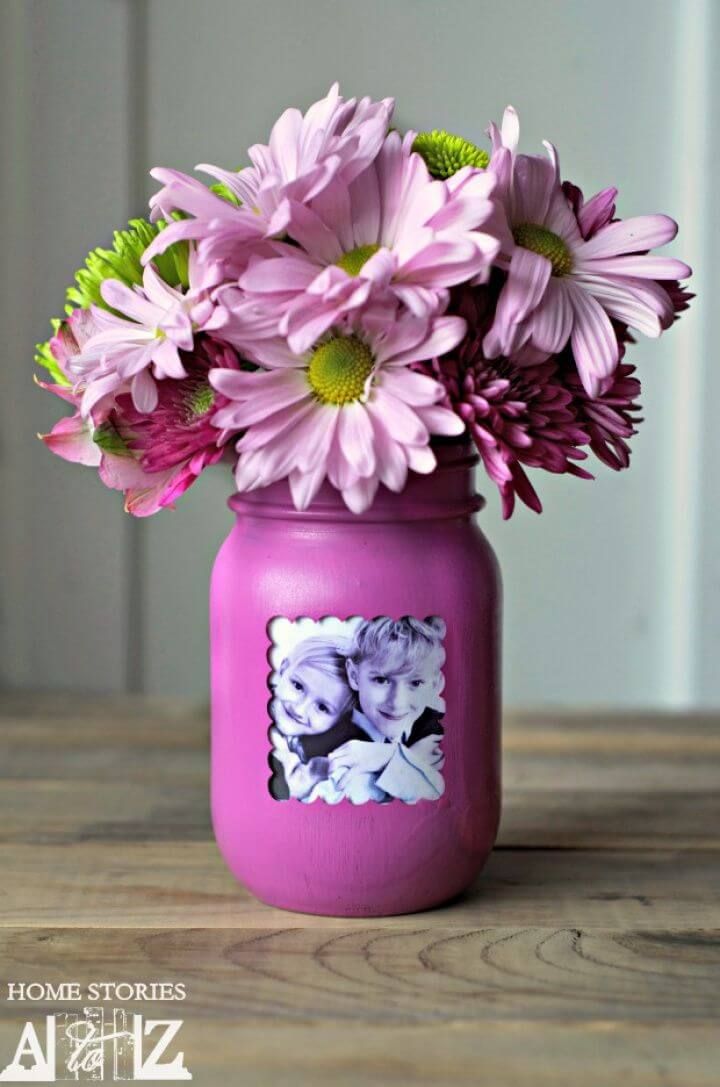 If you want to please someone special may be a kid, a family member, a friend or a lover, then you should go with these picture frame Mason jar vases will make a great personalized and handmade gift for your beloved ones! Paint Mason jars using custom decals, will cover the part you don't want to paint, next display the photos through the unpainted areas and fill your painted jars with cut flowers, will be a 1-hour task to do! homestoriesatoz
23. Easy DIY Magical Hanging Mason Jar Lights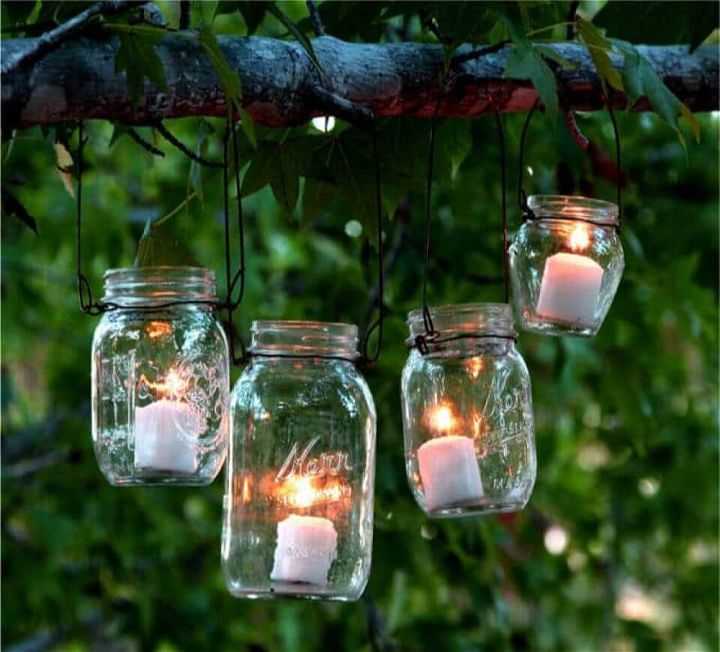 Rock your party, festival or summer night outdoor decors with the hanging Mason jar lights that are super easy and quick to make! Reshape the cloth wire hangers and turn them into Mason jar hangers and illuminate the Mason jars by adding custom flameless or real candle lights! Hang aloft on tree branches or wall hooks as precious hanging lanterns! apieceofrainbow
24. DIY Mason Jar Snow Globe Tutorial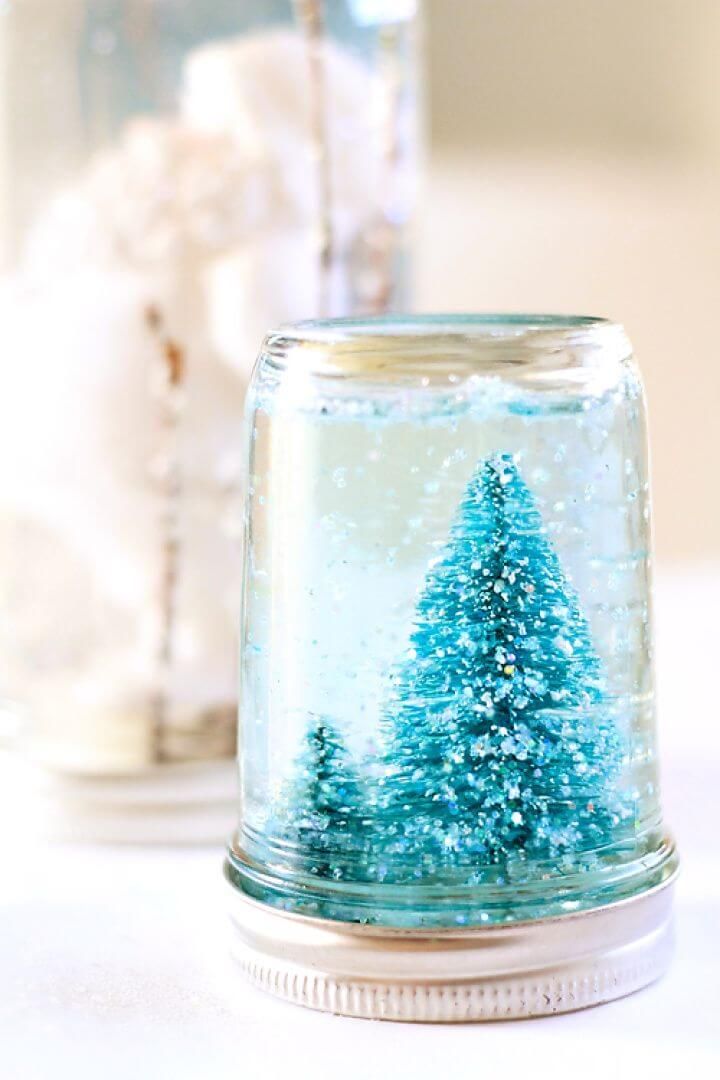 Garnish your spaces this fall with the Mason jar snow globes will be at your hands in less than an hour and will be an item of decor you will love to treasure for years! Glue the snow tree toys or figurines to inside the mason jar lid and then use mod-podge and Epson salt for faux snow illusion and that's it! An exceptionally cute fall Mason jar centerpiece to make at home! julieannart
25. Pretty DIY Mondrian Mason Jars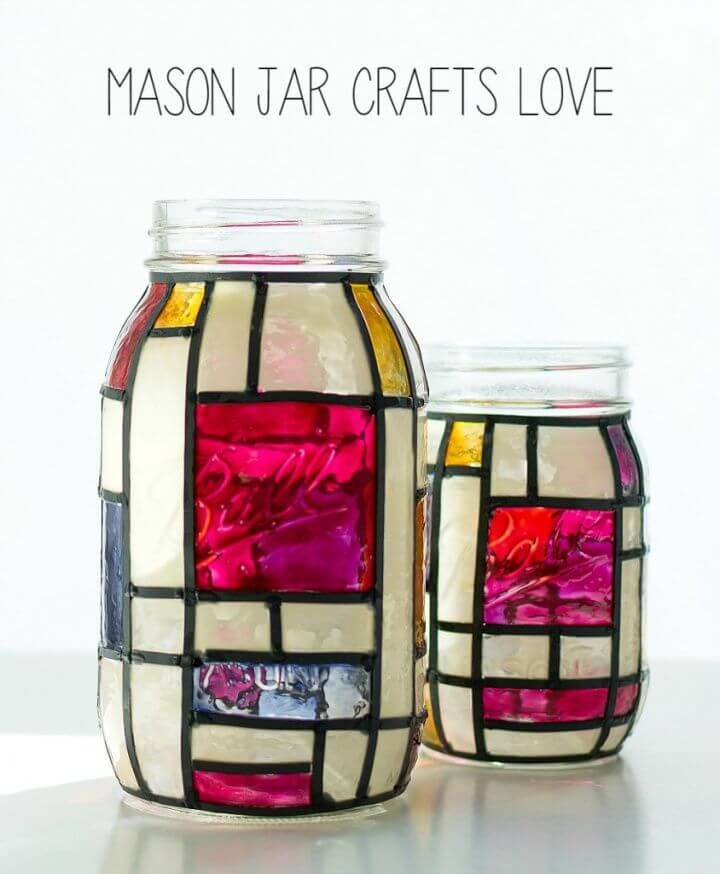 Accent your home decor style also by making these Mondrian Mason jars, will be a main focus of attention! Wrap the peel and stick gallery glass lead lining and wrap around the Mason jar, fill each compartment with a different shade of glass paint and next add liquid black leading on the lining! The perfect faux stained glass Mason jar decor to make at home in less than an hour! masonjarcraftslove
26. Mason Jar Unicorn Craft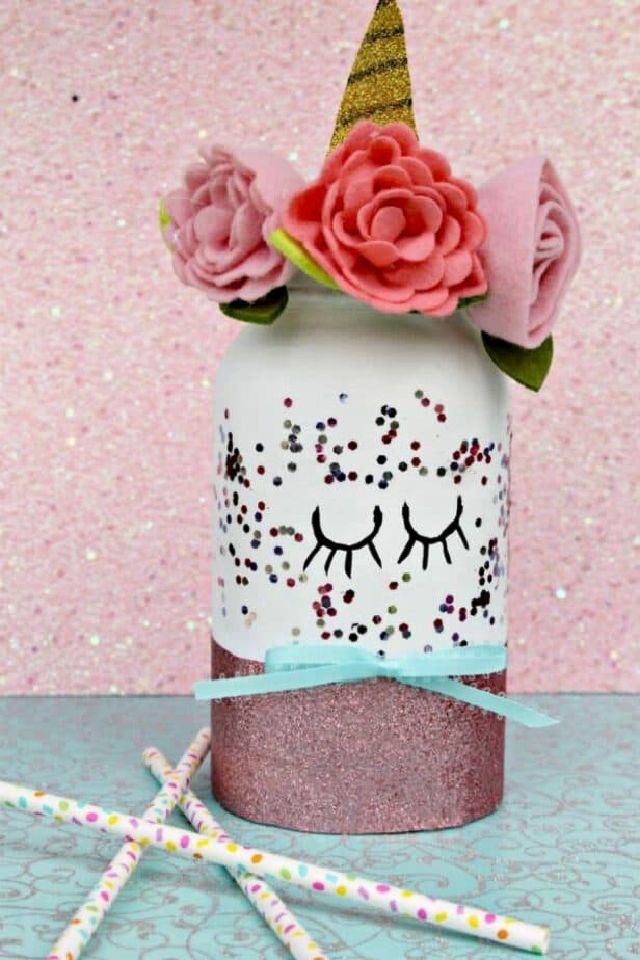 Dazzle also the audience by making this precious Mason jar unicorn decor, will make an epic present to all unicorn lovers! For creating a unicorn avatar of your Mason jar, paint your jar in white, use a sharpie to make unique closed eyes, tape the glitter tape to bottom side and next make a horn out of gold glitter scrapbook paper or cardstock! Next glue the faux flowers all around the jar lid as a flower unicorn crown and that's it, another great 1 hour Mason jar craft idea! thismamaloves
27. Fishnet Wrapped Mason Jar Craft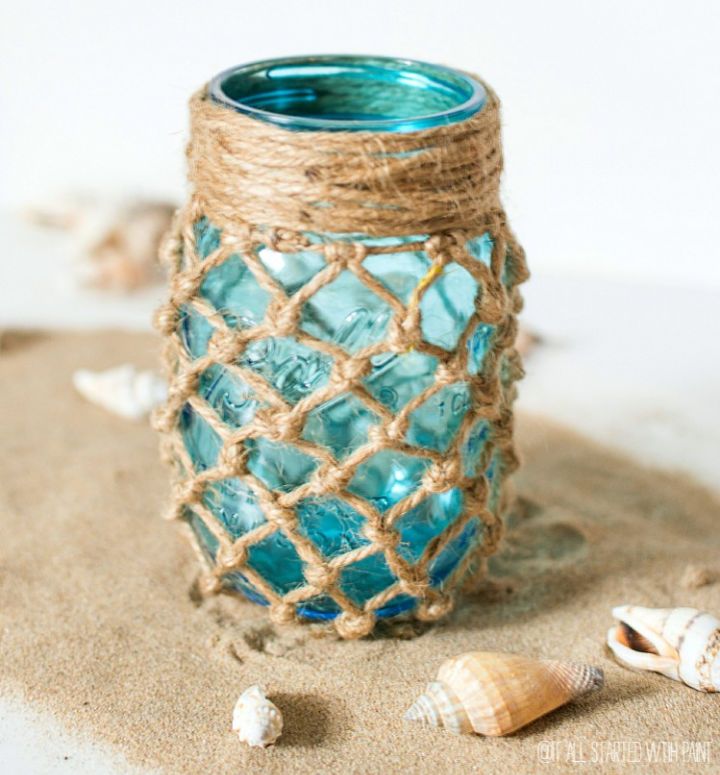 Check out here another great 1 hour Mason jar craft idea; a fantastic looking fishnet wrapped Mason jar, would make a mind-blowing votive or nautical vase for your home decor! Wrap the jute or rustic twine around the jar opening, knot the hanging strands to make a fishnet and next put candlelight or cut flowers inside the jar! itallstartedwithpaint
28. Make Mason Jar Terrariums Under 1 Hour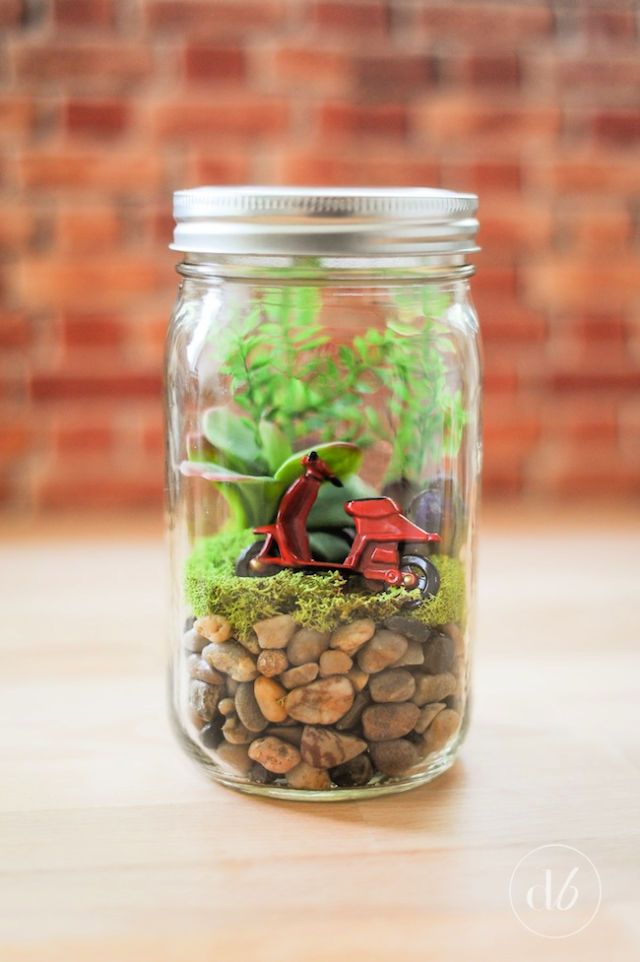 Also bedeck your accent shelves, counters and tabletops with the Mason jar terrarium that will be a 1-hour crafting task even for a beginner! Fill the Mason jars with rocks, soil, moss, with custom figurines and also with succulents and make lovely terrariums, will be super gift-worthy also! Take a look at the given sample and get your creativity inspired! ohmy-creative
29. DIY Rustic Mason Jar Wall Lanterns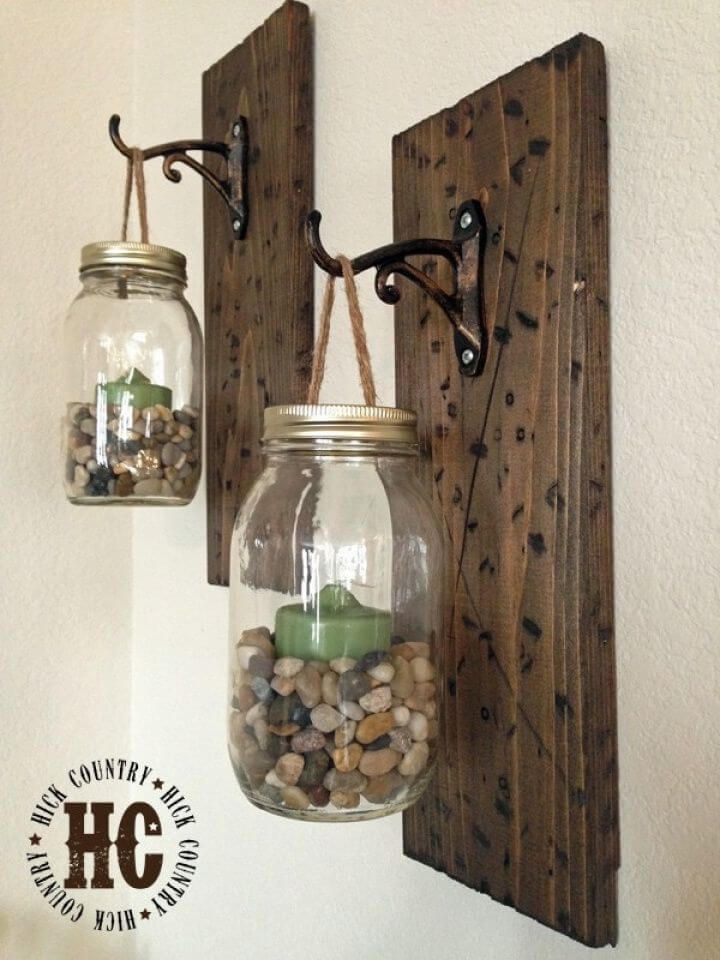 Bring also a glam winter decor touch to any of targeted home space or area by making hanging Mason jar wall lanterns! You will appreciate the soft enchanting glow and brightness that will come from these rustic Mason jar wall lanterns will be ready in less than an hour! Give Mason jars a rock fill, put tea light candles inside and hang on custom wall hooks! asouthernfairytale
30. Make Marbleizing Mason Jar Under 1 Hour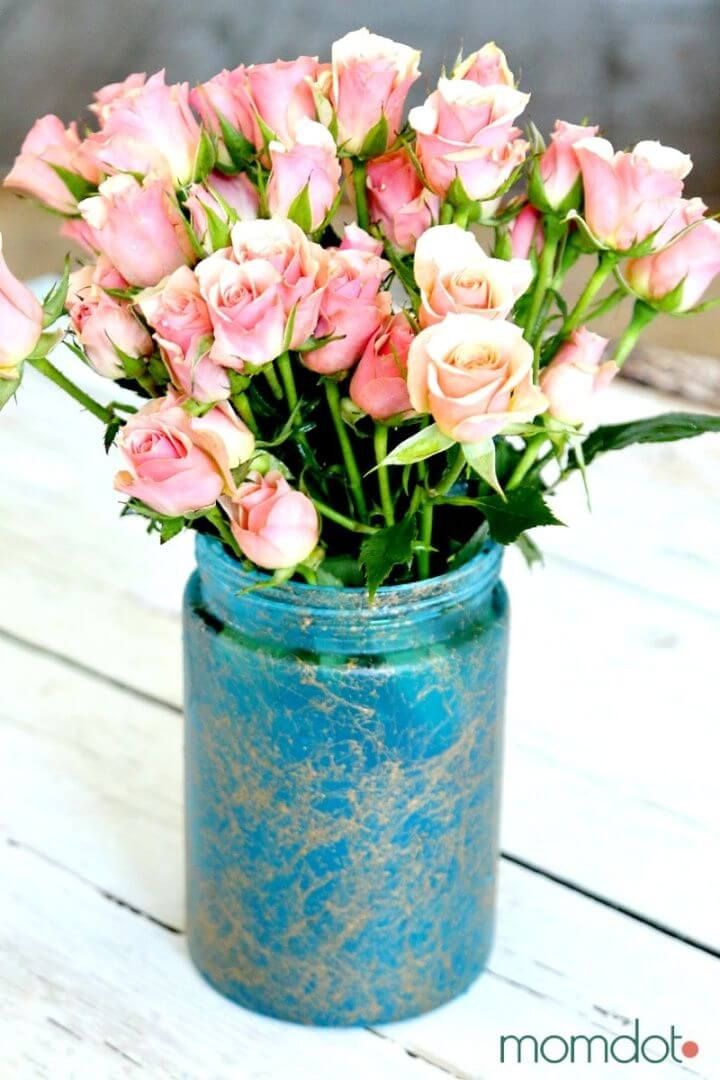 Repurpose the Mason jars also to make heart-winning gifts for the Mother's Day! A stunning sample here is this marbleized Mason jar vase, a 1-hour craft and you only need a Mason jar, sea glass and marbleizing spray paint to clone this very special Mason jar mother's Day vase gift! Full project instructions here momdot
31. Silhouette Mason Jar Wedding Vase Centerpiece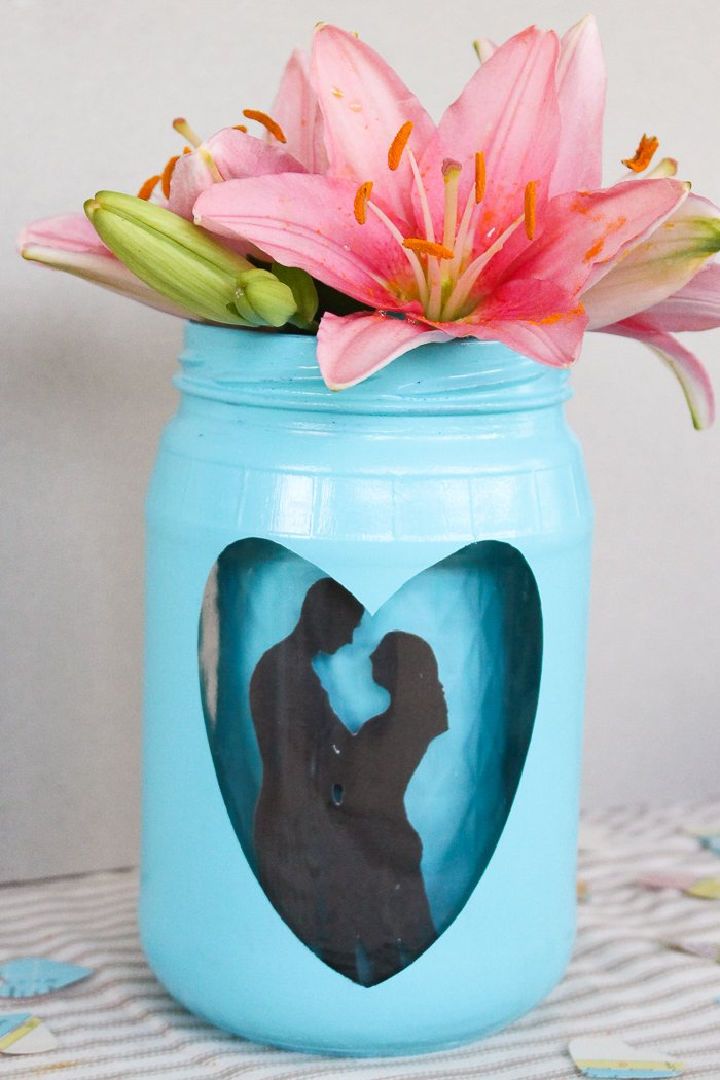 Go also smartly handmade with the recycled Mason jars and silhouette vinyl decals and make fabulous wedding decors, centerpieces, and gifts at home! A great sample here is this dancing couple wedding Mason jar centerpiece, made of two Mason jars one that different in sizes! Use Cricut machine and cut a dancing couple vinyl, make both jars painted in a color of choice let the outer bigger jar come with an unpainted heart shape in front to display your vinyl art through! Next put your mini jar in with the dancing couple vinyl in front and that's it! thecountrychiccottage
32. How to Make Olaf Mason Jar Snow Globe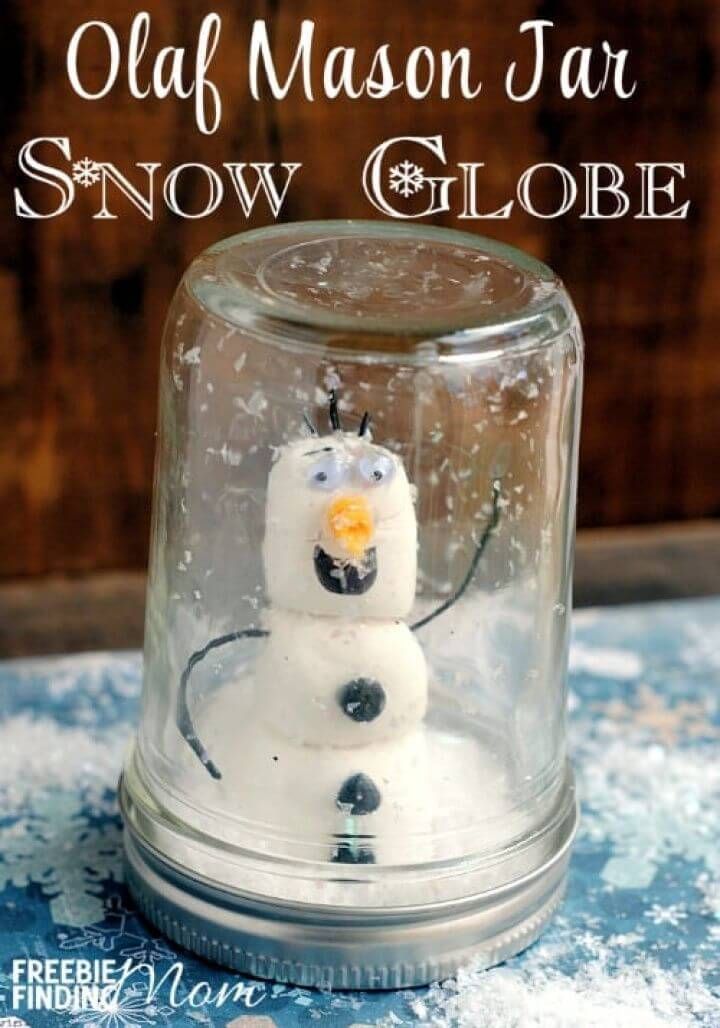 If you are looking forward to make some frozen inspired gifts, then another one hour Mason jar project is here for you to do in your spare hours! Make the Olaf Mason jar snow globe, will make a pleasing gift for all the frozen lovers and will be ready in no time! Make the Olaf using Crayola Model Magic, add black jewelry cording arms and also add black button in front for Olaf body! Glue Olaf to Mason jar lid and next give a snowy appeal using fake snow! Further details here freebiefindingmom
33. DIY Mason Jar Lanterns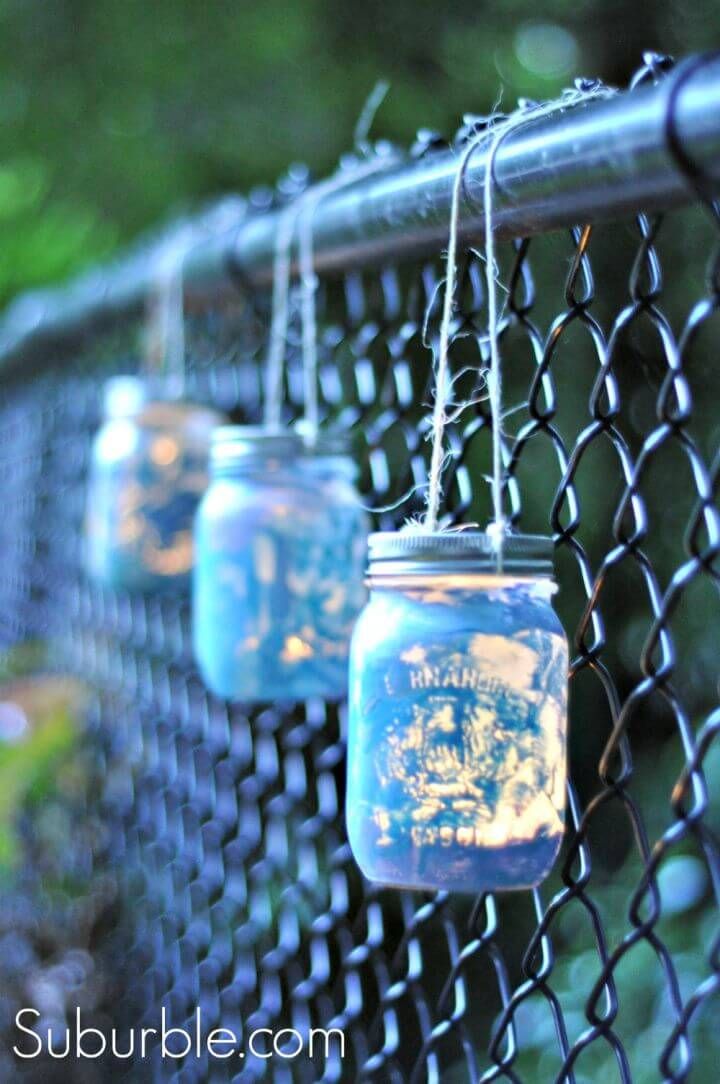 Get also busy with your crafting loving kids and duplicate these fantastic looking Mason jar lanterns, will make lovely outdoor hanging decors! Grab the Mason jars, let your kids paint them imperfectly and gain brilliant lanterns out of them by adding the tea light candles inside! Hang on fence wall hooks using wire or rope hangers! suburble
34. DIY Mason Jar Leaf Lanterns Under 1 Hour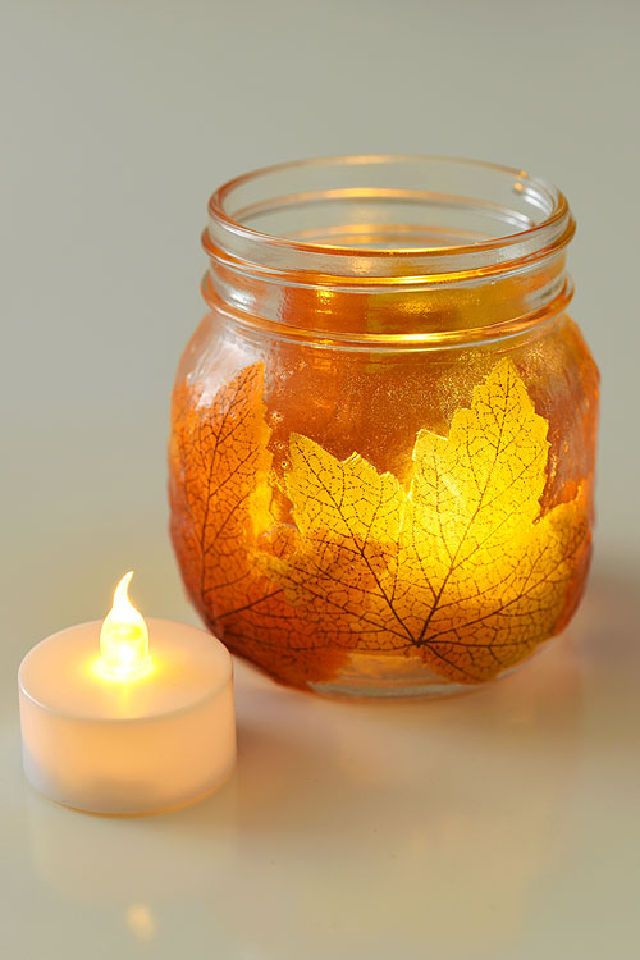 Celebrate also the fall season by making impressive Mason jar fall decors start by duplicating these Mason jar leaf lanterns that will be ready in less than an hour! Create a special fall look of Mason jars using fall leaves and mod-podge, and next add custom tea candle lights inside and make fall special lanterns! onelittleproject
35. Pretty DIY Mason Jars Votives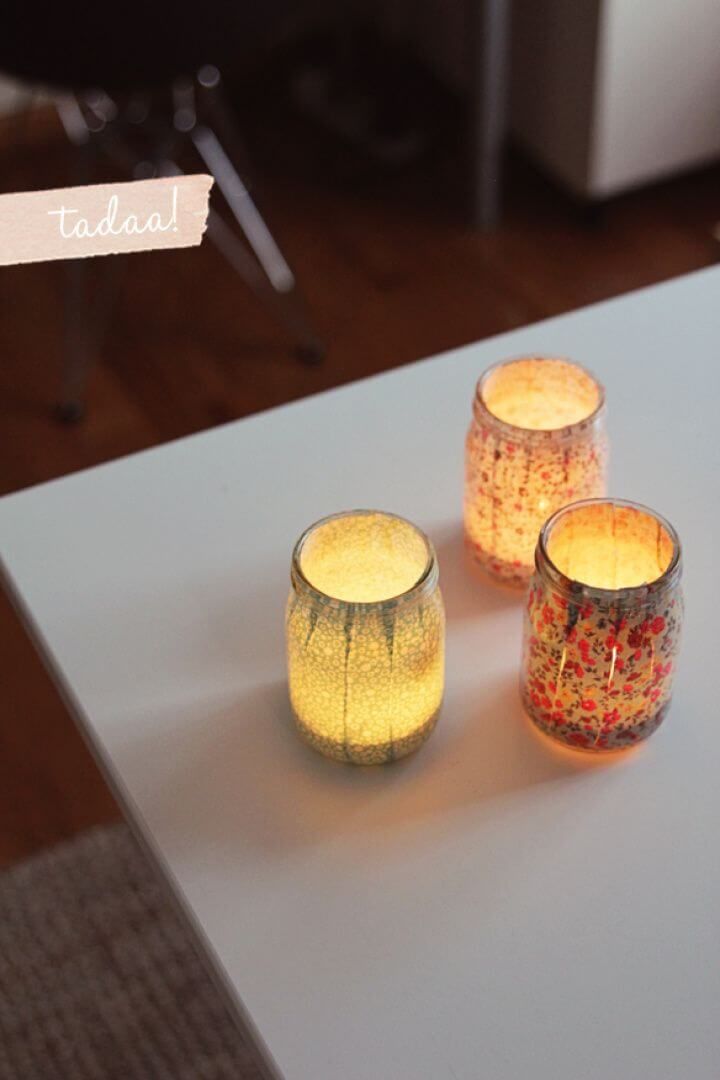 Brighten up your spaces with the glam Mason jar votives, will be a great addition to your accent tabletops, and decorative shelves to your marble countertops! Take the scrap fabric into strips and then layer them all around the Mason using mod-podge, add battery operated or tea lights in after they get dried and make precious Mason jar votives! fellowfellow
Conclusion: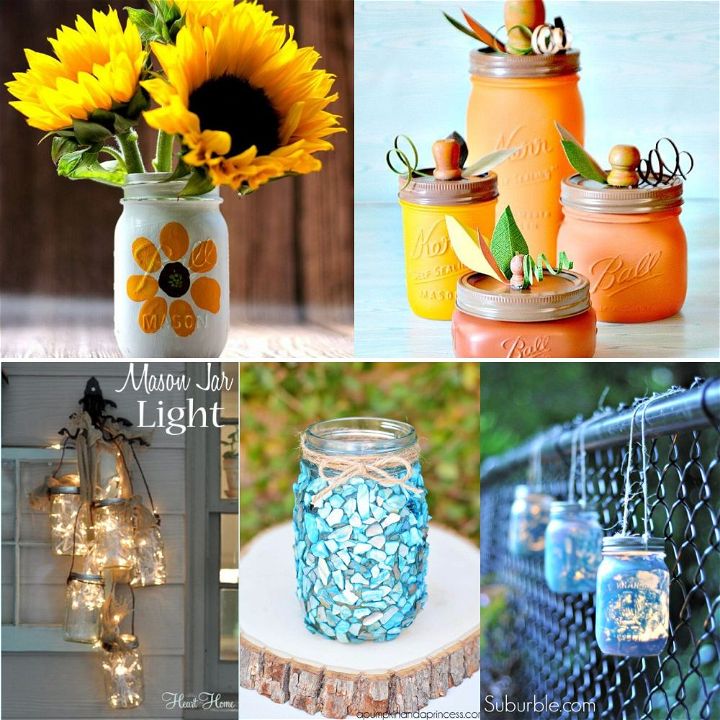 Mason jars are a versatile crafting material that can be used for a variety of projects. We've provided 35 easy DIY mason jar crafts for you to try, from simple decorating ideas to more complex gift-giving projects. Be sure to explore our website for even more inspiration, and share your own mason jar crafts with us on social media. Thanks for reading!