Wanted to make your own backyard fire pit? Here are 30 cheap diy fire pit ideas that you can make yourself. These fire pit designs are easy and fun, and you can customize them to fit your needs. Don't spend thousands of dollars on a custom-made fire pit when you can build one yourself for much less money! Build something unique that reflects your creativity. So get creative and have some outdoor fun with these backyard fire pit ideas!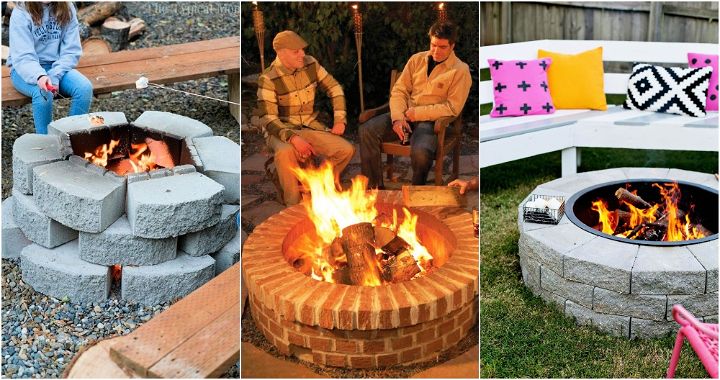 All summer long, there is an increased use of outdoor space more than ever. Outdoor Fire Pit Ideas are worth giving a try to design your space and change the whole house's outlook. When you decide to build a fire pit in your backyard or your front space, it's really on you which design you settle on and if it would work for the space you have available. So it's better to go with your instinct on that, and you will be surprised how quick and easy the whole process will turn out. The best part is that it won't cost you a fortune to build this design, and you can be done in one go.
So build your own fire pit design and enjoy it with family and friends all summer long. In this article, find interesting tutorials related to outdoor fire pit ideas that are as cheap as under 60$. Try making a fire pit for your backyard or build a fire pit for outdoor space. You can try making fire pits of different sizes and dimensions like around one or make one for your garden with a bench around it.
1. DIY $60 Fire Pit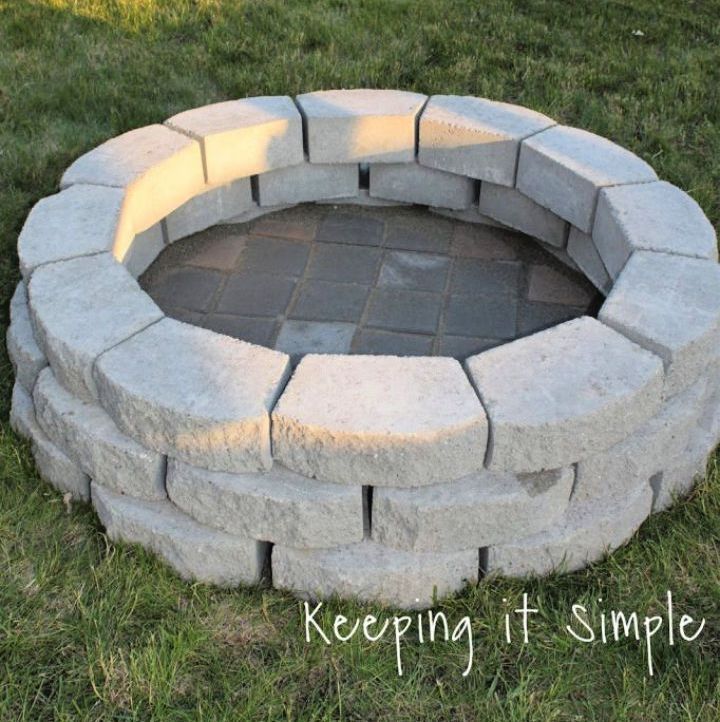 Over the weekend, build a fire pit for your backyard and save yourself a lot of money and hassle. You will love how the design turns out, and it will be perfect for the space you have in your backyard. For this project, you need pavers of different shapes, concrete, hammer and paver sand, etc. keepingitsimple
2. Backyard Fire Pit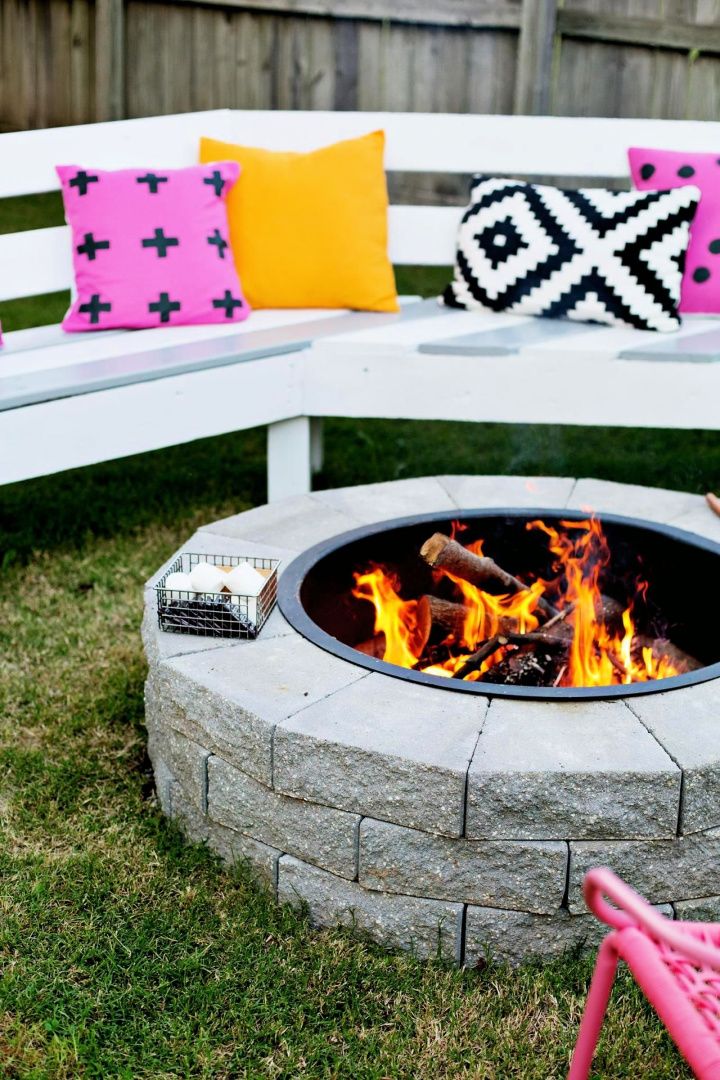 When there is some sort of a tasty snack involved, sitting around a fire pit becomes more fun. Especially if you enjoy outdoor events, it's really easy to build your own fire pit. Are you are done with portable fire pits? Its the best time to have a permanent one. Supplies needed are spray paint, gravel, shovel, concrete, adhesive, and mallet. abeautifulmess
3. Custom Outdoor Fire Pit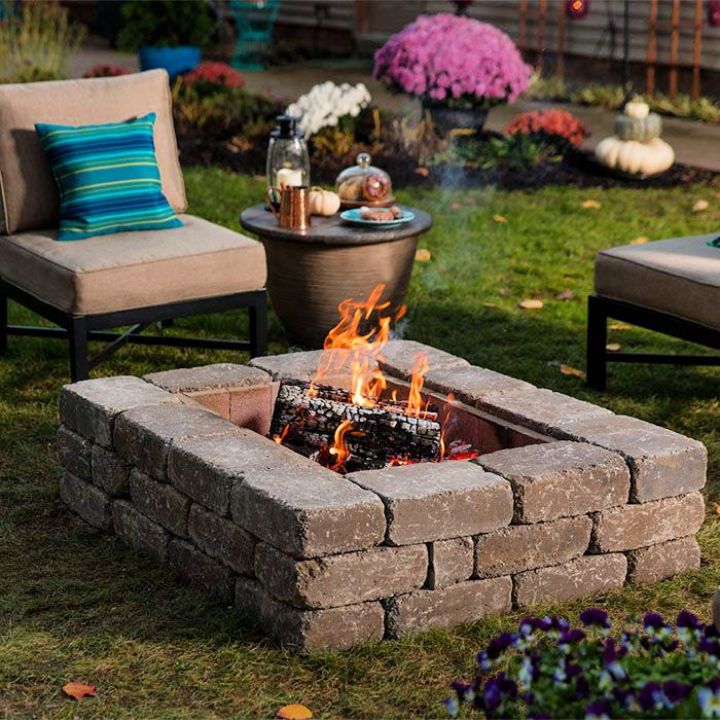 A custom-sized outdoor fire pit is exactly what you need when you are trying to liven up your landscape. Try making Outdoor Fire Pit Ideas exactly according to your requirements. You need fire bricks, wall blocks, paver base, lava rock, adhesive, and a bunch of tools. Build on your patio or your lawn for hanging out. lowes
4. Outdoor Round Fire Pit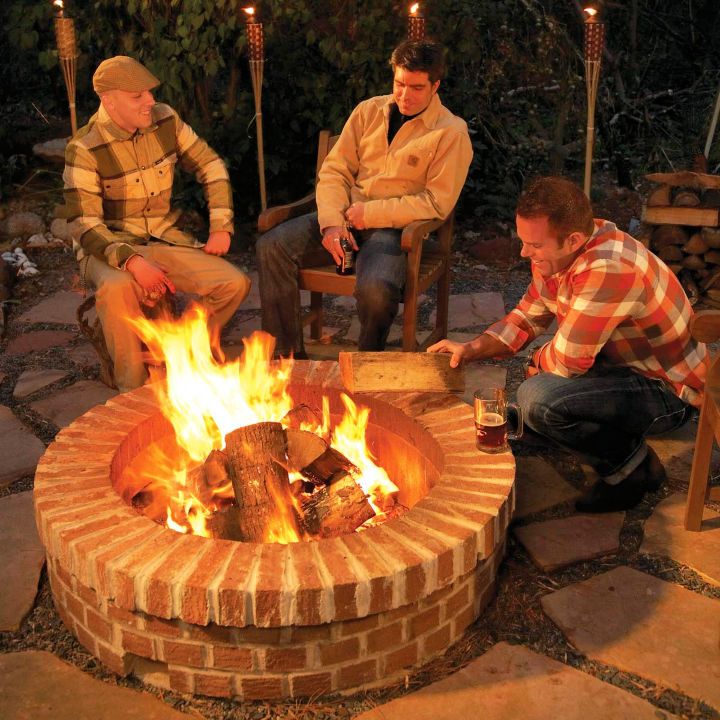 Build a fire pit for your outdoor space so that your friends and family can enjoy a crackling wood fire. It will become the main hanging point, especially in summers and the evenings will be more fun. It won't really cost you much too. Use supplies like a brick hammer, bucket, concave jointer, concrete float, and cordless drill, etc. familyhandyman
5. DIY Dry Stack Fire Pit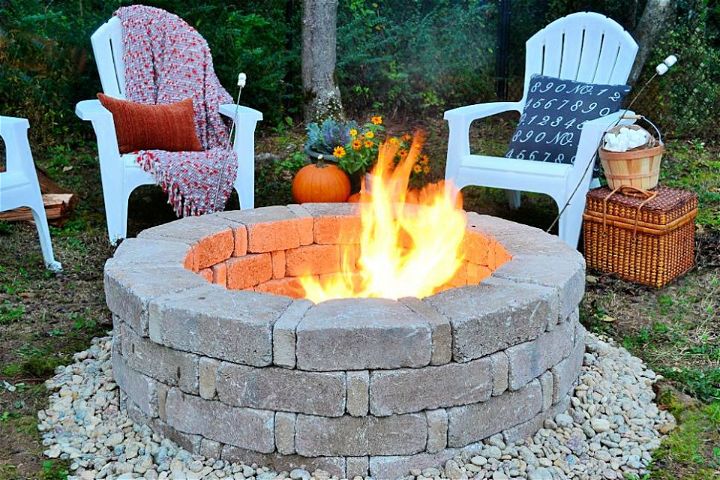 An inviting fire pit area anywhere around the house can become your most favorite and used area. Create a beautifully designed outdoor fire pit in just a few hours using just a few materials. You need concrete wall blocks, river rock, rake, garden hoe, shovel, level, and weed killer. Decide on a proper location without low hanging trees. hgtv
6. Fire Pit with Landscape Wall Stones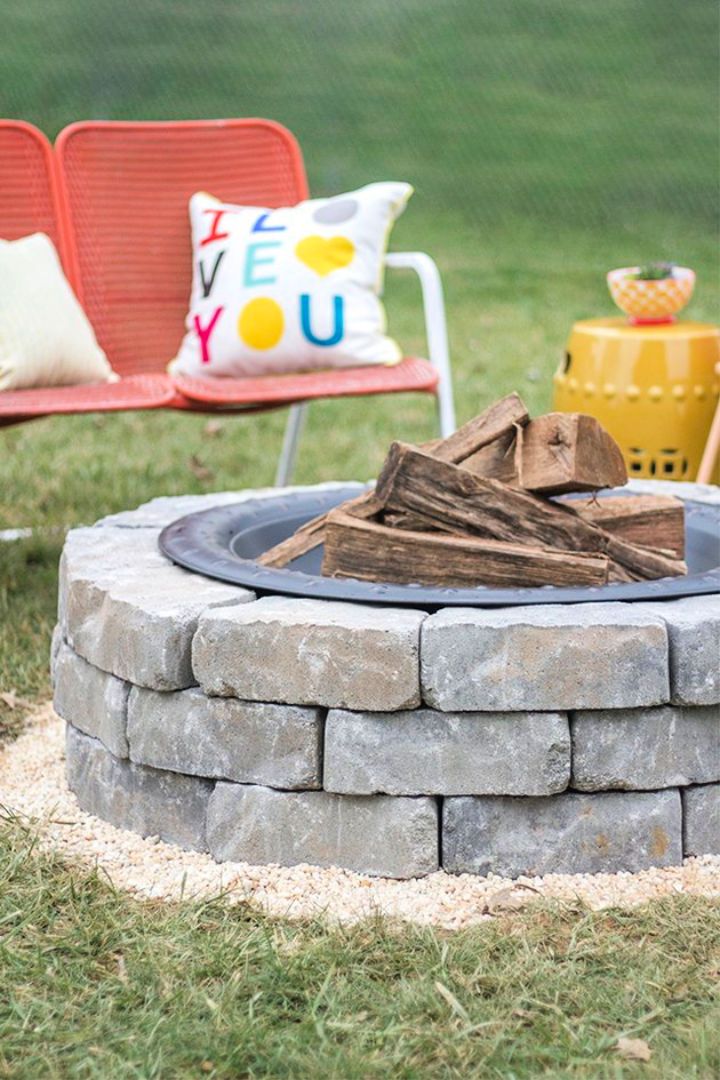 With only two hours of hands-on time, you can work on a straightforward build of a fire pit for your outdoor space. It only requires some planning and prep time, and you can check this project off your to-do list. You need landscape stake, hammer, spray paint, twine, tape measure, gloves, shovel, paver sand, level, etc. ehow
7. Garden Fireplace with Bench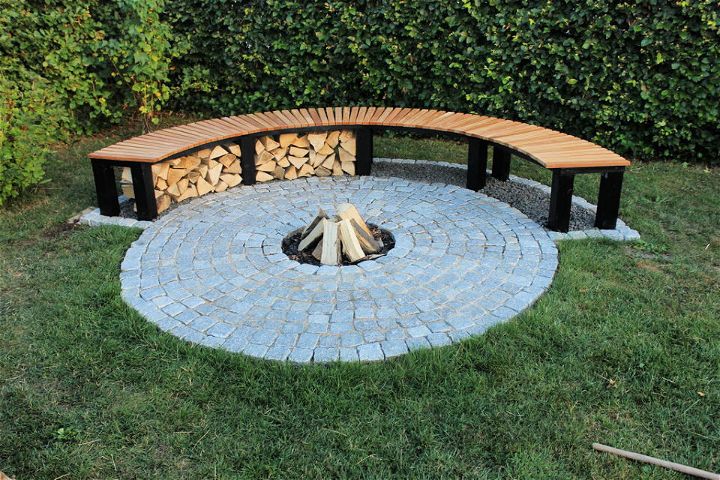 When you have spare outdoor space, it's nice to build your own fire pit to fill the space. It turns out really handy, and entertaining your friends becomes easier. With a bench around the fireplace, sitting and enjoying is a treat as you don't have to rush inside the house to get chairs for a gathering. instructables
8. DIY Outdoor Gas Fire Pit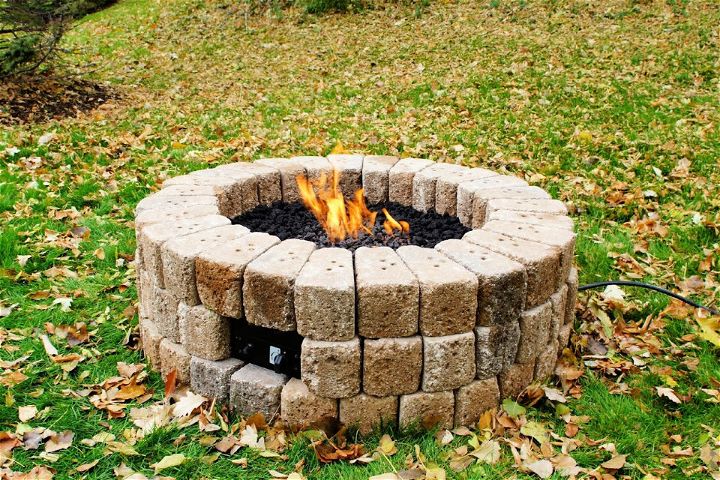 For entertaining during the summer nights, a cozy and comfortable outdoor space is the only thing required. So building your own fire pit would be just that and much more for you and your friends. You can try making a gas fire pit and stop searching for wood logs. Light it up at a moment's notice. outdoorrooms
9. $80 Brick Fire Pit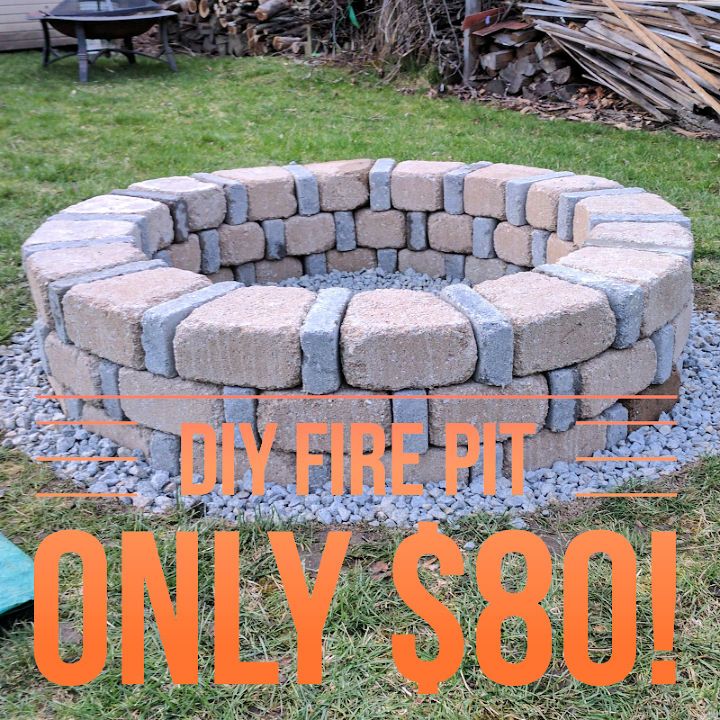 You can stop scouring for ideas to make your own fire pit as its really easy and hassle-free to build one. Without any prior experience and crushing your budget, this fire pit can be built in no time. You only need wall blocks of different sizes, gravel and leveling sand, etc. Plan a layout before digging. danielamarie3
10. Wooden Fire Pit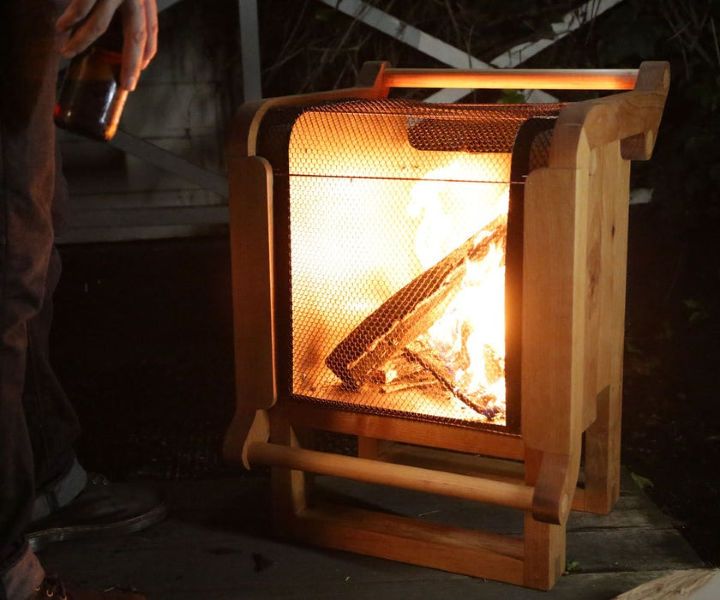 Fire pits give a great outlook when seen in the outdoor space of different houses. But one thing for sure is that all manufactured fire pits look the same and don't have any innovation. Use off the shelf store parts and make your own fire pit. Give it a personalized look so that it will fit your space. instructables
11. DIY Fire Pit in a Weekend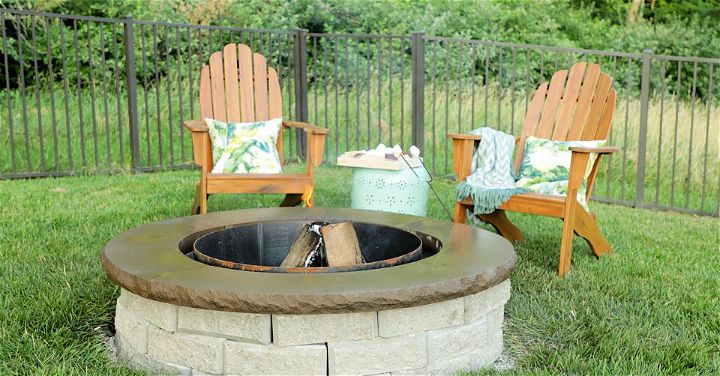 Outdoor entertainment has never been easier. Build your own ring of fire so that everybody can enjoy spending time outdoors. For the years to come, the whole family will be able to benefit from it. You need a stake, string, spray paint, gravel, wall units, concrete sand, adhesive, pavers, plastic restraint, and a few tools. bhg
12. Outdoor Stone Fire Pit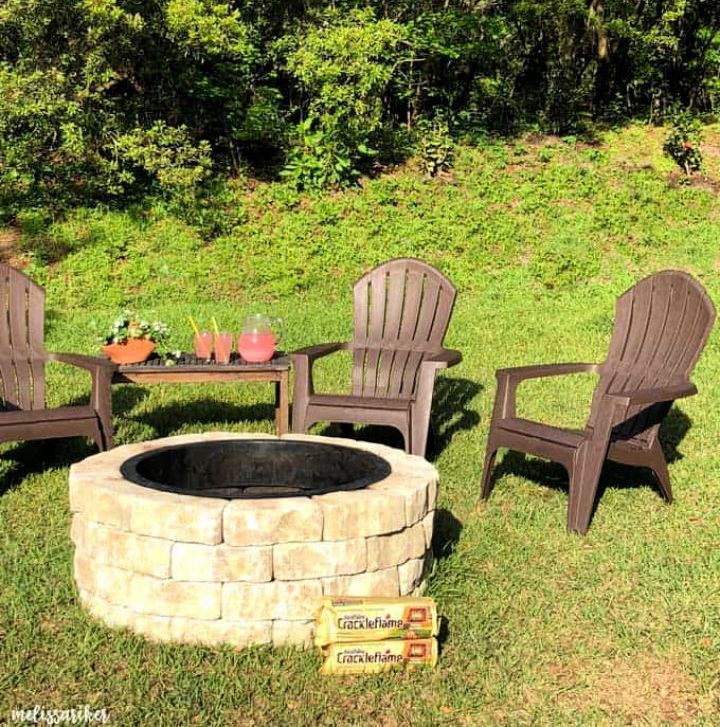 A stone fire pit for your outdoor space, whether it is your backyard, patio, or garden, is a dream come true. Everybody will enjoy lounging around it all day, especially during summer, and you won't be able to stop boasting about your new creation. It's simple to build than it looks and also doesn't cost you a fortune. thehappierhome
13. Concrete Fire Pit from Scratch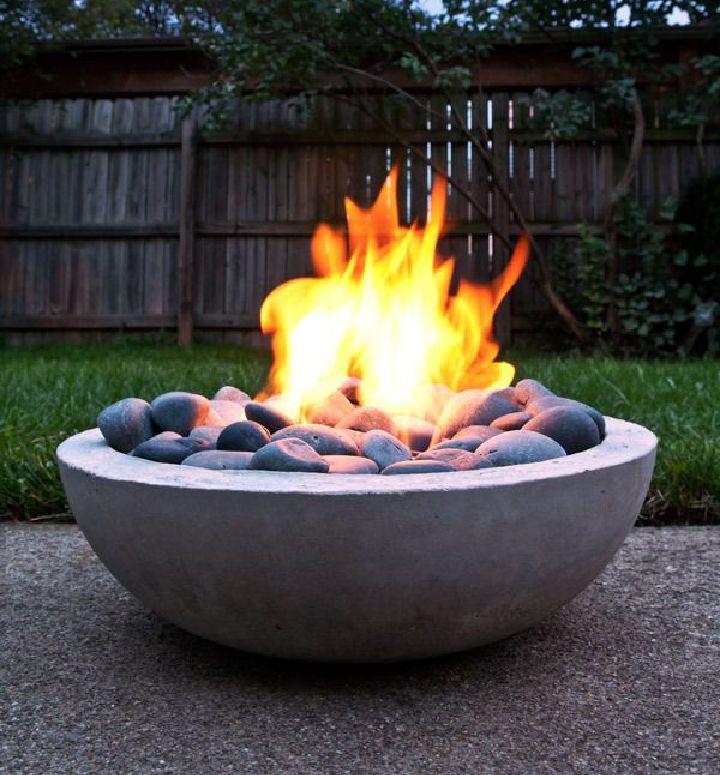 When you sit and dream around a fire pit gazing at the caverns that form and crumble, its best to build your design and enjoy sitting around it for a lifetime. Its really affordable and weather resistant with a sleek and modern look. Turn it into a sturdy design, and with gel fuel, it is easier to light up. manmadediy
14. Square Fire Pit with Grill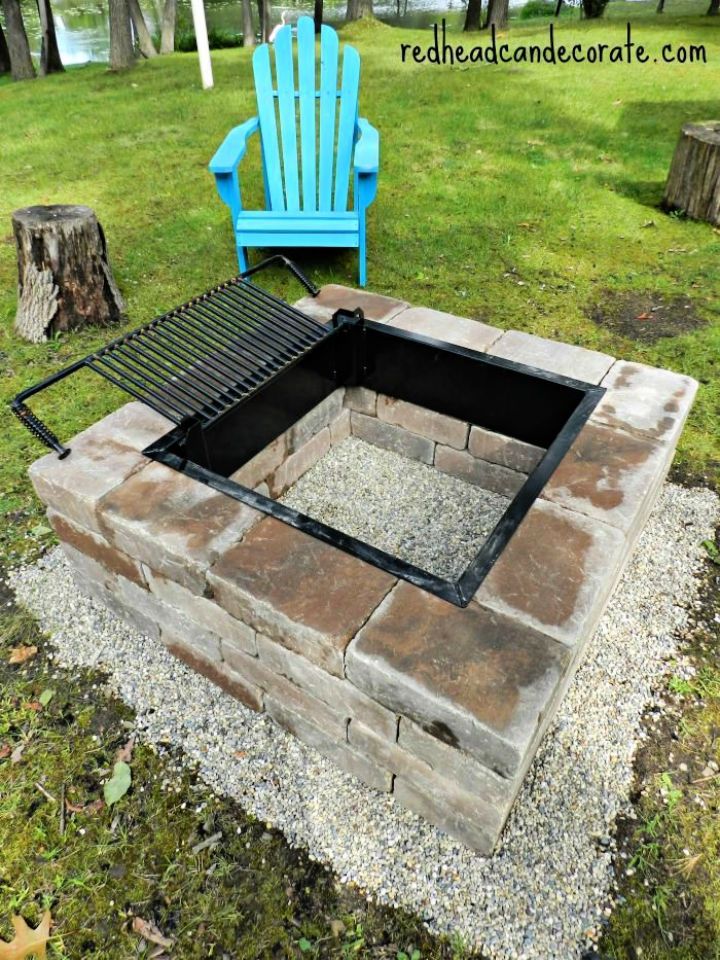 When you want to be unique with everything related to home décor, you can build a unique fire pit for your outdoor space too. Giving it a rustic look will add the personal touch you are looking for, and you can insert a grill for a roasting marshmallows session. You don't need any screws, glue, or fancy equipment. redheadcan
15. DIY Bricks Fire Pit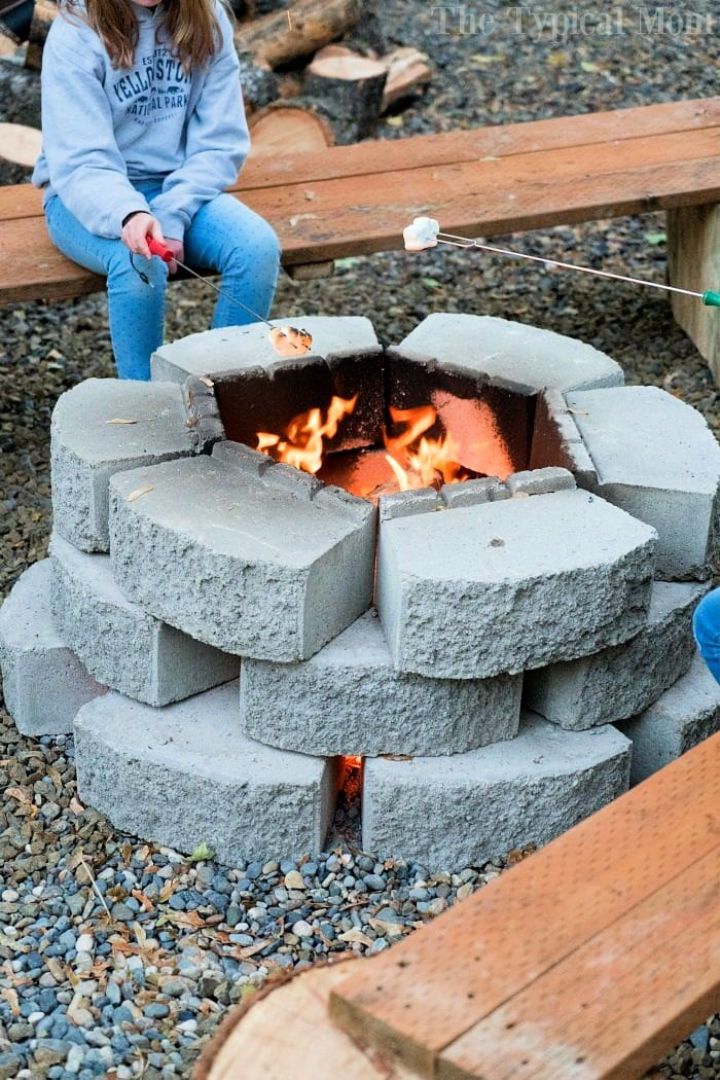 Involve the whole family into building your own fire pit for your outdoor space. It is really cheap to make your own design, and you can customize it to fit your space. You need bricks, gravel and paving sand, etc. and by following a few easy steps, you are ready to have your own. Start by leveling the ground. temeculablogs
16. Build an Outdoor Fire Pit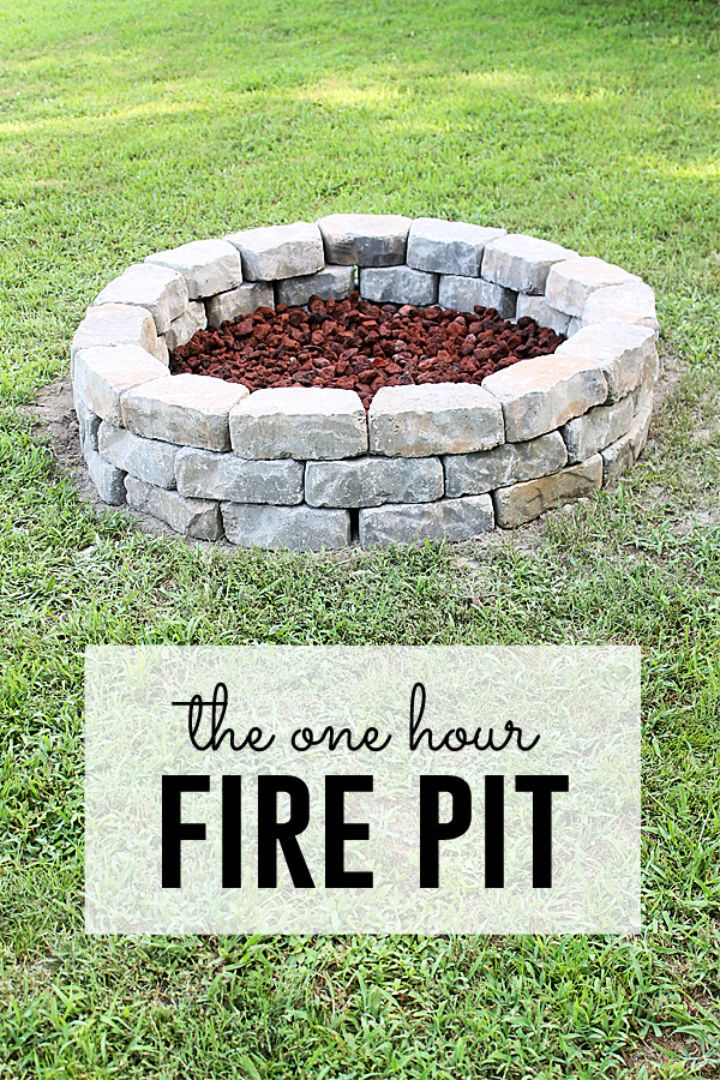 You can make a fire pit in just an hour or so. Gather some stones, lava rock, shovel, level, and ice water. Create a pit using the shovel and stones and mark a boundary. Place the lava rock at the bottom-most and make three layers of stones. For clarity, watch the video in detail. theshabbycreek
17. How to Make a Fire Pit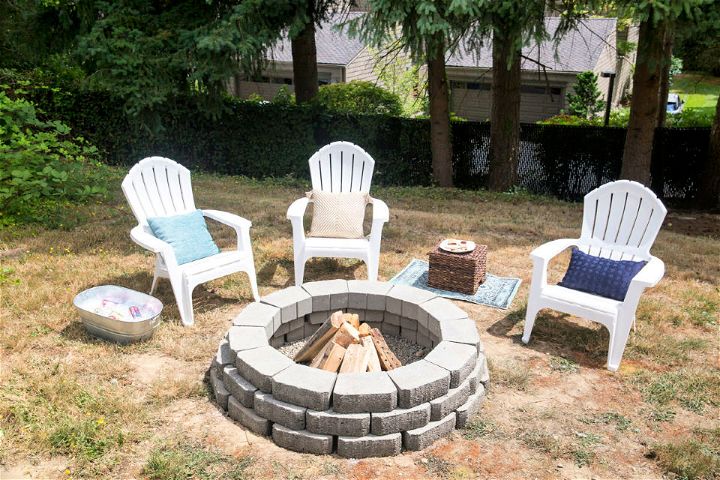 An exclusive fire pit at home is the dream of everyone. You can make one too easily at home. You will need Windsor Stone gray wall block, crushed rock, drain rock gravel, construction adhesive, eye protection, level, and shovel. The tutorial has clear directions for quickly making a fire pit. diy dunnlumber
18. DIY Welded Fire Pit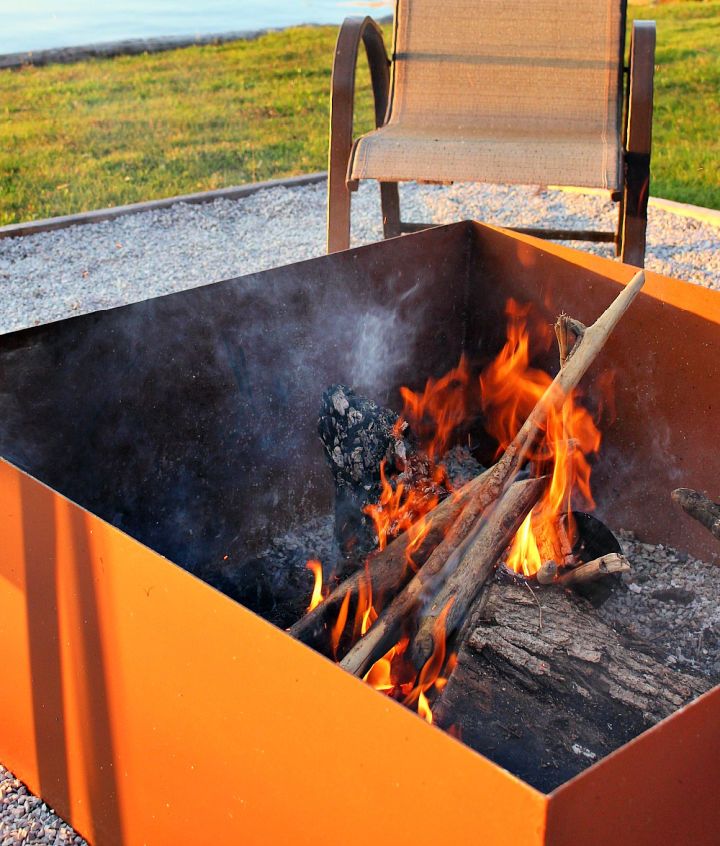 A modern fire pit can be made using this tutorial. You can make a welded DIY fire pit using gravels. You can construct the fire pit with very little material. Use dolomite gravel, landscaping fabric, lumber, scrap lumber, screws, and drill to make your exterior more modern. danslelakehouse
19. Outdoor Concrete Fire Pit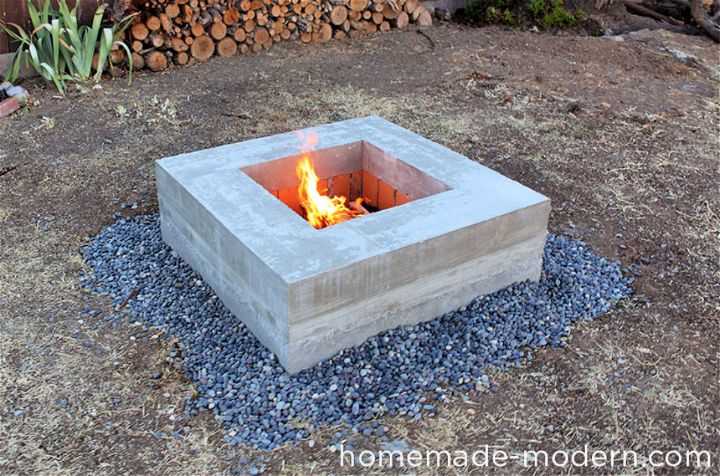 Make a unique fire pit in square shape using concrete. You might have seen a number of fire pits around you in a circular shape. Try making a difference in the family of fire pits by making a square-shaped with concrete. You will definitely enjoy this project. homemade modern
20. Backyard Firepit with Wall Blocks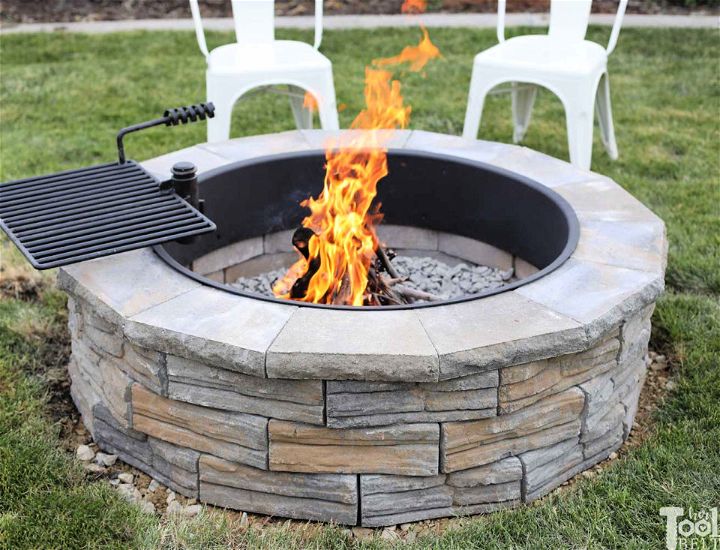 Add making a beautiful backyard fire pit in your summer bucket list. This particular fire pit is a 36-inch ring. If you have an already made cement fence, you can equip it further to make a fire pit. You will need concrete adhesive, paver base, granite rocks, spray paint, string, fire ring, and wall cap. hertoolbelt
21. DIY Above-ground Patio Fire Pit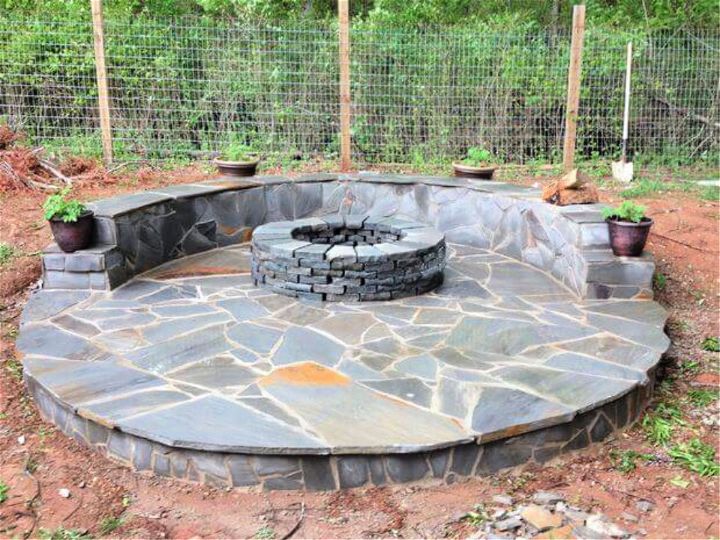 Scroll through this tutorial to learn how to make two types of fire pits; in the ground and on the ground. You can make a superb and mouth dropping kind of modern fire pit on a patio. You can paint the bricks of the same color as a patio to keep a uniform theme. homestratos
22. Professional Outdoor Fire Pit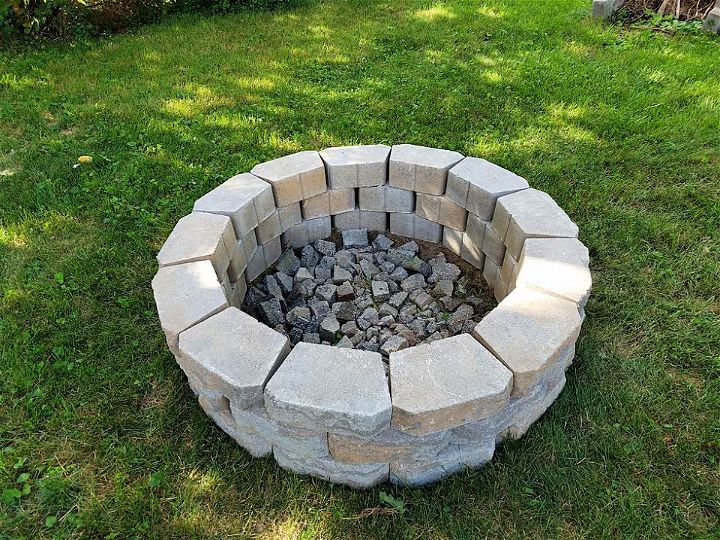 Equip your outdoor with a beautiful and functional fire pit. A fire pit not only looks pretty but also gives fire entertainment in every season. You can plan a bonfire around it or get yourself entertained with a yumilicious bar b que around the fire pit. 991thewhale
23. DIY Bluestone Fire Pit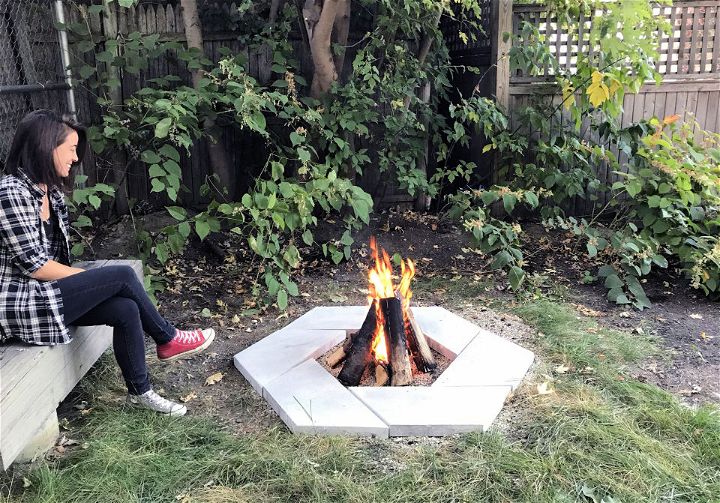 Install a hexagonal bluestone fire pit in your backyard or outdoor area. Embellish the corners of the ire pit using bluestones. You will not only love watching it from your window but will also enjoy parties and dinners around the fire pit. dwell
24. Modern Outdoor Fire Pit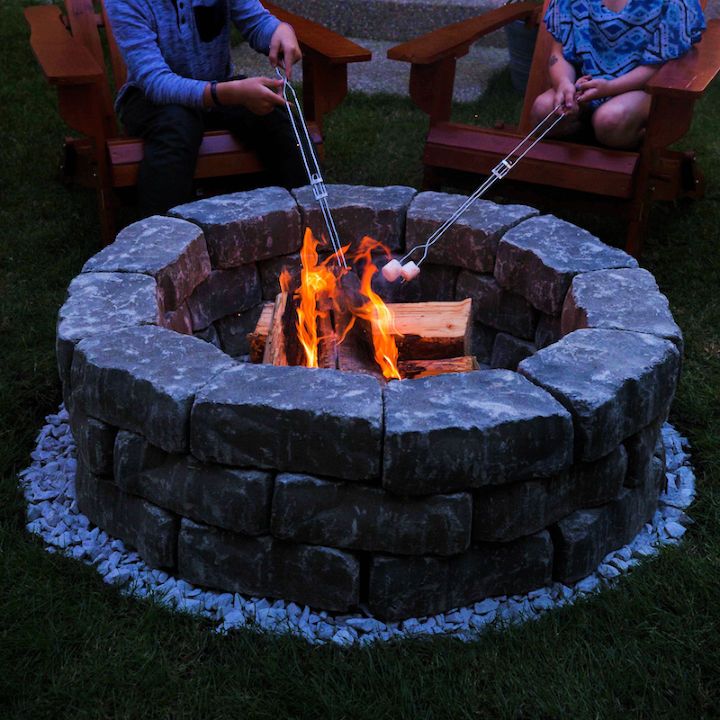 A modern fire pit is an essential requirement in your backyard. If you want to keep the modern look of your home maintained, you have to build a small but beautiful fire pit. You will need rocks, shovels, stones, levels, and wood to make this fire pit. zillow
25. Fire Pit with Seating Area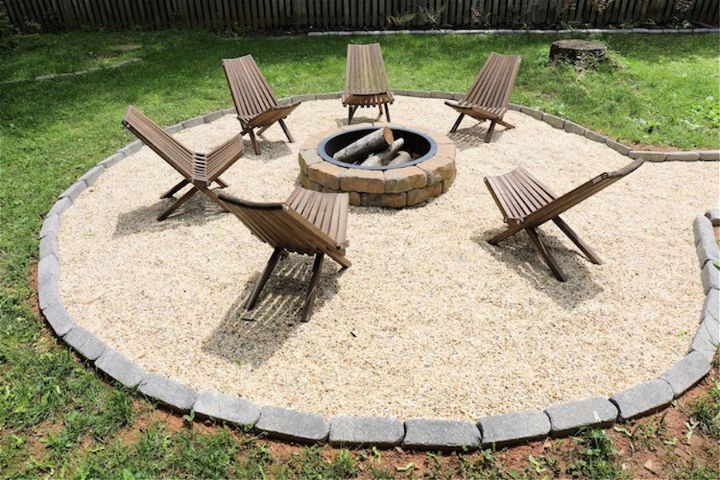 Time to enjoy the beauty and fire of the fire pit. For this, make a seating area around the fire pit using concrete. Buy some easy chairs or DIY them as well. You will enjoy both the sun and cool breeze around this fire pit. homedepot
26. DIY Fire Pit in Under Two Hours
Create a beautiful fire pit in your outdoor, that too in less than $100. DIY-ing always saves money and provides a quality product. Arrange the following supplies; shovel, level, wheelbarrow, rake, all-purpose sand, mortar adhesive, landscaping blocks, chisel, and hammer. 1915house
27. Paver Bricks Fire Pit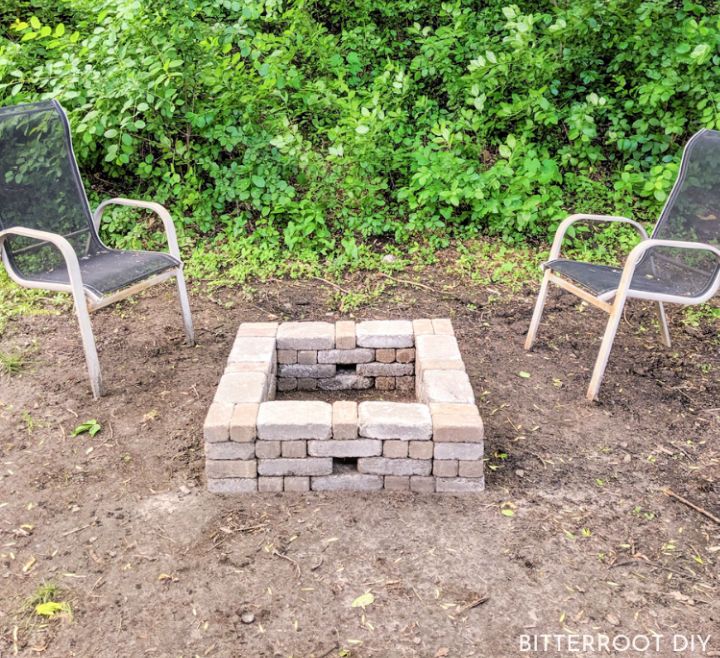 It is not necessary to make a fancy fire pit, investing 100 bucks. You can make a cheaper fire pit using paver bricks. Certainly, it will serve the same purpose. Gather some square paver bricks, small and larger rectangular paver bricks, landscape adhesive, caulk gun, tape measure, level gloves, and shovel and make this one in under $50. bitterrootdiy
28. Outdoor Steel Fire Pit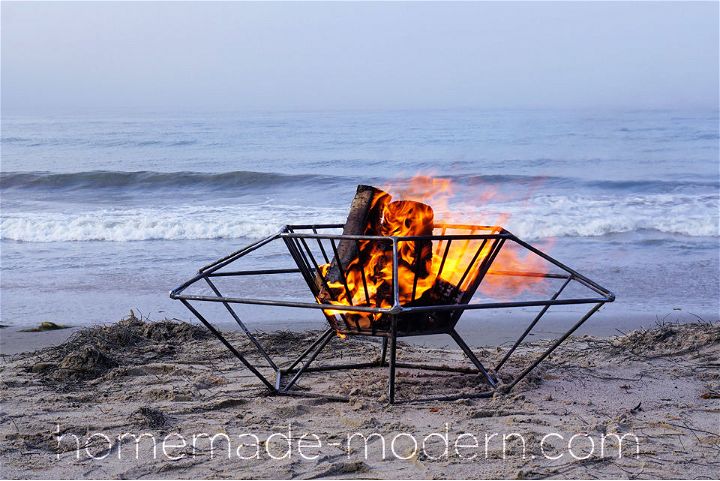 Want an 'OH MY GOD' expression from every visitor after viewing your DIY fire pit? Go with this steel fire pit. The best part about a steel fire pit is that it is portable. You can carry it along to a beach party or camping anywhere near. The modern touch this fire pit will leave in your house will be jaw-dropping. homemade modern
29. DIY Fire Pit for Backyard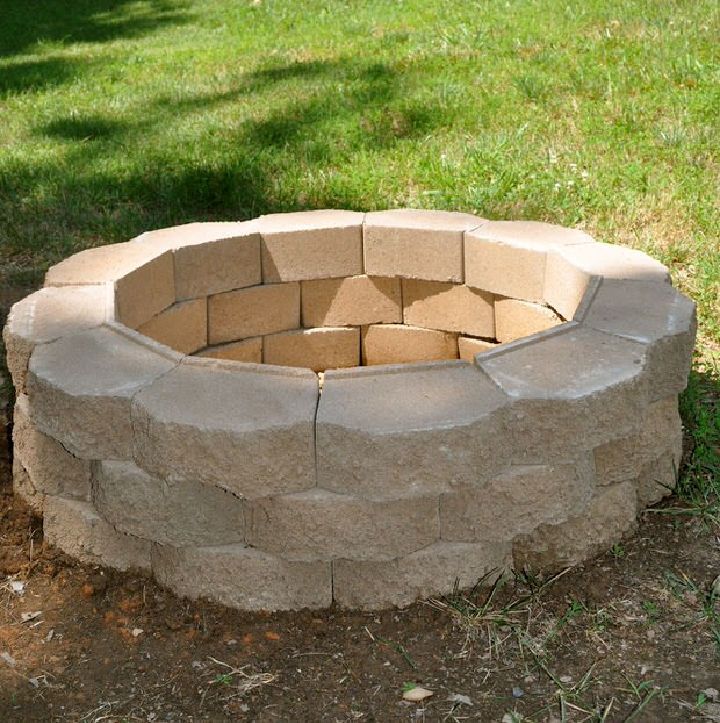 Bring your family and friends together and try making your home a warm and welcoming place through this easy fire pit idea. The plan of this fire pit consists of only 4 steps. You will need stone pavers, sand, gravel, shovel, and rake to create this one. thegardenglove
30. DIY One Hour Fire Pit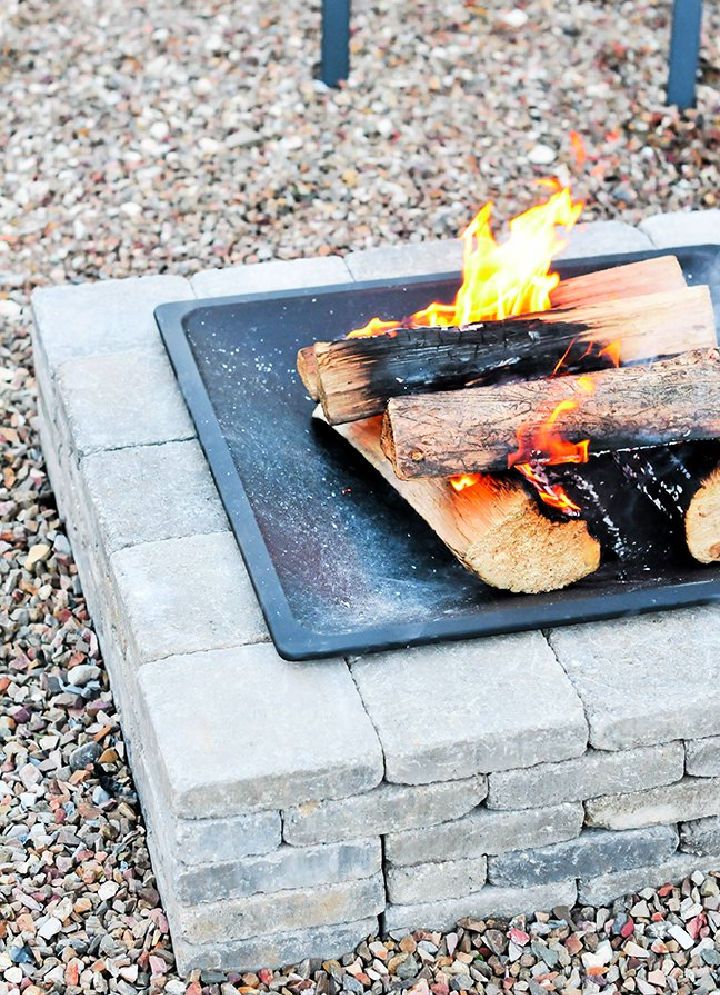 Make out just an hour from your day of 24 hours, and invest in a construction project. Tune your stopwatch and make this amazing fire pit in just an hour. Your outdoor will give a welcoming and soothing effect after building this fire pit. momtastic
Related DIY Projects for Outdoor:
Stunning Outdoor Patio Ideas:
Is your outdoor patio space looking a little outdated? Check out these gorgeous patio ideas that will inspire you to give your outdoor living space a facelift. From classic designs to modern twists, there's something here for everyone! Not sure where to start? We've got you covered about how to get started on your very own outdoor patio renovation.
Flower Pot Ideas to Liven Up Your Space
Flower pots can be so expensive! Not to mention, they're often really boring. Here are 30 flower pot ideas that will add some life (and color!) to your yard without breaking the bank. From simply painted pots to upcycled versions made from old boots and tires, there's something for everyone.
DIY Privacy Screens
Having privacy outdoors is a must, and these DIY outdoor privacy screen ideas will help you do just that. From creating a simple screen to adding some height, given solutions are perfect for anyone who wants to add some extra privacy to their yard or patio. Plus, they're all easy to create yourself!
Conclusion: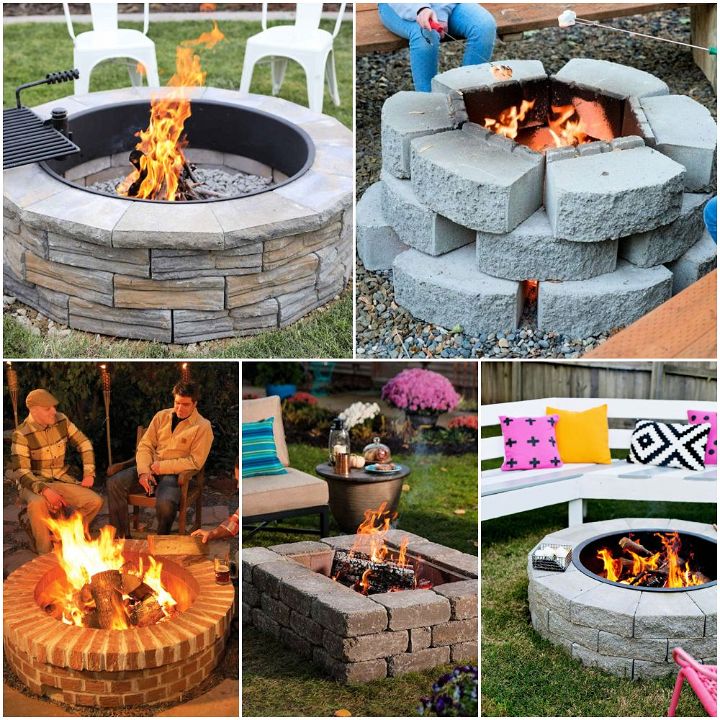 With summer in full swing, what could be better than gathering around a backyard fire pit with friends and family? These 30 cheap DIY fire pit ideas are perfect for anyone who wants to add some extra fun and functionality to their outdoor space. Whether you're looking for simple fire pit designs and rustic or unique designs, we've got you covered. So get creative and start building your very own backyard fire pit today!
Sometimes all you need around summertime are outdoor fire pit ideas so that you can sit back and enjoy the fire as a family and cozy up. A professional-looking fire pit might sound like an idea difficult to attain, but that really not so. It's quite an easy process to plan out and prep time depends on you also, it does take a bit of muscle and some help from the family to complete, but it's totally worth a bit of cardio.
The best part is that in the end, you will feel like it was just what your yard was missing, and you had no idea! After enjoying it for some time, you might feel like your fire pit is missing something. So take your experience to the next level of fire pit enjoyment by building a corresponding semi-circle bench. Happy Enjoying homemade Fire pit.